LEGO Camping Set
The Friends Adventure Camper from LEGO Systems Inc. is directed toward young girls who enjoy the outdoor lifestyle.
The 309-piece set includes mini Nicole and Olivia figures, a motorhome, a trailer, a bike, a surfboard, a grill, and a picnic table with a host of dining accessories. The roof of the motorhome lifts up to reveal a bunk and flat-screen TV. Girls will have a great time setting up camp and then taking Nicole and Olivia on outdoor adventures.
The Friends Adventure Camper has a suggested retail price of $34.99.
LEGO Systems Inc.
555 Taylor Road
P.O. Box 1138
Enfield, CT 06083-1138
(800) 453-4652
www.shop.lego.com
---
Remote-Controlled Car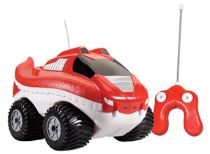 Morphibians from Kid Galaxy Inc. are radio-controlled vehicles that can be operated on land and in water. According to product literature, these full-function, four-wheel-drive, remote-controlled cars will drive anywhere — dirt, grass, pond, and pool — providing hours of fun for kids 5 and older. Five Morphibian versions are available — Rover and Killer Whale at 27-megahertz frequency and Shark, Explorer, and Viper at 49-megahertz frequency. (If you are buying for more than one child, make sure to choose models at different frequencies.) The car and remote control combo requires three AAA batteries and two AA batteries (not included).
Morphibians have a suggested retail price of $31.99.
Kid Galaxy Inc.
150 Dow St.
Tower 2, Unit 425B
Manchester, NH 03101
(800) 816-1135
(603) 645-6252
www.kidgalaxy.com
---
Bubble Machine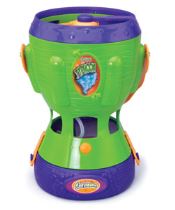 The Gazillion Bubble Typhoon from Funrise Toy Corporation is touted as the ultimate bubble fountain, capable of blowing 5,000 bubbles per minute. Fill the machine with bubble solution, push the button in front, and watch as kids — and adults — go crazy as a storm of bubbles fills the air. The Bubble Typhoon comes with a 24-ounce bottle of nontoxic Gazillion bubble solution and requires eight AA batteries (not included).
The Bubble Typhoon has a suggested retail price of $19.99.
Funrise Toy Corporation
7811 Lemona Ave.
Van Nuys, CA 91405
(818) 883-2400
www.funrise.com
---
Pool Toy

According to product literature, the Toypedo Original dive toy from SwimWays rockets through a pool with amazing hydrodynamic action. Youngsters will have a blast sending this torpedo gliding through the water up to 30 feet. The Toypedo Original is available in three colorful designs.
The Toypedo Original has a suggested retail price between $9.99 and $12.99. Other versions of this underwater rocket are Toypedo Max, Revolution, Bandits, and Lite-Up Bandits.
Swimways Corp.
5816 Ward Court
Virginia Beach, VA 23455
(800) 889-7946
(757) 460-1156
www.swimways.com
---
Travel Game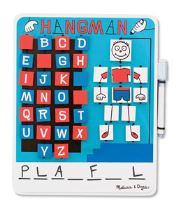 The Flip-to-Win Hangman Travel Game from Melissa & Doug will provide hours of on-the-road entertainment for kids and adults. Based on the classic Hangman word game, this version adds a twist, because all of the letters and body pieces are attached to the board via nylon stretch cords. Simply flip over the letter (when chosen) or a body part. It also features a dry-erasable whiteboard for writing down the correct letters and a self-storing dry-erase marker and eraser.
The Flip-to-Win Hangman Travel Game has a suggested retail price of $12.99.
Melissa & Doug
P.O. Box 590
Westport, CT 06881
(800) 718-5365
www.melissaanddoug.com
---
Outdoor Ball-Rolling Game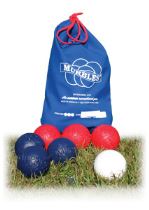 Murbles from Kramer Kreations is an outdoor activity that uses oversized marbles to play a game loosely based on bocce.
Murbles can be played by two to four individuals in a park, at the beach, or in any outdoor area where there is ample room for throwing the 3-inch-diameter balls. Each player or team has different-colored balls, along with a point ball. The object of the game is to toss your balls closer to the point ball than your opponent. Each ball that stops closer to the point ball earns a point. The first player or team to earn 10 points wins.
A set of six Murble balls, one point ball, and a carry bag has a suggested retail price of $39.95. The balls are available in 20 different colors.
Kramer Kreations
9141 Sebring Drive
Pensacola, FL 32506
(850) 458-5858
www.murblegame.com
---
Exploration Tool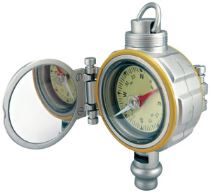 The 4-in-1 Explorer Navigation Tool from Uncle Milton Industries Inc. provides young explorers with the navigation tools they need when hiking. The device includes a thermometer, compass, signal mirror, and whistle, assuring little adventurers will know the direction they're heading and the temperature, and will have the ability to signal friends. It also includes a carabiner that can be clipped onto a belt loop or pack, as well as an activity guide.
The 4-in-1 Explorer Navigation Tool has a suggested retail price of $12.99.
Uncle Milton Industries Inc.
P.O. Box 6281
Thousand Oaks, CA 91359
(818) 707-0800
www.unclemilton.com
---
Junior Rangers Music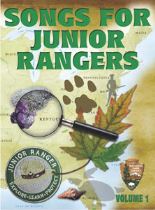 The "Songs For Junior Rangers" children's music CD from the National Park Service, the National Park Foundation, and Eastern National features 20 tunes about U.S. national parks. The songs contain catchy lyrics designed to entertain and educate children with fun facts about history and nature. They cover a variety of subjects, including elk, caving, glaciers, and Mount Rushmore, to name a few, and span the musical genres of hip-hop, reggae, jazz, blues, rock, zydeco, funk, and polka.
The "Songs For Junior Rangers" CD has a suggested retail price of $9.95.
Eastern National
470 Maryland Drive, Suite 2
Fort Washington, PA 19034
(877) 628-7275
www.eparks.com
{loadpositionEndBlurbRVProducts}