Gear, Gadgets, And Gifts
Practical accessories and assorted goods designed to make life easier and more enjoyable for RVers.
By Skip Tate, Associate Editor
Salt And Pepper Grinders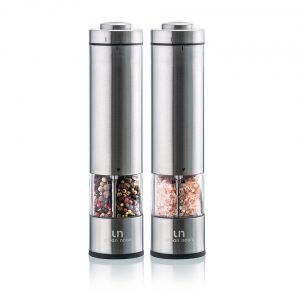 This is the 21st century, a time when we have remote controls, self-propelled vacuum cleaners, and smartphones. Push a button and, ding, life is made easier. So, why are we still twisting and turning salt and pepper grinders like it's the 1800s? The folks at Urban Noon wondered the same thing, right before they created their electric grinder. Push a button and, ding, you have all the seasoning you need to make your meal perfect.
A light on the bottom helps you see how much seasoning you're adding to your meal, and a cap keeps the contents in and moisture out when not in use. The grinders are stainless steel with a glass window so you can see when it's time for a refill; each is powered by four AA batteries.
A single grinder, for those who aren't as seasoned, costs $24.99. A pack of two costs $39.99 on Amazon.
Urban Noon
[email protected]
www.urbannoon.com
---
Night Vision Monocular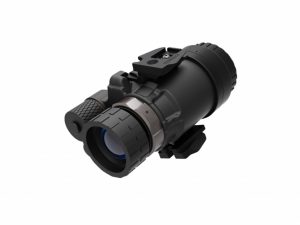 "Did you hear that? There's something out there." We've all been there when an outside noise startles us and brings to mind every horror movie ever made. Fortunately, Photonis Defense is now offering its military-grade night vision technology to startled RVers. Its PVS-14 (Hyper-14) monocular not only turns night into day, but it's tough enough for Navy SEALS, and lets you see the nighttime world in black and white instead of unnatural shades of green as the commercial brands do. The monocular is pricier than nonmilitary models — starting about $2,500 through qualified dealers — but gives you peace of mind when that noise outside keeps getting closer and closer. You can look through it and say, "I see the problem. There's nothing to worry about; it's just a skunk."
Photonis Defense
(717) 295-6000
www.photonisdefense.com
---
No-Latch Coupler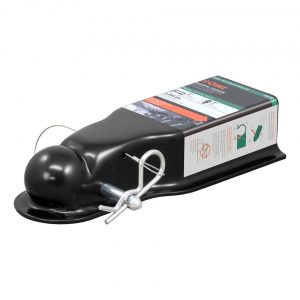 Using a latch to secure a trailer tongue to a tow ball has been frustrating RV owners for eons. Well, say goodbye to pinched fingers and high blood pressure. Curt Manufacturing has finally found a frustration-free solution to the age-old issue.
Its QuickPin coupler slides through the tongue and just under the hitch ball, holding the whole shebang securely in place. Lock it in with the provided cotter pin and you're off and towing. A lasso lanyard secures the pin to the coupler to avoid missing pieces. The coupler is made of stamped steel and comes with predrilled holes to fit the bolt patterns on most trailer tongue beams. Several sizes are available. Price is $19.70.
Curt Manufacturing
(877) 287-8634
www.curtmfg.com
---
Drink Holder

Tiny tables are great for holding drinks and snack bowls, until you're boondocking in the woods, or the campsite at your RV park is on a hill. Then the tables tumble and the drinks slide. Camco has found a way to turn the tables on those stability issues with its Tipsy Stix. The carbon-plated steel stake comes with a built-in footplate to help plunge it into the ground. It has a snack holder and two cup holders to secure your Doritos and beer, grapes and wine, or whatever food and beverage combination you prefer. You may get tipsy, but your drinks won't. Price is $16.92 on Amazon.com.
Camco
(800) 334-2004
www.camco.net
---
Charcoal Grill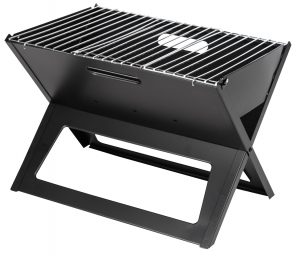 RVers who prefer charcoal grilling and want to make sure they always have a grill at the ready, take note. FireSense has a Notebook Charcoal Grill that is big enough to hold five hamburgers, three hot dogs, and two shish kabobs but folds flat for easy RV storage and weighs just 8 pounds. It even has a built-in handle for easy transpor-tation. Assembled, it measures 13 inches long, 18 inches wide, and 13 inches high. Price is $42.
Balkene Home/FireSense
(800) 766-9633
shop.firesense.com
---
Emergency Sewing Kit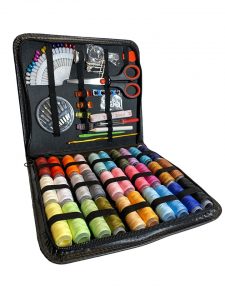 You never know when you're going to need a needle and thread. Popped buttons. Split pants. Ripped hem. Having a sewing kit on hand is essential for RV life, especially a kit that's as organized, compact, and fully loaded as the one from Freedom River Valley. The kit includes pins, needles, a needle threader, a thimble, a white pencil, a measuring tape, and 30 extra-large spools of thread in a rainbow of colors. It all comes neatly organized in a zippered case that stores easily in any cabinet or drawer. Price is $16.97 on Amazon.
Freedom River Valley
[email protected]
www.freedomrivervalleysewingkits.com
---
Cocktails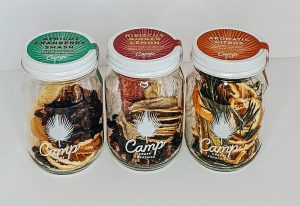 Ever make sun tea? You know; you fill a jar with water, drop in tea bags, and set it out in the sun to steep? Camp Craft Cocktails has taken that to a whole new level. Owners Rhonda and Suzanah have put everything you need to make a wide range of cocktails — sangria, margaritas, Bloody Marys, and more — into jars. All you have to do is add the alcohol, refrigerate the mix for three days, and, voila, happy campers. Nonalcoholic "zero proof" cocktails are also an option. Prices range from $25 for 8-serving jars to $175 for 64-serving jars.
Camp Craft Cocktails
www.campcraftcocktails.com
---
Storage Baskets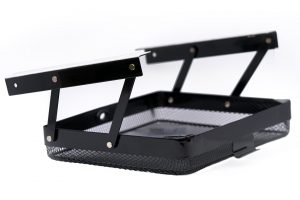 Pens, hair ties, notepads, scissors, keys to something, six different power cords. At home, they all get stashed in the junk drawer, but who has room for one of those in an RV? All those things have to go somewhere, though, so Get Keepers created a brilliant solution — the Anything Keeper, a metal basket that attaches under a counter or shelf, folds up so it's almost unseen, and swings down for easy access to your stuff. For those with a lot of stuff, it has a larger sibling, the Everything Keeper, and for coffee connoisseurs, there's also a 24-hole Coffee Keeper for single-serve coffee pods such as K-Cups. The Anything Keeper is $29.95.
Anything Keeper
www.getkeepers.com
---
Dishtowel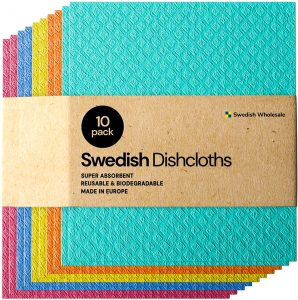 Swedish dishcloths can help save precious space in the RV kitchen by taking the place of paper towels and sponges. A mix of cellulose and cotton, the dishcloths are said to absorb up to 20 times their weight in water but dry fast to prevent odors, are dishwasher safe, and can be reused up to a hundred times. Oh, and they're plant-based, so they're ecofriendly and biodegradable. Price is $19.99 for a pack of 10 in different colors.
Swedish Wholesale
[email protected]
www.swedishwholesale.com
RV Products Submissions
To have a product considered for this column, please send information and a high-resolution photograph to [email protected].