Foldable Electric Bike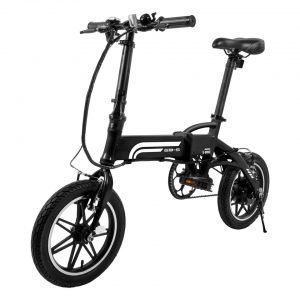 Hoofing it around the campground and beyond can wear a body out. So, consider hopping on an electric bike, such as the EB5 from Swagtron. You can still get some exercise, if you like, because the EB5 also can be pedaled like a traditional bike.
The EB5 delivers 250 watts of power, has a 15.5-mile range on one charge, and can top out at 15.5 miles per hour. A battery indicator on the handlebars tracks the status of the 36-volt lithium-ion battery, which recharges in just under five hours. The bike has 14-inch wheels; weighs 37 pounds; and folds down to 26 inches by 15.6 inches by 23.6 inches. It's available in black or white. The manufacturer's suggested retail price is $550.
Swagtron
(844) 299-0625
www.swagtron.com
---
Four-Speed Fan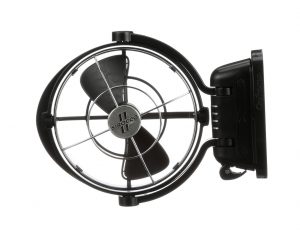 If you are a fan of staying cool — and using fans to do it — you may want to check out the Sirocco II Elite Cabin Fan from Caframo. The 12/24-volt-DC fan features a brushless motor that is said to have a life of up to 20,000 hours and the ability to produce airflow up to 240 cubic feet per minute.
The fan has four speed settings and four timer settings. It can be pointed in any direction, thanks to a gimbal that allows for 360-degree airflow. The fan mounts with six screws (not provided, because the screw recommendation depends on the mounting surface). When standing on its base, the fan is 3.9 inches deep, 9.5 inches wide, and 12 inches high. It is available in white or black. The suggested retail price is $219.99.
Caframo Limited
(800) 567-3556
www.caframo.com
---
LED Lantern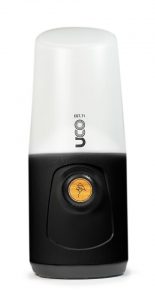 The night need not end when darkness descends. The Madrona+ Hang-Out Lantern, from UCO Gear, has LEDs that provide up to 300 lumens. The light adjusts from dim to bright via a dial and also can be operated in blue LED mode.
The lantern can be used in the traditional way, sitting upright on its base. Or, a lanyard that attaches magnetically to the base makes it possible to hang the lantern upside down from a tent, tree, or other object. A rechargeable 6,400-milliampere-hour lithium-ion battery powers the lantern for six hours on bright; 50 hours on dim. Its USB outlet can be used to charge a phone. The lantern measures 9 inches by 3.75 inches by 3.75 inches. The suggested price is $49.99.
UCO Gear
(888) 297-6062
www.ucogear.com
---
Orthotic Flip-Flops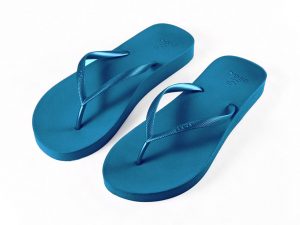 Many people love flip-flops, those fun, casual, easy-to-throw-on sandals of summer. Problem is, most flip-flops offer zero arch support. That's where Eego comes in. The company's founders, a podiatrist and physiotherapist, want to save your sole with Eego's orthotic flip-flops, which were designed to provide arch and heel support so your feet not only can be cool but comfortable.
Eego men's flip-flops are available in brown, teal, black, and gray. Those colors also are available for women, plus taffy pink, nude, and azure blue. The price for men's or women's Eego flip-flops is $30.
Eego
www.eegolife.com
---
Silicone Sealant

A letter can be sealed with a kiss, but an RV may need a structural silicone adhesive, such as FixTech's Fix 8. According to the product description, Fix 8 bonds and seals interior and exterior surfaces, even without primer, and cures in 24 hours with 3 percent shrinkage.
Fix 8 can be used for bonding glass, ceramic, aluminum, wood, fiberglass, carbon fiber, sealed plywood, Corian, stainless steel, PVC, acrylic, polycarbonate, and more. It cannot be painted, but it is said to be colorfast. It is also resistant to ultraviolet light, mold, and heat. It's available in white, black, and antique white. Fix 8 has a shelf life of 12 months from the date of production. The price of a 10.1-ounce cartridge is $15.15.
FixTech
(713) 265-7077
www.fixtechus.com
---
Paper Towel Holder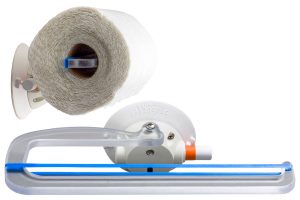 What do you do when you lose your paper towels? Hire a Bounty hunter. Then again, one way to keep a roll close at hand is by using SeaSucker's Paper Towel Holder. Its vacuum mount allows you to position the holder temporarily on most clean, nonporous surfaces — including on an RV's exterior — by pumping the holder's power button a few times. To break the seal, pull a tab; no mark is left, according to the product description.
The holder can be positioned vertically, horizontally, or upside down. You just slide a standard paper towel roll onto a 13.5-inch-wide acrylic tube, which extends out 4.5 inches. An elastic tension band helps prevent paper towels from unraveling. The price is $65.
SeaSucker LLC
(941) 900-1850
www.seasucker.com
---
Jack Pads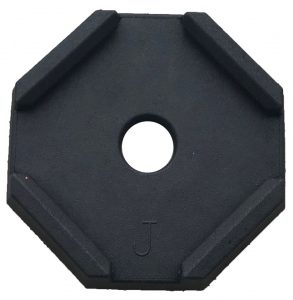 RV SnapPads, from Origen RV Accessories, are permanent jack pads that snap onto an RV's leveling jacks. SnapPads are made from recycled rubber and are available for many leveling systems. The SnapPads EQ line, designed for Equalizer Systems' automatic leveling gear, has a new addition: the EQ Compact. It's the first SnapPad to have a square inner cavity.
The EQ Compact, created in partnership with Equalizer Systems, fits Equalizer's 7-inch-square landing feet, which most commonly are found on four-point leveling configurations for Type B and Type C motorhomes. The suggested retail price of the EQ Compact 4-Pack is $149.95.
Origen RV Accessories
(866) 923-9538
www.rvsnappad.com
---
Cube-Shaped Stereo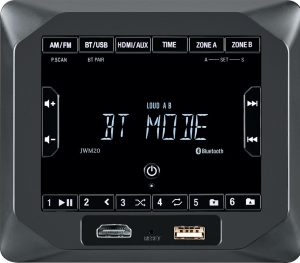 An example of less is more: ASA Electronics' Jensen JWM20 Wall Mount Stereo — the first cube-shaped Jensen stereo — occupies the smallest footprint in the product line while delivering more features, company officials say. It's 5.25 inches wide, 4.6 inches high, and 3.5 inches deep.
The JWM20 supports up to four speakers with two independent speaker zones. Users can choose Bluetooth streaming as well as MP3 and WMA playback via USB. A front USB port can power external media such as Amazon Fire TV and Roku streaming sticks, and an HDMI input allows audio from such devices to play through the stereo's speakers. Other features: 30 radio station presets and a clock with an alarm and a sleep timer. The suggested price is $104.55.
ASA Electronics
(877) 305-0445
www.asaelectronics.com
---
Adjustable Bungee Cords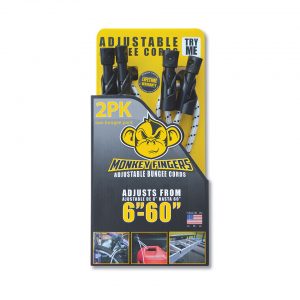 This product is a bit of a stretch, and we mean that literally. Thanks to patented hooks, Monkey Fingers bungee cords can be adjusted from 6 inches to 60 inches long. You position the hooks to the desired length, and then the remaining cord is secured by looping it into a small hook. The advantage for users: No need to carry numerous cords in various sizes.
According to the product description, Monkey Fingers are made in the United States of marine-grade cord stock and have a 70-pound load rating. They are said to be age-, abrasion-, and UV-resistant, and have a lifetime warranty. The price for a package of two is $12.
Playtech Monkey Fingers Bungee
(714) 412-4123
https://playtechbungee.com