Motion Sickness Relief
Queaz-Away Travelers' Wristbands from Davis Instruments Corporation are a nondrug aid for people who suffer from motion sickness when traveling along bumpy, twisting roads.
The wristbands exert gentle pressure on specific points of the wrists to reportedly minimize or eliminate the unpleasant feelings caused by motion sickness. The one-size-fits-all wristbands are made of tough, washable, long-lasting materials.
A pair of Queaz-Away Travelers' Wristbands has a manufacturer's suggested retail price of $9.99.
Davis Instruments Corporation
3465 Diablo Ave.
Hayward, CA 94545
(510) 732-9229
www.davisnet.com
---
Sewer Kit
The RhinoEXTREME RV Sewer Kit from Camco Manufacturing Inc. is said to include everything necessary to hook up and evacuate the black and gray holding tanks.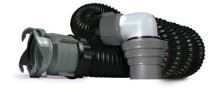 The kit features the RhinoEXTREME 15-foot sewer hose. According to product literature, the hose will not rust, dent, or crush if accidentally stepped on, and offers superior abrasion resistance for protection against pinholes and leaks. The kit also includes preattached Rhino swivel fittings, reusable locking rings, and storage caps.
The RhinoEXTREME RV Sewer Kit has a manufacturer's suggested retail price of $59.99.
Camco Manufacturing Inc.
121 Landmark Drive
Greensboro, NC 27409
(800) 334-2004
www.camco.net
---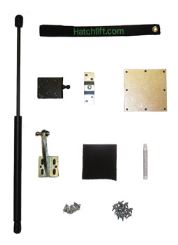 Storage Compartment Door Lift
Hatchlift kits are designed to assist in opening, closing, and holding open storage compartment doors. Hatchlift kits eliminate the need to rely on wall clips and serve to protect users from injury caused by RV compartment doors slamming shut.
Hatchlift kits are engineered to retrofit existing RV compartment doors and include applications for horizontal and vertical storage compartment doors, and two position kits for compartment doors located under slideouts. The kits include universal mounting brackets and are said to install in 30 minutes, requiring only a few tools.
Hatchlift kits are available for door sizes ranging from 14 inches to 44 inches tall and have manufacturer's suggested retail prices starting at $35.
Hatchlift LLC
9060 W. Sixth Ave.
Lakewood, CO 80215
(303) 233-6083
www.hatchlift.com
---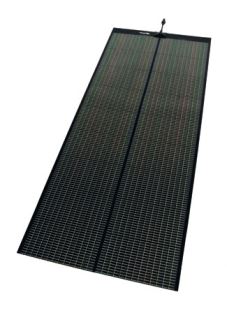 Solar Panel
The PowerTour RV Solar Panel from PowerFilm Inc. provides solar charging power to maintain and extend battery life and to offset parasitic battery power loss.
The flat, flexible panel attaches to the roof of the motorhome with peel-and-stick adhesive backing, eliminating the need to install mounting brackets or drill holes in the roof. The lightweight panel uses amorphous solar technology that works in low-light situations, and its low-profile design offers no wind resistance. Each panel kit comes with a charge controller, 15 feet of wire with connectors, 3 feet of pigtail wire with connectors, and a wire placement kit. The panels are available in 42-watt (26.14-inch-by-60.81-inch) and 60-watt (26.14-inch-by-86.05-inch) sizes.
The PowerTour RV Solar Panel has manufacturer's suggested retail prices of $698 for the 42-watt model, and $978 for the 60-watt model.
PowerFilm Inc.
2337 230th St.
Ames, IA 50014
(888) 354-7773
(515) 292-7606
www.powerfilmsolar.com
---
Surface Protector

Trim Protector Gel from Eagle One is said to restore the color of rubber, vinyl, and plastic surfaces and keep them looking like new even after many washes.
According to product literature, the gel is formulated with a unique emulsion technology that provides unmatched protection, durability, and a long-lasting satin finish. Trim Protector Gel is water-based, has no harsh solvents, and features powerful conditioners and UV protectors that withstand harmful outside elements.
An 18-ounce spray bottle of Trim Protector Gel has a manufacturer's suggested retail price of $5.49.
Eagle One
3499 Blazer Parkway
Lexington, KY 40509
(800) 354-9061
www.eagleone.com
---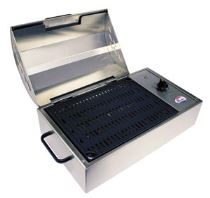 Electric Grill
The Revolution all-seasons portable electric grill from Kenyon International Inc. makes it possible for users to enjoy flame-free, smokeless grilling at any time, indoors or out.
The grill is constructed of marine-grade 304 stainless steel and is said to be weather-resistant and rustproof. It features a double-coated, nonstick grilling surface that is dishwasher-safe; a concealed heating element that eliminates flare-ups; push-to-turn knobs for precise heat control; and convenient carrying handles. The grill offers 155 inches of grilling space, preheats in seven minutes, and can reach temperatures exceeding 500 degrees. The unit includes a built-in GFCI power cord and operates on 120-volt-AC power.
The Revolution grill has a manufacturer's suggested retail price of $695.
Kenyon International Inc.
P.O. Box 925
8 Heritage Park Road
Clinton, CT 06413
(860) 664-4906
www.kenyonappliances.com
---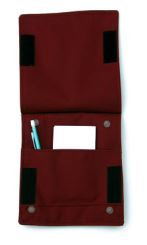 Memo Pad
With the Classic Design While Away Memo Pad from The Classic Scent, you won't miss friends who stop by the motorhome while you're away.
The message pad holder is made of water-repelling Sunsation outdoor fabric and includes a fold-over flap with hook-and-loop fastening material to keep the notepad inside dry. To leave a message, the visitor lifts the protective flap and finds a pocket with a pencil and a message pad. On the outside is a clear plastic pocket to hold business cards. Four large suction cups allow it to be attached to the motorhome near the door. The memo pad is available in black, beige, royal blue, burgundy, silver gray, navy, and hunter green colors. Custom embroidery is available for an additional cost.
The While Away Memo Pad has a manufacturer's suggested retail price of $18.50.
The Classic Scent
72 Hillcrest Drive
Weaverville, NC 28787
(800) 424-9604
www.theclassicscent.com
---
Travel Bag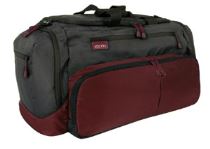 The Skooba Design Weekend Warrior is a combination travel/laptop duffel bag that makes it possible to take everything you need for a brief getaway.
The bag measures 24 inches long, 12 inches high, and 12 inches deep and includes more than 24 storage pockets. According to product literature, the main compartment is large enough to hold two days of casual clothing and travel necessities, while side cargo pockets can be used for shoes, toiletries, and other items. The bag includes a removable padded laptop sleeve that fastens inside the main compartment. The duffel also includes an organizer compartment for gadgets and accessories.
The Weekend Warrior is available with either a small (15-inch or 16-inch) or a large (17-inch) laptop sleeve and has manufacturer's suggested retail prices of $119.95 and $124.95, respectively.
Skooba Design
465 Paul Road
Rochester, NY 14624
(877) 435-5679
(585) 697-3444
www.skoobadesign.com
---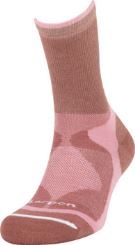 Hiking Socks
Men's and women's Tri Layer Light Hiker socks from Lorpen are designed to keep your feet dry and comfortable when traveling during the spring and summer seasons.
The socks are made with Lorpen's Tri Layer technology with three layers of yarn knit together. The first layer, closest to the skin, is made of Coolmax, a synthetic fiber designed to move moisture away from the skin. The second layer is made of Tencel, a natural fiber that is capable of holding moisture once it is wicked away through the Coolmax. The third layer is made of durable nylon to make the socks resilient and long lasting. The socks are available in a variety of colors for both men and women.
A pair of Tri Layer Light Hiker socks has a manufacturer's suggested retail price of $16.99.
Lorpen North America Inc.
100 Ironside Crescent, Unit #8
Scarborough, Ontario
Canada M1X 1M9
www.lorpen.com
{loadpositionEndBlurbProducts}