Quirky stories abound along the South Dakota portion of what was once the nation's first cross-country highway.
By Marion Amberg
September 2011
They call it the Yellowstone Trail, but in South Dakota the famous road could be dubbed the "Yellowstone Tales." From the Minnesota border to North Dakota, U.S. 12 across northern South Dakota is riddled with whimsical yarns and attractions. But then, the Yellowstone Trail — America's first transcontinental highway — was born there, no small tale in itself.
By 1917 the Yellowstone Trail was the first named highway across the United States. It went from "Plymouth Rock to Puget Sound," and along the way was the country's first national park, Yellowstone, the road's namesake. Drivers of early-day vehicles followed black arrows painted on (what else?) yellow circles. Today the trail's equivalent doesn't always exist, but quite a bit of it has been widened and paved to become a variety of different route numbers, depending on which state you're in. In South Dakota, it's U.S. 12.
Anchored In Lore
The 300-mile road trip on the old Yellowstone Trail in South Dakota begins with a whopper of a story at Big Stone City, a tiny town bordering Minnesota. Tired of flapjacks, legend says Paul Bunyan went fishing on Big Stone Lake for breakfast "small fry": 25-pound walleyes. The mighty lumberjack soon caught his limit, but when he hurled the boat anchor ashore, it flew over the lake and landed more than 2 miles away in Ortonville, Minnesota.
Atop a steep hill at U.S. 12 and U.S. 75 near the Minnesota border, the 110-ton granite anchor hooks tourists' imaginations, with many spinning their own tales of how the anchor came to be. Two Paul Bunyan-sized steps away is the Big Stone County Museum, known for the Charles Hanson North American Wildlife Collection of more than 500 waterfowl and other birds.
From Big Stone City, the Yellowstone Trail ascends into ranching country. The "ocean on the prairie" near Waubay always takes travelers by surprise. The enormous lake, which laps up against both sides of the highway, is as deep blue as the big sky.
Soles With Soul
In Webster, population 2,500 or so, ladies will get a kick out of the Shoe House, located along U.S. 12. Mildred O'Neill collected thousands of shoes and then put them in a custom-built, shoe-shaped house. The biggest clodhoppers are the clown shoes; the most romantic are a Victorian bride's high-top wedding boots. Everyone wants to try the red, high-heeled "Get-Smart"-style shoe phone.
The Shoe House is part of the Museum of Wildlife, Science & Industry, a sprawling 23-building complex of historical artifacts and agricultural memorabilia. Among the curiosities: the world's largest hairball; a pioneer mortuary; and scads of collections ranging from tractor seats to vintage automobiles to period clothing.
As one tourist put it, "If this museum doesn't have it, it doesn't need to be collected!" Admission is free (donations accepted); phone (605) 345-4751 for more information.
A Legendary Fort
At Webster, take State Route 25 north for 24 miles to Fort Sisseton Historic State Park; along the way, you'll note that the eerie, bald-faced hills seem to ripple like a washboard.
While it's claimed that nary an arrow ever pierced this well-preserved fort, not every frontier soldier was impressed. "Of all the places I was ever stationed, this is the meanest," proclaims an excerpt of 16-year-old Andrew Fisk's 1866 diary displayed on fort placards.
Listed on the National Register of Historic Places, Fort Sisseton dates to 1864 and once boasted 400 residents and 45 buildings. Only 14 stone-and-brick buildings survive today, but can these walls talk! In the North Barracks, getting a good night's sleep was hardly sweet dreams.
Soldiers slept two to a straw-tick mattress on narrow bunk beds, one man's head at the other man's feet. According to our tour guide, it was to avoid passing on germs. Fortunately, soldiers washed their feet thrice weekly, per orders.
Other period-renovated buildings include a hospital, officers' quarters, a doctor's office, a 78-stall barn (a soldier's rank determined the color of his mount), and the guardhouse, where bored jailbirds carved their names into the bricks. Their signatures are still visible today.
The cavalry rides again during the Fort Sisseton Historical Festival, held annually the first weekend in June. Events include a rendezvous, a black powder shoot, living history demonstrations, concerts, and even melodramas.
Fairy Tales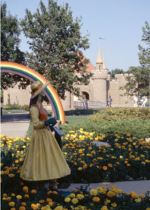 Back on U.S. 12, head west approximately 55 miles to Aberdeen, population 25,000 or thereabouts. Once a bustling railroad hub, Aberdeen is spiked with fibs and fables. The "Grimm" story begins at Storybook Land, part of 210-acre Wylie Park, a family attraction 1 mile north of town on U.S. 281. Largely volunteer-built, the magical theme park features more than 60 fairy-tale and nursery-rhyme sets.
Among the characters are an "egg-ceptionally" large Humpty Dumpty sitting on a tall brick wall and a prince scaling Rapunzel's golden-hair ladder at a medieval castle with moat. Fee-fi-fo-fum, a fiberglass Jack climbs a giant talking beanstalk. With a click of the heels, visitors will find themselves in the adjacent Land of Oz, built in honor of L. Frank Baum, a one-time Aberdeen resident and author of The Wizard of Oz. He eventually moved to Chicago, where he wove Aberdeen characters and events into a bestseller — or, so the story goes.
A simulated tornado at Dorothy's house begins the adventure down the yellow brick road, but watch out for flying monkeys and the Wicked Witch. Just ahead are the Emerald City and the Wizard himself in a hot-air balloon.
Continue Dorothy's adventure at Aberdeen's annual Storybook Land Festival (green-tinted glasses advised), which takes place each year in July. Like the park itself, there is no admission charge for the festival, which includes storytellers, entertainment, and arts and crafts activities. For more information, visit the Aberdeen Web site, www.aberdeen.sd.us, or call (605) 626-7015. The park is open daily from April 15 through October 15.
Spinning Wheels
If only Joe Parmley could have clicked his heels like Dorothy. In 1912, the "father of the Yellowstone Trail" was stuck (again) in the 26-mile "road" between Aberdeen and Ipswich to the west. Parmley didn't spin his wheels, however; he formed a grassroots organization to promote good roads, and from that, the Yellowstone Trail was born.
Roads were ditched, dragged, and graded, and the Yellowstone Trail emblem was painted on poles and rocks. It soon stretched from coast to coast. And to honor him, you can visit the J.W. Parmley Historical Home & Museum (319 Fourth St.) in tiny Ipswich. Parmley's indestructible second home (the first burned) is built of brick and stone, with concrete floors and a concrete bathtub. The impressive fireplaces are studded with fossils, minerals, shells, and marbles.
Another must-see in town is a huge, stone archway that welcomed travelers into town as they drove along the Yellowstone Trail. Each pillar weighs a colossal 100 tons. The landmark that once spanned the road was built to pay tribute to World War I soldiers; it was moved to the city park when the highway was widened in 1973.
Where Does Sitting Bull Lie?
The next 75 miles or so to Mobridge, population 3,142, may seem lonely, and drivers should beware of mirages. The buffalo you see on distant hills might actually be grazing boulders!
Touted as the "Walleye Capital of the World," Mobridge is loaded with lore. Even the town name tells a story. Around 1906 when a railroad bridge was being built across the Missouri River there, a telegraph operator tapped out "MO" (for Missouri) and "bridge." The name stuck.
Mobridge is better known for the saga of Sitting Bull. After Custer's defeat at Little Big Horn in 1876, the Lakota chief joined Buffalo Bill's Wild West Show and performed horse tricks. In 1890 the leader was killed by Indian police on the Standing Rock Indian Reservation near Mobridge. He was buried at Fort Yates, North Dakota.
But Mobridge wanted Sitting Bull back, and his family members agreed his body should be moved. In April 1953, grave diggers created a national sensation when they hoisted the body and re-entombed the remains under 20 tons of concrete, topped by a seven-ton, double life-sized bust created by Crazy Horse Memorial carver Korczak Ziolkowski. However, to this day, some locals claim the grave is a decoy and that Sitting Bull is buried in a secret location.
The Sitting Bull Monument, located at U.S. 12 and State Route 1806, offers a stunning view of the Missouri River and the rolling grasslands he once called home.
To learn more about the Lakota Indian culture, be sure to view Indian artist Oscar Howe's murals, located at the Scherr-Howe Arena on Main Street. Ten huge paintings depict traditional ceremonies and everyday life. And for a taste of the Old West, attend the Sitting Bull Stampede Rodeo, held each July 2, 3, and 4 in Mobridge.
Petrified Past
Back on U.S. 12, it's about 100 miles to Lemmon, the end of South Dakota's portion of the Yellowstone Trail. Lemmon, population 1,169, is renowned for its own strange story: It is home to Petrified Wood Park. This collection spans a city block and includes a 300-ton castle with spires and turrets. And in the "Black Forest," cannonball trees — made from round stones — add to the quirky charm.
Built during the Great Depression, the park was a privately funded works project. In exchange for sustenance, unemployed men gathered petrified woods and fossils from a 25-mile radius of Lemmon and then transformed the colossal logs into dozens of artworks, including a wishing well and a grotto. The circular museum and gift shop, open Memorial Day through Labor Day, boasts a floor of petrified grass. The park itself is open year-round.
Most travelers don't need this many stories to get themselves out on the road. So be sure to check out the Yellowstone Trail the next time you're nearby, and make your own "Yellowstone Tales"!
Further Info
South Dakota Tourism
711 E. Wells Ave.
c/o 500 E. Capitol Ave.
Pierre, SD 57501-5070
(800) S-DAKOTA (732-5682)
(605) 773-3301
www.travelsd.com
Area Campgrounds
This is not a complete list. Please consult your favorite campground directory or the RV Marketplace, listed online at FMCA.com and in the January and June issues of FMC magazine, for additional listings.
Fort Sisseton State Historical Park
11907 434th Ave.
Lake City, SD 57247
(800) 710-CAMP (2267)
(605) 448-5474
E-mail: fortsisseton@state.sd.us
www.campsd.com
Hartford Beach State Park
13672 Hartford Beach Road
Corona, SD 57227
(800) 710-CAMP (2267)
(605) 432-6374
E-mail: Hartford@state.sd.us
www.campsd.com
Indian Creek Recreation Area
12905 288th Ave.
Mobridge, SD 57601
(800) 710-CAMP (2267)
(605) 845-7112
E-mail: Indiancreek@state.sd.us
www.campsd.com
Wylie Park Campground
2310 24th Ave. N.W.
Aberdeen, SD 57401
(888) 326-9693 (Campground reservations May 15 – September 15)
(605) 626-3512 (Campground)
www.aberdeen.sd.us