For summer fun, the young at heart head to Wisconsin Dells and Baraboo, Wisconsin.

By Anna Lee Braunstein, F351629
July 2011
The town of Wisconsin Dells, Wisconsin, has an extreme reputation. It is said to be the Water Park Capital of the World, and therefore the wettest, wildest, weirdest, and most wonderful vacation family destination on the planet. Kids find that its water slides are the fastest, biggest, scariest, steepest, tallest, wildest, and cause more screams than any other place.
Exaggeration? Maybe or maybe not. Only a visit there with your family will reveal the truth.
The Wisconsin Dells region is approximately 43 miles northwest of Madison, site of FMCA's 86th Family Reunion and Motorhome Showcase, August 10 through 13, 2011. "The Dells" earned its wet reputation early. The Wisconsin River flows through a scenic chasm here; American Indian legends tell of a giant serpent coming from the north, creating the riverbed. Actually, a giant glacier did the work, leaving bumpy, beautiful sandstone rock formations along the river's edge. Travelers have been savoring the beauty of the Dells and the thrill of boat rides on the river since 1856.
Boat rides along the Wisconsin River range from turbulent to tranquil. Jet boats combine a wet ride with wonderful views and fascinating stories told by the captains. "Ducks" (amphibious vehicles) roll through wooded trails and glide along the water. Some boat tours include a stop to let riders walk through winding Witches Gulch, where they can buy cool drinks. A classic stop allows visitors to attempt to duplicate H.H. Bennett's famous 1886 stop-action photograph of his son, Ashley, leaping across Stand Rock, only this time the photographic subject is a trained German shepherd. An evening cruise combines dinner with a lovely sunset. Kayaks and canoes are available for a self-powered tour of the area. Northern pike, walleye, bass, panfish, and catfish await the cast of a fishing lure.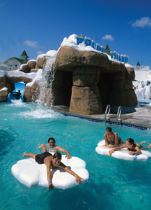 Wisconsin Dells offers 50 different attractions that involve water. Forget about simply jumping or diving into a pool; instead, you can slide downhill and uphill, ride a raft, dip in and out and over and under on roller coasters, and ride the waves. However you go, you will get wet.
If you and your family like wild thrills without the water, the Dells has plenty of those, too. Amusement parks with roller coasters, climbing walls, rope canopies, and laser tag can be found. Stories about spies, artists, and the famous and infamous await at Ripley's Believe It or Not Museum, the H.H. Bennett Studio museum, and other museums and galleries. A science-is-fun concept is adhered to at the Tommy Bartlett Exploratory, which has among its exhibits a replica of the Russian Mir space station. And if you want to relax and enjoy entertainment on the water, be sure to see Tommy Bartlett's water ski shows on Lake Delton.
All this activity requires energy, and that energy must be replaced. The Dells area is dotted with family-welcoming restaurants that serve heaping plates of burgers, seafood, steaks, and chicken with a vast variety of accompaniments. Pizzerias abound. Other restaurants have large arcades to entertain kids while they wait or after their meal. For a tasty boost between activities, cheese shops and candy factories offer samples to try before you buy. If you're in need of a cool treat, check out the ice cream and frozen yogurt shops.
The Dells also offers regulation golf and mini-golf, Tanger Outlet stores, an antique mall, and the state's largest craft and gift mall. Many attractions participate in the Wisconsin Dells Coupon Book, a value you may want to check out before your visit.
You can stay in Wisconsin Dells and make a day trip or two to other fabulous sites. Down the road a mere 15 miles south is Baraboo, home of the Circus World Museum. All ages are enchanted and entertained in this living museum. Baraboo was once the winter quarters for the Ringling Brothers circus. Today as you wander through the buildings and grounds, the familiar aroma of cotton candy and popcorn blends with the scent of the jungle. Throughout the day, shows and exhibits bring back that earlier age as magicians, acrobats, clowns, and animal trainers perform under the big top. Audiences still ooh, aah, and gasp at feats of daring and illusion. A tour of the beautifully restored circus wagons in the W.W. Deppe Wagon Pavilion brings back memories of the way the circus used to travel.
The prosperity enjoyed by the Ringlings in Baraboo was shared with the public in the form of the 1915 Al. Ringling Theatre. Today shows, movies, and tours are available at what was called "America's Prettiest Playhouse," a place said to have started the trend toward constructing fanciful, elaborate movie theaters in the 1920s.
An opportunity to admire beautiful and endangered whooping cranes is offered in Baraboo as well. The International Crane Foundation is dedicated to conserving all world species of cranes and is the only location where all of them can be seen in one place. The group also works to save the wetlands and grasslands on which these creatures depend. While its purpose is serious, visiting the center is a delightful blend of fun and education. Visitors can take a self-guided tour or follow expert docents on a two-hour guided tour. Either way, the visit is filled with opportunities to watch and photograph these striking birds as they display such behaviors as courting, nesting, and protecting territory. With their heads thrust upward, their calls are distinctive and attention-grabbing. Because agriculture and environmental damage have limited the crane's opportunities to secure food, a major part of the program is training cranes to fly along new routes. Docents demonstrate the crane "costume" worn by ornithologists during the training of young cranes. The 1996 movie Fly Away Home presented a fictional account of how cranes have been taught by humans to follow new paths in their migration. After the tour, stop in the gift shop, which is filled with crane shirts, books, mugs, and more.
A few miles west of Baraboo via State Route 136, more critters "" this time, lions, tigers, and panthers "" can be seen at the Wisconsin Big Cat Rescue in Rock Springs. Founders Jeff Kozlowski and Jenny Meyer provide a safe, caring shelter for these creatures, some of whom had been neglected and unwanted. Tours are available daily in summer from 10:00 a.m. to 6:00 p.m., and if you visit, bring your camera.
On your way to Rock Springs, be sure to make a jaunt to North Freedom, home to the Mid-Continent Railway Museum. There, restored steel coaches originally built in 1915 are hauled by diesel-powered locomotives, taking passengers on a 50-minute ride through the rural countryside. The best seats are in the caboose, the cab, or perched on rocking milk cans in a freight car. The museum is in a building that dates back to the late 1800s. The Coach Shed is filled with rolling stock from the "Golden Age of Railroading," 1885 to 1915, and includes a variety of railcars, snowplows, steam engines, and other historic items that can be viewed at your leisure.
Just south of Wisconsin Dells is Mirror Lake State Park, and a short drive south of Baraboo is Devil's Lake State Park. At either park, you can relax under the tall trees, fish in the clear lakes, or bask in the open fields. They provide time for tranquil refuge. Whatever you choose to do, you are guaranteed a wonderful time.
If you enjoy wine tastings, you may want to head a bit farther south of Baraboo to Prairie du Sac. While the Ringlings were developing their circus, a Hungarian count was planting grape vines. Wollersheim Winery began in the 1840s when Count Agoston Haraszthy came to what was then the Wisconsin territory and planted vines from his homeland. They did not do too well, but the ones he brought with him to California as a gold prospector did "" and he's credited with beginning that state's wine industry. The Wisconsin vineyard he founded now produces 20 varieties of award-winning wine. A $5 tour of the winery, which is listed on the National Register of Historic Places, includes videos of its history and a walk through the gardens, buildings, and limestone cellars. Free wine tasting is offered to those 21 and older. For more information, visit www.wollersheim.com.
Further Info
Wisconsin Dells Visitor & Convention Bureau
701 Superior St.
P.O. Box 390
Wisconsin Dells, WI 53965-0390
(800) 223-3557
(608) 254-4636
Email: [email protected]
www.wisdells.com
Baraboo Area Visitor Center
600 W. Chestnut St.
P.O. Box 442
Baraboo, WI 53913
(800) 227-2266
(608) 356-8333
Email: [email protected]
www.baraboo.com
Other helpful Web sites related to this story include:
www.dells.com
www.dellscoupons.com
www.wisconsinstateparks.reserveamerica.com
Area Campgrounds
The following may not be a complete list, so please check your campground directory or the RV Marketplace, available online at FMCA.com and published in the January and June issues of FMC magazine.
Baraboo
Fox Hill RV Park & Campground, C10519
(FMCA commercial member)
E11371 N. Reedsburg Road
Baraboo, WI 53913
(888) 236-9445
(608) 356-5890
Email: [email protected]
www.foxhillrvpark.com
Ho-Chunk Casino
(Free dry camping in parking lot with permission)
S3214 U.S. 12
Baraboo, WI 53913
(800) 746-2486
(608) 355-7777
www.ho-chunk.com
Devil's Lake State Park
S5975 Park Road
Baraboo, WI 53913-9299
(888) 947-2757
(608) 356-8301
www.dnr.wi.gov/org/land/parks/specific/devilslake/
Mirror Lake State Park
E10320 Fern Dell Road
Baraboo, WI 53913
(888) 947-2757
(608) 254-2333
www.dnr.wi.gov/org/land/parks/specific/mirrorlake/
Yogi Bear Jellystone Park Camp-Resort
S1915 Ishnala Road
Baraboo, WI 53913
(800) 462-9644
(608) 254-2568
Email: [email protected]
www.dellsjellystone.com
Wisconsin Dells
KOA-Wisconsin Dells
S235A Stand Rock Road
Wisconsin Dells, WI 53965
(800) 254-4177
(608) 254-4177
www.wisdellskoa.com
Sherwood Forest Camping & RV Park, C12250
(FMCA commercial member)
S352 U.S. 12
Wisconsin Dells, WI 53965
(877) 474-3796
(608) 254-7080
www.sherwoodforestcamping.com
Holiday Shores Campground & Resort
3901 River Road
Wisconsin Dells, WI 53965
(608) 254-2717
www.holiday-shores.com
Arrowhead Resort Campground
W1530 Arrowhead Road
Wisconsin Dells, WI 53965
(800) 955-4188
(608) 254-7344
www.arrowheadcampresort.com