Family & Friends
By Jake Kessler, F147069
April 2011
FMCA members who attended the Great Eastern Area Rally (GEAR), held October 20 through 24, 2010, at the Dixie Classic Fairgrounds in Winston-Salem, North Carolina, donated food and cash to Second Harvest Food Bank of Northwest North Carolina, which was designated as the "Community Donations" recipient for the 2010 rally. Attendees donated 1,969 pounds (nearly 1 ton) of food and monetary contributions of $1,326. Checks were received from seven chapters and numerous individuals.
According to Second Harvest, the money collected was enough to purchase 9,282 meals, and the donated food would provide 1,640 meals. The combined donations would be able to provide 130 families of four with three nutritious meals for one week.
A Community Donations program was one way for GEAR attendees to say "Thank you" to the Winston-Salem community for hosting the event, which included 594 family coaches in attendance.
Betty and Jake Kessler served as the Community Donations chairmen for the rally. Second Harvest was selected in early 2010, and the Kesslers had a chance to visit the facility in April 2010 during the GEAR planning session. Debbie Clark, development assistant at Second Harvest, worked throughout the year with Betty and Jake to be ready with collection boxes and signs once GEAR got under way.
The food drive was publicized several times during the summer with e-mail notices to the Eastern Area Motorhome Association's chapter presidents. There also was a notice about the food drive in attendees' registration packets, plus an ad was placed in the GEAR program.
During the rally, Second Harvest supplied a dozen large donation boxes that were placed near the information/registration tables. Attendees began filling the boxes on Tuesday, and by Thursday it was necessary for the Second Harvest truck to make its initial pickup. A second pickup was made on Monday after the close of the rally. GEAR received a thank-you letter from Debbie Clark with a handwritten note of thanks from Clyde Fitzgerald Jr., executive director of Second Harvest Food Bank of Northwest North Carolina. A copy of the letter was forwarded to the presidents of each Eastern Area chapter.
Second Harvest Food Bank's mission is to reduce hunger and malnutrition in 18 counties across northwest North Carolina. According to information from Second Harvest, nearly 220,000 individuals in the area live below the federal poverty level (U.S. Census), and North Carolina is among the 10 states with the highest percentage of families who are at risk of hunger (USDA).
Second Harvest Food Bank receives food from a wide variety of sources: governmental, commercial, public, private, fraternal, corporate, and manufacturers. Donated product is distributed from their 64,000-square-foot warehouse in Winston-Salem. The freezer and cooler space allow the organization to accept and distribute donated meat, produce, and other perishables that might otherwise go to waste. Most partner agencies come to the warehouse to select product for distribution, but some deliveries are made to rural areas.
GEAR attendees made a difference in northwest North Carolina.
---
California Heartland Celebrates 20 Years
Family & Friends
By Spicie Lee, F267465
April 2011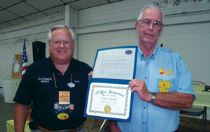 Some 20 years ago, a group of people living in central California shared a common love for their motorhomes and travel. So they got together to form the California Heartland chapter, beginning what has been two decades of fun.
The chapter's 20th anniversary celebration was held on Saturday, November 13, 2010, during our weekend rally at the Hanford Fairgrounds in Hanford, California. Many charter members, past presidents, and current members were in attendance. The anniversary celebration exceeded all celebrations. The hall was brightly decorated with red balloons and checkered tablecloths to complement the Western theme. Everyone was dressed in Western attire, and each couple posed for their photograph as the festivities started. Jenelle Lockwood, chapter membership chairman, attended to each and every detail of the party, from the decorations to the delicious steak dinner.
Dick Gibbs, Western Motor Home Association Central Area vice president, joined the celebration to present a certificate of congratulations to the chapter's current president, Ron Neve. Each of the charter members, past presidents, and all attending members received a beautiful engraved 20th anniversary pin to wear proudly on their name badges.
From the dream of the charter members to the current members' delight, all agree that there is nothing more exciting than traveling the roads of North America in a motorhome. All California Heartland members look forward to the next 20-plus years filled with FMCA conventions, rallies, entertainment, and travel. And, most of all, the friends that will be made as the years pass.
The rallies bring many wonderful long-term friends, and through these friendships many wonderful trips and adventures. As it is said at California Heartland rallies, "Heartland, Heartland, number one!"