Hand Lotion
Participating in outdoor activities during the cold winter months can be harsh on your hands. Skin Therapy Cream from Outdoor Hands LLC is said to prevent and provide relief for dry, cracked skin.
According to product literature, Skin Therapy Cream is formulated with essential botanical oils that penetrate deeply into the skin without leaving behind a greasy residue or fragrance. The cream also can be used anywhere else dry, cracked skin appears and is said to help revitalize the area(s) within days.
A 3.4-ounce tube of Skin Therapy Cream has a suggested retail price of $10.
Outdoor Hands LLC
318 Baston Road
Suite 103
Augusta, GA 30907
(866) 880-1915
www.outdoorhands.com
---
Indoor Overshoes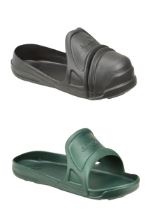 Keep the flooring inside your motorhome clean with Shoe In overshoes from Weinbrenner Shoe Company.
Shoe In overshoes are made of lightweight EVA material and are designed to slip over most shoes or boots without the need to bend over to put them on or take them off. The patented gripper teeth and a pair of slip-resisting rubber pads on each overshoe help to keep them secure. They can be worn over footwear inside the motorhome, or worn as outdoor overshoes. Shoe In overshoes are available in Open Toe, Closed Toe, Safety Toe and Ice-T designs, and in four men's sizes and three women's sizes. Each pair comes in its own carrying bag.
Open Toe Shoe In overshoes have a suggested retail price of $26 per pair.
Weinbrenner Shoe Company
108 S. Polk St.
Merrill, WI 54452
(800) 826-0002
(715) 536-5521
www.weinbrennerusa.com
---
Beverage Holder
Beverage Butler outdoor drink holders make it convenient to keep your drink handy whenever you are outdoors.
Each ornamental iron drink holder inserts directly into the ground and can hold two containers of your favorite beverages at a height of approximately 31 inches. The holder features durable steel-welded construction and a black satin powder-coat finish.
A set of two Beverage Butler holders has a suggested retail price of $49.50. The Beverage Butler Shorty model, a shorter version of the original, is priced at $44.50. For use on hard surfaces, a pair of stands can be purchased for $32.
Beverage Butler
5655 Dry Fork Road
Cleves, OH 45002
(513) 382-6974
www.beverage-butler.com
---
Cord Management Tool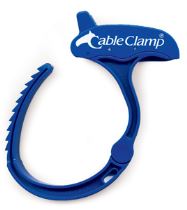 According to product literature, the Cable Clamp from QA Worldwide is an easy-to-use cord management and organizational tool that is superior to tape, cable ties, and hook-and-loop fastening material straps.
The reusable Cable Clamp can be opened and closed with one hand using its quick-connect, quick-release feature and automatically adjusts to the size necessary to keep cords, cables, or wires secure. The device is constructed of durable polymers and stainless steel, and it aligns, adjusts, and locks automatically. The Cable Clamp comes in small, medium, and large sizes and in multiple colors.
A combination pack of nine small, two medium, and one large Cable Clamp has a suggested retail price of $19.95. Other combination packs and same-size packs are available. A Mega Clamp for hoses and larger cables is also available.
QA Worldwide
4740 126th Ave. N.
Clearwater, FL 33762
(727) 528-1000
www.cableclamp.com
---
Portable Hard Drive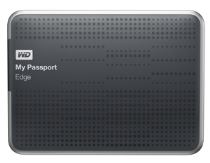 The My Passport Edge portable hard drive from WD makes it easy for users to back up data from their computer and to manage, share, and enjoy digital content.
The portable drive features 500 gigabytes of storage, a USB 3.0 interface for fast read/write speeds, and SmartWare continuous and automatic backup software to create a copy of the user's computer content to ensure personal files are protected in the event that the computer is lost or stolen. The slim hard drive measures 1/2-inch high, 4.37 inches deep, and 3.24 inches wide, and weighs less than 1 pound. It is compatible with Windows XP, Vista, 7, and 8 operating systems.
My Passport Edge has a suggested retail price of $109.99. A version for Macintosh computers, My Passport Edge for Mac, is available for $119.99.
WD
3355 Michelson Drive
Suite 100
Irvine, CA 92612
(800) 275-4932
(949) 672-7000
www.wd.com
---
Roof Repair Product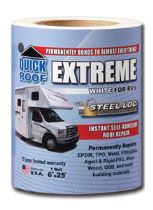 According to product literature, Quick Roof Extreme from Cofair Products Inc. is an instant self-adhesive roof repair product that will bond to almost everything.
The waterproof adhesive material can be used to stop leaks on EPDM, TPO, metal, and fiberglass roofs, and also works on skylights, vents, holding tanks, and more. Quick Roof Extreme is guaranteed not to crack, harden, or shrink, and it can be applied to most materials when they are damp or even wet.
Quick Roof Extreme is available in three sizes: a 4-inch-wide, 6-foot-long roll to keep in the toolbox has a suggested retail price of $16.95; a 4-inch-wide, 25-foot long roll has a retail price of $38.95; and a 6-inch-wide, 25-foot-long roll is priced at $58.95.
Cofair Products Inc.
7301 N. St. Louis Ave.
Skokie, IL 60076
(800) 333-6700
(847) 626-1500
www.cofair.com
---
Rearview Parking System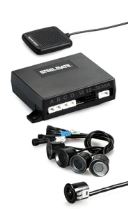 According to product literature, the PTSV401 Parking Assist System from Steelmate USA combines the reliability of ultrasonic sensors with the added security of video camera output to create the ultimate backup protection.
The system comes with four rear-mounted sensors that relay object distances to the vehicle's in-dash video unit or monitor. It also includes a low-light, wide-angle micro video camera that provides drivers with a clear view of the area behind the motorhome. The unit features video overlay that shows the distance from an object onscreen in feet, as well as voice and audible alerts, and is compatible with any video unit that has a composite video input. The system is designed to work in all weather conditions, and the sensors have a range of 1 to 8.4 feet.
The PTSV401 has a suggested retail price of $499.
Steelmate USA
12753 Moore St.
Cerritos, CA 90703
(800) 421-3533
(562) 404-9998
www.steelmateusa.com
---
Vehicle Rinsing System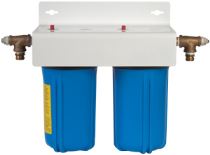 The CleaRinse 78300 Dual Cartridge DI Spot Free Rinse system from G2 Products Inc. promises a spot-free finish after every motorhome wash without the hassle of trying to hand dry the vehicle.
The system features dual #10 cartridges filled with premium-grade mixed bed DI resin that reportedly provides up to 150 gallons of demineralized rinsing water. When the resin is exhausted, the color changes, indicating that it needs to be replaced. The system also includes two #10 cartridge housings with a pressure-relief valve; a dual-line TDS meter; machined brass fittings and stainless-steel fasteners; a 4-foot connection hose; and instructions.
The CleaRinse 78300 has a suggested retail price of $299. A larger version of this portable system, the 78400, can provide approximately 300 gallons of spot-free water and is priced at $399.
G2 Products Inc.
1445 Jupiter Park Drive #9
Jupiter, FL 33458
(561) 596-2085
www.clearinse.com
---
Pet Assistance
The Pet Loader from A'WEGO Enterprises Inc. is designed to help pets get in and out of vehicles on their own with greater ease.
The Pet Loader is an 18-inch-wide series of fold-up steps that extend from the vehicle entry to the ground to provide a low angle of ascent/descent for pets of all sizes. The large step platforms, which do not sag, eliminate fear in pets. Washable carpet on each step provides secure traction. Once the pet is in or out of the vehicle, the device folds down to 22 inches long, 18 inches wide, and 7 1/4 inches high for storage.
The Pet Loader is available in four models and in three-, four-, and five-step versions of each. Suggested retail prices start at $170 for the three-step Pet Loader Light model.
A'Wego Enterprises Inc.
P.O. Box 27
Caledonia, IL 61011-0027
(877) 275-4870 (info)
(800) 805-0819 (order)
www.petloader.com

{loadpositionEndBlurbRVProducts}