This Eugene, Oregon, company, established by an RV industry veteran, breathes new life into motorhomes of all ages.
By Ty Adams
February 2010
History shows that one of the most important abilities of survivors is their ability to adapt. The RV industry, dazed from a year or so of economic blows, can look to one of its founding fathers to see an example of adaptability in action.
Industry pioneer Bob Lee, who in 1973 founded the company that would become Country Coach Inc., one of the RV manufacturers that spurred a booming RV industry to life in Oregon's Lane County through the next several decades, recently returned to the RV business. This time, however, he operates in a slightly different capacity. He and a small team launched Oregon Motorcoach Center (OMC), which opened for business in Eugene, Oregon, in March 2008. Unlike Mr. Lee's previous ventures, OMC is not a manufacturer but a service facility dedicated to repairing or refurbishing "any motorhome that's out there."
As the financial crisis impacted the RV industry, causing a number of RV builders to go bankrupt or totally close their doors this past year, a greater need for RV service arose. Many motorhome owners have held on to their vehicles rather than trade up during the depressed economy, which in turn has created a greater need for refurbishing. Thus, OMC's launch seems well-timed. It could be seen as a shrewd business move years in the making, but those who know Bob Lee might guess that it's really much simpler: he's just doing what he wants and doing what he knows.
"Bob has talked about doing this for a long time," said Ed Read, OMC operations manager, who began working for Mr. Lee in 1977. "He's wanted to do a service/refurbishing company forever. He was finally able to grab the opportunity to start this up. We all made ourselves available to him, and we made it our mission to make that dream of his come true."
Mr. Read noted that OMC is filling a niche in the industry that hasn't received much attention. Although plenty of RV service companies exist, OMC's depth makes it stand out. "You can't really find a high-line service organization that will service virtually any component on any motorhome that's out there, or especially a company that will do full refurbishing on them," he said. "Our forte really is high-line coaches "" that's what we specialize in "" but it doesn't have to be a high-line motorhome."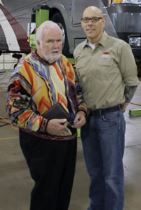 Mr. Read gestured out the window to a Type C motorhome parked in the lot. "They were just traveling by and heard about us. It's got a propane leak and some dead batteries. So I'm working on it. We can work on anything."
Pat Mason, OMC vice president, and Mr. Lee's son-in-law, noted, "Our mission when we first started this company was to bring back that family atmosphere that the RV industry was built on. We felt it was a culture that was missing."
The business has gathered momentum as an increasing number of RVers have begun to find out about OMC and its experienced technicians. OMC currently employs 24 people, with more than 300 years of combined RV experience between them. Many come from two RV companies that operated in the area: Monaco Coach Corporation, which filed Chapter 11 and shut down prior to being acquired by Navistar International Corporation in June 2009 and relaunched as Monaco RV LLC, and Country Coach Inc. (which Mr. Lee no longer owned), which entered court-ordered liquidation in November 2009. Mr. Read was able to acquire a team of knowledgeable technicians from these companies, both based in the Eugene/Junction City, Oregon, area.
OMC currently employs a hand-selected group of 12 technicians, all with their own specialty. These include an audio/video engineer, painters, and others who focus on slideout room repairs, flooring, cabinetry, and solid surface work. "What sets us apart is our ability to respond to a certain standard. I can put somebody with experience on a specific issue, not somebody who is going to be experimenting with [an owner's] problem," Mr. Read said.
"The guys who we have servicing these units are actually the guys who built [many of] these units," Mr. Mason added. "So they know from a behind-the-scenes perspective what [a] coach is made of and how it's put together."
Nuts And Bolts
Although refurbishing is touted as the company's specialty, OMC's current workload leans more toward service, with just about 30 percent of business coming from refurbish projects. OMC also operates a mobile service unit, which has the ability to reach customers in a 150-mile radius from the service center. When it comes to warranty work, however, the company prefers to stay out of the haggling.
"We don't do warranty work," Mr. Read said. "We decided that we didn't want to take on the warranty world here because there is just too much heartache."
The goal at Oregon Motorcoach Center is not to provide the cheapest service, but to provide the best quality service; this is the same strategy employed on refurbishing units. The list of upgrade and retrofit options covers just about anything an owner can think of, from the addition of radiant heated floors with granite or tile covering to new flat-screen TV upgrades, new LED lighting, inverters, generators, plumbing, and interior fabrics, to name a few.
"Just about the only thing we won't do is add a new slideout," Mr. Read explained. "We can add or remove interior walls, but we won't mess with the load-bearing structure."
Although price depends on the nature of the job, Mr. Read said that OMC doesn't necessarily try to outbid other companies based on price alone. "The price tag on a refurbish scares away probably a larger share of people than I thought it would. If I'm bidding on ten jobs, I'll probably get three of them, but I don't try to lowball anybody. I come straight at them with what I believe [the price should be], because if I'm wrong, I don't know how the job would get done cheaper and still be good quality."
Despite the price factor, the gentlemen are convinced that a long-term future for refurbishing RVs exists, even if the economy returns to boom times. "A lot of folks have owned their RVs long enough to know the mechanics of them, and they like the layout," Mr. Read said. "They just want new bedspreads, new carpeting, different televisions with higher technology "" this type of stuff. They don't want to start all over with a new coach and work out the kinks. They've got something they like, and they know the life expectancy of the engine and chassis, which will last for a long time. They just want to update it."
The most common refurbish request at OMC is for upgraded audiovisual systems, such as high-definition TVs, Blu-ray Disc players, and satellite systems, although cosmetic changes and upgrades are also frequently requested.
The Past And The Future
When asked about the recent state of the RV industry, both Mr. Mason and Mr. Read agreed that it would have been hard to predict the sudden nosedive, although Mr. Read ventured that a few mistakes were made.
"I think everybody grew too fast," he said. "They flooded the market with product at the time that the economy started coming apart. It was pretty much the perfect storm. They had all this inventory out there at the time that the economy started sinking."
As for what the future might hold, the men's opinions differ slightly. Mr. Read said he believes that the market will slow down for a while but will eventually come back looking like it did before, with a high proportion of larger, high-line vehicles. Mr. Mason thinks that the future of the industry will lean more in a European direction, toward slightly smaller, more efficient vehicles with an emphasis on environmentally friendly building and renewable fuels.
"I think there's a lot to learn about how RVs can be made to integrate more biofuels and green materials," Mr. Mason said. "But I'm definitely interested in seeing this company go in a green direction. The industry would be foolish if they didn't look into efficiency and alternative fuels and renewable energy."
The one thing everyone seems to agree on is that the RV industry will adapt and survive, thanks in large part to the drive and adaptability of people such as Bob Lee.
"It's been a great ride watching the growth and all the families spin off from what Bob started," Mr. Read said. "It's really been challenging to see that change." Citing the industry's struggles, he noted, "Companies like us are out there doing what we can to resuscitate it in some way."
Oregon Motorcoach Center, 29417 Airport Road, Eugene, OR 97402; (800) 942-6860; www.oregonmotorcoachcenter.com.
Hot Rods? Why Not?
Oregon Motorcoach Center has a sister company: Oregon Rod & Custom. As its name suggests, this company focuses on custom-built hot rods.
According to Pat Mason, Bob Lee first got the idea to venture into this realm when he was developing RV resorts, where he discovered that a number of motorhome owners also owned hot rods. "Being an enthusiast, he said: "˜When the time is right, I want to do cars.'"
They plan to build a few roadsters on speculation, which they'll take on the show circuit to attract attention, buyers, and new customers.
At the time of this writing, a custom 1932 Ford was in the final stages of completion, and another '32 Ford was next on deck. We stepped into the shop for a look at the progress. The half-assembled '32 Ford sat parked in one of the rear bays. We happened into the shop just as Bob Lee was passing through for a visit. He stood near the work-in-progress, chatting with a group of technicians. When asked about getting into the business of custom roadsters, he cracked a smile and said, "Hot rods? Why not? You've got to have fun no matter what you're doing."