At Chaco Culture National Historical Park, ancestors of modern Indians left evidence of a fascinating civilization.
By Lazelle Jones
February 2010
There's not much excitement about a four-story high-rise condo (with a view) unless it's called Pueblo Bonito and is one of the several that are found in Chaco Canyon. Here, massive stone buildings with hundreds of rooms "" called "great houses" "" are bound to keep fascinating visitors for years.
Situated in the vast northwest corner of New Mexico and built between A.D. 850 and 1150, these massive complexes give visitors more questions than answers. They are a reminder of a civilization that vanished years ago. Chaco Canyon consists of kivas (ceremonial pits), multilevel dwellings, and storage rooms. All have sat silent and empty since the Chaco civilization mysteriously disappeared 250 years before Columbus discovered America.
There is no written record about these people. The only clues that give us any information about this civilization are the artifacts excavated by archaeologists and endlessly studied and argued about by anthropologists.
A good deal of speculation, lots of dialogue, and a huge amount of disagreement about what is seen when visiting Chaco Canyon continues today. However, one thing everyone agrees upon after witnessing the scope of Chaco Canyon is that once you see it, any notion you previously held about the prowess of ancient people is forever altered.
The canyon in which this collection of ancient high-rise condos sits is really a wash or draw, where, over the ages, a creek has meandered and worked its way down through the center. The total Chaco complex is made up of several great houses that include Pueblo Bonito, Chetro Ketl, Pueblo del Arroyo, Hungo Pavi, and Kin Kletso. It is believed these massive complexes where the Chaco people lived, where they stored the food they harvested, and where they worshipped the sun are the precursors to the Indian pueblos that today dot the landscapes of New Mexico and Arizona.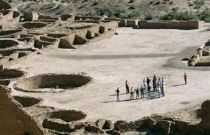 But why did the culture disappear? A severe and extended drought was likely the culprit. Inhabitants wandered off and eventually built the pueblos of Taos, Acoma, Santo Domingo, etc., as well as the villages on the mesa tops in northeast Arizona. But whatever it was that caused Chaco Canyon to be abandoned, today (800 years later) these awesome stone structures with their massive wooden rafters remain resolute and determined to stay the course of time.

At its zenith, this civilization was massive, extending miles in all directions. Chaco Canyon may have been the administrative hub of a group of outlying settlements. Great-house complexes that are similar but smaller than those in Chaco Canyon can be found to the north, near the towns of Farmington and Bloomfield "" they have been named the Salmon Ruin and Aztec Ruin.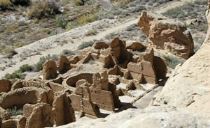 These outliers were connected by a well-defined and well-engineered system of roads that are visible from the air. Remnants of these ancient interstates also can be seen by taking a hike from Pueblo del Arroyo (a half-mile north of Pueblo Bonito) to Pueblo Alto. It's a five-mile round trip along a well-marked trail. There is some climbing along the path, but it is worth the panoramic view of Chaco Canyon and the great houses below. Bring drinking water and sun protection.
Like the Appian Way that leads from Rome, these roads are huge, measuring up to nine meters wide (that's nearly 10 yards). It's believed this system of roads permitted the people in Chaco Canyon to move food around their vast empire where it was needed during localized droughts. These roads also served as the trade routes between Chaco Canyon and what today is Old Mexico, for among the artifacts excavated at Chaco Canyon are feathers from macaws, bells made of copper, and seashell and turquoise jewelry "" all articles of pre-Mexican influence.

Logistically, there was no need for these roads to be this wide, for only foot traffic moved over them; no horses or carriages moved goods from one location to another. It is speculated these larger-than-life, over-engineered roads were built on such a grand scale to show the rest of the world the prowess possessed by the Chaco civilization.
Like many ancient civilizations, the Chacoans made astronomy a form of worship. This is evidenced in the petroglyphs (rock art) found here and the alignment of the openings in the temple rooms of the great houses, where sunlight is permitted to penetrate in a particular way, onto a particular spot, and on specific days of the year. There is also a huge solar calendar located on top of Fajada Butte, the large butte to your left as you enter the park. During the summer and winter solstices, sunbeams penetrate the slits configured between the Fajada Butte rocks and cast a dagger of light at a precise location on the face of a spiral symbol.
Great houses such as Pueblo Bonito were not randomly built or cobbled together. Even though their construction took hundreds of years and many generations, the Chaco buildings were designed and planned in their entirety before construction began. The scale of these master plans is awesome, with Pueblo Bonito, for example, having 600 rooms and 40 kivas that are four stories high.
Getting there safely. The National Park Service recommends driving to Chaco Canyon only from the north via U.S. Route 550. From Albuquerque, take Interstate 25 north, then head northwest on U.S. 550. Continue through the town of Cuba. Turn south off U.S. 550 at County Road 7900, 50 miles west of Cuba. Turn west onto C.R. 7950. Road signage is good from U.S. 550 to the park boundary (21 miles). The route includes 8 miles of paved road (C.R. 7900) and 13 miles of dirt road (C.R. 7950). Out of necessity, speeds can be reduced to less than 10 mph. I personally have driven a Type C motorhome and a diesel pusher on this route to Chaco; however, the Park Service advises against driving motorhomes there. Whether you're traveling in a motorhome or an automobile, do not take this road in any type of vehicle if it is raining. Call the park at (505) 786-7014 for current road conditions before you visit, and check the park's Web site "" www.nps/gov/chcu/planyourvisit/directions.htm "" for a map.
Roads within the Chaco Culture National Historical Park are paved and lead directly to the state-of-the-art park headquarters. Drinking water is available at the visitors center. Start out with a full tank of fuel, water, snacks, protective clothing, and good (as well as correctly inflated) tires, including a good spare. A campground inside the park lets you spend the night, gaze at the heavens, and watch the stars lace the black velvet sky, as they did when the Chaco Canyon people lived here a thousand years ago.
Further Info
Chaco Culture National Historical Park
P.O. Box 220
Nageezi, NM 87037
(505) 786-701, ext. 221
www.nps.gov/chcu
The park is open daily from sunrise to sunset. Visitors center hours are 8:00 a.m. to 5:00 p.m. The vehicle entrance fee is $8 for seven days.
Camping in Chaco Canyon
Gallo Campground is one mile east of the visitors center and contains 49 sites with no hookups. Picnic tables and fire grates are at each site, and facilities include rest rooms but no showers. Drinking water is available at the visitors center. Call the park for more information before arriving, as length restrictions may apply. The camping fee is $10.
Nearby Campgrounds
Following are some campgrounds north of the park. For more listings, check your campground directory and FMCA's "RV Marketplace," published in the January and June issues of FMC and online at FMCA.com.
Angel Peak RV Park
6181 U.S. 64
Bloomfield, NM 87413
(505) 632-6780
www.angelpeakrv.com
Desert Rose Resort
1900 E. Blanco Blvd.
Bloomfield, NM 87413
(866) 459-8339
www.desertrosepark.com
Lee Acres RV Park
63 C.R. 5500
Farmington, NM 87401
(505) 632-0170
Mom & Pop's RV Park
901 Illinois Ave.
Farmington, NM 87401
(800) 748-2807
(505) 327-3200
Ruins Road RV Park
312 Ruins Road
Aztec, NM 87410
(505) 334-3160
www.ruinsroadrvpark.com
Sundowner Mobile and RV Park
201 Airport Drive
Farmington, NM 87401
(505) 327-1671
www.sundownerpark.com