A small-town feel and big sight-seeing opportunities make touring the Beaver State's headquarters a must.

BY Denise Seith
April 2010
They say location is everything, and Oregon's capital city is certainly proof. Nicely situated on the banks of the meandering Willamette River in the middle of the fertile Willamette Valley, Salem is both pretty and convenient. It's also fun to note that the city is right off Interstate 5, halfway between the North Pole and the equator on the 45th Parallel! With a locale like that, Salem is as easy to find on a map as it is enjoyable to explore. No bustling bypasses and confusing freeways run through this capital city. Instead, downtown Salem offers plenty of easy parking (it's best to bring your towed car), is loaded with history, and boasts highlights within short distances of each other.
Half open-air museum, half indoor tour (outdoor exhibits are free), Mission Mill Museum is the best place to learn about two groups that were important to Oregon's early history "" missionaries and industrialists. Founded in 1841, Salem is one of the oldest cities in the United States' "far west." So even prior to the celebrated Oregon Trail migration, which brought wagonloads of pioneers from the East, Jason Lee's Methodist Mission was going strong. The stark white Jason Lee House and the Parsonage are thought to be the oldest remaining frame houses in the Pacific Northwest. The distinctive red buildings of the Thomas Kay Woolen Mill, founded in 1889, are also open for touring. It is the only woolen mill museum west of Missouri and is one of the few water-powered turbines in the Pacific Northwest that still generates electricity from a millrace. The original turn-of-the-19th-century machinery and working miniature display mill with pulleys, belts, and an elevator are especially impressive. Although the mill closed in 1962, descendents of Thomas Kay still own and operate Oregon's world-renowned Pendleton Woolen Mills located in eastern Oregon.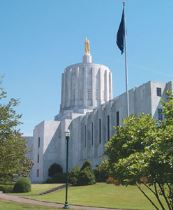 Also south of downtown Salem are two authentic historic homes that are open to the public. Deepwood Estates and the Bush House Museum are situated conveniently on the same block. The Queen-Anne-style Deepwood Estates, built in 1894, is surrounded by English-style gardens created by the Northwest's first female-run landscape architecture firm. The attention to detail and craftsmanship throughout the home are outstanding. Perhaps its best feature is the exquisite stained and beveled glass windows, but the eastern golden oak woodwork and original 1894 electric light fixtures are also exceptional.
The Italianate-style Victorian Bush House was constructed between 1877 and 1878 with rare amenities for the time period "" indoor plumbing, hot and cold running water, gaslights, and central heating (although the house's 10 marble fireplaces would have been sufficient without it). In the backyard, the oldest conservatory (greenhouse) in Oregon, dating from 1882, contains dozens of plants. Green thumbs will want to go inside for a look at some rare and unusual varieties. The Bush House Museum is surrounded by Bush's Pasture Park, where 100 acres of historic oak trees and landscaped rose gardens offer a great place to play and picnic. Kids will love the fun "crooked house" playground. The park is home to the annual Salem Art Fair & Festival, held each summer (July 16 through 18 this year).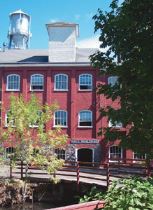 After touring these spots, head downtown to tour many more. Stop first at the Oregon State Capitol. Built in 1938 and listed on the National Register of Historic Places, it's Salem's most recognized landmark. This is actually Oregon's third capitol; previous structures were destroyed by fire. Take a docent-led or self-guided tour and plan to be impressed. Tours are free and offered regularly Monday through Friday.
Adorning the marble lobby are prominent wall murals that illustrate Oregon's history in fine detail, from the native Kalapuya Indians who were Salem's first residents to the immigrants and pioneers who arrived from the east by riverboat and wagon. A huge bronze replica of the state seal is embedded in the floor. Overhead, the capitol dome rises 106 feet and is elaborately painted with 33 stars to signify Oregon's place as the 33rd state to join the Union. If you're looking to burn off a few calories, do more than just look up. Peek into the governor's office and the house and senate chambers on the second floor, and then continue hiking up 121 spiraling steps to the dome's outdoor viewing area. Weather permitting, you'll get a great bird's-eye view of the city and a close-up look at the gilded "Oregon Pioneer" statue perched atop the building.
The capitol grounds and adjacent Willson Park are lovely, featuring fountains and statues symbolic to the state's history. Just follow the footpaths and know that it's okay to feed the squirrels that congregate in the massive sequoia trees (bring your own squirrel treats or purchase them from the small gift shop inside the capitol).
Right across the street from the capitol is the petite campus of Willamette University. Its manicured lawns, rose gardens, and stately stand of "Star Trees" (officially recognized as the tallest sequoias on any college campus in the nation) invite strolling. Not only was Willamette the first university in these parts, founded in 1842, it also established the first school of medicine and the first law school in the Pacific Northwest. It was a co-educational institution even back then, and its first graduate was a woman.
Still part of the university, but located a couple blocks away, is the Hallie Ford Museum of Art. American Indian art and contemporary collections of prints, drawings, paintings, and photographs by Pacific Northwest artists join artifacts and sculptures from around the globe. The museum is open Tuesday through Sunday and has a small admission fee.
Salem's Downtown Historic District is listed on the National Register of Historic Places, and it's small enough to negotiate easily. A self-guided walking tour covers about seven blocks and showcases a wide variety of commercial architectural styles. The buildings are still very much in use today. Among the most notable is the Elsinore Theatre. Built in 1926 and named for a castle in Shakespeare's famous play "Hamlet," the Elsinore has undergone extensive restoration "acts" over the last few years, from stained-glass and mural renovations to updated wiring, lighting, and sound systems. Behind-the-scenes tours are offered to groups. The Elsinore is used today as an entertainment and meeting facility.
Other sites in the historic district include the Reed Opera House, which dates back to 1869 and is filled with delightful boutiques and restaurants, and the 1868 Italianate-style Ladd and Bush Bank building, where a branch of U.S. Bank is now located. The building's exterior cast-iron ornamentation is quite beautiful, and the voluminous formal lobby is so imposing, you'll almost feel like whispering to the tellers.
The capital city's Riverfront Park is 23 acres of fun. Nowhere else can you ride an old-world-style carousel, sail a stern-wheeler, toss a ball, and learn about math and science, all without having to drive around (free parking is available). A new picnic pavilion, paved pathways, views of the river, and plenty of grassy space make this an ideal spot to spend a relaxing afternoon.
For a mere $1.50, you can giddyup on one of 42 hand-carved, hand-painted carousel horses while enjoying lively music from an authentic carousel band organ. The horses' names "" Morning Glory, Ruby Rose, Razzle-Dazzle, Cloud Walker, and more "" are as magical and vivid as the steeds themselves. Salem's carousel is a real tribute to community involvement. For more than five years, volunteer artisans worked more than 80,000 hours carving, sanding, and painting the exquisitely detailed horses, shields, and ornamentation. Check out the gift shop for equine souvenirs.
Eco Earth anchors the south end of Riverfront Park. The 25-foot-tall, stainless-steel orb was formerly a lackluster acid storage tank used in papermaking. Talk about recycling: Eco Earth's 82.5-foot circumference is now adorned with more than 86,000 glittering tiles representing people, places, and animals from across the planet. It's quite the dazzling work of art.
Cruise with personable Captain Richard Chesbrough aboard the double-deck Willamette Queen, an 87-foot stern-wheeler with twin paddles that's a scaled-down likeness of the former Mississippi and Yukon Territory riverboats. A dock is located just across from the Riverfront Carousel. You also can enjoy lunch, dinner, or excursion cruises as you listen to Captain Chesbrough's tales of riverboat lore and spot blue herons, ospreys, and other wildlife along the banks of the Willamette River. Passengers are invited to try on the captain's hat, peer through his spyglass, ring the ship's bell, and even take the wheel. If you do, you'll get an honorary captain's certificate embellished in calligraphy by the captain himself.
If you're visiting with children, skip over to A.C. Gilbert's Discovery Village, situated on the north end of Riverfront Park. Three Victorian homes collectively serve as an interactive museum where kids build, invent, play, and generally have hands-on fun while they unsuspectingly learn math and science. Best known for creating the Erector Set, chemistry sets, and Mysto Magic sets, native Oregonian and Olympic pole-vaulting gold medalist A.C. Gilbert believed that playing is essential to learning. Kids and adults alike will love the interactive exhibits.
Much more to see and do awaits exploration in Oregon's capital city. Check for festivals, more museums, a variety of restaurants, and plenty of shopping "" with no sales tax. A small-town feel beckons visitors to capitalize often on all that Salem offers.
Further Info
Travel Salem Visitors Center
181 High St. N.E.
Salem, OR 97301
(800) 874-7012
(503) 581-4325
www.travelsalem.com
Salem's new visitors center opened in 2008 and offers a great initiation to the city. Consider making it your first stop when you visit town. The visitors center is open Monday through Saturday.
Area Campgrounds
The following is not a complete list. For additional listings, please see your favorite campground directory or the RV Marketplace, available online at FMCA.com and published in the June and January issues of FMC.
Hee Hee Illahee RV Resort
4751 Astoria St. N.E.
Salem, OR 97305
(877) 564-7295
(503) 463-6641
www.heeheeillahee.com
Phoenix RV Park, C7818
(an FMCA commercial member)
4130 Silverton Road N.E.
Salem, OR 97305
(503) 581-2497
(800) 237-2497
Premier RV Resorts Salem, C10347
(an FMCA commercial member)
4700 Salem-Dallas Highway 22
Salem, OR 97304
(877) 364-9990
(503) 364-7714
www.premierrvresorts.com
Salem Campground
3700 Hagers Grove Road S.E.
Salem, OR 97301
(800) 826-9605
(503) 581-6736
www.salemrv.com
Silver Spur RV Park, C10959
(an FMCA commercial member)
12622 Silverton Road N.E.
Silverton, OR 97381
(866) 854-7785
(503) 873-2020
www.silverspurrvpark.com