Each end of the cords also includes PowerSmart indicators "" a single blue LED for the 30-amp cords and a pair of LEDs on the 50-amp cords indicating which pin is live "" to help RVers determine whether there is power continuity from the power source to the motorhome.
The 30-amp 125-volt cord is available in 25-foot, 30-foot, and 36-foot lengths with manufacturer's suggested retail prices of $56.45, $61.65, and $72.05, respectively. The 50-amp, 125/250-volt cords come in 30-foot and 36-foot lengths and are priced at $199.98 and $233.88, respectively. Both types are available in black and titanium colors.
Furrion
P.O. Box 3361
Waterbury, CT 06705
(888) 354-5792
(203) 528-8422
www.furrion.com
---
Headlight lens restoration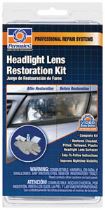 According to product literature, the Headlight Lens Restoration Kit from Permatex Inc. can help restore a pair of scratched or clouded plastic headlight lenses to like-new condition.
The kit includes a bottle of lens polish, a flannel polishing cloth, four grades of wet and dry sandpaper, latex gloves, and a step-by-step instruction sheet. Permatex also has an online instruction video (www.permatex.com/trainingvideos.htm) that demonstrates the restoration procedure.
The Headlight Lens Restoration Kit has a manufacturer's suggested retail price of $17.49.
Permatex Inc.
10 Columbus Blvd.
Hartford, CT 06106
(877) 376-2839
(860) 543-7500
www.permatex.com
---
Socket wrench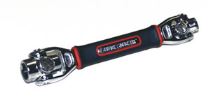 The ReadyWrench from Black & Decker is an all-in-one socket wrench that is said to end the frustration of trying to find the right size socket for the job at hand.
The hand tool puts 16 of the most popular standard (SAE) and metric socket sizes at your fingertips. Each end has rotating heads that engage at 45 and 90 degrees, so the tool can be used for continuous turning. And the ReadyWrench slides over nuts tightened to long bolts that even a 2-inch or longer socket will not fit.
The ReadyWrench has a manufacturer's suggested retail price of $29.99.
Black & Decker
701 E. Joppa Road
Towson, MD 21286
(800) 544-6986
(410) 716-3900
www.blackanddecker.com
---
Combo satellite/off-air antenna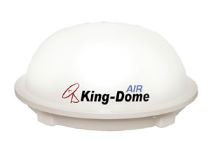 King Controls has added two new models to its King-Dome line, each with Advanced Integrated Reception for digital off-air signals, making it possible for RVers to enjoy all the benefits of digital satellite TV and high-definition broadcast TV from a single antenna.
The King-Dome 2200 (stationary) and 3200 (in-motion) are designed to work better than traditional RV antennas and are said to provide a wider reception angle and greatly improved UHF signal, which is how more than 80 percent of the new digital off-air TV channels are broadcast. Both the satellite and off-air antennas are self-contained inside a single, low-profile weatherproof dome. The off-air King-Dome can be combined with an existing off-air antenna for multidirectional coverage.
The King-Dome 2200 has a manufacturer's suggested retail price of $1,299, while the 3200 is priced at $1,499.
King Controls
11200 Hampshire Ave. S.
Bloomington, MN 55438-2453
(800) 982-9920
(952) 922-6889
www.kingcontrols.com
---
Outdoor flooring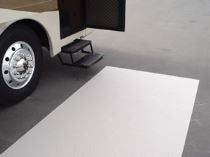 SpeckDeck rollout flooring from Auto Care Products Inc. is said to be a fast and easy solution for temporary flooring needs outside the motorhome.
According to product literature, the heavy-duty, 8o-mil PVC flooring is reinforced with nylon mesh, making it durable as well as waterproof and UV-resistant. The textured surface serves as an antislip mat and is available in charcoal, beige, sandstone, and ivory colors. The flooring is easy to clean by sweeping with a broom or rinsing with a hose, and it rolls up quickly for compact storage.
SpeckDeck comes in 5-foot-wide rolls and can be ordered in any length with a manufacturer's suggested retail price of $12.95 per linear foot.
Auto Care Products Inc.
6345 Nancy Ridge Drive
San Diego, CA 92121
(800) 992-2018
(858) 625-0005
www.speckdeck.com
---
Propane-powered hydronic heater
T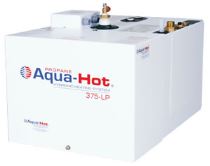 he Aqua-Hot 375LP from Aqua-Hot Heating Systems Inc. is a new propane-powered hydronic system for use in gas-powered Type A and Type C motorhomes.
The 375LP incorporates Aqua-Hot's proprietary propane burner technology, which is said to produce more than 37,500 Btu. The system has three separate thermostatically controlled heating zones to provide quiet, comfortable, evenly distributed heat. According to company literature, it is capable of producing 1.5 gallons per minute (90 gallons in an hour) of continuous, on-demand hot water.
The Aqua-Hot 375LP has a manufacturer's suggested retail price of $7,193.22.
Aqua-Hot Heating Systems Inc.
15549 E. Highway 52
Fort Lupton, CO 80621-8225
(800) 685-4298
(303) 659-8221
www.aqua-hot.com
---
Fast-drying towel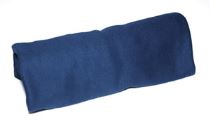 According to product literature, the Discovery Trekking Outfitters (DTO) towel is a lightweight towel that wicks water away from the skin, drying four times faster than conventional towels.
The towel pulls moisture around fibers and spreads it across the surface of the fabric. This allows water to evaporate quickly rather than be absorbed, unlike conventional towels made of cotton or microfiber. The DTO towel also contains silver, which kills bacteria, thereby preventing mold and a musty smell. The towels also provide SPF sun protection ranging from 15 to 40, depending on their color.
The DTO towel is available in five sizes and has manufacturer's suggested retail prices ranging from $12.95 (13-inch-by-10-inch) to $29.95 (34-inch-by-54-inch).
Discovery Trekking Outfitters Ltd.
919 Ironwood Road
Campbell River, BC
Canada V9W 3E5
(250) 286-6577
www.discoverytrekking.com
---
Inflatable cushion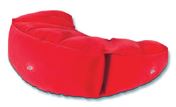 The Mobile Meditator inflatable cushion and travel pillow from BrightSpot Solutions LLC is designed to help users relax during quiet meditation on the ground or while traveling in a vehicle.
The crescent-shaped cushion includes three separate adjustable air chambers, allowing users to customize the size, comfort, and stability of the cushion according to individual needs. When deflated, the lightweight cushion folds down for compact storage in its own 9-inch-by-9-inch-by-2-inch carrying case. The cushion features flocked fabric to prevent slipping, and the forward slant design supports posture and balance.
The Mobile Meditator is available in black, dark red, and orange colors and has a manufacturer's suggested retail price of $24.95.
BrightSpot Solutions LLC
11715 Vermillion Road
Longmont, CO 80504
(888) 738-7293
(303) 678-8742
www.mobilemeditator.com
---
Laundry collector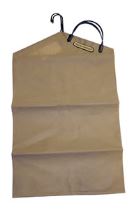 The Handy Hamper from Berglund Products provides a convenient way to gather dirty clothes and then to transport them to the laundry room when it's time to do the wash.
The bag "" which holds up to 15 pounds of laundry and measures 29 inches by 16 inches by 12 inches "" can be hung in a bedroom, bathroom, closet, or anywhere that is convenient for laundry collection. When it's time to do the wash, grab the double handles and carry the bag "" and your dirty clothes "" to the laundry room. The V-bottom design prevents the bag from hitting your leg when it's being carried and it won't drag the ground. The bag is made of breathable fabric and can be used for other storage and/or transportation needs as well.
The Handy Hamper has a manufacturer's suggested retail price of $19.95 plus $5.95 shipping and handling.
Berglund Products
5142 N. Palm Ave.
Fresno, CA 93704
(559) 224-3113
www.handyhamper.com
{loadpositionEndBlurbProducts}