Gear, Gadgets, And Gifts
Practical accessories and assorted goods designed to make life easier and more enjoyable for RVers.
By Linneah Deighton, Associate Editor
RV Fire Extinguisher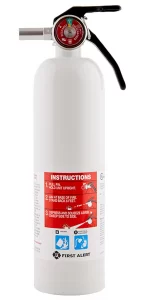 It never hurts to be prepared, especially when it comes to fire safety. The class 5-B:C First Alert REC5 Rechargeable Recreation Fire Extinguisher combats flammable liquids and electrical fires. The REC5 is said to be easy to use and suitable for any recreational vehicle. This portable fire extinguisher features a durable metal head and a metal pull pin with a safety seal to deter accidental discharge, and it can be recharged by certified professionals. The extinguisher comes with a mounting bracket to keep it secure in your RV. Price is $29.35.
First Alert
(800) 323-9005
www.firstalert.com
---
Motion-Proof Putty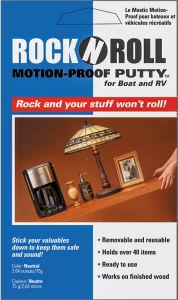 Having your knickknacks constantly falling over as you travel can be a pain. If you want to decorate your RV with collectibles, protect them from falling off shelves and tables. Rock N Roll Motion-Proof Putty, designed for RVs and boats, is a removable and reusable adhesive that secures items to flat surfaces. All you have to do is place a little bit of putty on the bottom of an object, such as a lamp or photo frame, and it'll stay in place. The product won't damage the surfaces it sticks to, either. One packet of putty can secure up to 40 average-size items. Price is $4.99.
Ready America
(800) 959-4053
www.readyamerica.com
---
A/C Noise Reducer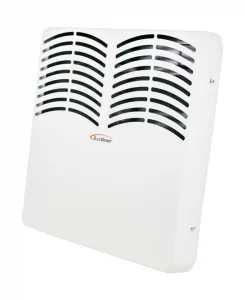 If your RV air conditioner wakes you up at night, or prevents you from watching television in peace, this may be the product for you. The RV A/C Silencer Kit is designed to reduce noise generated by ducted rooftop air conditioners and to increase airflow. The kit's recycled cotton duct liner is said to provide superior acoustic and thermal performance. It also includes a cleanable electrostatic air filter that helps eliminate dust, pollen, and other pollutants found in the air. To install it, all you need is a screwdriver and about 15 minutes of your time. Price is $189. Available models fit Dometic, GE, and Coleman air conditioners with a ducted system.
WackO Products
www.wackoproducts.com
---
Knife Sharpener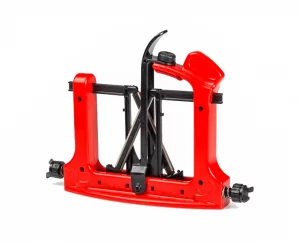 Having the right angle, pressure, and movement while sharpening a knife is vital to maintaining it — if you slip up, your knife might pay the price. The V-Sharp XE (Xtreme Edge) is an adjustable, waterproof, lightweight precision knife sharpener that keeps your knife at a consistent angle during use. It incorporates two high-quality, 325-grit natural diamond honing rods that sharpen the blade on both sides simultaneously. You can use it in the kitchen, outside, or anywhere you need to sharpen a flat-bladed knife. Price is $64.99.
Warthog Sharpeners
(225) 261-4252
www.warthogusa.com
---
Multi-Tool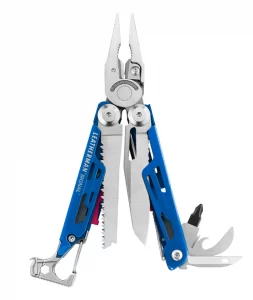 The Leatherman Signal is designed for outdoor use and combines 19 tools into a compact size. The multi-tool is equipped with a fire-starting ferrocerium rod, 420HC combo blade, diamond-coated sharpener, and emergency whistle. You can tighten gear with the customizable bit driver and anchor tent stakes with the built-in hammer, making it a camping must-have. All tools on the body of the handle — except for the plier head — can lock into place, enabling users to safely operate individual tools. The tool measures 4.5 inches long when closed and weighs 7.5 ounces. Price is $129.95.
Leatherman
(800) 847-8665
www.leatherman.com
---
RV Checklist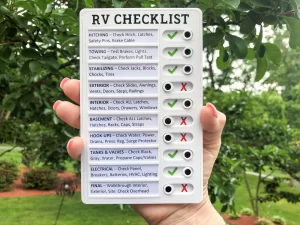 It's human nature to forget certain tasks, sometimes even the important ones. Pen-and-paper checklists are great, but they can be lost or damaged easily. UsefulMakes' RV Checklist can contain 10 different items to verify when you're preparing to head out on the road. The checklist can be ordered with the default titles and item lists or personalized at no extra cost.  You also can request a Microsoft Word template to create your own lists — again, at no additional charge. These sliders click into place and won't budge, even when traveling on bumpy roads. The included magnets allow the checklist to stick to most metal surfaces, but you could also hang it up with a nail using the hole on the back. The item itself is 3D-printed using nontoxic, biodegradable plastic. Price is $24.95.
UsefulMakes
www.etsy.com/listing/995162438
---
Waterproof Leather Notebook Kit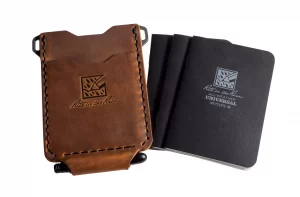 Taking notes on the go? Even if you get stuck in the rain, fall in some mud, or spill engine oil, Rite in the Rain's notebooks will stay pristine and functional. The No. V771-KIT includes a weatherproof notebook with a hand-stitched, top-grain leather pouch that has room for your writing essentials, plus added storage for important cards or receipts. Two stainless-steel attachment points allow you to conveniently wear the kit around your neck if desired. The included No. BK92 All-Weather Pocket Pen fits neatly in the cover's pen loop. The pen works in temperatures from minus 30 degrees up to 250 degrees, and under water to depths of 25 feet. Price is $79.95.
Rite In The Rain
(253) 922-5000
www.riteintherain.com
---
Dash Cover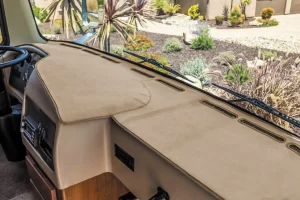 With the ShurGrip Motorhome Dash Cover, you won't have to worry about the sun potentially cracking your dashboard. The nonslip sponge-rubber backing holds the cover securely in place — no adhesives needed. If your pet wants to sit on the dash, there's no need to worry about them slipping around. The ShurGrip is available in an easy-to-clean velour fabric and comes in three colors: black, gray, and tan. Price is $279; each is custom-made for the year, make, and model of coach.
ShadePro
(800) 328-5100
www.shadepro.net