Here's to 50 years of FMCA!
By Robbin Gould, Editor
July 2013
In an editorial published in the premier issue of Family Motor Coaching magazine, dated February 15, 1964, FMCA founder Bob Richter, L1, explained what led to the establishment of the Family Motor Coach Association in July 1963:
" . . . a new and explosive growth in this field, triggered by networks of superhighways, a raised standard of living, increased interest in recreational activities, and the availability of new and used coaches, has caused several thousand American families to purchase or convert vehicles for this new usage.
"With this growth, the need has arisen for a national information center for owners of these vehicles, and for those interested in them. The Family Motor Coach Association, Inc. was founded, only last July, for this primary purpose."
Fifty years later, Family Motor Coach Association remains a thriving organization committed to enhancing the motorhome lifestyle for its members. Tens of thousands have traveled the highways and byways with the FMCA "goose egg" emblem attached to their coaches. FMCA has evolved into much more than just a "national information center."
Today, FMCA is a loyal RV industry supporter, a voice of motorhome rights, a social organization, a charitably minded group, a diverse mix of interests, a family.
As FMCA turns 50, it is with hopes and dreams of at least another 50 years. Let the miles continue to mount behind us as the motorhome era continues!
Mile Marker 50
Sit back and enjoy a brief drive past some of the FMCA events and milestones of the past five decades.
Spring 1962: Bill Christensen, F28, mails a letter to 40 or 50 coach-owning families to suggest an organization of "house car" owners.
June 2, 1963: Ted Austin and Dennis McGuire arrange a gathering of coach owners, called the Michigan Courtesy Club, at McCurdy Park, Corunna, Michigan. This is thought to be the first meeting of coach owners in the United States.
July 19-21, 1963: A gathering of "house car" owners takes place on the grounds of the Hinckley School, Hinckley, Maine. Twenty-six families attend to socialize, watch a solar eclipse, and discuss forming an owners association.
July 20, 1963: Family Motor Coach Association is officially established, with 18 of the families at the Hinckley meeting signing up for membership. Bob Richter is chosen as organizational chairman; Mary Whiting volunteers to serve as secretary; and an organizational committee is formed, composed of Bud Sharp, George Hardin, Bob Richter, Ray Fritz, John Samuelson, Hans Taschner, Will Whipple, Dennis McGuire, Kirwan Elmers, and George Whiting. The committee is charged with coming up with three names for the new organization.
July 21, 1963: The organizational committee meets in Hinckley. The name "Family Motor Coach Association," suggested by Ray Fritz, is chosen. A constitutional committee is next appointed to draft the organization's constitution.
September 7-9, 1963: Thirty member families gather at Wolf Den State Park, in Pomfret, Connecticut, where a rough draft of the proposed national FMCA Constitution is presented for discussion and changes before being circulated for ratification.
October 18-19, 1963: The first meeting of the Ohio–Indiana–Kentucky Chapter of FMCA is held at Whitewater State Park, near Liberty, Indiana.
December 15, 1963: FMCA's Constitution is unanimously ratified.
January 1964: Crown Coach Corporation becomes FMCA's first commercial member.
February 15, 1964: Volume 1, Issue 1 of Family Motor Coaching magazine is launched as a quarterly publication with a cover date of "February 15, 1964." The second issue is labeled "June, 1964"; the third, "Fall, 1964."
February 15, 1964: An article in Family Motor Coaching states: "FMCA membership now stands at 233 charter or full members, 1 associate member, and 5 commercial members. . . . A careful estimate of the average investment of each member of FMCA in their coach is $9,450.00. Thus, the FMCA currently is composed of owners of coaches worth nearly $2,000,000.00. The affairs of this organization are becoming serious business!"
May 16-17, 1964: An organizational meeting of the New England chapter is held.
July 17-19, 1964: The first national convention is held at Fort Ticonderoga, Ticonderoga, New York. The event attracts members from 20 states and Canada.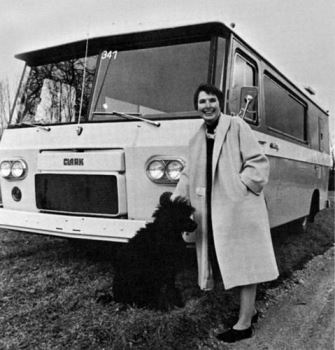 Fall 1964: Kathleen Mudge, also known as "Lady Cortez," becomes a Family Motor Coaching contributor while traveling around the United States as a demonstrator for the Clark Cortez motorhome, accompanied by her black standard poodle, Dutchess.
"Lady Cortez" Visits Fort Ti
By the time the first annual meeting of Family Motor Coach Association had been announced to take place in Ticonderoga, New York, in the summer of 1964, Kathleen Mudge already had logged 12,000 on her Clark Cortez demonstrator motorhome. She was traveling the country, answering questions about the Cortez and gathering material for a book she was researching. In the Fall 1964 issue of Family Motor Coaching, Kathleen logged her impressions of the Ticonderoga event:
"Next to my Cortez at the end of the lot parked a magnificent coach worth $30,000. And it looked every penny. Other visitors' coaches were valued up to $55,000. Every extreme was represented, for there were buses in the first stages of change, with a minimum of money spent and a maximum of work ahead."
March 1965: FMCA's national office is moved from Hanson, Massachusetts, Bob Richter's hometown, to Cincinnati, Ohio. Ken and Dotty Scott take over day-to-day running of the association, initially out of their family room, then in a succession of commercial spaces. Mr. Richter writes later, "We put over a ton of office equipment, supplies, and files — and a couple of bottles of pink champagne for two marvelous people, Ken and Dotty — in a moving van headed for Cincinnati on Friday, March 12, 1965, and reluctantly went back to the job of making money and raising children."
April 10, 1965: The first three FMCA chapters are chartered: Michigan Knights of the Highway, Midwest Coachmen, and Northeastern.
June 24, 1965: The California chapter is chartered as the fourth FMCA chapter.
1966: The Pioneers, 20th Century Wagontrainers, and Badger chapters receive their charters.
January 15, 1966: FMCA Manufacturer's Board holds its first meeting.
February 1966: The first "Business Service Directory," listing commercial members and their products or services, is published in Family Motor Coaching. The listing currently is called the RV Marketplace.
July 1966: The first coffee hour is held at the Glenwood, Ohio, convention.
The Coffee Hour Tradition
Ken Scott, L63, FMCA's first executive director, recalled the early coffee hour days at FMCA conventions in his column, "The Pipe Dreamer Reminisces." The following are excerpts from his December 1987 column:
"In addition to establishing conventions at annual events, those early gatherings — Fort Ticonderoga, New York; Greenville, Ohio; Glenwood, Minnesota; and Bowling Green, Kentucky — were significant in that we began to recognize our needs. To begin each day at the convention, we needed a 'wake-'em-up, get-'em-moving, and start-'em-talking' idea. At the Greenville convention, an impromptu 'do-it-yourself' coffee hour was born as conventioneers gathered in the morning with their own coffee pots, cups, rolls, and so forth. The idea was so successful that it was repeated at the Glenwood convention in 1966.
"We of the informal 'wake-'em-up' committee soon were assisted by a man named Bill Purser, who at the time was manager of the Wanderlodge Division of the Blue Bird Body Company in Fort Valley, Georgia. We continued coffee preparation under somewhat makeshift arrangements, climaxed by a hazardous experience at an early convention. On this occasion, Bill Purser and I found ourselves sitting in the middle of a field with various coffee pots arranged on the assorted tables that surrounded us. Several lamp cords ran from the coffee pots to the Eckerlins' motor coach. Although this arrangement didn't quite supply us with enough power to furnish us with hot coffee, the intention was good, and the coffee was, at least, warm. But most importantly, the coffee hour idea had been born.
"At the Bowling Green, Kentucky, convention, the Blue Bird contingent arrived with three large urns, many pounds of coffee, and dozens of doughnuts for the conventioneers, all supplied compliments of Blue Bird.
"Perhaps we can call it FMCA's good luck, or perhaps it was good management on the part of Purser, John Harris [another Blue Bird employee], and Blue Bird, but whatever the reason, in the early 1970s Blue Bird outfitted two four-wheel trailers — one equipped with urns for preparing and serving coffee and cocoa and the other equipped with complete doughnut-making equipment.
"Eventually, a pyramid of steps was arranged on either side of the 'coffee wagon,' and convention-goers climbed these steps to collect their coffee and doughnuts. Dotty and I can remember as many as four lines of people waiting for coffee and discussing the state of the industry, the state of the weather, or perhaps the state of the dump stations. We especially enjoyed being part of those lines and those early conventions.
"Bill 'Grits' Purser (at early conventions he also distributed Georgia peaches and later Georgia grits) will long be remembered both for his warm Southern hospitality and for his slow Southern drawl."
1967: The Rocky Mountain, Lone Star, and Northwestern chapters become the eighth, ninth, and tenth FMCA chapters.
June 1967: FMCA headquarters moves from the family room of the Scotts' home to the "ivy-covered cottage," also in Cincinnati.
July 1967: Vic and Vi White, F748, are commissioned FMCA's "International Ambassadors" at FMCA's Bowling Green, Kentucky, convention.
July 1969: The Teen Age Travelers (TATS) program is initiated at FMCA's Traverse City, Michigan, convention. Youngsters ages 13-18 attending the convention enjoy youth-oriented activities. Additional age-related groups eventually are added to the Youth Activities Program: PRE-TEENS (ages 10-12), TWEENS (ages 6-9), and TOTS (ages 2-5).
July 1970: Industry pioneer Ray Frank is honored at FMCA's Costa Mesa, California, convention. Ray created a self-propelled recreation vehicle in 1958 and called it a "motorhome." He gained fame with the Frank and Travco motorhome models.
July 1970: The FMCA office moves to 5200 Beechmont Ave., Cincinnati.
February 1971: Family Motor Coaching becomes a bimonthly publication.
June 1975: World of Recreation signs up as FMCA's 1,000th commercial member.
1976: FMCA purchases a building at 8291 Clough Pike, Cincinnati, funded by members' voluntary participation in the Thousand Club lifetime member program. The association moves into the building on November 30 with 15 employees.
March 2-4, 1976: The first winter convention is held in Harlingen, Texas.
March 1977: Member number F25000 is issued.
January 1978: Family Motor Coaching becomes a monthly publication.
January 1980: FMCA's Mail Forwarding service is launched. Members have their mail sent to FMCA's Mail Forwarding address, then forwarded to their current location each week. The Mail Forwarding service currently is used by approximately 1,700 member families.
July 1981: FMCA's original Frustrated Maestros chapter is formed by Bob Gobrecht, L14273, during the association's Denver, Colorado, convention. Today 10 Frustrated Maestros chapters are in existence, performing at FMCA Family Reunions and area rallies.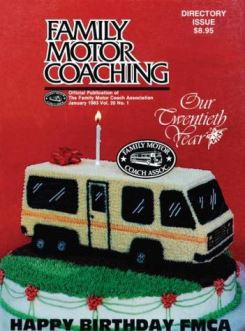 January 1983: FMCA's 20th anniversary is commemorated on the cover of Family Motor Coaching with a motorhome-shaped cake.
Before TV's "Cake Boss"
Candy Johnson, who spent 17 years at FMCA as art director, recalled the "rest of the story" associated with the 20th anniversary cake:
"As I remember, the January issue of FMC was always the 'directory Issue,' which members would keep in their coach until a new one was published. Because of its uniqueness, we tried not to show any favoritism by featuring a certain brand of motorhome on the directory cover. Since 1983 was the 20th anniversary, I suggested Shirley Estep's wedding cake bakery in Felicity, Ohio, and the possibility of a motorhome cake to celebrate the event.
"Since I didn't have any professional lighting equipment, only a hand-held strobe, I knew that shooting this cake in bright sunlight would likely cause some very harsh shadows. So I waited for the sun to go behind some clouds and just use the reflected light to aid in the photography. At the very moment I took the first photo, the cloud hiding the sun decided to burst open and it began pouring rain . . . a lot of rain, really fast. I grabbed the cake and headed back to the house. Since we were on deadline and didn't have any time left to reshoot, I was grateful that the few pics taken had turned out well enough to use for the final graphic. Whew!"
January 1983: FMCA's Emergency Message Service is launched. It begins as a toll-free WATS line members can call to reach the national office and speak with a receptionist to leave and pick up messages. Calls eventually are handled by an answering service, then by FMCA staff. Ultimately, it becomes a 24-hour automated service. The service is discontinued in December 2006 when cell phones become commonplace.
May 1983: Member number F50000 is assigned.
July 28, 1983: The Clough Pike office is dedicated to founding member Bob Richter, L1, and first executive director Ken Scott, L63.
July 1987: A $1 million expansion project at the Clough Pike office is completed, providing the organization with a modern headquarters facility that encompasses 21,000 square feet.
March 1988: Member number F100000 is assigned.
May 1989: FMCA purchases a 12,000-square-foot building on Round Bottom Road in Newtown, Ohio, to house the mail forwarding operation and warehouse space and later builds a 15-site campground there.
June 21, 1989: President George H.W. Bush visits the first spring convention in Richmond, Virginia.
Presidential Visit
FMCA's first-ever spring international convention was made even more noteworthy when President and Mrs. George H.W. Bush visited convention-goers at the Virginia State Fairgrounds on June 21, 1989.
As one would expect, the president's appearance added a new dimension to convention planning. A special stage was constructed, additional seating and security personnel were put into place, bomb-sniffing canines were brought in to do what they do best, and electronic sweeping of key areas was instituted. The FMCA Executive Committee, Commercial Council, and the national office staff worked in tandem with staff from the White House, White House communications, the Secret Service, and the Virginia State Fairgrounds to coordinate all aspects of the visit.
President Bush arrived via helicopter from Washington, D.C., while Mrs. Bush entered the grounds in a limousine from New Orleans, Louisiana. The couple was reunited in an MCI bus conversion furnished by Custom Coach Corporation and owned by Tench and Lou Phillips, F2448, of Virginia Beach, Virginia. During their stay in the Phillips' coach, the Bushes were joined by FMCA national president Richard Hammann, L401014, and his wife, Karen.
During his appearance before convention attendees, Mr. Bush said, jokingly, "You know, at the White House, I hear a lot about technological achievements. Scientists tell me about our latest advances in electronics and computers and biogenetics. And that's all very interesting. But I still can't get over the fact that here in America, we have houses that can do 55 miles an hour into a headwind."
More seriously, he noted, "You're an example of a long-standing tradition in this country, (one) that began 150 years ago, when Americans set out to explore the lands west of the Mississippi River. And today, you continually rediscover the miracle of America's abundance, through the romance of the road."
At the conclusion of his speech, the president and first lady were presented with a commemorative plaque that bore a painting of a motorhome in a mountain setting and words that proclaimed them "Honorary Lifetime Members of the Family Motor Coach Association." Mr. Bush was also presented with "goose egg" plates bearing member number 120000.
March 1990: The Tampa, Florida, convention coach count surpasses 5,000 (5,244).
September 1990: Quality Motor Coach becomes the 5,000th commercial member.
September 28-30, 1990: FMCA holds its first fall convention in Sacramento, California.
November 1990: FMCA receives the 1990 Literacy Volunteers of America (LVA) Leadership Award for its "Round Up" For Literacy campaign. Over the years, FMCA members have rounded up their membership dues via FMCA's "Round Up" campaigns and donated more than $1 million to LVA, the Better Homes Foundation, ProLiteracy Worldwide, and Good Will-Hinckley.
November 1991: Member number F150000 is issued.
January 1993: FMCA has more than 300 active chapters.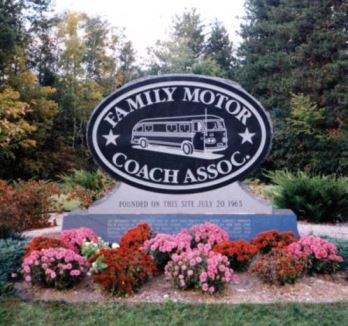 July 4, 1994: A granite monument honoring FMCA's birthplace is dedicated in Hinckley, Maine, in a ceremony attended by a number of FMCA charter members, FMCA Executive Board members, and Maine Wheels chapter members.
The Making Of A Monument
The site of FMCA's founding in July 1963 on the grounds of the Hinckley School in Hinckley, Maine, is forever etched in FMCA's history. The 26 families who attended that first gathering socialized and viewed an eclipse of the sun. Eighteen of those families are credited with giving life to FMCA during that weekend. FMCA's Maine Wheels chapter also is due recognition for members' efforts to place a permanent reminder of FMCA's founding on that site.
The Maine Wheels chapter, chartered in November 1987, held its first campout in 1988 on the grounds of the Hinckley School. The highlight of the weekend was a one- to two-mile walk to the now grown-up woods, up to the cornfield, to find the original site of FMCA's founding and to search for the fire ring and "pulpit" that Bob Richter, L1, used during FMCA's organizational meeting in 1963.
Maine Wheels members Bill Gowen, F93847; Gary Adams, F62729; and Michael Bryant, F45695, soon decided that some sort of permanent commemoration should be erected on the site. Eventually, chapter members realized this was a bigger project than they could handle alone.
In November 1992, FMCA's Executive Committee approved $10,000 in funds for the building of a black granite monument to be erected on the site. The project was designed by Rock LaCroix, owner of Provost Monuments in Benton, Maine. Using a computerized stencil-cutting machine, Rock's wife, Bernadette, made the design, which measured 6 feet long and 4 1/2 feet high. The black granite used for the monument was shipped from India to Barre, Vermont, for cutting — fortunately, arriving without a crack.
Once cut, the monument's top piece weighed 4,500 pounds, including the FMCA "goose egg" emblem shape, with a 2,300-pound base supporting it. The entire monument had to be engraved in three sections.
Once the cutting/engraving process was complete, the granite was shipped carefully to Maine — again, without a crack — and lifted into place on the monument site on April 29, 1994. This task required three men with two trucks and a huge power lift to set the stone in place.
A solar eclipse took place a few weeks later, on May 10, 1994 — fitting, since the original house car owners viewed an eclipse on that site at their 1963 gathering. The monument was dedicated on July 4, 1994. The final cost: $9,958.70.
August 1995: Dottie Pierce, L57064, is elected FMCA's first female national president at the Minot, North Dakota convention.
March 1996: The Perry, Georgia, convention coach count surpasses 6,000 (6,632) and is commemorated with a permanent sign erected at the Georgia National Fairgrounds & Agricenter.
February 1997: FMCA's Web site — www.fmca.com — goes online.
September 1998: Member number F250000 is assigned.
August 18-20, 2000: The largest FMCA convention to date, hosting 7,422 coaches, takes place at the Brunswick Naval Air Station, Brunswick, Maine.
February 2001: The first edition of FMCA's North American Road Atlas &Travel Guide is introduced.
July 2004: Member number F350000 is assigned.
August 19, 2004: Then-U.S. Secretary of the Interior Gale Norton encourages FMCA members to "take pride in America" during her appearance at the 72nd International Convention in Redmond, Oregon.
April 2008: Member number F400000 is assigned.
August 2011: FMCA introduces its new "Connection" partnerships: the Campground Connection, providing members discounts at FMCA commercial member campgrounds; the Tire Connection — the Michelin Tire Advantage Program; and the FMCA Tour Connection, powered by Fantasy RV Tours, which makes available FMCA-member-only caravans and rallies.
August 29, 2012: Sheldon the Turtle is introduced as FMCA's official 50th anniversary mascot at the 87th Family Reunion and Motorhome Showcase in Indianapolis, Indiana.
September 2012: Veteran journalist Mike Wendland, F426141, becomes FMCA's on-the-road reporter, traveling with his wife, Jennifer, in a Roadtrek motorhome to cover a variety of RV and FMCA topics. His "Open Mike" column debuts in Family Motor Coaching magazine, and his videos are posted on FMCA.com.
January 2013: FMCA begins its year-long 50th anniversary celebration. This includes running spotlights on FMCA history in each issue of Family Motor Coaching.
May 9, 2013: FMCA members help RV/MH Hall of Fame to achieve its "Burn The Bank Note" fund-raising campaign goal by signing up for life memberships in the Hall of Fame, which generate $16,000.