Enjoy a thrilling aerial adventure and earn the bragging rights to say, "I did it!"
By Rhonda Reedy
April 2013
Fresh air fills my lungs as I take a deep breath, step off the platform, and fly 730 feet through the trees. A stream weaves 30 feet below me and tree limbs fly past at 25 miles per hour. The sun dances through the leaves and I look around, relaxing in the harness, enjoying the sensation of being weightless and flying free. And to think that just a few minutes ago I was apprehensive to take the first step off the platform into nothing but air.
Ziplining is an adrenaline-producing phenomenon whose popularity has been sweeping across the United States during the past few years. On the heart-pumping meter somewhere between bungee jumping and leaping off a diving board, ziplining is a fun activity that can be enjoyed by a wide variety of thrill seekers.
Just what is a zipline? Basically, it is a mechanism composed of a pulley and rope or cable that is designed to propel a rider downward by gravity. Commercial ziplines are often set in forests and other natural areas, treating the rider to stunning views. They are often part of a larger tour that may involve multiple zipline rides, rappelling, and other activities.
Most ziplines require riders to be a minimum age of 10 and to weigh between 90 and 250 pounds. The weight limit is not a safety issue as far as what the line can hold. Rather, it has to do with the speed, or lack thereof, that the rider can attain. A person who weighs less than 90 pounds may have a difficult time making it all the way to the other end. Someone who weighs more than 250 pounds may find it challenging to brake without coming in too "hot." The other requirement is closed-toe shoes. That means no flip-flops or slide-ons — you don't want your shoes to end up 50 feet below!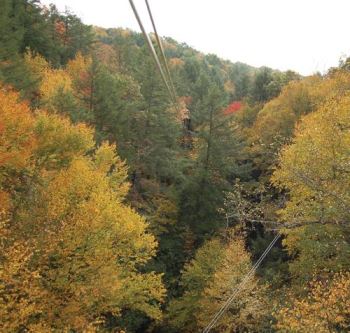 At Adventures On The Gorge in Lansing, West Virginia, which opened in 2009, a tree-top tour takes riders on a mile of double cables that zigzag across a babbling, trout-filled creek; a walk across two sky bridges; and a rappel at the end. Dave Arnold, manager, noted that while they operate the zipline year-round, they closely monitor the weather and will not run during storms; however, both he and the guides assured me that zipping in the rain and in the winter add a new element of excitement and are worth trying.
Our tour at Adventures On The Gorge started early on a morning when the fog was still rising. Our guides, Cory and Ryan, introduced themselves to our small group, which had been standing around quietly, casting nervous glances toward the neatly arranged piles of harnesses, helmets, and gloves. After introductions, we donned our gear, were given a quick review, and then headed out to "flight school."
After a short walk through the oaks and hemlocks, Scott and Robin, from Pittsburgh; myself; and James, from Detroit, lined up. Cory outlined the basics of safety, showed us the proper hand signals to use, and demonstrated other proper techniques. Each of us had a try on a 20-foot practice zip, only 8 feet or so off the ground. Nerves were tight. Can I really stop myself? Is the glove really thick enough that the cable isn't going to hurt? And, of course, will the harness really hold me? The answers: Yes to all.
Standing on the platform 50 feet up in the air was intimidating. Looking straight down at the ground where one step forward would put me right off the edge, a wave of dizziness overtook me. I decided that looking straight out and concentrating on what the guides were telling me was a better plan.
Just as I regained my composure, it was time for someone to go first. No one wanted to volunteer, but hey, I thought, I'm here for an adventure, so I stepped up. I put my left hand on top of the pulley; placed my right hand on top of the left; sat back in the harness; and began to move forward.
Whoosh …. I was airborne! Hanging onto the cable as though my life depended on it, I watched the guide on the other platform for my sign to brake. Before I knew it, the ride was over. Once my feet were back on a platform, Ryan quickly transferred my carabiner to the safety line and I stepped out of the way so he could give the "safe" signal for the next zipper to go. I took a deep breath. I'm alive, I thought. After the first zip, I was confident that I would be able to relax and take in the scenery without panic from here on out.
WildZipline Safari at The Wilds in Cumberland, Ohio, is a seasonal zipline that opened in 2011 and features 10 ziplines with a rappel at the end. Zipping from platforms built in the fields of The Wilds takes you over ponds and above open fields at speeds of up to 35 miles per hour. Julieann Eckel, marketing director, noted that many people want to experience ziplining to help overcome their fear of heights. And with the beautiful, open scenery, it's easy to distract yourself from the height as you search for a glimpse of many exotic and endangered animals that make The Wilds home, such as rhinos, wild horses, camels, and giraffes.
With only a set of steps at the beginning and end, one rappel, and a short walk, WildZipline Safari is less physical than some other ziplines. If you can walk a short distance and raise your hands above your head, you should be able to experience the exciting rush and see some interesting animals.
When zipping under the sun seems too tame, check out Hocking Hills Canopy Tours near Rockbridge, Ohio. "Canopy" refers to the covering of trees under which the ziplines travel. In addition to daytime tours, a two-hour night tour is offered here. Stepping off a platform into the open air in darkness is an assault on the senses that gets your adrenaline rushing. Zipping in the dark takes thrill-seeking to a new level.
If you are looking for a completely different experience, give the Flightlinez At Fremont in Las Vegas, Nevada, a try. Spanning 800 feet under the light show canopy, this is a quick and fun flight right over the heads of tourists along the length of Fremont Street. Fun during the day, it's even more amazing if you can time your flight to coincide with the Fremont Street Experience nighttime light show.
Safety is a top priority at all the ziplines I've visited. When you are on the platform, you are strapped to the cables at all times; most use a double-hook system. You are able to move about the platform, look over the side, enjoy the scenery, take pictures, and get comfortable being in the harness. The second priority is ensuring that everyone is having fun! The guides are great at making riders feel welcome, safe, and relaxed. With tidbits of information about the area, flora, and fauna, they keep the focus on having a good time and learning something new. And if that doesn't work, they will quickly come up with a corny joke or two to get you laughing, or at least rolling your eyes.
Many people with physical limitations can enjoy ziplining, too. To participate in this activity, you will need to be able to raise your hands above your head and, for some ziplines, walk a short distance. Blind, deaf, and paraplegic participants find that ziplining is a fun activity they can do with family and friends. The guides are trained to accommodate different physical abilities to make the experience fun for everyone.
Reservations are recommended to guarantee a spot at all ziplines, especially if you are traveling with a group. However, many do have walk-in spots available; so, if you are passing by at the last minute, it doesn't hurt to check. Most ziplines are located near tourist areas and feature ample parking.
Ziplining is fun. Ziplining is breathtaking. Try it, and you just might become hooked.
Further Info
Adventures On The Gorge
Ames Heights Road
P.O. Box 78
Lansing, WV 25862-0078
(888) 650-1932
www.adventurewestvirginia.com
Flightlinez At Fremont
425 Fremont St.
Suite 160
Las Vegas, NV 89101
(702) 410-7999
www.flightlinezfremont.com
Hocking Hills Canopy Tours
10714 Jackson St.
Rockbridge, OH 43149
(740) 385-9477
www.zipohio.com
WildZipline Safari
The Wilds
14000 International Road
Cumberland, OH 43732
(740) 638-5030, ext. 2947
www.zipthewilds.com
For a searchable list of zipline locations in the United States, Canada, and other countries, visit www.ziplinerider.com/Zipline_Locations.html.
Camping
Very few zipline locations have RV camping on-site, but guides or other personnel can provide suggestions about nearby campgrounds. Or, check your favorite campground directory.
FMCA RV Marketplace directory:
www.familymotorcoachrvmarketplace.com;
published in the January and June issues of Family Motor Coaching.