Stainless-Steel Water Bottle
The H2Duo stainless-steel water bottle from Seattle Sports Company features a two-part design, making it possible to thoroughly clean the inside of the bottle between uses.
The 1-liter bottle's screw-off upper half also provides access for cleaning and for filling the bottle with ice. When separated, the bottom portion can be used as a drinking cup and the top as a wine-glass-size goblet. Each bottle features a screw cap top; a recessed flip-up hanging ring; a glow-in-the-dark accent; and a convenient cap lanyard.
The H2Duo is available in a variety of colors and has a manufacturer's suggested retail price of $17.95.
Seattle Sports Company
3217 W. Smith St., #1
Seattle, WA 98199
(800) 632-6163
(206) 782-0773
www.seattlesportsco.com
---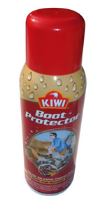 Boot Protectant
KIWI Boot Protector from Sara Lee Corporation is a water-repelling spray that is said to keep boots comfortable and dry while promoting longevity and reliability.
The Boot Protector formula is injected with an advanced silicon polymer that helps boots repel water, dirt, and stains. The spray is said to be easy to use and odorless when dry, and to help make cleaning and maintaining the boots easier.
A 12-ounce can of KIWI Boot Protector has a manufacturer's suggested retail price of $6.99.
Sara Lee Corporation
707 Eagleview Blvd.
Exton, PA 19341
(610) 321-1220
www.kiwicare.com
---
Storage Compartment Latches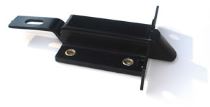 It can be frustrating when the latch on an exterior storage compartment breaks, denying you access to the contents inside that bay. Now RB Machining (RV Division) manufactures Fleetwood-style compartment latches that are made with sturdy aluminum plungers, rather than the original plastic plungers that have a tendency to snap.
The company also rebuilds other types of storage latches (Winnebago, Monaco, etc.), replacing the plastic plungers with aluminum plungers and springs.
A new Fleetwood-style latch has a manufacturer's suggested retail price of $16, while the rebuilt latches are priced at $13 apiece.
RB Machining (RV Division)
39360 Third St. E. #203
Palmdale, CA 93550
(661) 274-1966
---

Waterless Wash And Wax Spray
According to product literature, Quicshine99 from Shine Products LLC is an all-in-one waterless wash, wax, and protectant that removes oil, bugs, and grease from vehicles and applies a rich carnauba wax.
The spray, which reportedly is safe to use on all nonporous surfaces of a vehicle, can be applied anytime and anywhere without the need for available water. When used, the product does not leave any residue, greasy film, or fingerprints.
A 12-ounce can of Quicshine99 has a manufacturer's suggested retail price of $12.95.
Shine Products LLC
7740 Squire Court
Mobile, AL 36695
(251) 454-1867
www.quicshine99.us
---
Heated Hammock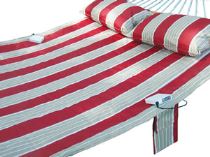 The 3Season Heated Hammock from Prairie Sales LLC is said to extend the lounging season by providing a warm, cozy place to relax in spring, summer, and fall.
According to product literature, the roomy two-person hammock contains carbon fiber heating elements embedded between the cushioned quilted fabric, highlighting the shoulder and back areas. Rechargeable lithium-ion batteries on each side control the heating for either one or two people and will warm the bed for up to four hours between charges. The 60-inch-by-78-inch hammock also includes two overstuffed pillows, hanging hardware, a charging unit for the batteries, and a storage/carry bag.
The 3Season Heated Hammock has a manufacturer's suggested retail price of $299.95.
Prairie Sales LLC
P.O. Box 140074
Nashville, TN 37214
(615) 884.0973
www.tempachair.com
---
Handheld GPS Device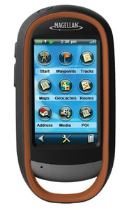 According to MiTAC Digital Corporation, the new line of Magellan eXplorist handheld GPS devices allows adventurers to navigate outdoor destinations worldwide, capture geotagged photos, and share their experiences online.
The devices "" models 510, 610, and 710 "" feature a 3.0-inch color touch screen, a 3.2-megapixel camera with auto-focus, a microphone, and a speaker, making it possible to record images, videos, and voice notes to share with others. All three waterproof devices come with Magellan's World Edition map, which includes road maps for the United States, Canada, Western Europe, and Australia, along with water features, urban and rural land use, and a realistic shaded relief background. The 610 and 710 models include additional features.
Magellan eXplorist GPS devices have manufacturer's suggested retail prices of $349.99 (model 510), $449.99 (model 610), and $549.99 (model 710).
MiTAC Digital Corporation
471 El Camino Real
Santa Clara, CA 95050
(408) 615-5100
www.magellangps.com
---
Wireless Laptop Docking Station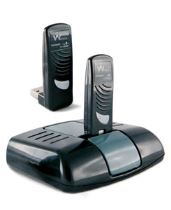 The Warpia Easy Dock from Source R&D Inc. wirelessly connects a laptop computer to a traditional desktop setting "" monitor, keyboard, mouse, and speakers "" thereby combining the comfort of a full-size desktop computer with the portability of a laptop when on the road.
The Easy Dock includes a USB adapter that plugs into the laptop computer and a DisplayDock (a wireless receiver and docking base) with connection ports for the mouse and keyboard, a 3.5-millimeter audio port, and a digital video interface (DVI) outlet for the monitor. The device supports resolutions up to 1400 x 1050 and will play high-definition video up to 720P. It comes with a power supply unit; a quick-start guide; and a CD with software, drivers, and a users manual.
The Easy Dock has a manufacturer's suggested retail price of $149.99.
Source R&D Inc.
1709 Junction Court
Suite 420A
San Jose, CA 95112
(408) 452-7897
www.warpia.com
---

Wifi Extender
The Rogue Wave from Wave WiFi is a compact wireless bridge and Ethernet converter that reportedly makes it possible to receive WiFi transmissions from a quality public hot spot up to 7 miles away.
The Rogue has 800 milliwatts of output power and comes with an 8-decibel outdoor antenna. A 25-foot Ethernet cable connects the device to any computer or Ethernet-enabled device, such as a wireless router. It operates on both Windows and Mac platforms and features a Web-based interface, so no software installation is required. The Rogue comes with an instructional CD, a quick-start guide, and 110/220-volt-AC and 12-volt-DC power supply cords.
The Rogue has a manufacturer's suggested retail price of $400. It is available through Land and Sea WiFi (www.landandseawifi.com; 954-636-1967) for $350.
Wave WiFi
2 Oakwood Blvd.
Suite 195
Hollywood, FL 33020-1962
(800) 831-9818
(954) 922-9585
www.wavewifi.com
---
Medical Information Storage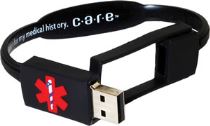 The CARE Medical History Bracelet from Medical Care Bracelet In A Flash allows individuals to carry their personal health history at all times.
The bracelet includes a flash drive that plugs into any computer to provide instant health history, including lists of medical conditions and medications; insurance and primary physician information; and emergency contact information. The bracelet features e-Manager software, which is activated whenever the bracelet is plugged into a computer. No information is stored on the Internet, and there are no additional fees. The bracelet is said to be durable and waterproof, and it features an interlocking mechanism to protect it from accidentally coming off.
The CARE Medical History Bracelet is available in five sizes and five colors and has a manufacturer's suggested retail price of $19.99 plus $5 shipping and handling.
Medical Care Bracelet In A Flash
3357 Walker Road, Unit 7
Windsor, Ontario
Canada N8W 5J7
(248) 747-7145
(519) 982-1574
[email protected]
{loadpositionEndBlurbProducts}