Gear, Gadgets, And Gifts
Practical accessories and assorted goods designed to make life easier and more enjoyable for RVers.
By Linneah Deighton, Associate Editor
Crash-Tested Dog Harness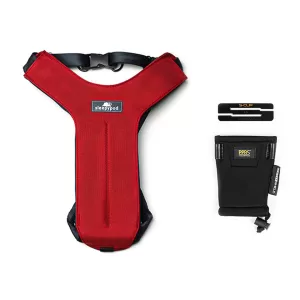 The Clickit Sport vehicle harness from Sleepypod is light and easy to use without sacrificing pet safety. Sleepypod's Infinity Loop webbing design works with a broad, padded vest to distribute and reduce damaging forces that can cause injury in a collision or sudden stop. The harness has been crash-tested with U.S., Canadian, and E.U. child-safety standards, then independently tested and certified with a five-star safety rating from the Center for Pet Safety. Outside of the vehicle, Clickit Sport can be used as a walking harness. Reflective strips offer improved visibility at night. Included with purchase is an S-Clip and Buckle Shield accessories. Available in four sizes and various colors and priced from $103.49 to $126.49.
Sleepypod
(626) 421-6818
sleepypod.com
---
Soundbar And Streaming Player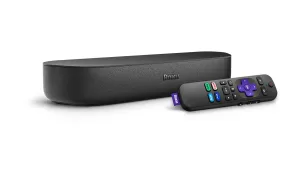 The Roku Streambar is a compact, 12-inch soundbar with Roku's TV operating system already installed — making it ideal for smaller spaces such as RVs. Users can stream vibrant 4K HDR picture quality on compatible TVs. The Streambar is also compatible with Amazon Alexa, Google Assistant, and Apple AirPlay and HomeKit. Not only does it include access to hundreds of free channels, but it also provides a virtual surround-sound experience that's great for movie nights. Its adjustable sound settings can automatically lower the volume for loud commercials, boost the volume of voices, and optimize the sounds for night listening with different modes. Included with purchase is the Streambar, a voice remote with TV controls, a high-speed HDMI cable, two AAA batteries, a power cable and adapter, and an optional optical cable. Price is $129.99.
Roku
www.roku.com
---
Polish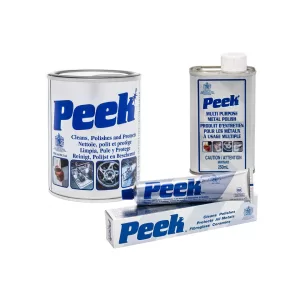 When exposed to the elements, metal can quickly tarnish, rust, and lose its lustrous shine. To combat this, Peek Polish from Sudbury brings new life to surfaces by being able to clean, polish, restore, and protect 38 different solid materials on RVs and boats. Once the finish is restored, the polish reduces tarnishing for up to three months. While powerful enough to remove boat and RV oxidation and exhaust bluing, it is also gentle enough to clean jewelry. Peek Polish is available in 1.6-ounce and 3.9-ounce tubes; 8.4-ounce and 39.3-ounce cans of paste; and an 8.4-ounce liquid container. Prices start at $12.
Sudbury Boat Care Products
(978) 532-4019
www.sudburyboatcare.com
---
Propane Emergency Shut-Off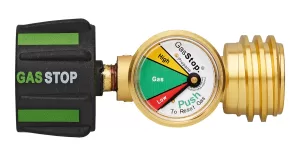 Using propane is a great way to bring home comforts with you on the road, but taking the right precautions can prevent disaster. GasStop is an emergency shut-off device for propane systems. In the event of a major leak — which the company defines as a sudden and dramatic change in the flow rate equivalent to over 70 standard cubic feet per hour or 75,000 Btu an hour — GasStop will instantly and automatically stop the flow of gas anywhere in an RV propane system. The device is said to be easy to fit and install, and it incorporates a multipurpose gas-pressure indicator. GasStop also can be used to test for minor leaks prior to use. Price is $87.99.
GasStop
www.gasstopusa.com
---
Heated Water Hose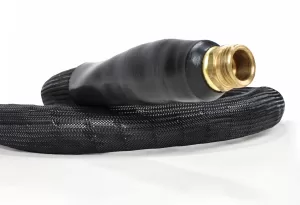 The NoFreezeWaterHose is a flexible, LLDPE-plastic drinking-water hose that's electronically heated and uses a 120-volt-AC, UL-rated waterproof heated circuit. The circuit is wrapped around an insulated, ¾-inch food-grade hose. The hose doesn't heat the water but warms it just enough to prevent the water from freezing. The hose self-regulates without a thermostat and only operates the heater when necessary — once it's plugged in, you don't need to turn it off. Different hose lengths are available, ranging from 15 to 100 feet, but you also can request a custom length. One 15-foot hose is $284.90.
NoFreezeWaterHose
(614) 339-5088
www.nofreezewaterhose.com
---
Rodent Repellent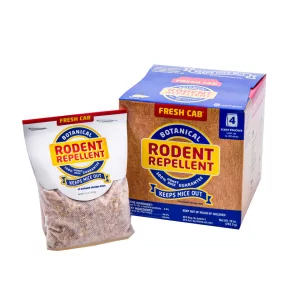 EarthKind's Fresh Cab Rodent Repellent prevents rodents from inhabiting RVs, stored vehicles, sheds, and other enclosed areas. Made in the United States with farm-grown ingredients, Fresh Cab effectively repels rodents by emitting scents that are offensive to these critters, encouraging them to stay away without the need for mouse traps or poisons. It is a bio-pesticide rodent repellent registered by the EPA for indoor use and enclosed spaces to keep rodents out of unwanted pest-prone areas. Fresh Cab even maintains its effectiveness in cool and freezing temperatures. It is a fast-acting, toxin-free solution said to be safe for use around children and pets when used as directed. The pouch contains a mixture of plant fibers and essential oils, including balsam fir oil. A pack of 12 is $59.
EarthKind
(800) 583-2921
www.earthkind.com
---
Outdoor Bluetooth Speakers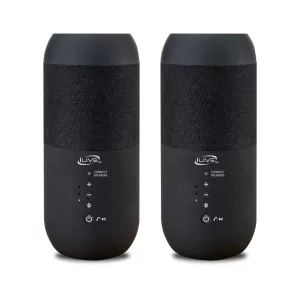 Whether you are gathering around a campfire or spending an afternoon by the water, you can enjoy iLive's Indoor/Outdoor Dual Bluetooth speakers and experience 360-degree, full-bodied sound indoors or out. The set includes removable stakes so you can strategically place your music anywhere outside. The durable, waterproof design ensures you can keep the party going wherever you take it. There's no need to worry about tripping over electrical cords, either. The wireless speakers have a 33-foot range and come with a rechargeable battery that has a 20-hour life at 50 percent volume. They also have a built-in solar panel slow charger. Price is $69.99.
iLive Electronics
(888) 999-4215
www.iliveelectronics.com
---
RV Step Rugs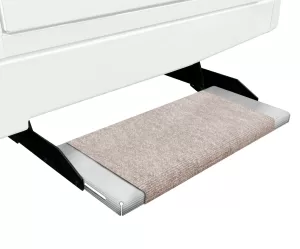 Designed for straight steps, Prest-O-Fit's Outrigger RV Step Rugs have a micro-ribbed texture to provide better traction and prevent skidding. Easy to install on manual and electric steps up to 8 inches deep, the rugs come with spring fittings that attach to the rug. The step rugs are made from olefin (polypropylene) carpet, a synthetic fiber that is commonly used for outdoor rugs where moisture, mold, and mildew can be an issue. The carpet is also UV-protected and will resist sun damage. Plus, they're easy to clean — simply hose off and dry. The rugs are available in five colors and in 18-, 22-, and 23-inch widths. Price begins at $10.99.
Prest-O-Fit Manufacturing
(888) 770-5849
www.prestofit.com
---
RV Products Submissions
To have a product considered for this column, please send information and a high-resolution photograph to rvproducts@fmca.com.