Paper Plates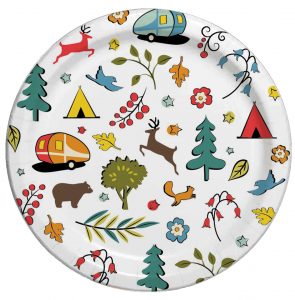 When you are a gung-ho, all-in, camp-loving RVer, it shows in many ways. Perhaps even in the paper plates at your picnic table. So, take note of the Into the Woods Eco-Friendly 10 1/16-inch Paper Dinner Plates from Camp Casual.
The vintage-inspired design includes images of wildlife, trees, berries, leaves, stars, wildflowers, and travel trailers. According to the product description, the plates are microwavable, recyclable, and compostable, as well as resistant to cuts, grease, and water. The suggested retail price is $6.99 for a package of 24.
Camp Casual
(818) 864-2707
www.campcasual.com
---
Propane Safety Device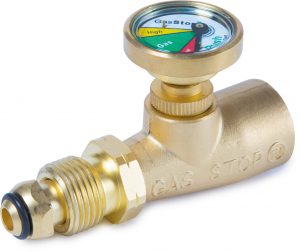 GasStop is a UL-listed device designed to automatically shut off an RV's supply of propane in the event of a major leak or system failure. Two versions of GasStop are available, each of which attaches to propane tanks. One has a POL fitting (see accompanying photo), which is commonly found on ASME tanks on motorhomes; the other has an ACME fitting as found on modern DOT propane tanks on travel trailers and fifth-wheels.
GasStop also can be used to test for minor leaks (before normal propane usage). In addition, the device's pressure gauge indicates when the supply of propane is running low. The price of GasStop is $79.99.
GasStop
info@gasstopusa.com
https://gasstopusa.com
---
Faucet Aerator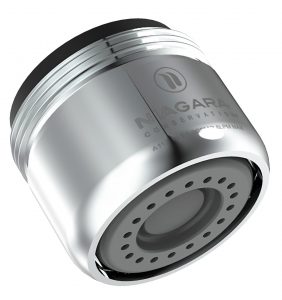 If water flows from your RV faucets at a rate of 2 gallons per minute (gpm), a lot of liquid is needlessly going down the drain — and into your holding tank. An easy way to reduce water usage is with a low-flow aerator, such as the Dual Thread Fixed Mount Aerator from Niagara Conservation. Models are available with flow rates of 0.5 gpm; 1.0 gpm; and 1.5 gpm.
The 0.5 gpm aerator offers water savings of 77 percent compared to a standard 2.2 gpm model. The aerator incorporates the company's Equiforce technology to produce a consistent flow rate without sacrificing pressure. It installs without tools, fits most male- and female-threaded faucets, and has a chrome finish. The price of the 0.5 gpm Dual Thread Fixed Mount Aerator generally ranges from $2 to $4.
Niagara Conservation
(800) 831-8383
www.niagaracorp.com
---
Mobile Water Treatment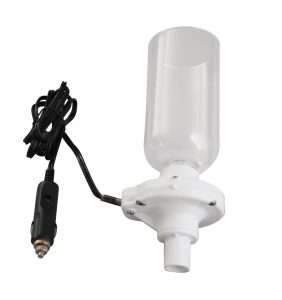 King's Aqua Pure, from King's Water Systems, is a portable device designed to disinfect an RV's fresh-water system with no residual chlorine smell. It also helps remove the odor of RV antifreeze, and it can be used to deodorize black- and gray-water tanks. The device employs a U.S. EPA-approved technology called advanced oxidation process.
King's Aqua Pure operates from a 12-volt accessory plug and requires no installation. You pour water and a little table salt into the device, which converts the saltwater into a solution that is said to kill all bacteria, viruses, and parasites. One pint treats 60 gallons of water. The device meets the NSF 61 standard for components of drinking-water systems. It doesn't filter out dirt or other particles, so you'll need an inline filter for that. The price is $199.
Kings Water Systems
(833) 321-2782
www.kingswatersystems.com
---
Trailer Tire Leveler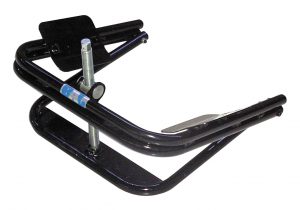 The Light Trailer Tire Leveler from BAL RV Products is designed for use with lightweight, single-axle campers, such as pop-ups and teardrops. After positioning the leveler around a tire, you use the provided ratchet wrench to turn the leveler's drive screw, raising or lowering the tire lifting pads to the level position. The leveler's flat plates hold the tire in place. The distance between the plates is 20¼ inches at the top and 12 inches at the bottom. For added camper stability, the leveler can be used with BAL's Single Tire Locking Chock.
The leveler is made of tubular steel and has a corrosion-resistant finish. It fits 13-inch, 14-inch, and most 15-inch wheels. The suggested retail price of the Light Trailer Tire Leveler is $104.99.
BAL RV Products
(574) 262-3400
www.norcoind.com/bal
---
RV Mattress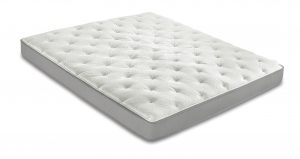 This is not a relationships column, but we're dishing out some advice for couples: Get a mattress you both love. And if one of you prefers one that's firm but the other doesn't, know that Sleep Number now makes RV mattresses with its DualAir technology. Firmness on each side can be adjusted with a wireless remote control.
The Comfortaire r3 bed features a 9-inch plush-style mattress with soft knit fabric. The mattress has a 1-inch comfort layer and five zones that contour to your body. The Comfortaire r3 is available in these sizes: RV king; RV king radius; king; queen short; queen short radius; queen; queen radius; and twin XL. Suggested retail prices range from $1,299 to $1,999. Happy zzzzzzs to you.
Sleep Number
(888) 411-2188
www.sleepnumber.com
---
Parks-Inspired Blankets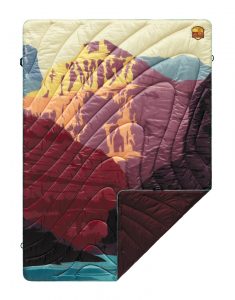 A few years ago, Rumpl introduced its Original Puffy Blanket, which is lightweight, durable, waterproof, resistant to odors, and made with materials typically found in premium sleeping bags and down jackets. Now Rumpl has created its National Parks Collection.
Six Original Puffy Blankets are available in colors and designs inspired by terrains and landmarks of U.S. national parks, including the Grand Canyon (pictured); Yosemite; Arches; Joshua Tree; Great Smoky Mountains; and Rocky Mountains. The price of each blanket is $129. Rumpl donates 1 percent of the proceeds to the National Park Foundation.
Rumpl
www.rumpl.com
---
Fingerprint Padlock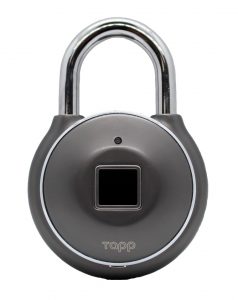 Your unique fingerprint serves as the key to open the Tapplock one+, a "smart" fingerprint padlock with 7-millimeter reinforced stainless-steel shackles. Tapping your finger on Tapplock's sensor opens the lock in less than a second. The lock can store up to 500 fingerprints, which can be managed via the Tapplock app. Other unlocking options include using Bluetooth and Morse code.
The rechargeable lock provides one year of battery life per charge (a light blinks when power is below 10 percent). The lock is marketed as waterproof, dustproof, and rustproof, and has a double-layered design with anti-shim and anti-pry features. Color choices: sterling silver, gunmetal, and midnight black. The price is $99.
Tapplock
https://tapplock.com/oneplus/
---
Automated Shade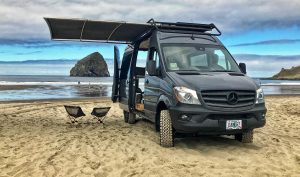 SureShade has designed retractable shade systems for the marine industry for 10 years. Now the company has entered the RV market with its ATF-RV Automated Shade, which features a telescoping framework designed to withstand winds up to 50 mph. The shade operates with silent glide technology and can extend up to 10 feet.
Other features include cambered components for enhanced aesthetics and better rain runoff; the ability to add side panels for screening and expandable living spaces; and a tilt-down mechanism for optimal shade. The shade can be installed on any size or type of RV. The suggested retail price starts at $5,700.
SureShade
(877) 333-8323
www.sureshaderv.com