By Skip Tate, Associate Editor
LED Palm Tree
Green Long Life has found a way to turn even the most northern campsite into a little slice of the tropics. While the company is better known for its efficient and ecofriendly LED light bulbs, it also has a fun side and produces rope-light palm trees. Yellow lights circle a metal pole to form the trunk, while green lights outline the palm leaves across the top. The UL-listed product is suitable for indoor or outdoor use and is available in a 4.5-foot or a 7-foot version. Add a little Bob Marley music or "Miami Vice" reruns on the TV and you're all set. The suggested retail price is $79.95 for the 4.5-foot tree and $133.83 for the 7-foot tree on Amazon. Coconuts, sandy beaches, and fruity drinks with umbrellas sold separately.
Green Long Life
(877) 955-6868
www.greenlonglife.com
---
Trailer Hitch Camera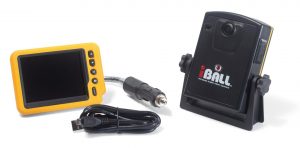 Trying to line up the trailer hitch and ball can be a frustrating tango. A little farther back. Now to the left. Too far. Back a little more. The people at iBall spent so much time getting in and out of their trucks that they built the Digital Pro Wireless Camera Kit to curtail the dance. The kit comes with a camera, a 3.5-inch color monitor, and a USB charge cable. The camera attaches to the trailer, hitch, or truck with a magnet and sends a wireless signal (up to 100 feet) to a monitor that plugs into a 12-volt auxiliary outlet in the truck. The kit costs $169.
iBall
(877) 298-2055
www.iballhitchcam.com
---
Refrigerator Lock

It's disheartening to experience milk, eggs, and soda spattering and scattering across the floor when the RV refrigerator door flies open after you make a sharp turn. The people at Recubed Solutions are so familiar with the experience that they invented the Fridge Fixer, a simple but effective way to keep the doors on your residential-type fridge closed while traveling. A T-shaped bracket mounts between the doors, and a block is inserted into the bracket when it's travel time. When you're camped, the block slides out and sticks to the door magnetically. The device also can be used to prop open the doors during storage. Multiple designs are available to fit different door depths and mounting types. The price is $69.99.
Fridge Fixer
www.recubed.solutions
---
Pet Water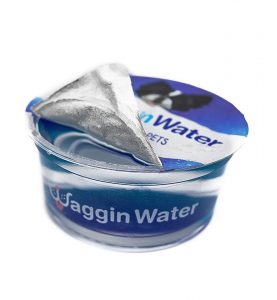 Taking your dog on a long hike is enjoyable and beneficial for you and your pet, and you never have to worry about being attacked by a squirrel. But long hikes make for hot dogs. After all, they wear fur coats. Dogs need water to cool down, so the pet parents at Waggin Water came up with 12-ounce portable bowls of water to keep your doggo hydrated and healthy wherever you roam. Just peel back the foil top and serve. A 12 pack costs $12.99. Or, if you prefer to share your bottle of water, the company also makes a collapsible 16-ounce travel bowl that costs $7.99.
Waggin Water
(312) 672-2848
www.wagginwater.com
---
Camp Slippers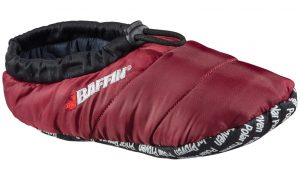 No one likes cold feet. That's why Baffin Industries tests its products in places so cold only polar bears and huskies are comfortable outdoors. Baffin's low-top Cush slipper is stylish and also sure to keep feet warm, thanks to synthetic insulation that works even when temperatures dip to single digits. A drawstring closure helps to keep out the cold. The slippers have antislip bottoms and are machine washable. They roll up and store in the provided mesh carry bag, so they don't take up much drawer space in the summer. The price is $45.
Baffin Industries
(800) 387-5858
www.baffslipperin.com
---
Bluetooth Bike Lock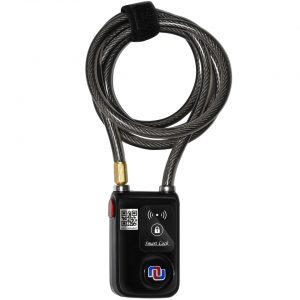 Bicycles are a great way to see the sights. You can pedal around the campground or the park, or maybe into town for a bite to eat. The only drawback is making sure the bike is securely locked once you stop. NuLock has a new lock that is both strong and 21st-century smart. The lock has a 47-inch braided-steel cable — long enough to secure multiple bikes — and it's Bluetooth compatible, meaning there are no keys to lose or combinations to forget. It locks and unlocks via an app on your phone, or can be set to unlock when you get within range. It sounds a 110-decible alarm and sends a notice to your phone if someone tries to disable or cut it. The price is $37.99.
NuLock
(626) 425-1083
www.nuvending.com
---
Pie Iron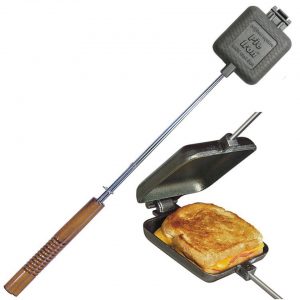 Forget chestnuts roasting over an open fire, and leave the s'mores to the kids. Rome Industries has what it takes to turn campfire cooking into a mouthwatering taste of heaven — pie irons. Slip two buttered slices of bread and some cheese into the cast-iron mold, clamp the sides together, and stick it in the campfire. Voila! Gooey grilled cheese. Substitute pie crust and some apple slices and you've got hot apple pie. Cherries, blueberries, and peaches work just as well. Rome makes the pie irons in a variety of different styles, including double-sized, round and pudgy, and heart-shaped, as well as specialty irons for burgers, hot dogs, wraps, and — yum! — waffles. Sandwich-sized pie irons cost $22.
Rome Industries
(800) 818-7603
www.pieiron.com
---
Clothesline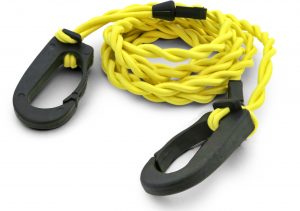 Swimsuits, towels, T-shirts. Camping can get wet and sweaty during the summer, and rather than drape items over rearview mirrors or awning arms, a quick-up clothesline would make life easier — especially if it doesn't require clothespins, as is the case with Coghlan's bungee clothesline. The line consists of two bungee cords twisted together, with carabiner-type clips on each end. The line measures 6 feet long before being stretched and clipped onto trees or other stationary objects. With the clothesline pulled tight, the tension between the two bungee strands holds even the wettest towel firmly in place. The price is $6.72 on Amazon.com.
Coghlan's
(877) 264-4526
www.coghlans.com
---
Heated Mattress Pad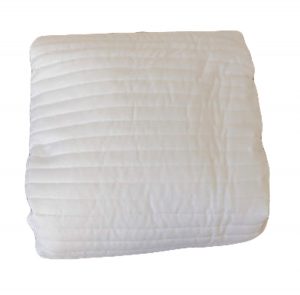 There's not much better than climbing into a toasty warm bed on a cold night, and Tochta has gone one better than a heated blanket: a heated mattress pad. Install it under the bottom sheet or under a nonheated mattress pad for extra comfort and you'll be one warm and happy camper. Dual controls are an option, so you won't have to fight with your always-cold partner over the temperature setting. Price ranges from $169 to $336 depending on the bed size.
Electro-Warmth Mattress Pad
(888) 690-1081
www.tochta.com
---
RV Products Submissions
To have a product considered for this column, please send information and a high-resolution photograph to [email protected].