Tow Bar
According to product literature, the new foldable Alpha tow bar from Blue Ox has a 6,500-pound towing capacity.
The Alpha features easy-release locking handles for quick disconnect, fits all 2-inch receivers, and mounts and stores on the back of the motorhome. The 35-pound steel unit includes offset triple lugs to better align towing forces and prevent binding, along with rubber boots to protect the legs from road grime. The tow bar also comes with a pair of 7,500-pound-rated safety cables.
The Alpha has a manufacturer's suggested retail price of $695.
Blue Ox
One Mill Road
Pender, NE 68047
(888) 425-5382
http://www.blueox.com/
---
Fuse Disconnect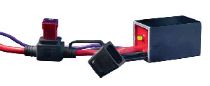 The AutoFuse from Tow Daddy Inc. is said to eliminate the hassle of removing a fuse on towed vehicles that require this step when towing.
The AutoFuse installs in 15 minutes at the vehicle's fuse box and is activated whenever the towed vehicle is connected to the motorhome. The device reportedly works with all towed vehicles requiring fuse removal and provides a trickle charge to the battery. Four AutoFuse models are available depending on the type of fuse that must be pulled.
The AutoFuse has a manufacturer's suggested retail price of $89.95.
Tow Daddy Inc.
1405 S.E. 164th Ave.
Suite 100
Vancouver, WA 98683
(888) 986-9323
(360) 831-7016
http://www.towdaddy.com/
---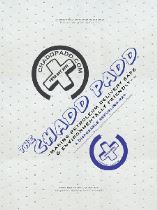 Fueling Protection
The Chadd Padd is a disposable refueling bib designed to catch and collect any spills that may occur at the fuel pump, protecting the vehicle's finish and avoiding a potentially dangerous fire situation.
The 15-inch-by-20-inch antistatic-treated pads are made of soft and absorbent polymers that can hold up to 11 ounces of petroleum products. The Chadd Padd can be used while fueling or adding oil to any type of vehicle or equipment, or as a drip mat to catch spills before they soil an engine or floor. Each pad includes a perforated partial hole to accommodate most filler ports.
An 18-pad box of Chadd Padds has a manufacturer's suggested retail price of $29.95. Enter the code EZFUEL8 at http://www.chaddpadd.com/ to receive a 10 percent discount.
Chadd Padd
P.O. Box 11875
Daytona Beach, FL 32120
(888) 393-8358
http://www.chaddpadd.com/
---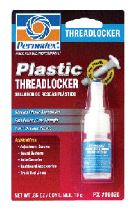 Thread-Locking Fluid
Plastic Threadlocker from Permatex is formulated specifically for use with plastic fasteners, which can be adversely affected by traditional thread-locking fluid.
Plastic Threadlocker is designed to prevent parts from loosening because of vibration, but the low-strength formula allows fasteners to be removed easily. The liquid compound fills small gaps and reportedly sets up in 15 to 45 seconds, so parts can be put back in service quickly. It can be used for a variety of applications in which plastic fasteners are employed.
A 10-gram bottle of Plastic Threadlocker has a manufacturer's suggested retail price of approximately $5.99.
Permatex
10 Columbus Blvd.
Hartford, CT 06106
(877) 376-2839
(860) 543-7500
http://www.permatex.com/
---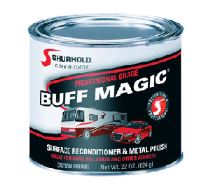 Surface Restorer/Polish
Buff Magic from Shurhold Industries is an all-in-one surface restorer and buffing/polishing cream designed to bring the shine back to numerous types of surfaces.
Buff Magic's formula is said to change as it is being used. Its proprietary abrasives break down smaller and smaller to create a compound that allows users to turn the vehicle's finish from dull to shiny without having to switch to another product. It reportedly will bring the luster back to clear-coat and fiberglass surfaces, and will remove scratches, mineral deposits, and oxidation. In addition, it can be used for headlight restoration and as a metal cleaner and polisher.
A 22-ounce can of Buff Magic has a manufacturer's suggested retail price of $28.98.
Shurhold Industries
3119 S.W. 42nd Ave.
Palm City, FL 34990-5558
(800) 962-6241
(772) 287-1313
http://www.shurhold.com/
---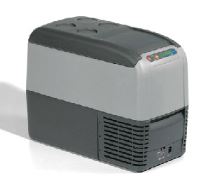 Portable Freezer
Dometic CoolFreeze lightweight portable freezers with refrigeration capability can provide a secondary cooling option for your food and drinks.
The freezers are available in eight sizes ranging from 0.4 cubic feet to 3.77 cubic feet and can be operated on 12/24-volt-DC and 110-volt-AC power. The freezer uses Danfoss quiet compression technology that is designed to generate up to 20 percent energy savings by running the compressor until the desired temperature is reached and then putting the unit into the economy maintenance mode. A digital push-button thermostat can be set from 0 to 50 degrees Fahrenheit so the device can be used as a freezer or refrigerator.
CoolFreeze freezers have manufacturer's suggested retail prices starting at $350.
Dometic Corporation
P.O. Box 490
Elkhart, IN 46515
(800) 544-4881
(574) 294-2511
www.dometic.com
---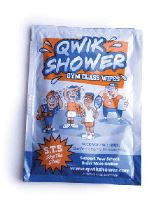 Disposable Washcloths
QwikShower Wipes from My Kids Stink LLC are disposable washcloths that can be used to freshen up when a shower isn't feasible.
Designed for children ages 3 and older, as well as for adults, the 10-inch-by-12-inch moist wipes feature a resilient cloth-like material and are individually wrapped to maintain moistness. The cloths are said to wipe away grime and body odor, and since they contain no fluorocarbons, they leave the user with a fresh scent that doesn't invade others' personal space.
A 10-pack box of QwikShower Wipes has a manufacturer's suggested retail price of $7, a 50-pack box is priced at $29, and a 100-pack container costs $49.
My Kids Stink LLC
3311 Olney Sandy Spring Road
Olney, MD 20832
(301) 529-2514
www.qwikshower.com
---
Places-Visited Maps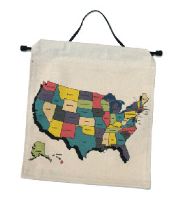 The Travel Keepsake map is a fabric version of the popular adhesive maps RVers put on their vehicle to indicate the places they have visited during their travels.
This portable version of the "sticker" map is made of quality canvas, with the map printed on the fabric through digital direct-to-garment printing. The canvas measures 15.5 inches by 14 inches and can be hung in a variety of places in the motorhome. The company suggests showing where you've been by attaching lapel pins from the sites or attractions. Maps of the entire United States, Canada, and all of the individual states and provinces are available.
The Travel Keepsake map has a manufacturer's suggested retail price of $19.95 plus shipping.
Travel Keepsake
352 Motorcoach Dr. S.
Polk City, FL 33868
(603) 540-6377
www.travelkeepsake.com
---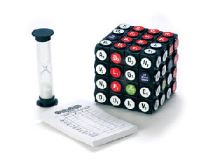 Word Game
The Scruble Cube from RSV Productions Inc. combines the concepts behind a couple of popular games to create a three-dimensional word game that's described in product literature as "a word game and a puzzle on steroids."
Players twist and turn the sides of the cube or rotate the individual squares to spell words in 90 seconds or less. Extra points can be earned by spelling words across multiple sides of the cube, using bonus squares, and building new words off of ones that have already been created. The game comes with a score pad and a sand timer.
The Scruble Cube has a manufacturer's suggested retail price of $24.95.
RSV Productions Inc.
10014 N. Dale Mabry Highway
Suite 101
Tampa, FL 33618
(800) 749-8920
{loadpositionEndBlurbProducts}