Refrigerator Braces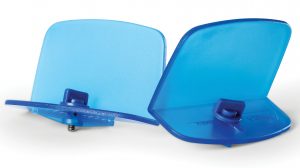 Even if there's not a whole lotta shakin' goin' on in your RV, just a few bumps in the road can rearrange the items in the fridge, cause cartons and bottles to spill, and make a sloppy mess of your leftover sloppy joes. Camco's RV Fridge Braces can help prevent such problems. Each brace attaches to the refrigerator's wire shelves, keeping food snugly in place. The suggested retail price for a pack of two braces is $6.99.
Camco Manufacturing Inc.
(800) 334-2004
www.camco.net
---
Copper Tumblers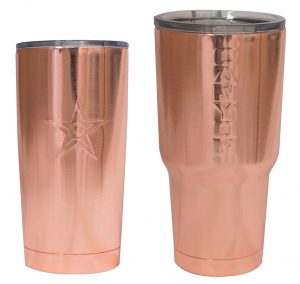 The Old Farmer's Almanac and other notable weather prognosticators agree — hot days are headed your way. Which means you'll need something to keep your beverages ice-cold, such as Copper Adventure Tumblers from Canyon Coolers. If you prefer a steaming hot drink, the tumblers' vacuum insulation also serves to retain heat.
The tumblers are made of double-walled copper-coated stainless steel. A BPA-free slide-close lid prevents spillage. The manufacturer's suggested retail price for a 20-ounce tumbler is $24.99; for the 30-ounce version, the price is $29.99.
Canyon Coolers
(866) 558-3267
www.canyoncoolers.com
---
Flagpole Mount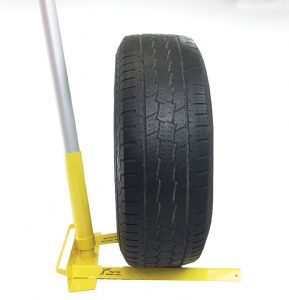 Are you ready for Flag Day, June 14? You'll be able to fly Old Glory proudly with Flagpole Buddy's 22-foot Fiberglass Pole and UTM (under tire mount) Kit.
The V-shaped mount can be placed under a large RV tire or a small car tire without moving the vehicle. To remove the mount, just pull on the built-in grab handles. The mount is designed with a 6-degree angle to position the pole away from the vehicle. The pole tube unscrews for easy storage. The bright yellow mount is made in the U.S. of 1/8-inch steel and has a powder-coat finish. In addition to the pole and the mount, the kit includes a 3-foot-by-5-foot U.S. flag, two O-rings for pole dampening, and four clips to fly two flags. The price for the 22-foot Fiberglass Pole and UTM Kit is $149.99. Kits with a 16-foot pole or a triple-pole mount also are available.
Flagpole Buddy
(858) 472-5613
www.flagpolebuddy.com
---
Tank Monitor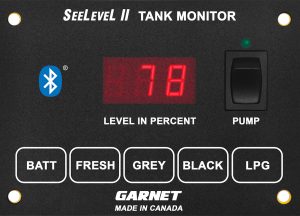 Overheard at countless RV campgrounds: "How full are our holding tanks?" With the Bluetooth-enabled SeeLevel 709-BTP3 RV tank monitor from Garnet Instruments, you can see fresh-water, gray-water, and black-water tank levels, as well as battery voltage and propane tank information, displayed on a smartphone or tablet.
Sensors adhere externally to the holding tanks. Two wires connect the sensors to the display. The 709-BTP3 is said to be accurate to within 3/8 inch. Do not forget, when ordering online, use the promotional code FMCA2018 to save 10 percent off the $420 cost until June 30.
Garnet Instruments Ltd.
(877) 668-7813
(817) 578-8601
www.rvgauge.com
---
Fresh-Water Hose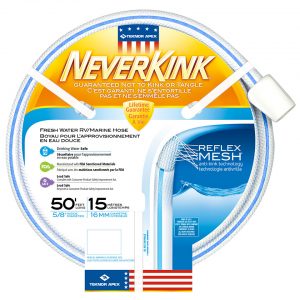 Here's hoping you live a kink-free life, at least when it comes to your neck and your RV hoses. We can't help with pains in your neck, but we can point out that Teknor Apex makes the NeverKink fresh-water hose. It relies on a patented antikink technology to prevent twists and tangles.
The hose is made with materials deemed safe for drinking water by the U.S. Food and Drug Administration. The hose is lead-free and complies with the Consumer Product Safety Improvement Act. It features an ergonomic leak-proof coupling. The hose is available in lengths of 25, 50, and 75 feet and diameters of 1/2-inch (for the 25-foot hose) and 5/8 inch (for all sizes). The price for the 50-foot, 5/8-inch diameter hose ranges from approximately $24 to $35, depending on the retailer.
Teknor Apex
(800) 289-6786
www.apexrvmarinehose.com
---
Portable Fire Pit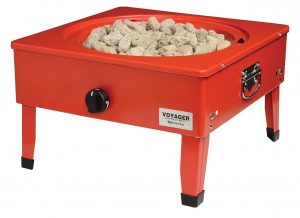 Smoke from a wood-burning fire pit can be, um, the pits. But, you can go smokeless with the Voyager Portable Fire Pit from Suburban and still enjoy an open fire with a soft glow and warm flame.
Voyager, which operates on propane, comes with an 8-foot hose and an attached regulator. The fire pit features a 15-inch-diameter burner opening with a rated 54,000-Btu capacity. The flame can be adjusted with variable "high" to "low" settings. White natural pumice stones and an antitip ring are included. Also, Voyager weighs less than 20 pounds. For your convenience, it has legs that lock into place when folded or extended, and a locking lid with carry handle. It collapses to 9.5 inches by 19 inches by 19 inches. The manufacturer's suggested retail price is $221.79.
Suburban, a division of Airxcel
(423) 775-2131
www.airxcel.com/suburban
---
Warning Triangles
No sense making a bad situation worse. If you have a roadside emergency or your RV is disabled, it's important to alert other drivers. One option is Blazer collapsible red reflector triangles, from Hopkins Manufacturing.
The triangles, which come in a package of three, require no tools to set up. A weighted base helps prevent them from falling down. Each triangle measures 17 inches high and 17 inches wide. A plastic storage case is included. The manufacturer's suggested retail price is $39.99.
Hopkins Manufacturing Corp.
(800) 524-1458
www.blazer-international.com
---
Portable Kitchen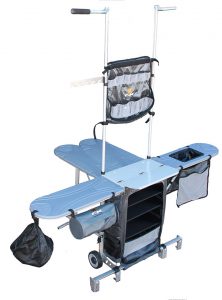 Maybe you avoid cooking inside the RV to prevent lingering odors, or perhaps you just prefer making meals in the Great Outdoors. Also, you can haul your gear in the GrubHub Mesa 1 portable kitchen and set it up in a few minutes so that everything you need is close at hand.
GrubHub includes a folding sink, tables, two air-dry bags, three adjustable shelves, a utensil rack, a paper towel holder, and a litterbag. The aluminum top will support almost any camp stove, and many typical two-burner stoves can be stored in the portable kitchen's outer flap pocket. Also, GrubHub weighs 32 pounds when empty and approximately 45 to 50 pounds with a stove and gear inside. The price of the GrubHub Mesa 1 is $397.
GrubHub USA
(435) 705-1773
www.grubhubusa.com
---
Waterproof Speaker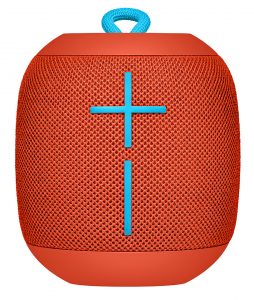 You can take music almost anywhere thanks to portable Bluetooth speakers such as Wonderboom, from Ultimate Ears. The beach, the shower, and the pool should pose no problem for Wonderboom, which is billed as waterproof and dustproof. It even floats.
Wonderboom has a 100-foot wireless range and produces 360-degree sound. Its rechargeable lithium-ion battery provides up to 10 hours of power; charge time is 2.8 hours. The speaker's hanging loop can attach to a bag, bike, backpack, and the like. Wonderboom weighs about a pound and is 4 inches high and 3.7 inches in diameter. The suggested retail price is $99.99.
Ultimate Ears
(646) 454-3200
www.ultimateears.com
---
RV Products Submissions. To have a product considered for this column, please send information and a high-resolution photograph to [email protected].