By Brandon Hatcher, F437547
February 2018
When we decided to live full-time on the road in a motorhome, I had to make a decision: sell all my scuba-diving gear, or find a way to take my hobby with me. Rather than putting it all out in the garage sale, along with everything else we owned, I decided to take my scuba gear with me on the road, in hopes that my hobby would introduce me to new people and new places I may never experience otherwise.
Combining RV Travel and Scuba
When you talk with most scuba divers, you hear of places such as Cozumel, Roatán, Bonaire, Belize, and other destinations not easily accessible by RV. Our first major stop when we set out to pursue our new RV life was Austin, Texas. Could I actually dive in Austin? I soon found the local Lake Travis dive club Facebook page and connected with some divers in the area. Since I was visiting, they were eager to show me their favorite local dive spots. We did many dives in Lake Travis. It's not as exciting as the Caribbean, but we had some nice dives where I could practice my skills, and every dive ended at a barbecue joint, as does every activity in Texas, I think!
While driving back from a dive with a new diver friend in Austin, he casually mentioned people diving at a missile silo near Abilene, Texas. That was all I needed to hear. My hobby now had me on a hunt to find this mystery missile silo.
The missile silo, known as Valhalla, is located just south of Abilene. I found a group of divers headed to the silo. It turns out they were all NASA engineers, and they knew of the silo because NASA occasionally uses it to test equipment. They were headed out for a weekend of fun diving and welcomed me and my new dive friend. We spent the weekend hauling our gear up and down five stories underground to the entrance of the missile silo.
The Missle Silo
Around 120 feet of the silo is filled with water that seeps in through the walls. When the silo was in use, the water would have been pumped out automatically, but the pumps are long gone. The silo itself was salvaged sometime in the past, so it was mostly a concrete tube with a bunch of debris on the bottom, but going through the blast doors in the complex and exploring the control room and silo doors on the surface made this one of my most memorable dives.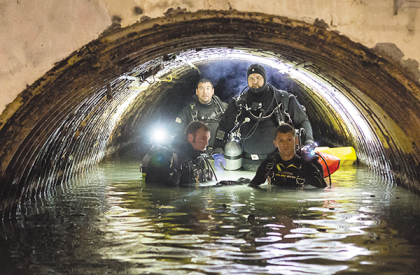 As it turns out, this wouldn't be my only missile silo dive. While researching this location, I came across a much larger missile silo complex in Washington and marked it on our big U.S. road map. It was two years later, in August, when we made it to the silo. It was pretty much the hottest time of the year in central Washington. Fortunately, I was able to back our RV right down to its entrance. With the awning out and the generator running to keep the interior cool, the RV provided a great place to gear up for our trip underground.
In contrast to the Texas silo, much of the original internal structure at the Washington location was still there. We had to climb down a narrow shaft into a small room where we could get ready. Then we walked through tunnels that were flooded about waist-deep. Once we reached the silo, we put on the rest of our gear and descended. It was surreal to be floating through the area where a Titan missile once stood on constant alert. I may never have learned about this if I hadn't decided to bring my scuba gear with me and see where it led me.
Burlington
When we visited Burlington, Vermont, for the summer, I didn't expect to do any diving. Once we started rolling that way, however, I decided to investigate. I came across a small dive shop that has a dive club whose members are very active on Facebook. I posted in the group and soon met up with a couple of divers who were friends. They were an odd pair. These two middle-aged guys bickered and joked with each other like an old married couple. I came to learn that I was witnessing the northern Vermont sense of humor firsthand.
They met me on the shores of Lake Champlain one evening for a dive that would lead to one of the most interesting dives I have ever experienced. I didn't realize it at the time, but they were sizing me up during our first outing to see whether I was ready for the next dive they had in mind.
That evening, we headed into the water around sunset. We started slowly working our way down the slope of the lake. Soon we were in pitch-black water at around 100 feet.
Light doesn't travel very deep into Lake Champlain, but our high-powered flashlights were able to illuminate our area very well. We soon came across a field of old bottles that had been tossed overboard by crew members on merchant ships traveling to and from New York while delivering goods and supplies to Vermont. One of the divers was an avid collector, so he started gathering bottles while I lit up the area for him. After we surfaced, they invited me to join their next dive.
Lake Champlain
In the middle of Lake Champlain, right near the ferry ship lanes, lies a tugboat that sank in 1931. A survey team discovered it in the 1990s, but the location was never publicized. The divers I met had recently found the boat and were planning to explore it. They invited me to come along. We would be among the first 10 people to lay eyes on this boat since it sank in 1931. It sits in cold, dark water 110 feet below the ferry channel of Lake Champlain, so they wanted to make sure I was up to the challenge of the dive.
Most shipwrecks are picked clean long before recreational divers arrive and are little more than deteriorating hulls. This wreck was amazing. It still had the metal name plaque on its bow, glass bottles sitting on the deck, and curved glass windows intact on the wheelhouse. We left everything as we found it and took only pictures.
This was an amazing experience I never would have had if I hadn't decided to take my hobby on the road with me. I also met some great people who I am still Facebook friends with and talk with often.
Morehead City, North Carolina
A beautiful, small coastal town that seems trapped in time. I learned about this town from some other scuba divers I met in my travels. I added the location to my map of dive spots. Once we finally made it there, I headed to the local dive shop, which was filled with artifacts that were found just offshore. I learned how German U-boats during the Second World War lurked off the Eastern Seaboard of the United States, taking shots at merchant and military ships in a desperate attempt to force the United States out of the fight. Thirty miles off the coast of Morehead City lies a graveyard of ships that were torpedoed by U-boats. A U-boat that met its fate at the hands of the U.S. Coast Guard also sits at the bottom.
While there, I met many divers who travel across the country to experience these wrecks. The shipwrecks aren't the only draw, though. The big attraction are the sharks! Every shipwreck I dove was occupied by dozens of sand tiger sharks. Some were every inch of my 6-foot-2 frame! They lazily cruised around the ships and seemed indifferent to the scuba divers. Along with the sharks, we saw thousands of tropical fish. Once you get this far offshore in North Carolina, you enter the Gulf Stream, which pulls warm, nutrient-rich waters north from the Caribbean.
We're Gonna Need A Bigger Boat
My eyes stayed focused on the sharks. This was my first time being so close to sharks of their size. I wasn't about to turn my back on them, no matter how docile they seemed! My hobby led me to a new locale, allowed me to dive freely with sharks (much to my mother's chagrin), and taught me about our country's history. I never imagined that U-boats were lurking right off the east coast of the United States.
As we've made our way across America, I've discovered that taking my hobby with me has opened up new ways to explore the country and introduced me to interesting people and pieces of our history I never would have encountered otherwise. I continue to seek out dives wherever I am, and I have picked up more hobbies along the way that are opening up new opportunities to explore and meet people. The lesson learned and my advice to others is to not leave hobbies at home. Instead, make them part of the journey.
Visit Kerensa Durr & Brandon Hatcher in their Facebook group RV To Freedom. You can learn more about full-time RVing at RVtoFreedom.com and read more of their personal adventures at DriveDiveDevour.com.