Bulb-Changing Tool
My motorhome has very small halogen light fixtures, and my fingers are too big to remove the bulbs. I found a small clamp at a hardware store that holds the bulbs perfectly and fits easily into the fixture. The cost: $1.29.
Jerry Summerlin, F405090, Madison, South Dakota
Editor's Note: Make sure to clean the clamp with alcohol before contacting the bulb.
---
Medication Disposal
I had to dispose of outdated medication when my doctor prescribed a new one. I discovered that my pharmacy could no longer accept old medication, and they provided me a list of local disposal stations. But even better than that, I found that you can contact a local police department when traveling to dispose of your medication. They often have a container specifically for legal medication disposal. This was much easier and safer, and the police were glad to be of service.
James Doherty, F152581, Yuba City, California
---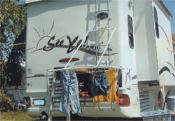 Clothes Hanger

I like to hang my clothes outside to dry after they are washed. My husband built this clothes hanger that attaches to the motorhome's rear ladder. It's made of PVC pipe and disassembles so it can be placed in one of the basement storage compartments when not being used. I love it.
Della Waynick, F326896, Warren, Michigan
Editor's Note: Some RV parks do not allow visitors to hang their clothing outside to dry. Check the park rules before doing so.
---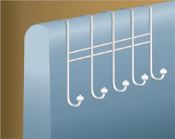 Convenient Hangers
I found that a wire over-the-door hanger also fits over the back of my motorhome's dinette seat. The one I purchased has five hooks and is a great place to keep keys handy or to hang a hat.
Arlene Jeknavorian, F193524, Orlando, Florida
---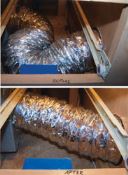 Better Heat Distribution
A rustling noise was coming from one of the motorhome's heat registers whenever the furnace was on. Upon investigation, I found a large "loop" in the flexible ductwork coming to that register.
When I removed the slack, the pipe was 14 inches shorter. The noise disappeared and more air was sent through the register. Another heat run suffered from the same problem, and I shortened that ductwork as well. The motorhome now has better airflow from the furnace, and the modification took less than an hour.
Frank Woythal, F291956, Andover, New York
{loadpositionEndBlurbTips}