By John Johnston, Associate Editor
Battery Checker
An important part of maintaining an RV's deep-cycle, flooded batteries involves adding water when needed. For anyone who's ever forgotten that chore, or who finds it difficult to do the proper checks because of restricted access, D&S Sales has developed the Ez Battery Check.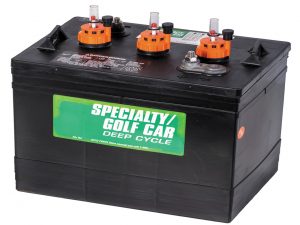 Ez Battery Check caps, which replace a battery's original vent caps, feature an easy-to-see float indicator that shows the water level in each battery cell. Each Ez Battery Check cap has a built-in watering inlet that allows water to be added without removing the cap (instead, you remove a small cap on the inlet). D&S has models that fit most 6-volt and 12-volt deep-cycle batteries. A clearance of 2 3/8 inches is required above the battery surface. The price ranges from $17.99 to $23.99 for six caps.
D&S Sales LLC
(575) 518-8160
www.ezbatterycheck.com
---
Microfiber Towel
Maybe you'll never want to abandon your big, fluffy terrycloth towels, and that's fine. But just know that the PackTowl Personal Towel takes up substantially less space and is said to dry nearly 70 percent faster than its cotton counterparts.
The microfiber towel absorbs up to four times its weight in water. Just wring it out and hang it to dry using the attached loop. The machine-washable towel is treated with Polygiene to help prevent the growth of odor-causing bacteria. The towel is available in a variety of colors and comes with a zippered storage pouch. PackTowl Personal Towel sizes range from 10 inches by 14 inches to 36 inches by 59 inches. Prices range from $9.95 to $44.95 per towel.
PackTowl
www.packtowl.com
---
Ball Mount
Fastway Trailer Products offers a number of ball mounts in its Flash line. The newest is the Flash Solid Steel Ball Mount, which features a solid shank made from forged steel. The shank has a black powder-coated finish to resist rust.
The standard model fits a 2-inch receiver and is rated for a trailer weight of up to 12,000 pounds and a maximum tongue weight of 1,200 pounds. The price for a standard mount with a 6-inch drop is $179.95. The price for a standard mount with a 10-inch drop is $189.95. Heavy-duty models rated for a 20,000-pound trailer also are available.
Fastway Trailer Products
(877) 523-9103
www.fastwaytrailer.com
---
Solar Lantern
The SolarPuff from Solight Design is said to be the first of its kind: a lightweight, waterproof, solar-powered lantern that collapses to a height of just a half inch. When you're ready to use it, the origami-inspired lantern pops up into the shape of a 4.3-inch cube. Light from 10 white LEDs is diffused by the lantern's recyclable PET plastic sailcloth.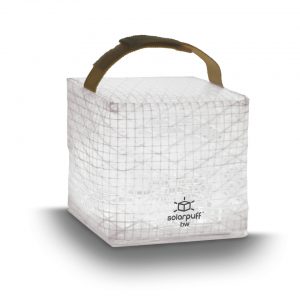 SolarPuff fully charges in eight hours of direct sunlight and produces light for eight to 12 hours. On low mode, it provides 60 lumens of light; on high mode, 90 lumens. The lantern weighs 2.6 ounces. And, it floats. The price is $30. To get a 15 percent discount on purchases (excluding bundles) made through March 31, 2019, via the Solight website, use the code FAMILYRVING at checkout.
Solight Design Inc.
(800) 601-6150
https://solight-design.com
---
Portable Waste Tank
If you're camping for an extended time without a sewer connection, a portable waste tank allows you to avoid the hassle of moving the RV to the dump station. Thetford's Premium SmartTote2 Portable Waste Tanks are available in four-wheel and two-wheel models.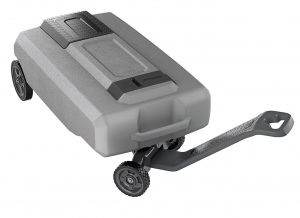 Both models feature rubber wheels; a 5-inch heavy-duty hose; and an AutoStop Level Gauge that stops flow when the tank is full. The four-wheel LX models have special features, including a storage compartment that protects a preattached hose and stores sewer fittings. The four-wheel LX is available in 18-, 27-, and 35-gallon sizes. The two-wheel model comes in 12-, 18-, 27-, and 35-gallon sizes. Suggested retail price of the 27-gallon two-wheel model is $150; the 27-gallon four-wheel model is $210.
Thetford Corporation
(800) 521-3032
www.thetford.com
---
Multifunctional Poncho
If you like being cozy when the weather turns cold — and who doesn't? — Kubie might fit the bill. At first glance, it's an insulated poncho that folds up into its own carrying case. But there's more.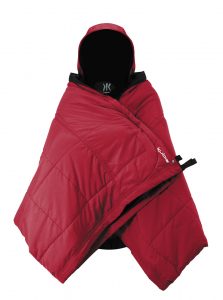 Kubie also can be used as a sleeping bag; a shade canopy; a hammock (you'll need special gear, not provided, to hang it between trees); a pillow; a hammock underquilt or liner; and ground cover. Kubie is made of nylon ripstop fabric and features a water-resistant coating and a fleece-lined hood. The price is $80.
Kijaro
(877) 454-5276
www.kijaro.com/kubie
---
Camera Tripod
Serious photographers know a tripod is invaluable when shooting long exposures, photographing in low light, or anytime stability matters. The Tripster, from Benro, is a reverse folding travel tripod that converts to a monopod by combining one of the legs with the center column. It's suitable for cameras ranging from small lightweight versions up to full-frame DSLRs.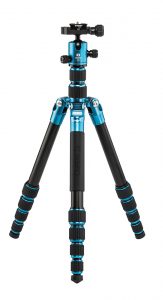 Tripster is available in three sizes, three colors (black, blue, and titanium), and a choice of aluminum or carbon-fiber legs. Features include a removable Arca-Swiss-style ballhead; a ¼-inch-20 screw mount on the tripod shoulder for attaching accessories; and a carrying bag. Prices range from $99 to $279.
Benro
Email: info@benrousa.com
www.benrousa.com
---
Handheld Vacuum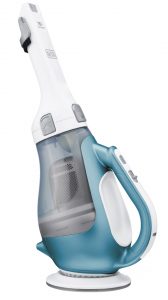 Aristotle's postulate: Nature abhors a vacuum. Our postulate: RVers love lightweight, hand-held vacuums with plenty of suction. One example is the Dustbuster Hand Vacuum, model CHV1410L, from Black+Decker.
The vacuum's lithium-ion battery charges in four hours and is said to hold its charge for up to 18 months. The bagless dust bowl is removable and washable, as is the filter. The bowl is translucent, so you know when to empty it, and has a capacity of 20.6 ounces. The 2.6-pound vacuum comes with a flip-up brush and a crevice tool. The manufacturer's suggested retail price is $59.99.
Black+Decker
(800) 231-9786
www.blackanddecker.com
---
Holding Tank Treatment
Bacteria battle it out when you use Happy Campers Organic RV Holding Tank Treatment. According to the product description, it's biodegradable and contains no formaldehyde or harsh chemicals. Instead, it unleashes good bacteria to overtake bad bacteria, which eliminates odor, rather than masks it, and accelerates natural waste decomposition.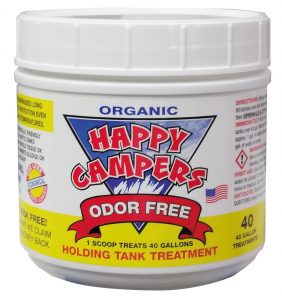 Regular use of Happy Campers is said to be effective in liquefying waste and inhibiting sludge and crystal buildup, even when temperatures exceed 100 degrees Fahrenheit. One scoop treats 40 gallons. The suggested retail price is $19.99 for 18 treatments; $29.99 for 40 treatments; $39.99 for 64 treatments; and $69.99 for 130 treatments. Also available: Happy Campers Extreme Cleaner, designed to remove waste, tissue, soap, and scum buildup from black- and gray-water tanks.
RV Concepts
(541) 773-3529
www.happycampersworld.com