Gear, Gadgets, And Gifts
Practical accessories and assorted goods designed to make life easier and more enjoyable for RVers.
By John Johnston, Associate Editor
Zero Gravity Chair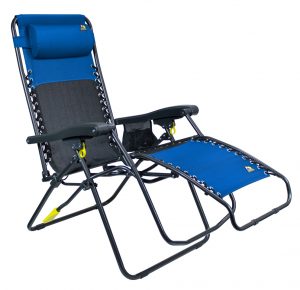 We're big fans of gravity, because it helps to keep us grounded. But we also love the light-as-a-feather feeling a zero-gravity chair provides. The Freeform Zero Gravity Lounger from GCI Outdoor offers that experience and more.
In the lounger's "freeform" mode, you can sit upright and use a handle to raise your legs. In zero-gravity mode, your body can recline into a weightless position. The lounger has an adjustable headrest; position locks to keep you reclined at various angles; and a combination beverage/phone holder. The lounger weighs 20 pounds, can support up to 300 pounds, and folds to 6 inches by 30.3 inches by 36.4 inches. The manufacturer's suggested retail price is $100.
GCI Outdoor
(860) 345-9595
www.gcioutdoor.com
---
Tow Bar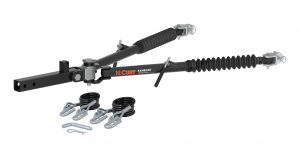 Curt has introduced a steel tow bar called the Rambler, which weighs less than 40 pounds and has a 7,500-pound rating. Its patent-pending nonbinding latch design allows the arms to be disconnected from the towed vehicle on various grades and angles. Locks automatically engage when hooking up a vehicle.
Other features of the Rambler include pivoting arms that can be moved to either side or apart when stowing, which helps to avoid obstructions such as a rear spare tire. It also comes with protective rubber sleeves and has a textured black-powder-coat finish. The tow bar is compatible with standard 2-inch receiver hitches, and it can be coupled to Curt or Blue Ox base plate brackets. The manufacturer's suggested retail price is $856.48.
Curt
(877) 287-8634
www.curtmfg.com
---
Portable Vacuum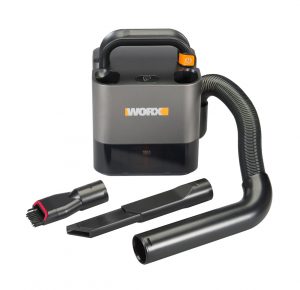 If we must pick up after ourselves — and, of course, we must — it's nice to have some help. The Worx 20V Power Share Portable Vacuum is made of nylon resin, weighs 3 pounds, and is small enough for any size RV. It's designed to pick up dry debris.
The cordless vacuum's 180-watt motor is powered by a 20-volt, 2.0 amp-hour lithium battery that runs up to 10 minutes on high speed and 25 minutes at low speed. The vacuum comes with a 4-foot flexible hose, a crevice tool for cleaning narrow spaces, and a brush accessory that acts as a powered duster. A washable high efficiency particulate air (HEPA) filter helps remove allergens, dander, and pet hair. The vac's 6-ounce debris container detaches for emptying. The price is $99.99.
Worx
(855) 279-0505
www.worx.com
---
Sediment Prefilter

The DirtGuard Sediment Prefilter, from Clear₂O, snaps on to an RV's existing inline carbon water filter to create a two-stage filtration system. DirtGuard is an inline, 20-micron filter that is designed to remove sediment, sand, and rust particles that may clog a carbon filter, reducing its life. By trapping those larger particles, DirtGuard frees up the carbon filter to remove smaller contaminants and focus on taste, color, and odor issues.
DirtGuard fits most inline RV water filter brands that connect to a standard water hose. A prefilter housing, filter, wrench, backwashing adapter, and hose extender are included. The manufacturer's suggested retail price is $39.99.
Clear₂O
[email protected]
www.clear2o.com
---
Stabilizer Pads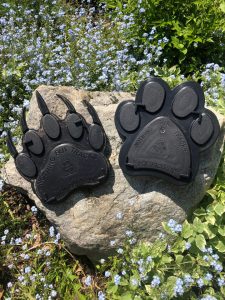 While camping last year, Bill Windle gazed at the yellow stabilizing pads — made of virgin plastic — under his new towable RV and decided they were out of place in a natural environment. So, he devised a more aesthetically pleasing and environmentally friendly alternative called JackTracks RV Stabilizer Pads.
Two designs are available: Bear Track and Dog Paw. Both are made in the United States from 100 percent recycled polypropylene and are said to feature heavy-duty durability. The pads accept most standard towable jack styles and sizes, up to 6.5 inches in outside diameter. The pads nest into each other for additional height or for storing. A hook-and-loop storage strap is included. The price for a package of six JackTracks pads is $69.95.
JackTracks
(574) 370-9670
www.jacktracksrv.com
---
Foldable Electric Bikes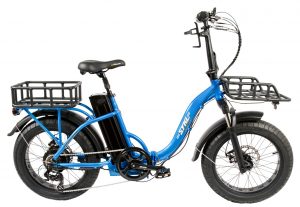 You and your better half might turn some heads when people see you gliding through the RV campground on the Colt 750 and Colt ST 750 electric bikes from Sykl Power Bikes. On travel days, the bikes collapse in half to save space in your RV.
The bikes are equipped with a Bafang 750-watt rear-mounted hub motor. The 48-volt, 14.5-amp-hour lithium-ion battery recharges in four to six hours and offers a range of 25 to 50 miles per charge. Top speed is 20 mph. With 20-inch fat tires, the Colt provides traction for off-road riding or smooth sailing on pavement. The bikes come with front and rear racks, fenders, and lights. The Colt 750 and the Colt ST 750 each are priced at $1,699.
Sykl Power Bikes
(833) 795-5669
www.syklpowerbikes.com
---
Tankless Water Heater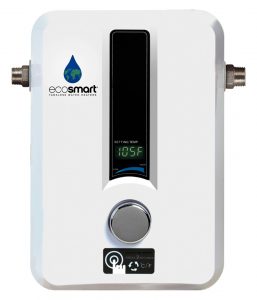 One way to annoy the person who shares your RV: use up all the hot water just as he/she is ready to shower. But that's not an issue when you've got endless on-demand hot water from a tank-less electric water heater, such as the Eco 8, from EcoSmart.
According to the product description, most campers use the Eco 8 to deliver hot water to one low-flow shower or sink at a time. It can provide 0.8 to 1.9 gallons per minute, depending on the inlet water temperature. The 8-kilowatt Eco 8 requires a 240-volt, 40-amp double-pole breaker. A digital display shows the outlet water temperature, which can be adjusted in 1-degree increments. The manufacturer's suggested retail price is $269.
EcoSmart
(877) 474-6473
www.ecosmartus.com
---
Wheel Cleaner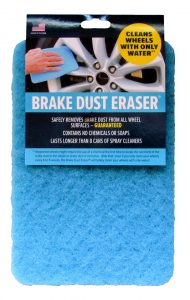 If you're averse to using chemically formulated wheel cleaners — some of which contain corrosive substances — Awesome Products has an alternative. The Brake Dust Eraser is a reusable product made of nonabrasive materials that contain no chemicals or soaps.
The Brake Dust Eraser removes brake dust from wheels using only water and is said to be safe for all wheel surfaces. (Note: Neglected wheels may need an initial chemical treatment.) The Brake Dust Eraser Wheel Cleaning Pack includes the patented Better Than A Brush Wheel Scrubber, which cleans behind wheel spokes. The price of the pack is $11.99.
Awesome Products Corp.
(904) 280-1499
www.brakedusteraser.com
---
Bottles With Bluetooth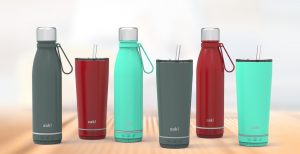 Even if you can't carry a tune in a bucket, you can tote around music in a bottle or tumbler thanks to Zak!Play drink containers. A removable Bluetooth speaker is built into the base, and integrated speaker lights flash to the beat of the music.
Two styles and three colors (red, gray, and teal) are available: The 18-ounce tumbler has a removable lid and straw; the 17.5-ounce bottle has a screw-tight lid with an attached clip so it can latch onto a bag or backpack. Both the tumbler and bottle are made from vacuum-insulated stainless steel to keep drinks cold. A USB cable for charging the speaker is included. The manufacturer's suggested retail price for either the tumbler or bottle is $28.99.
Zak Designs Inc.
(800) 821-4864
www.zak.com
---
RV Products Submissions
To have a product considered for this column, please send information and a high-resolution photograph to [email protected].