Organizing Bag
Keep loose items in your motorhome organized with Sticky Pockets bags from Davis Instruments.
Sticky Pockets are made of tough polyportex mesh and have multiple pockets for keeping sunglasses, keys, wallets, and maps easy to see and access. The bags are available in small (10 inches square) and large (10 inches by 13 inches) sizes and attach to any smooth, clean surface via strong, long-life suction cups.
Sticky Pockets have retail prices of $21.99 (small) and $23.99 (large).
Davis Instruments Corp.
3465 Diablo Ave.
Hayward, CA 94545
(800) 678-3669
(510) 732-9229
www.davisnet.com
---
Meat Thermometer
According to product literature, the iGrill meat thermometer from iDevices LLC is the first Bluet00th-enabled meat thermometer for iPhone, iPad, and iPod Touch devices.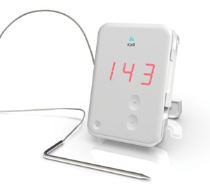 The thermometer makes it possible to monitor your grilled or oven-cooked food while entertaining guests. Simply download the free iGrill app from the iTunes Store to your Apple device, and, from up to 200 feet away, you will receive an alert when food reaches a preset temperature. The iGrill comes with two temperature probes and four AA batteries and can be used as a standalone thermometer as well, measuring temperatures up to 440 degrees.
The iGrill has a retail price of $99.99.
iDevices LLC
191 Albany Turnpike
Suite 302
Canton, CT 06019
(860) 352-5252
www.igrillinc.com
---
Portable Scanner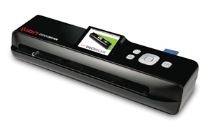 The Ion Docuscan portable document and photo scanner from TechnoRV is an ideal way to cut down on clutter in your motorhome.
The device is capable of scanning photos and documents, producing high-resolution 300-dpi color JPG image files that can be saved on your computer or on the 1-gigabyte SD card that comes with the package. The scanner features a 2.4-inch LCD screen to monitor the scans, and it can be powered either by a computer when the USB cable (included) is attached, or with the scanner's AC power adapter. The device also comes with calibration paper, a cleaning brush, a photo protective sleeve, a quick-start guide, and a user manual.
The Ion Docuscan is available from TechnoRV for $99.95.
TechnoRV
14525 S.W. Millikan Way #56226
Beaverton, OR 97005
(866) 324-7915
(503) 336-1478
www.technorv.com
---
LED Beacon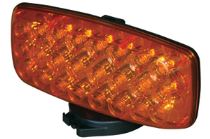 Make sure your motorhome is visible during emergency situations with the Magnalight CS-A-24LED Strobe Beacon from Larson Electronics LLC.
According to product literature, the brilliant amber signal is visible from up to 3 miles away. The completely portable device has a 70-pound-grip magnetic base that can be attached to the bottom or back of it, allowing it to be mounted on flat or vertical metal surfaces. The waterproof, shock-resistant unit is powered by four AA batteries and will run from 40 to 120 hours on a single set of batteries, depending on the mode of operation (constant-on or strobe). The beacon measures 7.25 inches long and 3.75 inches high.
The Magnalight CS-A-24LED Strobe Beacon has a retail price of $37.76.
Larson Electronics LLC
11035 Jeanell Drive
Kemp, TX 75143
(800) 369-6671
(903) 498-3363
www.magnalight.com
---
Satellite TV Antenna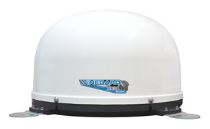 Winegard Company recently introduced the RoadTrip Mission mobile satellite TV antenna, the newest addition to its line of low-profile automatic antennas.
The Roadtrip Mission measures 12.9 inches tall, making it ideal for motorhomes with height issues, and is only 20 inches in diameter, so it takes up little space on the RV roof. The antenna is compatible with Dish (standard and high definition), DirecTV (standard), and Bell TV (standard and high definition), supporting up to two receivers so that different programs can be watched on more than one TV simultaneously. Stationary and in-motion antennas, available in black and white domes, automatically switch between satellites as channels are changed.
The RoadTrip Mission stationary antenna carries a retail price of $1,199 (RT4000S/RT4035S), while the in-motion model is priced at $1,499 (RT4000T/RT4035T).
Winegard Company
3000 Kirkwood St.
Burlington, IA 52601
(800) 288-8094
www.winegard.com
---
Temperature Alert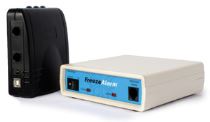 The Mobile Temperature Alarm & Phone Dialer from Tip Temperature Products makes it possible to monitor your motorhome's temperature when away and to receive alerts should the temperature inside the motorhome become too high or low.
The monitor works with any Bluetooth-enabled cell phone. Once connected, the system can call up to three numbers when unfavorable temperature conditions exist or a loss of power occurs. Users can call the device at any time to check the current power and temperature conditions. The system requires no monthly charges, only the cost of the cell phone being used.
The Mobile Temperature Alarm & Phone Dialer has a retail price of $578.
Tip Temperature Products
340 W. Broad St.
Burlington, NJ 08016
(800) 847-8367
(609) 239-1900
www.tiptemp.com
---
Leveling Blocks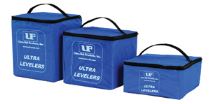 Ultra Leveling Blocks from Ultra-Fab Products Inc. are said to make leveling the motorhome an easy task.
While Ultra Leveling Blocks may look similar to toy building blocks for kids, they are made of strong polypropylene and designed to hold up to 30,000 pounds of weight. The 8.5-inch-square-by-1.5-inch-tall interconnecting blocks are stackable and can be arranged in a number of configurations to achieve the motorhome leveling height needed. The blocks are available in four-, eight-, and 10-pack sizes and store in the provided tote bag.
Ultra Leveling Blocks have retail prices of $18.99 (four-pack), $35.99 (eight-pack), and $41.89 (10-pack).
Ultra-Fab Products Inc.
57985 State Route 19 S.
Elkhart, IN 46517
(574) 294-7571
www.ultra-fab.com
---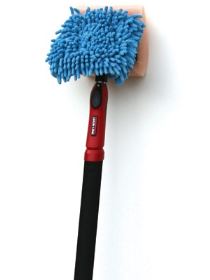 Exterior Cleaning Tool
The Wash Wax All Bug Buster/Mini Mop from Aero Cosmetics is a two-sided, multipurpose cleaning mop designed for faster, easier scrubbing and waterless washing of a motorhome.
The Bug Buster is a 5-inch-wide version of the original 14-inch-wide Wash Wax Mop and is safe to use on all surfaces, including glass; paint; gel-coat; leather; vinyl; aluminum; and Diamond Shield coating used on the fronts of motorhomes. The Bug Buster comes with a wraparound chenille microfiber pad for delicate surfaces and a reusable scrubber pad to remove baked-on bugs, carbon, exhaust soot, and black streaks without scratching.
The Bug Buster/Mini with deluxe extendable pole has a manufacturer's suggested retail price of $89.95.
Aero Cosmetics
P.O. Box 460025
San Antonio, TX 78246
(800) 927-4929
(210) 344-7921
www.washwax.com
---
Golf Cart Carrier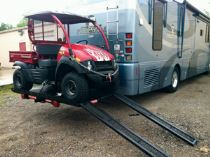 Mighty Hauler recently added the 1200G Golf Cart Carrier to its line of custom rear hitch carriers.
According to product literature, the American-made 1200G can carry golf carts up to 1,200 pounds on the back of a motorhome. The carrier uses two receivers (included) to attach to the motorhome frame. The nonslip-steel, diamond-plate platform is designed so the cart can be driven onto one side and driven off the other using the optional lightweight loading ramps. The carrier also is equipped with a 2-inch receiver on the rear to allow flat-towing of another vehicle that weighs up to 5,000 pounds, and it comes with leveling screws to assure that the platform is level to the ground when in use. When not in use, the platform flips up and locks for storage.
The 1200G Golf Cart Carrier has a retail price of $2,195.
Mighty Hauler
1079 Eagon St.
Barberton, OH 44203
(877) 248-1010
www.mightyhauler.com
{loadpositionEndBlurbRVProducts}