Detailing Lubricant
Super Protectant from Prolong Super Lubricants is an advanced instant detailer that is said to beautify and protect leather, rubber, and vinyl surfaces.
Super Protectant is water-resistant, and it helps protect against ozone and ultraviolet damage. To use, simply spray on the desired surface and wipe off with a terrycloth towel.
A 17-ounce trigger-spray bottle of Super Protectant has a suggested retail price of $8.99.
Prolong Super Lubricants
1937 Mount Vernon Ave.
Pomona, CA 91768
(800) 540-5823
www.prolong.com
---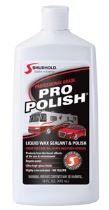 Exterior Polish
Pro Polish from Shurhold Industries features a polymer-based formula that is designed to be applied easily and to protect the exterior finish of RVs against sun, salt, acid rain, and other harsh elements.
The polish is formulated for use on fiberglass, gel coat, clear coat, and aluminum. It repels water and provides a deep, high-gloss shine while protecting surfaces from the sun with UV inhibitors. And Pro Polish doesn't contain any fillers, so there is no white powder to clean off as the product is being worked onto the surface.
A 16-ounce bottle of Pro Polish has a suggested retail price of $22.98.
Shurhold Industries
3119 S.W. 42nd Ave.
Palm City, FL 34990
(800) 962-6241
www.shurhold.com
---

Waste Water Tank Treatment
Pure Power Blue is formulated with the company's BioBlastPlus technology, which performs in all temperature conditions, with odor control up to 130 degrees Fahrenheit. It contains a powerful bacterial/enzyme blend that liquefies waste and toilet paper and will keep holding tanks clean with a fresh scent. Just 2 ounces treats up to 40 gallons, and company literature notes that it is free of chemicals, so it will not harm children or pets.
A 16-ounce bottle of Pure Power Blue has a suggested retail price of $8.24. The product also is available in 4-, 32-, 64-, and 128-ounce bottles; a six-pack of 4-ounce bottles; and a 12-count bag of drop-ins.
Valterra Products Inc.
15230 San Fernando Mission Blvd.
Suite 107
Mission Hills, CA 91345
(800) 806-6159
www.valterra.com
---
Disinfectant And Deodorizer
The Disinfectant and Deodorizing Fogger from SafeSpace Company LLC is said to be a simple and effective way to disinfect and deodorize the interior of a motorhome.
According to product literature, each 6-ounce can of fogger produces 6,000 cubic feet of medical-grade disinfectant fog throughout the motorhome's interior, reaching places you may have forgotten or can't reach to clean. The disinfectant reportedly kills 99 percent of germs that cause illness, and it eliminates bacteria that create bad odors. The place-press-leave automatic fogger takes approximately one hour to treat a motorhome.
A three-pack of Disinfectant and Deodorizing Fogger has a suggested retail price of $25.49. Five-packs and 12-packs also are available.
SafeSpace Company LLC
4236 S. Hillcrest Ave.
Springfield, MO 65810
(800) 735-2506
www.safespaceco.com
---
iPhone Holster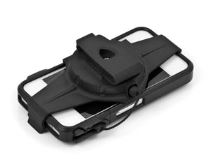 The ProLink Holster and Case from T-REIGN Outdoor Products gives iPhone owners peace of mind knowing that their phone will never be dropped to the ground, lost, or stolen.
The ProLink includes an integrated retractable 36-inch Kevlar tether that connects the case to the holster. The holster can be anchored on a belt, backpack, or purse strap, and the case attaches to the iPhone with the screen facing in or out. The ProLink has a quick-disconnect feature that makes it easy to remove the case from the holster to dock, share, or charge the phone. The holster and case are made of impact-resistant polycarbonate and are slim, lightweight, and durable.
The ProLink is available for iPhone 4 and 4S models and has a suggested retail price of $39.95.
T-REIGN Outdoor Products
4245 Pacific Privado
Ontario, CA 91761
(909) 923-7800
www.t-reign.com
---
Audio System
According to product literature, the Polk Audio SB5000 Instant Home Theater System from ASA Electronics is a Bluetooth-enabled speaker system that delivers exceptional sound quality while maintaining a sleek, low-profile design.
The system includes a sound bar and a subwoofer that are said to produce a true surround-sound experience without the hassle of wiring or additional amplification. The system's Bluetooth technology delivers crisp, CD-quality sound from any Bluetooth-enabled smartphone, tablet, or other compatible device from anywhere in the motorhome. The sound bar can be mounted on a wall or placed on a shelf, and the subwoofer can be located anywhere within 50 feet of the sound bar.
The Polk Audio SB5000 has a suggested retail price of $399.99.
ASA Electronics
2602 Marina Drive
Elkhart, IN 46514
(800) 688-3135
www.asaelectronics.com
---
Satellite TV Antenna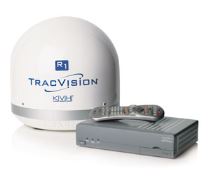 According to company literature, the TracVision R1 from KVH Industries Inc. is the smallest and lightest in-motion satellite TV system available, bringing hundreds of channels of programming to any motorhome.
The TracVision R1 measures 13.5 inches in diameter, weighs 7.5 pounds, and employs a single-cable design for quick installation. The antenna reportedly has the highest gain in its class, providing great reception even in poor weather. The R1ST model brings standard-definition programming from DirecTV and includes an integrated 12-volt DirecTV receiver/controller. The R1DX model receives DISH Network and its HD programming and supports automatic satellite switching from your remote control.
The TracVision R1 antenna has a suggested retail price of $1,995.
KVH Industries Inc.
50 Enterprise Center
Middletown, RI 02842
(401) 847-3327
www.tracvision.com
---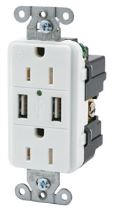 Combination Electric Outlet
The Wirecon USB Charger Receptacle from Hubbell Incorporated includes both USB and regular electric power, making any motorhome a charging station.
The receptacle includes two 15-amp, 125-volt-AC outlets for traditional use, plus a pair of USB ports for charging smartphones, tablets, MP3 players, mobile phones, GPS units, and any other USB devices. The USB ports provide 3 amps of USB power, which is enough to charge two tablets simultaneously. It can recharge a single tablet from 0 percent to 100 percent in five to six hours. Should the receptacle become overloaded, it cycles off briefly, then returns to normal function without manual resetting. A green LED light indicates USB power availability.
The Wirecon USB Charger Receptacle has a suggested retail price of $49.99.
Hubbell Incorporated
40 Waterview Drive
Shelton, CT 06484
(800) 323-2792
(475) 882-4838
www.hubbell-wirecon.com
---
LED Light Strip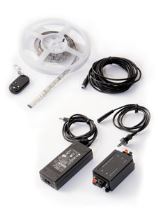 The Universal LED Light Kit from Dometic Corporation can be placed anywhere on your motorhome where additional light is desired.
The kit includes a 39-inch LED light strip that can be trimmed or connected to additional strips (sold separately) for use on awnings, hatches, steps, and more. The strip is said to be easy to install and includes waterproof, long-lasting LED lights; a wireless remote control with an on-off button and dimmer; and a 120-volt-AC outlet plug. Up to nine Add-On strips can be connected.
The Universal LED Light Kit has a suggested retail price of $100.
Dometic Corporation
P.O. Box 490
Elkhart, IN 46515
(800) 544-4881
www.dometicusa.com
{loadpositionEndBlurbProducts}