Winnebago's triple-slideout mansion on wheels is a full-timer's dream-mobile.
By Jim Brightly, F385406
June 2013
I began camping about 60 years ago as a Boy Scout. My equipment, picked up at a local war surplus store, consisted of a pup tent, an olive-drab sleeping bag, an aluminum mess kit, a canteen with matching cup, and an over-the-shoulder messenger bag. Camping with the Boy Scouts gave me a lifelong love of the outdoors.
That love was enhanced by my stay in Winnebago's 2013 Journey 42E in the wilds of northwestern Nevada — a very far cry from sleeping in a pup tent with a rolled-up T-shirt for a pillow.
After picking up the motorhome at Findlay RV in Las Vegas, totally prepped and full of water and fuel for a test outing, I weighed it on the way out of town, headed for Tonopah, Nevada. Before long, I had my first inkling of how nearly perfect the Journey is for full-timers.
The hundreds of miles of highway between Las Vegas and Tonopah provided a wide range of driving conditions in which to test the parameters of the Journey 42E: city traffic in and around Las Vegas; open-country four-lane highways; small, two-lane roads; hill climbing (Tonopah is a mile-high town, about 3,500 feet higher than Glitter Gulch). The Journey achieved 6 mpg on this initial test leg.
On the way north, my wife and I stopped at the registered ghost town of Rhyolite, just south of Beatty, Nevada, for a nice lunch surrounded by the ghosts of the abandoned mining town, and some tourists and admirers of the 43-foot-6-inch mobile mansion, many of whom asked for guided tours.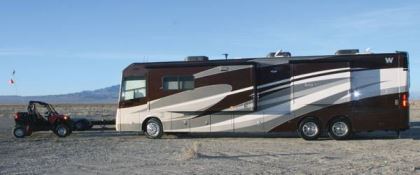 Once the ad hoc tours were completed, we were off again, fighting heavy side winds all the way to Tonopah (a later check of the National Weather Service showed gusts exceeding 40 miles per hour). Although negotiating the roadways in the wind proved tiring, I noticed a few characteristics about the Journey. One, when the wind was not gusting, just blowing steadily, the motorhome was easy to steer. Two, the side gusts didn't affect the coach in the same manner as they would have a smaller, lighter chassis; the winds' effects were easily controlled with minute movements of the steering wheel, although I remained vigilant in case a sudden gust came from a different angle or with more strength. Three, the 400-horsepower Cummins ISL 8.9-liter engine and the Allison six-speed transmission enabled the Journey to climb the 6-percent-plus grades into Tonopah with ease.
Sitting behind the huge, one-piece windshield while driving up the hills toward Tonopah in the Journey's captain's chairs, we felt as though we were seated in First Class, watching Nevada's beautiful landscape slip by on a giant 3D screen. When the sun began to hover above the horizon, I was thankful for the powered windshield shade, which can be extended to almost eye level to block out the sun while driving. (A safety lock on the activating switch prevents the shade from lowering completely, for privacy, until the jacks are down.)
By the time we reached our destination, after about 12 hours of driving time, we were ready to call it a day. We lowered the leveling jacks, deployed the three slideouts, and settled in for the evening. With the full-length passenger-side slideout and the forward driver-side slideout extended, there would be enough space in the living room to play air hockey or bumper pool if you could get the tables in and out the door.
We had a slight emergency that resulted in a 911 call when my wife fainted from a combination of altitude and dehydration. Once all the first responders had arrived, two police officers, four firefighters, and three EMTs were inside the motorhome with us, and it still wasn't particularly crowded. After it was determined that she was okay, the responders wanted a tour of the coach. All the ahs and ohs that we'd heard in Rhyolite were repeated.
As soon as they left and my wife began rehydrating, we took our first good look at the Journey since our initial familiarization walk-through at Findlay RV. The galley design is one of the best we've ever tested. From size and openness to convenience, it's great! It even has a group of special little drawers above the sink and working area for treats, tea bags, teacups, etc. A pantry with pull-out shelving provides more than ample space for groceries and other goods. Our test coach was outfitted with the optional residential stainless-steel French-door refrigerator, which has a water and ice dispenser in the door and a bottom freezer.
The Journey's overall design incorporates storage in seemingly every space, nook, and cranny. Owners will be hard-pressed to fill all the storage space available, either inside or out in the basement compartments. The cavernous basement storage is accessible behind 10 side-opening doors. These basement bays are lighted, heated, and carpeted and come with four large storage containers that have lids.
Admittedly, like all motorhomes with slideouts and abundant basement storage, it's much easier to pack the storage bins when the slideouts are retracted. That way the packers need not worry about bending over to clear the slides. The central bin, equipped with double-doors on both sides and a full-width pass-through design, has a full-size mounted sliding drawer. This drawer slides out either side of the coach, which facilitates access to the space and items stored there while it's extended. In fact, we stowed our gravity chairs in that compartment and could easily retrieve them while in camp.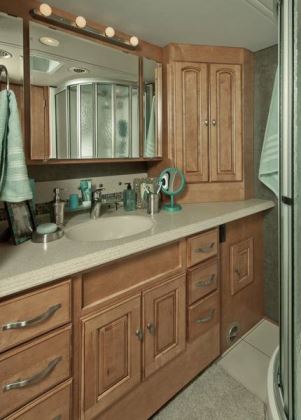 After one's gear is stored and secured in the basement bins, it's time to explore the interior. The first thing I noticed was that the Journey has a masculine feel — but not overwhelmingly, so women appreciate the décor as well. I also noticed that the Journey 42E seems to contain more lights than our stationary home has. Dozens of recessed lights are installed in the ceiling and beneath cabinets. Adjustable map lights accompany each captain's chair, and subtle recessed reflective lights hang above some cabinets.
This motorhome radiates luxury, with such features as ultra-large hardwood cabinets, Corian countertops, Ultraleather seating, Winnebago Industries' own Rest Easy extendable sectional sofa, and an extendable dining table with buffet.
There's no waiting for a single bathroom in the morning, as the Journey is equipped with a bath-and-a-half. It offers a powder room (toilet, sink, and medicine cabinet) next to the galley and a full bathroom across the rear of the coach beyond the bedroom. Within the full-width bath are even more storage cabinets, in addition to a sink, an extra-large corner shower enclosure, a medicine cabinet, and an optional stacked washer and dryer. The powder room is ideal for use while on the road, as it is accessible even when all three slideouts are retracted.
When stopping for lunch, quick museum tours, etc., we found that expanding the full-length street-side slideout gave us plenty of room for fixing lunch and provided access to the rear bath without having to also expand the driver's-side slideouts, which, in some situations, could interfere with traffic or other vehicle parking.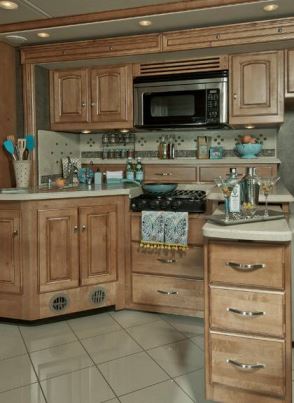 During overnight stops, with all three slideouts extended, we had plenty of elbowroom and an abundance of comfortable couches, chairs, and recliners, plus a realistic-looking electric fireplace (optional). Even though we were unable to find an over-the-air TV broadcast where we had dropped the levelers and set up camp — and we hadn't brought along any DVDs to watch on the 40-inch LCD TV — the Journey gave us a wonderfully warm and comfortable evening of reading in front of the electric fireplace.
During our dry-lake campout, we experienced outside temperatures down in the 20s and teens, so I had the opportunity to try the Journey's three-zone temperature controls and dual furnaces (20,000 Btus and 25,000 Btus). Once I determined which zone was which, I was able to set the interior temperatures at a level with which we were comfortable.
What can I say about one of the most comfortable beds I've ever slept in? It's a queen-size Ideal Rest digital-controlled, dual-zone pillow-top mattress that can do double duty as a chaise lounge during the day (the head of the bed must be lifted in order to retract the slideout for traveling). A 26-inch flat-screen TV across the room can be watched while you're lounging in bed.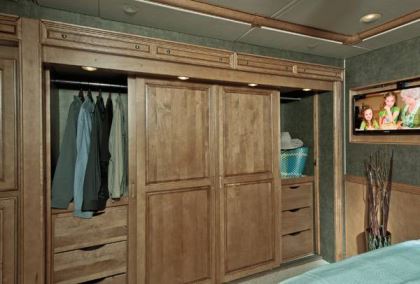 If you're not a fan of bedroom windows, you'll love this room in the Journey 42E. The two bedroom windows are on either side of the street-side slideout. So when this room is closed for traveling, they are hidden.
While we were in camp, sitting outdoors under the powered patio awning, I had a chance to reflect on the Journey 42E's capacities: 100 gallons of fuel, 95 gallons of fresh water, 28 gallons of propane, 71 gallons of black water, and 109 gallons of gray water. When considering the 6 mpg we registered earlier, the Journey 42E has quite a travel range (approximately 600 miles per tankful). All the fluid capacities mean a Journey 42E owner could enjoy watching a sunrise over Bar Harbor, Maine, with a lobster omelette, toast, and coffee, and then view a sunset over Key West, Florida, with conch chowder and key lime pie four days later without stopping for anything but fuel and overnighters. No need to hook up, water down, or drain holding tanks in between. And there's plenty of room for the driver, even when the slideout is in. Although I found getting into and out of the captain's chair a bit tight, once I was settled in the chair with its arms down, it made for very comfortable seating, and long hours behind the wheel seemed to fly by.
While driving the Journey, I thoroughly enjoyed the voice-actuated GPS with a Sony touch screen, part of the optional infotainment center. While on the highway, I used the GPS extensively. Its nicely detailed 7-inch HD touch screen was very easy to see and follow, and its sound level was just right and easy to hear in the quiet cockpit. It provides articulate, easily understood voice commands. Calculating time was almost instantaneous. While I've used several different brands and types of GPS models, I quickly became spoiled by the large, detailed image on this screen.
As the Cummins engine becomes more used to its home in the Maxum Freightliner chassis, I suspect its fuel economy figures should increase to at least 7 to 8 mpg, which should result in an approximate 800-mile-plus range. With a 600- to 800-mile span, an owner could pick and choose fuel prices while touring the USA. And with a payload of more than five tons, the Journey's 220-plus cubic feet of exterior storage — not to mention the humungous amount of interior storage — allows an owner to load up with gear needed for weeks on the road.
The secret to so much storage lies in the chassis' lowered-rail design. This repositions the chassis frame rails, increasing the cross-coach storage height for a more efficient use of space. Combined with Winnebago Industries' Smart Storage philosophy, this results in taller compartment openings, a larger pass-through compartment, and a very large storage capacity. The Maxum chassis also is said to eliminate much of the road vibration with a combination of innovative structural design and shock-absorbing components.
The Journey's Maxum Freightliner chassis delivered a very smooth ride, and coach handling was comfortable, steady, and reassuring. When climbing long hills, the 400-horsepower engine and six-speed Allison 3000 MH electronic transmission (equipped with two overdrive gears) never pulled down into fourth gear, which is its straight-through 1:1 gear ratio, on any hill less than 8 percent. The Cummins/Allison combination also has a two-speed engine brake system, which worked very well in Las Vegas traffic and on the highway to slow the Journey down without having to use the service (air) brakes in most situations.
Sitting below the GPS is another 7-inch Sony HD monitor. This one is wired to the three outside cameras. The external monitoring system defaults to the rear camera and then changes to the appropriate side camera whenever the turn signal for that side is activated. It takes some time to get used to driving a coach that is 43 feet long. So, when changing lanes, I quickly became accustomed to carefully watching the images from the rear camera and all four side mirrors (two large, flat mirrors and the two convex mirrors below them).
After getting behind the wheel, turn the key to its first position to allow the gauges to run their auto-check and the cylinders to warm up. An automatic pretrip checklist with 18 reminders appears on the dash's information screen before the engine is started: check jacks, disconnect power, bay doors closed, etc. After the checklist and/or when the engine is started, a list of odometer readings will appear, including main odometer, today's distance, and trip distance.
The Journey 42E's tow power package includes a 7-pin trailer wiring and I.P. wiring with a trailer hitch receiver rated at 15,000 pounds (1,500-pound maximum vertical tongue weight).
The Winnebago Journey 42E has a manufacturer's suggested base price of $309,126. My test unit carried an as-tested price of $317,883 with these options: electric fireplace, exterior entertainment center with 32-inch TV, GPS/infotainment center, stackable washer-dryer, residential refrigerator, compartment tray slideout, Sirius XM satellite radio, Ideal Rest digital comfort control queen-size mattress, two ottomans, lounger, bedroom ceiling fan, and tile floor covering.
Once I became accustomed to the Journey's size and maneuverability, the feelings I had when driving it brought to mind my very first RV trip, in a 22-foot Silverstreak trailer, back in the late 1960s. We were so enamored of being able to make a pot of coffee whenever we felt like it, or being able to sit in the RV out of the wind and weather, or just being able to lean back and relax, that it took us three days to drive from Los Angeles to Ensenada, Baja California, a trip that normally takes four to five hours. That's how we felt in the Journey: comfortable, content, and cool.
SPECIFICATIONS

MANUFACTURER
Winnebago Industries Inc., 605 W. Crystal Lake Road, Forest City, IA 50436; (641) 585-3535; www.winnebagoind.com
MODEL
2013 Journey
FLOOR PLAN
42E
SLIDEOUTS
3
CHASSIS
Maxum Freightliner XCL
ENGINE
Cummins ISL 6-cylinder 8.9-liter turbodiesel; 400-horsepower @ 2,100 rpm; 1,250 pound-feet torque @ 1,400 rpm
TRANSMISSION
Allison World 3000 MH 6-speed automatic with 2 overdrive gears and engine compression brake
AXLE RATIO
4.63 to 1
TIRES
Michelin 275/80R 22.5 LRH
WHEELS
22.5-inch aluminum
WHEELBASE
279 inches plus tag axle
BRAKES
Full air brakes with ABS discs and drums
SUSPENSION
front — NeWay AS air;
rear — NeWay ADL-123 air
SHOCK ABSORBERS
Sachs tuned shocks
STEERING
TRW integral hydraulic power gear with 55-degree wheel cut
ALTERNATOR
160 amps
BATTERIES
chassis (2) — 1,900-amp;
coach (6) — deep-cycle marine/RV AGM (2 for optional residential refrigerator)
INVERTER
2,800-watt, optional with residential refrigerator; 2,000-watt, standard
ELECTRICAL SERVICE
50 amps
AUXILIARY GENERATOR
Cummins Onan diesel, 8-kilowatt
EXTERIOR LENGTH
43 feet 6 inches
EXTERIOR WIDTH
101.5 inches
EXTERIOR HEIGHT
12 feet 11 inches
INTERIOR HEIGHT
7 feet
BASEMENT STORAGE
Four bins with pass-through
GROSS COMBINATION WEIGHT RATING (GCWR)
59,320 pounds
GROSS VEHICLE WEIGHT RATING (GVWR)
44,320 pounds
GROSS AXLE WEIGHT RATING (GAWR)
front — 14,320 pounds; rear — 30,000 pounds
AS-TESTED WEIGHT
(weighed with full fuel and water tanks)
front axle — 11,760 pounds; rear drive axle — 15,420 pounds; tag axle — 6,980 pounds; total — 34,160 pounds
OCCUPANT & CARGO CARRYING CAPACITY (OCCC)
10,160 pounds
FRAME CONSTRUCTION
aluminum and steel
INSULATION
polystyrene foam
FRESH WATER CAPACITY
95 gallons
HOLDING TANK CAPACITIES
gray water — 109 gallons;
black water — 71 gallons
FUEL CAPACITY
100 gallons
FUEL REQUIREMENTS
diesel
PROPANE CAPACITY
28 gallons
WATER HEATER
10 gallons; AC/propane
WATER SYSTEM
demand
HEATING SYSTEM
triple-zone ducted furnaces; (1) 20,000-Btu, (1) 25,000-Btu
AIR CONDITIONING SYSTEM
(3) TrueAir 13,500 Btu with heat pumps
REFRIGERATOR
residential 20-cubic-foot with ice maker and water dispenser, optional; 4-door refrigerator-freezer with ice maker, standard
TOILET
(2) porcelain; rear unit with electronic flush
WARRANTY
coach — 12 months/15,000 miles limited;
structure — 36 months/36,000 miles limited;
chassis — 36 months/50,000 miles limited, with towing and roadside assistance
BASE SUGGESTED RETAIL PRICE
$309,126
PRICE AS TESTED
$317,883