An appealing model for RVers who are interested in owning a Super C motorhome.
By Mark Quasius, F333630
March 2023
For more than two decades, Renegade RV has worked to establish itself as a builder of innovative heavy-duty vehicles for the motorsports and motorhome industries. It is well-respected for its Super C motorhomes, which range from smaller, entry-level units to large, full-featured RVs. This article focuses on the RV that started it all: the Renegade Classic, whose structural design has stood the test of time.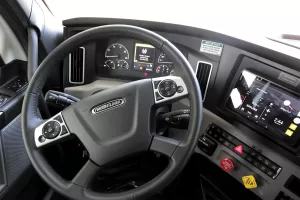 The Classic breaks away from standard vacuum-laminated construction, which is common throughout the RV industry. Renegade incorporates 23/8-inch-thick sidewalls with 2×2 residential wood reinforcements. The roof and exterior walls employ 5/8-inch fiberglass-reinforced panel (FRP), while Azdel is used for interior walls.
The Classic is available in 15 floor plans. Renegade also offers a choice of chassis for the Classic. While the Freightliner Cascadia is the most popular, coaches have been built on Peterbilt, Volvo, and Western Star chassis as well. Engine selections typically are Cummins or Detroit Diesel power plants ranging from 500 to 600 horsepower.
Chassis Details
This motorhome is offered with a wide variety of options for customers to select from. For this article, I will detail the features of one particular unit I recently reviewed and drove, which was built on a Freightliner Cascadia 116 chassis. The "116" represents the distance in inches from the back of the cab to the front bumper; the Cascadia also is offered in a 126-inch length. The 126 is required for the longer 15- or 16-liter 600-horsepower engines, while the 116 cab can be used with the midsized 11-liter to 13-liter 500-horsepower engines and offers a slightly im-proved turning radius because of the shorter wheelbase.
The test coach featured a 38-foot tandem-axle floor plan, powered by the Detroit DD13 505-horsepower engine with a three-speed engine brake and mated to an Allison six-speed automatic transmission; a Detroit DT12 12-speed auto-mated manual transmission is also available. The steer axle tires were Michelin 315/80R22.5, and the rear tandem axles wore eight 295/80R22.5 tires.
The Allison transmission was controlled by a stalk-mounted lever on the right side of the steering column, and transmission information was displayed on the digital dash. The 52,000-pound gross vehicle weight rating (GVWR) and a 30,000-pound-rated hitch should provide more than enough carrying and towing capacity.
The fills for the 120-gallon diesel fuel tank and the 13-gallon DEF tank were both located behind a hinged panel under the driver's door for easy refueling at truck stops.
Construction
Renegade Classic construction begins with a 2-inch tube steel frame over the chassis frame rails, with a nylon backer placed between them. The floor assembly incorporates 2×4 residential wood framing to isolate the interior from noise and vibration. A galvanized-steel vapor barrier protects the base of the floor. Mineral-wool fire-block insulation fills the floor structure, which is covered with ¾-inch fir plywood decking for a true residential build.
The vacuum-bonded, arched roof is built with an attic space in which to run wiring and ductwork, which precludes the need to cut into existing insulation. All basement compartments are built with powder-coated welded-steel plating. The mechanical compartments are placed on the driver's side of the unit.
Exterior
The Classic can be ordered with a simple white finish or embellished with one of several available paint designs. The test coach was all white, which looked pretty good with the dark accents of the tires, deep-tinted flush-mounted windows, grille, etc. It reflected the sun's rays as well, which helped to keep the interior cool. Lateral-arm awnings with LED lights, aluminum-wrapped slideout toppers, a 60-inch cab-over bunk, and fiberglass molded tank covers and entry steps finished off the exterior.
Equalizer fully automatic leveling jacks are standard, as are powder-coated, carpet-lined steel storage compartments with side-hinged compartment doors; storage compartments coated with bedliner are optional.
The test unit was outfitted with optional extra exterior lights: High-mounted taillights were installed to increase visibility of the turn and brake signals when towing a vehicle, and mid-coach high-profile side marker lights serve as additional turn signals. A Girard Nova II dual-pitch power awning with LED lighting, which comes standard, covered the patio area.
Interior
This 38-foot floor plan came with three slideouts — two in the bedroom and a 12-foot-long slideout room on the driver's side of the main living area. Bonded, flush-mounted thermal-pane windows gave the test coach a clean appearance, and their deep tint helped to minimize the sun's rays. Manually operated day-night roller shades were used throughout. Soft-touch vinyl ceiling material and padded walls helped to dampen sound, in addition to being easy to clean. The lower portion of the walls was covered in flat-panel wainscoting. A pair of raised-panel sliding doors closed off the cockpit area from the living area.
In lieu of particleboard or other materials, Renegade motorhomes incorporate hardwood throughout. Woodwork types and finishes, as well as floor tile and countertops, are all matched to the customer's desires. The review coach featured Woodstock maple cabinets and dovetail drawers, Breccia Silver porcelain-tile flooring, and Igneous solid-surface countertops with a Sahara Mir ceramic-tile backsplash. The bath area was dressed in a porcelain-tile wainscoting. Ceiling fans were located in the bedroom and front living area.
The motorhome's main living area featured theater seating with power recline and massage. A booth dinette converts to additional sleeping space in the event the 60-inch-by-95-inch overhead bunk isn't enough. All furniture, including the heated captain's chairs, was finished in Ultraleather fabric. The main slideout, on the street side, was equipped with nice, large overhead cabinets and carpeting on the slideout floor, which was mostly visible in the dinette area. A 43-inch 4K LED HDTV was mounted next to the galley, easily viewable from the theater seating opposite it or from the dinette or galley areas via a swing-arm mount.
In the galley, a two-burner induction cooktop nested in the countertop, and a 1.5-cubic-foot convection-microwave oven was installed in the overhead cabinetry. The Samsung 18-cubic-foot residential French-door refrigerator was finished in stainless steel and came equipped with an in-door ice and water dispenser. The large pantry area in the galley was fitted with soft-close drawers. A dual-basin stainless-steel sink was paired with a brushed-nickel sprayer faucet.
The midships area held the laundry center, which in this case included a combo washer-dryer and overhead shelving. A stackable washer and dryer set can be placed in the same cabinet in lieu of shelving.
The bath contained a vanity, a medicine cabinet, a porcelain push-button macerator toilet, and a solid-surface shower stall with curved glass doors. An overhead skylight allows in ambient light, while the ceiling exhaust fan removes odors and moisture.
The test unit's rear bedroom included a 66-inch-by-80-inch bed topped with a memory-foam mattress. The curbside slideout contained the head of the bed, with large cabinets overhead, and included a large main window, along with a pair of smaller side windows to provide plenty of ambient light and airflow. A 36-inch-by-24-inch picture window on the rear wall of the coach let in even more natural light. Opposite the bed was a wardrobe slideout filled with storage and an optional 43-inch 4K LED smart TV in place of the standard 32-inch model. A full-length mirror adorned the rear wall next to the picture window.
Utilities
Most Renegade coaches are all-electric, but customers can select a propane-powered cooktop, furnace, etc. if they prefer. The review coach came with a 38-gallon propane tank and a quick-disconnect fitting to power a grill, although no propane appliances were on board; basically, it was an all-electric coach that happened to have a large propane tank for external use.
Shore power in the Classic is provided by a 50-amp power cord and inlet receptacle connected to an automatic transfer switch with built-in surge protection; it also is supplied by an Onan 12.5-kw Quiet Diesel generator. A pair of 3,000-watt Victron inverters deliver 120-volt-AC power to various circuits when shore power is not present or the generator is not running. An automatic-generator-start module will power up the generator should the battery voltage drop below a specified level or if the thermostat on the heating and air-conditioning system calls for cooling.
The Classic's 12-volt-DC needs are met by two Dragonfly 270-amp-hour lithium-ion batteries, which are monitored by a Victron battery management system. Three 200-watt solar panels feed through a Victron charge controller to assist the two 3,000-watt inverter/chargers with battery-charging capability. A Firefly multiplex system controls most of the coach's accessories. In addition to wall-mounted switch panels, a central Vegatouch panel can access the coach's electrical supply, lighting, shades, holding tank and fresh-water systems, heating and air conditioning, etc. The multiplex system can be controlled via a Bluetooth app also.
Blu-ray players are found in the main entertainment center and the bedroom. A 43-inch LED TV was placed in an exterior patio-side compartment and fed by the main entertainment center matrix. A Winegard ConnecT 2.0 mounted on the roof provides an internal Wi-Fi network via a 4G SIM card or a campground Wi-Fi hotspot. A Winegard Trav'ler automatic satellite dish, also roof-mounted, provides a satellite TV connection to all of the TVs, while a SureCall Fusion2GO 3.0 RV cell signal booster enhances the cell signal throughout the motorhome.
The Classic's heating needs can be met by an optional Aqua-Hot 450D hydronic heating system. This system utilizes a diesel burner or electric heating element to furnish interior heat as well as unlimited domestic hot water. The boiler also can be used as an engine preheat device. Cooling is supplied by two 15,000-Btu ducted rooftop air conditioners with heat pumps. The front A/C unit is wired through the inverter, so it can be operated while driving without having to run the generator.
The wet bay contains the usual collection of valves and controls required to manage the fresh-water and waste-water systems. Renegade employs a water-jet system to carve the identification for these controls into the panel. This upscale touch eliminates the nuisance of labels that can fade or fall off. A whole-house water filtration system is located here as well, along with a power hose reel; an outside spigot; and connections for the city water supply, black tank flush, and sewer hose. The coach's substantial 150-gallon fresh-water tank and 75-gallon black- and gray-water holding tanks are equipped with electric heat strips to prevent freezing in cold weather.
Final Impressions
Renegade's Classic is a different animal from most Super C motorhomes. Each unit is built to order, tailored to a buyer's wishes. The special wall construction allows the coach to be offered with a choice of several locations for the windows and entry door. The chassis choice is open, and multiple floor plans in various lengths can suit customers' needs. The unit I inspected was nicely equipped but not completely decked out. Its manufacturer's suggested retail price came to $546,776.
Renegade provides a one-year/unlimited-mile warranty, as well as a three-year/36,000-mile limited structural warranty.
On the road, the test coach handled well, as one might expect with its Freightliner Cascadia class 8 heavy-truck chassis. It delivered more power and capacity than the Freightliner M2 and S2RV chassis used in smaller Super C coaches I have driven.
The real benefit is the Classic's array of available options. You can order a quality coach with minimal bells and whistles, or go all out and select one with everything but the kitchen sink — although I'm sure you would want one of those, too. Either way, the fit and finish of this coach is excellent, and the quality of construction makes it a desirable choice in the Super C market.
Renegade RV
52216 S.R. 15
Bristol, IN 46507
(574) 846-1126
www.renegaderv.com