The journey or the destination? This Type B motorhome from the Winnebago Touring Coach division just might satisfy both needs.
By Gary Bunzer
April 2015
It's obvious that for some, it's all about the journey. For others, the final destination and all it offers are paramount to fully enjoying a recreational lifestyle. One camp might look to the amenities of their motorhome solely for comfort while traveling, while another simply can't wait to "get there," yet still take advantage of traveling in a motorhome to enjoy their next outdoor adventure.
Both schools of thought can apply to the same vehicle. Winnebago produces a Type B motorhome that melds utility, fun, and style into a small and affordable package that should satisfy the whims of those seeking outdoor RVing adventures. Called the Travato, from the Winnebago Touring Coach family, this practical Type B unit proves such a blending is indeed possible.
Our subject model for this review, with its Flame Red Upgrade color scheme, came equipped with an optional bike carrier, ladder, and kayak rack — the perfect vehicle to travel to that special whitewater stream or mountain trail.
Winnebago has redesigned the Travato for the 2015 model year. My test unit, the 59G, was the original floor plan introduced. It recently was joined by the 59K, a twin-bed, rear-bath configuration.
Versatile and well-thought-out, the Travato is built on the fuel-efficient, front-wheel-drive Dodge Ram ProMaster chassis, which has long enjoyed a billing as one of Europe's most successful commercial vans. The 3.6-liter, V-6 gasoline engine is paired with a six-speed automatic transmission. (A 174-horsepower, 3-liter diesel engine is available as an option.) The gas engine yields a torque rating of 258 foot-pounds to take advantage of a 3,500-pound tow rating. But more on that later. For now, let's take a walk around the outside of this motorhome.
Exterior
Full-body paint highlights this newest edition, along with stainless-steel trim and the aforementioned optional bike and kayak racks. And it's inevitable that this bright Flame Red Travato will generate a lot of interest from fellow RVers wherever it stops. The coach is available in three other exterior schemes as well: Bright Silver with standard graphics, Bright Silver with graphics, and Bright Silver Upgrade.
All utilities in the Travato are conveniently located on the driver's side, including generator access, a 30-amp shore-power connection, a propane fill, a fresh-water fill, a city water inlet, the waste plumbing, and a cable TV entry. It's nice when all connections can be centered in one area, eliminating the need for owners to walk from side to side when setting up camp.
Other exterior features include stylish headlamps, fog lights, large rear tail lamps, powered mirrors (with a defrost function), side-mounted stereo speakers, a powered patio awning complete with LED lighting, courtesy lamps, aluminum wheels, a King Jack over-the-air TV antenna, an electrically operated entry step, plus the previously mentioned roof ladder mounted to one of the rear doors and the bike rack mounted on the other. Both doors swing open 260 degrees. An optional sliding screen door is available for this rear access opening.
Behind the right rear door, Winnebago designers installed a convenient exterior wash station assembly, along with a 120-volt-AC duplex receptacle, a water pump switch, a propane grill connection, and a rear porch lamp. Having the ability to rinse off sandy feet before entering the motorhome is a nice feature. It is possible to gain access to the RV living space from here, though not as convenient as entering through the side door.
Located on the passenger side, the main sliding entry door is equipped with an electrically operated entry step. Our review Travato also was outfitted with the hidden screen door. All it takes is one visit to a bug-rich campground to appreciate this optional item. Having grown up in Florida, I would heartily recommend the screen.
Interior
The Travato's living space contains appointments common to just about every motorhome on the road today. But the big surprise to me was just how uncluttered it appeared for such a diminutive space. The well-lit, utilitarian, and creatively designed interior provides everything the outdoor adventurer needs, right at hand.
Noting that convertible dinettes are not uncommon in RVs, I still was impressed by the ingenious swivel table design in the Travato. Seating for one is the default position, but for two people, a second tabletop level swings out 180 degrees, which enables another person to sit on the Ultraleather bench seat while partaking in the repast. This seat converts to an additional sleeping berth when necessary. Need extra seating for guests? Both the pilot and copilot perches easily swivel rearward to face the living space, which creates a cozy venue after settling inside and for watching the 22-inch swivel HDTV.
With the Travato measuring a little less than 21 feet long, it's hard to envision all the comforts of home built into this 59G floor plan. But a close look reveals that company designers have packaged everything needed into the format, including that much sought after commodity: storage space!
Not to be outdone by a larger cousin in the company's Winnebago or Itasca model lines, the Travato 59G is equipped with a 16,000-Btu furnace; a 13,500-Btu rooftop air conditioner with heat strip; and a 4-gallon, 120-volt electric water heater with energy management. Additional plumbing accoutrements include a TrueLevel tank monitoring system, a 22-gallon fresh-water tank, a water heater bypass/winterizing package, a macerator (for the gray water holding tank), a shower drain pump, a water filtration system, and a fresh-water demand pump.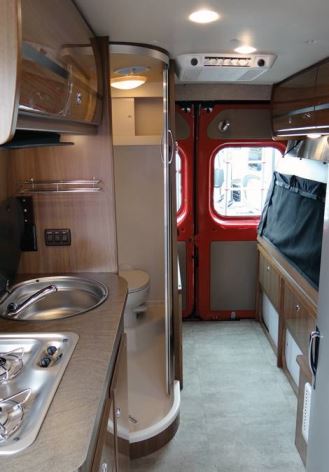 Standard electrical equipment in this compact getaway vehicle provides the necessary AC and DC power requirements. A Progressive Dynamics control panel houses all the 120-volt-AC circuit breakers, the AC-DC converter/charger, and the DC fuses. A larger-than-average Group 31 AGM maintenance-free battery provides 12-volt-DC power when dry camping. The coach battery is also protected by a disconnect switch. A 2,800-watt, gasoline-powered Onan generator provides mobile 120-volt-AC power.
Let's move next to the galley, where designers applied the company's trademarked SmartSpace philosophy. The result is a compact, European-influenced décor that features a fold-away faucet assembly in the stainless-steel galley sink, topped with a glass cover that expands the workspace. Likewise, a flip-up glass cover atop the two-burner cooktop can be lowered to gain extra real estate. This area also includes a microwave oven and a narrow three-way absorption refrigerator outfitted with a removable freezer section.
The wet bath is situated in the rear, curbside corner. It is typical for a Type B motorhome, though it does include such user-friendly features as a flexible showerhead, a sliding tambour-styled door, and a three-compartment soap dispenser, along with a mirror and medicine cabinet. A porcelain toilet rounds out the lavatory.
Probably the most striking feature in the Travato is the redesigned Murphy bed. Fitted into the street-side rear corner of the motorhome, the raised double bed folds conveniently against the wall, revealing wardrobe drawers and extra storage space behind sliding panels mounted below.
When stowed, the Murphy bed creates a passageway from the cab area back through the rear doors of the Travato — plenty of room to accommodate RVing during waking hours. Things do become slightly cramped with the bed deployed, since it stretches all the way to the lavatory wall.
MCD blackout shades throughout the Travato create privacy for the evening hours.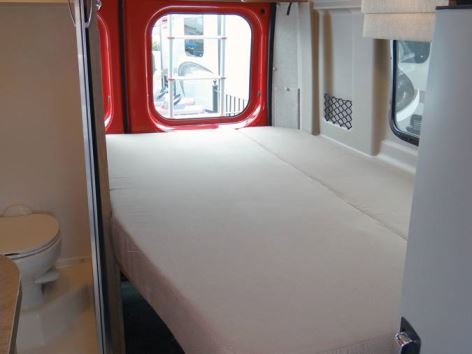 One of the only negatives I noticed was a little lack of detail concerning fit and finish, specifically the countertop in the galley. To fill a gap, the installer applied a rather large bead of silicone. The other case was the opening around the winterization package. Although not noticeable with the access panel snapped in place, this opening did look somewhat rough when the panel was off. These things are very minor and can easily be rectified during the predelivery inspection, so they certainly are not deal breakers by any stretch of the imagination. (Winnebago officials recently noted that the countertop design has been modified in production of subsequent units, which has eliminated the gap fill issue.)
The Travato's cab area truly shines. The beautifully stitched driver and copilot seats have adjustable lumbar supports and headrests, plus comfortable armrests. Both occupants are protected by air bags. The driver sits higher than one expects, with clear visibility all around. The seats, which are adjustable, and the telescoping steering wheel positioning make driving less tiring, even on long travel days. All of the necessary controls are within easy reach. Power windows and door locks, 12-volt and USB receptacles, a special dash appliqué package, cruise control, a rearview camera, and a 5-inch LCD touch screen (with voice controls) complete the cab area.
On The Road
I was really impressed with the road test. Roy Robinson RV in Marysville, Washington, graciously allowed me to take a 59G (with a lot of fuel) for the day to run the Travato through its paces. The Ram ProMaster handled like a dream. It felt no more cumbersome than driving an SUV. I noticed no irritating creaks or rattles. The steering was impeccable, likely attributable to the front-wheel drive and overall balance of the load.
During the road test, I tortured the coach through faster-than-normal tight turns in a parking lot and spent time on winding, two-lane country roads, as well as the interstate. A series of panic stop tests with no hands on the wheel resulted in repeated straight stops, thanks largely to the hefty four-wheel-ABS brakes. The Travato exhibited easy handling, was extremely quiet (though I had no camping gear or personal effects with me), and accelerated readily. Overall, I was quite pleased with the test drive.
Although the Travato does come equipped with a tow hitch receiver, most dealers will be quick to point out that that coach should not tow anything heavier than a light boat or utility trailer. It's certainly not stout enough to tow a car or heavier trailer. Besides, it drives like a car anyway! That's one of the important aspects of a Type B motorhome, according to those owners I've interviewed. The Travato is small enough (9 feet tall), narrow enough (less than 7 feet wide), and short enough (21 feet long) to even be a daily driver if pressed into action.
Overall, I consider the Travato a likely candidate for any adventurous couple or single RVer with an empirical eye on the destination/activity rather than luxurious mobile, on-the-go living (Winnebago has plenty of other models for that). Still, possessing the amenities found in many motorhomes much larger in stature, the Travato is a great coach for those serious outdoor types. In fact, I'd say it's worth serious consideration.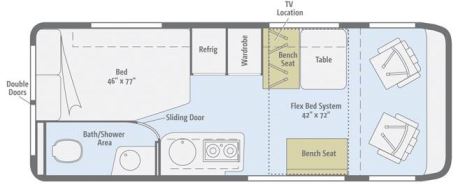 MANUFACTURER
Winnebago Industries Inc., P.O. Box 152, Forest City, IA 50436; (641) 585-3535; www.winnebagoind.com
MODEL
Winnebago Touring Coach Travato
FLOOR PLAN
59G
CHASSIS/ENGINE
Ram ProMaster/280 horsepower, 3.6-liter V-6 gas, 258 pound-feet torque, standard; 174-horsepower, 3-liter diesel engine, optional
TRANSMISSION
6-speed automatic 62TE
WHEELBASE
159 inches
ELECTRICAL SERVICE
30 amps
EXTERIOR LENGTH
20 feet 11 inches
EXTERIOR WIDTH
81 inches
EXTERIOR HEIGHT
9 feet 1/2 inch
INTERIOR HEIGHT
6 feet 3 inches
GROSS COMBINATION WEIGHT RATING (GCWR)
11,500 pounds
GROSS VEHICLE WEIGHT RATING (GVWR)
9,350 pounds
GROSS AXLE WEIGHT RATING (GAWR)
front — 4,630 pounds;
rear — 5,291 pounds
OCCUPANT & CARGO CARRYING CAPACITY (OCCC)
1,873 pounds
FRESH WATER CAPACITY
21 gallons
HOLDING TANK CAPACITIES
black water — 11 gallons;
gray water — 15 gallons
FUEL CAPACITY
24 gallons
FUEL REQUIREMENTS
gasoline
PROPANE CAPACITY
6 gallons
HEATING SYSTEM
16,000 Btu
AIR-CONDITIONING
13,500 Btu high-efficiency with heat strip
ALTERNATOR
180 amps
WARRANTY
12-month/15,000-mile basic
MANUFACTURER'S BASE SUGGESTED RETAIL PRICE
$85,476
PRICE AS TESTED
$91,321