A Murphy bed, a large rear bath, and an open floor plan set this Type B wide-body motorhome apart.
By Bob Zagami
May 2015
As the RV industry prepares for the next generation of RVers, the Millennials, we see what could quickly evolve into a paradigm shift in how a younger, more mobile generation will look at motorhomes and their importance in their lifestyle. This generation likely will be more demanding of RVs and related services. They will expect excellent service and support wherever their travels may take them. This generation's idea of RVing may differ considerably from that of their parents or grandparents.
However, an increasing number of today's RVers, whether new to the mobile lifestyle or not, are more attuned than ever before to the latest technology and features inherent in modern recreation vehicles. They also expect quality products and services.
Enter the Pleasure-Way Plateau XL, produced by Pleasure-Way Industries, of Saskatoon, Saskatchewan, which should be able to serve both groups. This motorhome is not much bigger than many cars on the road today. In fact, many people are choosing it as a second vehicle.
Millennials and many others may desire the full functionality of larger motorhomes — but in a smaller package. During a recent inspection of a Plateau XL, I determined that this Type B can meet those needs.
The new Plateau XL is built on the popular 170-inch-wheelbase Mercedes-Benz diesel cab chassis and powered by a 3-liter V-6 BlueTEC turbo-diesel engine. The motorhome measures 22 feet 9 inches long, which makes it easy to drive and maneuver.
Pleasure-Way has specialized in Type B motorhomes since the company's inception in 1986. Canadian RV dealer Merv Rumpel established the company in 1986 after he became convinced he could produce a more luxurious, better-quality Type B motorhome than those being offered at the time. Today, Merv's son, Dean, serves the company as CEO. Pleasure-Way currently produces five Type B models on Mercedes-Benz, Chevrolet, and Dodge Ram ProMaster chassis.
Stepping Inside
It would be a disservice to start by describing the Plateau XL from the outside, since the interior struck me as an engineering marvel. It may dispel any preconceptions you might have about what typically resides inside a Type B motorhome.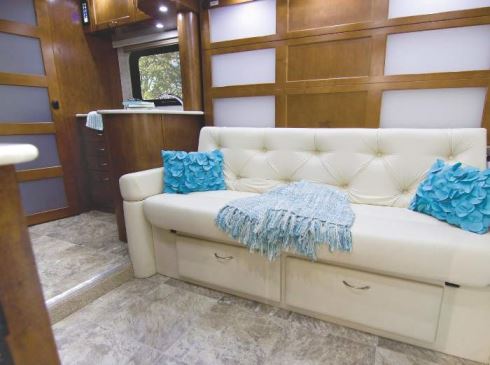 Upon entering the coach, via the side door, you face one of its best features: a Murphy bed. When not in use, the bed is concealed vertically behind a decorative panel on the street-side wall, at the back of a power sofa/daybed.
The sofa itself, topped with memory foam and covered in Ultraleather, flattens out for a nap or a good night's rest with the touch of a button. The sofa also functions as an eating area when a removable table is set into place in front of it; the table and its tri-foot base can be stowed in a cabinet when not needed. Two large full-extension drawers provide storage beneath the sofa.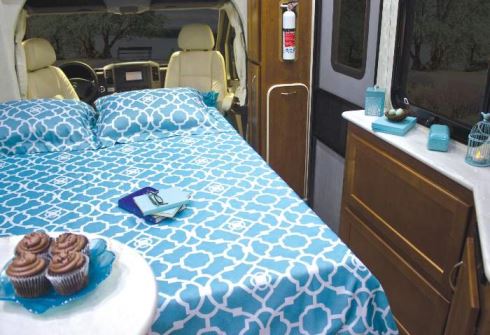 When setting up the Murphy bed for sleeping, you simply put the couch in the flat position and pull the bed down over it. Though a manual operation, it is made easy with two gas struts. While the bed is not quite a full queen size, it will fit many couples comfortably. It, too, contains memory foam.
Across from the couch is a half-wall of cabinetry, a window, and a 32-inch LED LCD TV and Blu-ray player. The television is well placed for viewing when sitting on the sofa or lying down in bed, which is not always the case in motorhomes. Above the window and television are additional cabinets for storage. The skylight in this area opens to provide ventilation and is outfitted with a screen. It also allows in plenty of light and comes with a day shade.
The Plateau XL's living area is maneuverable in part thanks to its 6-feet-8-inch interior height. Comfort is assured with a 16,000-Btu auto-ignition propane furnace and a 13,500-Btu roof-mounted air conditioner. Hot water is always available, thanks to a tankless water heater.
Multiplex wiring substantially reduces the amount of wiring run throughout the coach and reduces the number of individual switches by consolidating them in three switch panels — a master switch at the entry door to control all lighting, for example. Recessed LED lighting is located throughout.
The compact galley is sandwiched between the sofa and rear bathroom. A small step-up leads to the kitchen and bath areas. Here, the interior height is reduced to 6 feet 5 inches so as to make room for larger holding tanks below the floor.
On the street side, a Corian countertop rests on custom-milled maple cabinetry. This L-shaped countertop includes the stainless-steel sink with a single-lever faucet, as well as a flush-mounted two-burner range that comes with a glass cover. A window in the galley brightens the area for meal prep and cleanup. Additional cabinets and LED lighting hang overhead.
Across the aisle is the convection-microwave oven and a 6.7-cubic-foot three-way refrigerator. A Fan-Tastic Vent overhead fan circulates the air; Pleasure-Way literature says this vent fan can exchange all of the air within the coach in less than 60 seconds.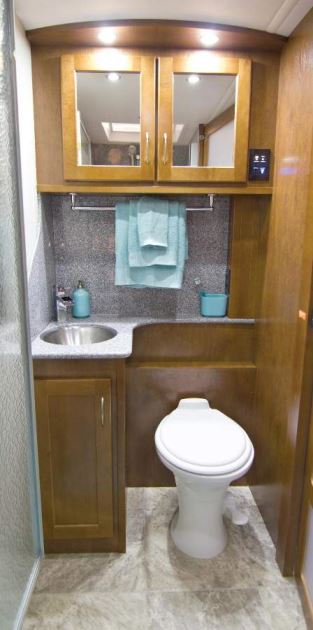 Handcrafted maple wood cabinetry is used in the Plateau XL, as in all Pleasure-Way units. The cabinetry and molding are produced on-site at the company's mill shop via a labor-intensive process; according to company literature, at least 22 hours are needed to fabricate just one set of cabinet doors. Hidden cabinet hinges create a contemporary, clean appearance. Drawers feature full-extension ball-bearing roller glides, and the drawers and cabinets are outfitted with positive-catch latches.
A hinged door made of frosted panels and wood framing closes off the rear bathroom; this decorative treatment matches the panel displayed when the Murphy bed is stored in its upright position behind the sofa.
In my opinion, many larger motorhomes can't match what is in the Plateau XL's rear bathroom. On the left is a 32-inch-wide Corian-lined walk-in shower with a glass door and a skylight for extra room and light. This area also includes a residential-style china bowl toilet and a Corian-topped vanity, with backsplash, that supports a stainless-steel sink and a single-lever waterfall faucet.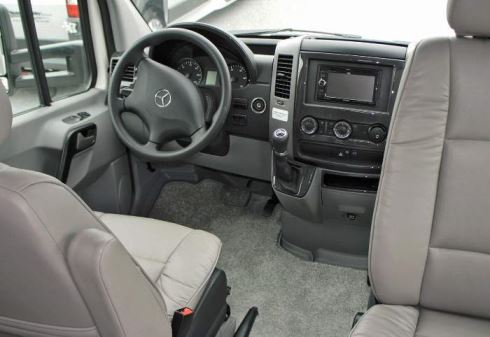 Back up front, the comfortable cockpit includes Ultraleather-covered driver and passenger seats, which swivel to become part of the living area. The Plateau XL is equipped with an in-dash navigation system, and an AM-FM radio with Bluetooth and USB capability. Dash air-conditioning; cruise control; power windows, door locks, and side mirrors; and a remote keyless entry system provide the comfort features found on much larger, and more expensive, motorhomes. The pilot and copilot sit high in the Sprinter cab, and panoramic windows enhance visibility. An 86-inch-wide cab-over storage cabinet accommodates large, bulky items.
Exterior, Construction
Stepping outside, we find a power step below the side entry door. To the left of that door is an outside entertainment system and one of two external storage compartments. A 13-foot power awning provides shade overhead, and its LED lights offer illumination in the evenings if desired.
Street-side storage compartments contain the waste management system, an 18-gallon propane tank, an open storage compartment, and the 2.5-kw Onan propane-fired generator.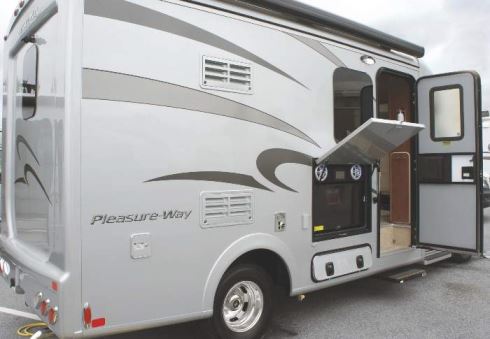 The Plateau XL is outfitted with a welded tubular steel "super body," and molded one-piece fiberglass roof, sides, and front and rear caps are bonded to it. Atop the roof is the aforementioned 13,500-Btu air conditioner and the skylight, as well as a Jack HDTV digital antenna with built-in signal finder — say good-bye to crank-up antennas! A 95-watt solar panel is available as an option.
A backup camera and a 5,000-pound-rated tow hitch are situated at the rear of the motorhome.
One aspect of Pleasure-Way's construction practices particularly intrigued me. The company's motorhomes are not built on an assembly line. Rather, they are crafted by hand in a meticulous manner to achieve exact form, fit, and finish. It takes six weeks and more than 400 worker hours to complete one motorhome. Each coach is built in a stall, with the same craftspeople from various areas — cabinetry, finishing, etc. — responsible for that unit from start to finish.
The process involves measuring, constructing, and hand-fitting custom-made parts onto each individual chassis. Despite exact design specifications, slight differences can exist in a vehicle body when it is received from a chassis manufacturer, sometimes up to a quarter-inch. Pleasure-Way technicians fit and trim each individual part to eliminate such variances.
Another noteworthy process lies in the painting process. Pleasure-Way uses Glasurit brand automotive paint on all surfaces. This product is commonly found on automotive brands such as Rolls Royce, Bentley, and Mercedes-Benz. It is said to be superior to gelcoat finishes typically found on RVs.
To appreciate what goes into a Pleasure-Way motorhome, a visit to the factory where they are built would be ideal. As soon as I'm anywhere near Saskatoon, Saskatchewan, the company will be a definite stop on that journey.
SPECS
Pleasure-Way Industries Inc., 302 Portage Ave., Saskatoon, SK S7J 4C6; (800) 364-0189; www.pleasureway.com
MODEL
Plateau
FLOOR PLAN
XL Widebody
CHASSIS
Mercedes-Benz Sprinter cutaway
ENGINE
3.0-liter V-6 BlueTEC diesel; 188 horsepower; 325 foot-pounds torque @ 1,400-2,400 rpm
TRANSMISSION
five-speed automatic
WHEELBASE
170 inches
TIRES
LT245/75R 16 all-season
BRAKES
4-wheel disc with ABS
ELECTRICAL SERVICE
30 amps
EXTERIOR LENGTH
22 feet 9 inches
EXTERIOR WIDTH
7 feet 10 inches
EXTERIOR HEIGHT
11 feet
INTERIOR HEIGHT
6 feet 8 inches, front; 6 feet 5 inches, rear
GROSS COMBINATION WEIGHT RATING (GCWR)
15,250 pounds
GROSS VEHICLE WEIGHT RATING (GVWR)
11,030 pounds with dual rear wheels
GROSS AXLE WEIGHT RATING (GAWR)
front — 4,410 pounds;
rear — 7,720 pounds
OCCUPANT & CARGO CARRYING CAPACITY (OCCC)
1,490 pounds
FRESH WATER CAPACITY
28 gallons
HOLDING TANK CAPACITIES
black water — 21 gallons;
gray water — 30 gallons
FUEL CAPACITY
26 gallons
FUEL REQUIREMENTS
diesel
PROPANE CAPACITY
18 gallons (80 percent full)
HEATING SYSTEM
16,000 Btu; auto-ignition
AIR CONDITIONER
13,500 Btu; roof-mounted
ALTERNATOR
200 amps
WARRANTY
coach — 5 years/60,000 miles limited; chassis — 3 years/36,000 miles basic limited; engine — 5 years/100,000 miles
MANUFACTURER'S BASE SUGGESTED RETAIL PRICE
$131,170