The first new model in the rebirth of the Monaco motorhome brand.
By Ty Adams
January 2014
What am I going to write if they've slapped a Monaco emblem on a Fleetwood coach?
That thought nagged me as I pulled into the Allied Specialty Vehicles (ASV) facility in Decatur, Indiana, the new home for the Monaco, Beaver, and Holiday Rambler brands. In May 2013 Navistar International Corporation sold all Monaco RV holdings to ASV, parent company of the Fleetwood and American Coach brands. This came four years after Monaco Coach Corporation was purchased by Navistar, so it's been a bit of a wild ride for the Monaco family of brands, owners, and employees.
Although I am a Monaco owner and a former Monaco employee, I'm also an industry writer charged with producing an honest review, so finding the 2015 Dynasty as a Monaco in name only would twist my knickers into a double bind.
I admitted as much to Mike Snell, my former coworker, now president of Monaco and Holiday Rambler at ASV. Snell said he understood my trepidation.
"That would have been the easiest thing to do, to slap a Monaco emblem on an American Coach," he said. "And you're not alone in thinking it, because that's a question raised by a lot of our owners as well. But I'm here to tell you, this coach is uniquely Monaco. We went back to that traditional Monaco design that helped take our company to the highest point it's ever been. It's very different from the other ASV products, down to the engine, a lot of materials, the layout … almost everything."
Snell said that his decision to come on board at ASV was made easier by the company's willingness to retain the unique qualities of Monaco and Holiday Rambler products. The first big step was to rehire a core team of Monaco engineers and designers to work in a separate engineering facility. ASV also moved the well-regarded Monaco woodshop from Wakarusa, Indiana, to Decatur, retaining it as a dedicated Monaco brand materials provider for cabinetry.
"We got to go back to the drawing board and essentially create a Monaco coach in whatever way we thought was best," Snell said.
The Great Surveying
It started by taking often-repeated owner advice.
"The owners have always said to us, your design people need to actually live in a motorhome," Snell said. "So I took the challenge and spent 30 nights this summer in our Dynasty, and put 7,700 miles on it, thinking constantly about how it could be improved."
Snell and the new ASV team then sent an extremely detailed survey to existing owners of all Monaco brands, polling them on just about every component possible. Even though the survey was about a 40-minute endeavor, the team received 2,800 responses.
"We're starting with this one coach model [and a single floor plan] and anything that was selected by more than 70 percent of the owners, we put it in there," Snell said. "This really is the first coach that's going to be designed by our owners, and built for our owners."
First Impressions
Before I saw the new Dynasty, I met with Steven Hileman, marketing manager for Fleetwood and American Coach, who is now also responsible for the Monaco motorhome lineup. Hileman explained that the family of RV brands that currently fall under ASV will be manufactured in Decatur by a recently formed company called Allied Recreation Group. This group will be the manufacturing, parts, and service organization responsible for Monaco, Holiday Rambler, Fleetwood, and American Coach.
Hileman noted that the engineering and manufacturing areas will be able to benefit from the "best practices" observed in the various brands, but while some systems may become similar across the lines, each motorhome brand will remain "exceptionally distinct" and stay true to its legacy.
Monaco motorhomes are now taking inspiration and direction from designs of the Monaco Coach Corporation era. That was immediately clear as we stepped outside to the factory lot, where an early preproduction version of the 2015 Dynasty (slated for spring 2014 production) waited in mellow fall sunshine.
The look is not exactly the same as the Monaco high-line diesels of the early aughts, but there's definitely a thread of classic Monaco design, which is strikingly different from the more angular, somewhat space-age direction of recent Monaco models. Gone is the front chevron cap, for example. "We're essentially going back to pre-Navistar designs and making them current," Hileman said. "It's not an aggressive or edgy look; it's classic, luxurious, and reminiscent of old Monaco."
The new Dynasty maintains a different visual personality than other brands, including the American Coach models that were parked nearby. The Dynasty retains low-mounted mirrors, a more rounded windshield edging, and a more vertical and less graded top ridge on the front cap. The gold, gray, and black colors of this particular paint scheme also hark back to the early years of the previous decade. But looking closer, one sees a few contemporary upgrades, such as frameless windows, more substantial bay door handles, and flush-mounted front cap seams.
On The Inside
Going beyond those superficial first impressions, I was curious to see how deep the differences were in the 2015 Dynasty. One of my questions was, "What's it got under the hood?" (Or in this case, under the rear bath.)
I've never met an RVer who wouldn't love more "horses," especially when powering a 45-foot rig on freeways and up mountain passes. The 2015 Dynasty can be equipped with an optional Cummins ISX 600-horsepower diesel engine, paired with the Allison 4000 MH transmission, or one could opt for the standard 500-horsepower ISX variant. These engines replace the 475-horsepower MaxxForce diesel used most recently in this coach brand.
Once we were on the road, the additional power and torque were evident. The coach had serious punch from a standstill, great on-road acceleration, and way more top speed than was needed for a two-lane highway.
Gear heads also may be impressed with the layout of the engine compartment. All maintenance items are within easy reach, and workspace is plentiful. Owners who prefer to do their own maintenance can access all major filters and service points at the back of the coach; non do-it-yourselfers may save labor and maintenance costs with this setup. The welded steel coolant overflow reservoir is another small but noteworthy change, an upgrade from the standard plastic type.
Traditionally, diesel-powered Monaco motorhomes have incorporated the custom-built Roadmaster chassis. The 2015 Dynasty rides on the new Roadmaster B-series chassis. The B stands for "bridge," an engineered modular chassis technology refined by ASV that begins with a heavily modified Freightliner Custom Chassis.  Purist Monaco owners may lament the change, but the proof is in the ride. "It has specific Monaco attributes that are exclusive to us," Snell said.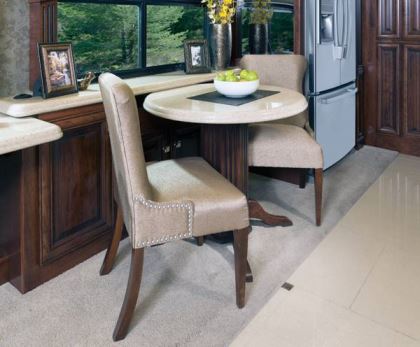 The chassis process starts with the purchase of front and rear clips from Freightliner "" essentially, the assembled drivetrain, steering column, wheels, and axles. Those clips are detached from a temporary shipping frame and attached with Huck bolts to a TIG-welded bridge frame that is electrocoated to prevent corrosion. To give the Monaco brand motorhomes their signature ride, the Roadmaster B-series chassis is specially tuned and calibrated to create a more aggressive handling feel using larger volumetric air bags.
The front and rear clips from Freightliner also are engineered to Monaco specifications, resulting in such modifications as side exhaust, side radiator, and the metal coolant reservoir mentioned earlier.
In addition to being straighter, stronger, and lighter, this new chassis features independent front suspension, a 15,000-pound-rated tow hitch, and pass-through storage compartments not obstructed by a large frame rail running through the top.
Exterior Differences
Less readily apparent differences on the 2015 Dynasty include the nature and location of those pass-through compartments. They are positioned close to the front door for convenient access. The midcoach fuel tank helps with weight distribution and stabilizes the ride.
The bays themselves are made of textured fiberglass, which helps prevent mildew and is easier to clean "" something that many of us who live in the soggy Pacific Northwest will appreciate. Later in my plant tour, sales coordinator Tom Liechty pointed out that the honeycomb design of the quarter-inch fiberglass provides the same insulation value as 1 1/2 inches of Styrofoam; when paired with the thicker, traditional Monaco bay doors, this adds to the coach's overall heating and cooling efficiency.
The optional slide-out trays in both front bays are now fully electric, so they extend to the driver or passenger side with the push of a button. This is certainly preferable to clambering under an extended slideout to pull out the trays manually. All ASV slideout boxes are built with a pitch so that water runs away from the vehicle. And underneath the front passenger slideout, a drop-down flat-screen television can be extended and retracted remotely using the key fob "" a classic Monaco feature in previous high-line models.
Hileman noted that electrical layout and design is one area where Monaco brands and other ASV brands will be similar. "We are meticulous about labeling things, to an extreme degree," he said.  In the battery compartment, every single wire, relay, and terminal is tagged. It's also worth mentioning that the 2015 Dynasty contains eight AGM house batteries, double the number from previous years' models. The fuse box and power transfer switch are located here, outside the coach, adjacent to most of the major electrical components.
Interior Differences
Heading inside, I took note of the entry door, which features the traditional Monaco design with top and bottom pins. As is true of the bay doors, this is one of the components that Monaco will continue to manufacture in-house.
Sitting in the cockpit, I noticed a few obvious differences from the prior Dynasty. The dash itself is flatter, allowing for temporary storage of cell phones and other road trip trappings. Separate camera and GPS screens enable RVers to keep the camera on all the time if they prefer. The infotainment system, which is Bluetooth-compatible, can be accessed via a smartphone for hands-free calls.
The cockpit retains the power pilot window found in the prior Dynasty, which is especially nice for toll booth stops, as well as two switches with memory settings for the driver's chair and steering wheel angle (optional), a handy feature for couples who share the driving.
One big difference up front isn't so visible: the cockpit HVAC system, which has traditional controls for floor and midlevel vents, plus separate controls for a dedicated defroster.  A typical RV system provides approximately 17,000 Btu of heating and cooling capacity. ASV uses a brand called SGM, from the company's fire truck business, that offers 34,000 Btu of cooling and 46,000 Btu of heat in the dash, plus another 44,000 Btu in the dedicated defrost.
One of the most visible features in the living area is the fireplace with digital flames. Not just for decoration, it puts out 5,000 Btu of electric heat. The 2015 Dynasty also comes with standard two-zone GoldHeat electric in-floor heat beneath the porcelain tile, as well as a 50,000-Btu Aqua-Hot 450D hydronic heating system.
Not surprising for a coach in this price range, the Dynasty's interior is gorgeous. It includes plenty of handcrafted dark cherry wood cabinetry, radius corners, solid-surface countertops, and accent lighting that gleams off the fully tiled floor. But what I found especially striking was the residential-style separation of spaces. Rather than the traditional facing sofas with a television mounted above the cockpit, an optional L-shaped leather sofa faces the fireplace, with the enormous Sony LED 50-inch flat-screen television mounted above. Next to that is a desk area with a wheeled Euro-lounge chair. This design was based on the owner surveys, which indicated that 73 percent of respondents prefer a sofa and computer desk recliner versus two sofas.
The back of the sofa abuts the kitchen island, clearly defining the galley space, which is also somewhat separated from the dining space housed in the passenger-side slideout. Again, the dining area was a survey item winner. "Owners consistently told us they really wanted a round table," Hileman said. "They can pull it out, comfortably sit four people around it, and it's easy to play cards and socialize. But conversely, no one wanted to give up that credenza. It's storage space." The solution was to design an optional round table with one edge housed inside the credenza where it's secured but with the option of pulling the table all the way out so that it's freestanding.
Every bit of available space throughout the coach seems to have been utilized for storage. In addition to an armada of cabinets and drawers, galley highlights include dedicated pull-out bins for trash and recycling, an induction cooktop, and a special touch I've not seen in a motorhome before. There's a cutout in the solid-surface countertop housed in the kitchen slideout; at the touch of a button, a large cabinet with an embedded electrical outlet rises above the countertop, perfectly sized for a coffeemaker.
The Little Things
It's apparent the designers of the 2015 Dynasty gave extra attention to details that enhance the user experience. Examples include a wealth of pop-up electrical/USB charging outlets throughout the coach; cabinet doors that swing up rather than out, with strong latching mechanisms; tall storage spaces for cereal boxes and other oversized items; an appliance garage; pull-out racks and built-ins, including wood utensil drawers, a spice rack, and a wine bottle rack; adjustable shelves throughout the coach; an automatic latching mechanism on the bedroom door that activates when the coach begins to move.
The half bath amidships is a convenient element for couples and families. In addition, the bedroom features a wealth of cabinetry and some thoughtful touches, such as a generator start switch right next to the bed. Anyone who has ever had to get up in the middle of the night to start the air conditioner or the heater will welcome that addition.
The full bath in the rear of the 2015 Dynasty features a gorgeous sink with its own LED lighting, a nice-sized cedar-lined closet, and a spacious enclosed shower with glass doors and a 6-foot-5-inch showerhead height.
The 2015 Dynasty carries a base suggested retail price of $595,000. With the following options, the as-tested price of the unit I reviewed came to $630,000: Cummins ISX 600-horsepower engine; power tray package with two 90-inch slides; exterior entertainment center; memory driver's seat and steering column; electric jackknife expanding L-shaped sofa; window awning package; waste management pump; power water hose reel; freestanding table and chairs; heated tile floor; remote power cord reel.
Overall, it's clear that a great amount of thought went into the resurrected Dynasty, both the interior and exterior. While no RV is going to be all things to all owners, this coach is a very strong entry into a competitive field. It makes a powerful case that the new leadership of the Monaco brand is serious about retaining a unique identity, and about listening and responding to loyal owners.
SPECS
MANUFACTURER
Allied Recreation Group, 1031 U.S. 224 E., Decatur, IN 46733; (877) 466-6226; www.monacocoach.com
MODEL
2015 Dynasty
FLOOR PLAN
45 Palace
CHASSIS
Roadmaster B-Series with Freightliner SL-M components
ENGINE
Cummins ISX 15L 600-horsepower with 3-stage compression brake, optional; Cummins ISX 12L 500-horsepower with 3-stage compression brake, standard
TRANSMISSION
Allison 4000 MH
AXLE RATIO
4.30 to 1
TIRES
Michelin 315/80R 22.5
WHEELBASE
302 inches
BRAKES
front "" 17-inch air disc brakes with ABS;
rear ""  16.5-inch-by-7-inch air drum brakes with ABS;
tag "" 15-inch-by-5-inch air drum brakes with ABS
SUSPENSION
air suspension with custom-tuned Sachs shocks;
front "" ZF independent with 60-degree wheel cut;
rear "" Neway with tag air dump
STEERING
VIP Smartwheel with power tilt/telescope memory column
ALTERNATOR
Leece-Neville, 270 amps
BATTERIES
chassis "" (2) AGM maintenance-free 12-volt
house "" (8) AGM maintenance-free 6-volt
INVERTER
2,800-watt pure sine wave
ELECTRICAL SERVICE
50 amps
AUXILIARY GENERATOR
10-kw Cummins Onan diesel
EXTERIOR LENGTH
44 feet 11.5 inches
EXTERIOR WIDTH
102 inches
EXTERIOR HEIGHT
12 feet 11 inches
INTERIOR HEIGHT
7 feet
GROSS COMBINATION WEIGHT RATING (GCWR)
66,000 pounds
GROSS VEHICLE WEIGHT RATING (GVWR)
51,000 pounds
GROSS AXLE WEIGHT RATING (GAWR)
front "" 17,000 pounds;
rear "" 20,000 pounds;
tag "" 14,000 pounds
AS-TESTED WEIGHT
(company-provided; weighed with 5/8 fuel, 1/4 water)
front "" 12,040 pounds;
rear "" 17,445 pounds;
tag "" 12,220 pounds;
total "" 42,361 pounds
OCCUPANT AND CARGO CARRYING CAPACITY (OCCC)
8,639 pounds
FRAME CONSTRUCTION
aluminum framing with interlocking construction
INSULATION
high-density bead foam
FRESH WATER CAPACITY
100 gallons
HOLDING TANK CAPACITIES
gray water "" 60 gallons;
black water "" 40 gallons
FUEL CAPACITY
150 gallons
FUEL REQUIREMENTS
ultra-low-sulfur diesel
PROPANE TANK
N/A
WATER HEATER
Aqua-Hot 450D hydronic
WATER SYSTEM
demand; whole-coach water filtration system
HEATING SYSTEM
Aqua-Hot 450D hydronic, 50,000 Btu;
GoldHeat electric in-floor heat
AIR-CONDITIONING SYSTEM
(3) 15,000-Btu low-profile roof air conditioners
REFRIGERATOR
French door residential with ice maker
TOILET
(2) porcelain Tecma Silence Plus
WARRANTY
coach "" 1 year/24,000 miles;
structural "" 5 years/50,000 miles;
chassis "" 3 years/50,000 miles
BASE SUGGESTED RETAIL PRICE
$595,000 (estimated)
PRICE AS TESTED
$630,000 (estimated)