If your motorhome's refrigerator-freezer lacks the storage space you desire, the solution may be a portable cooling unit in an exterior bay.
By Bill Hendrix, F761s
December 2013
Cool Addition (PDF) — full article contains specs for models made by four different companies: Dometic, Edgestar, Engel USA and Norcold.
Every motorhome has a refrigerator, and no matter what size it is, it never seems to be large enough. A few years ago, one RV manufacturer installed two refrigerators, side by side, and then made provisions to add a freezer in the baggage bay. I guess enough is never enough.
Today there are many portable refrigerator-freezers to choose from in sizes from 0.5 cubic feet to Dometic's whopping 3.77-cubic-foot model. Most of these portables have adjustable temperature ranges, so the user can select whether the unit will be used for food storage or for freezer operation. This is great when you pass through Omaha and load up on steaks or return from a trip to Alaska with a mess of fresh-caught salmon and halibut.
Before purchasing a portable refrigerator-freezer, several things must be taken into consideration. First, if the unit is to be put in an exterior storage compartment, a slide-out tray may be necessary to make it possible for you to open the lid and view the contents.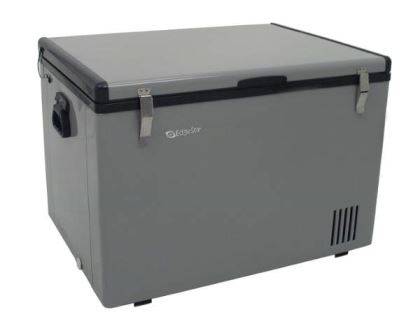 Second, size does matter, so you will need to do some measuring. Once you've recorded the height, width, and depth measurement of the storage bay, you can determine what size refrigerator-freezer will fit the compartment.
You also will need to determine whether your battery bank can accommodate the power requirements of the unit. Some motorhome manufacturers have made provisions for AC and DC power outlets in one or more of the storage bays. If the bay you want to use is not equipped with electric, you will need to install an outlet.
You also will need to assure that the compartment being used has adequate ventilation. No freezer of any appreciable size will operate efficiently if the compartment does not have good airflow. Since you are going to have DC power available, you may consider a small DC exhaust fan to extract the warm air, along with some filter material to reduce any dust that may enter the compartment while traveling.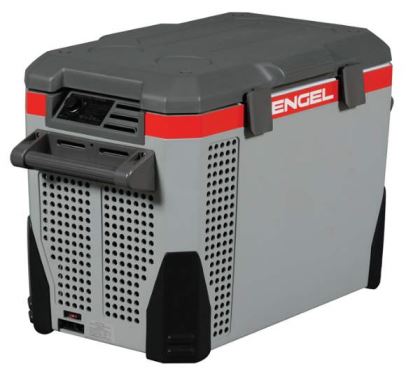 The charts in this article (please see Cool Addition PDF version) indicate the power consumed in watts, which is found by multiplying volts and amps. Therefore, you can divide watts by volts to find out amps if you need to reverse the calculation to determine whether your battery bank is sufficient.
For instance, say you are considering a refrigerator-freezer that consumes 48 watts (per hour); 48 watts divided by 12 volts equals a load of 4 amps per hour. Say your motorhome is equipped with four fully charged, new-condition Trojan 6-volt deep-cycle batteries and each battery is rated 225 amp-hours at 6 volts. Two batteries will provide 225 amp-hours at 12 volts, so four batteries will provide 450 amp-hours at 12 volts.
Because you never want to discharge the batteries more than 50 percent, that means you have 225 amp-hours available. Divide 225 amp-hours by the 4-amp load required by the refrigerator-freezer, and you can figure that the appliance will operate for 56.25 hours continuously. Under normal conditions, the freezer will operate for about half of the time (called a 50 percent duty cycle) after the food is frozen, which gives you approximately 112.5 hours of operation on fully charged batteries.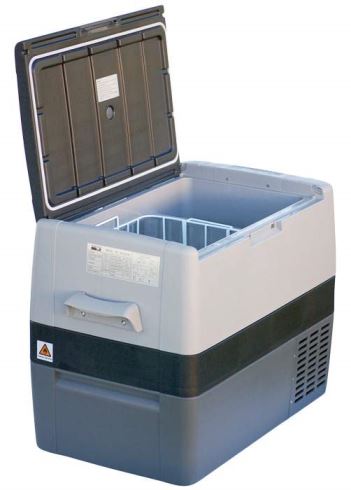 As with any 12-volt-DC operation, you should monitor the voltage of the battery bank and try not to discharge lower than 12.2 volts (measured with the batteries at rest; no charge or discharge), which is a 50 percent state of charge for lead-acid flooded-cell batteries. Also consider the other battery loads required while dry camping, such as lights, TV, games, etc., and reduce the 112.5-hour span appropriately.
After doing the calculations, anything less than a 24-hour span would be marginal. If you are uncertain about your battery's 20 amp-hour rating, contact the manufacturer or visit the company's Web site and select the battery specifications.
Norcold does not publish a manufacturer's suggested retail price (MSRP) for its products, but you can find "street" prices for the company's freezers and other brands on the Internet. An online search also can help you locate retail merchants. Make sure to pay attention to the shipping charges, as some of the larger freezers may require motor freight carriers.
For this comparison, the small electric coolers, which you may see displayed at truck stops, are not listed. They have a very limited temperature range because of the use of a Peltier plate cool/heat medium.