This new floor plan accommodates two occupants and incorporates a rear corner kitchen, a full dry bath, and other notable features.
By Mark Quasius, F333630
February 2023
Phoenix USA RV is perhaps best known for its Phoenix Cruiser B+ motorhome, built on the Ford E-450 chassis and offered in lengths from 24 to 31 feet. The Phoenix TRX, which debuted in 2019, is the company's smaller B+ offering. This model is constructed on the Ford Transit cutaway/cab chassis and, although compact, is also nicely equipped.
I recently reviewed the new Phoenix TRX 1781, an accommodating travel companion that sleeps two and offers a full kitchen and dry bath in a compact 25-foot-3-inch package.
The 1781 test unit was built on Ford's 350HD Transit series chassis, with an extended 178-inch wheelbase. Power to the chassis is provided by Ford's 3.5-liter Ecoboost V-6 engine. A 3.73-to-1 limited-slip axle ratio creates economical cruising at highway speeds, and the 10-speed automatic transmission produces quick acceleration throughout the gears. A 3,000-pound-rated trailer hitch is standard.
The unit's gross vehicle weight rating (GVWR) is 11,000 pounds, and its gross combination weight rating (GCWR) is 15,000 pounds. The occupant cargo and carrying capacity (OCCC) came in at approximately 1,000 pounds. The motorhome rides on 205/75R16 all-season radial tires and includes a 25-gallon fuel tank. Heated remote-control mirrors and HWH hydraulic leveling jacks complete the chassis.
Construction
The Phoenix TRX begins with a steel subframe assembly that is mounted to the chassis frame rails via rubber-puck dampeners designed to isolate vibrations and minimize noise inside the coach while traveling. The floor assembly incorporates 1½-inch steel-tubing framework topped with ½-inch exterior-grade plywood. A ¼-inch-thick sheet of heavy-duty corrugated laminated plastic is applied to the bottom to further dampen vibrations and to serve as a durable vapor barrier. This sandwich is filled with block-foam insulation just prior to being capped off, producing a quiet and comfortable coach interior.
The vacubonded, laminated sidewalls are framed with structural aluminum tubing. A seamless one-piece fiberglass roof blends with the curved sidewalls for an attractive styling touch. The transition between cab and coach is accomplished with fiberglass panels that contribute to the overall aerodynamic styling of the Phoenix TRX.
Coach wiring is done by hand and is continuous in length. This eliminates any issues with wiring harness connectors that could potentially fail as the motorhome ages. In addition, plumbing is run entirely above the floor line to prevent potential freeze-ups during cold weather. The gray-water and black-water tanks are located below the floor and are insulated and heated.
Exterior
The test coach was finished in the Greysteel full-body paint scheme, one of two available selections; the other is Light Mocha. At the rear, a tall trunk is capable of storing patio chairs, cords, hoses, or towing accessories. Frameless deep-tinted windows are installed throughout. The 14-foot power patio awning is equipped with LED lighting, and the LED porch light has a nice chrome housing.
Diamond Shield protects the front painted areas of the RV against damage from stones and chips, while weather-shielded fiberglass running boards are molded to the coach to provide additional protection. Rear skid rollers prevent damage from bottoming out the rear hitch on steep approach angles.
One nice touch is the screen door. Instead of a conventional hinged screen door that attaches to the entry door, the TRX incorporates a hide-away retractable screen door. It consists of a bordered fabric screen stowed in a roller housing on one side of the door frame. When the screen is desired, you simply pull it out by its handle and clip it onto the latch at the opposite side of the door frame. When you no longer want the screen, unclip it, and it self-retracts into the roller housing, back out of sight.
With a 97-inch overall width and 9-foot-8-inch overall height, the TRX is easy to maneuver and park.
Interior
This 25-foot-3-inch-long motor-home has a roomy interior despite its compact size. Its 6-foot-4-inch ceiling height accommodates most tall occupants. The 1781 is equipped with a driver's-side slideout, which contains the sofa bed. Even when the slideout is retracted, the aisle is plenty wide, making it easy to traverse the length of the RV when traveling or parked in a rest area. The slideout does need to be deployed whenever the sofa is made into a bed, however.
The TRX can be finished with either the Sedona River Rock or Sirroca Grey interior décors. Shaker-style raised-panel cabinet doors and drawers with full-extension ball bearing glides are standard, as are slow-rise day-night roller shades. The test unit featured Silver Mist hardwood cabinetry, but Hickory is also available as an option. LED lighting is used throughout. Luxury vinyl flooring with a wood plank look complements the cabinetry and woodwork.
The slideout mentioned earlier, in the main living area, holds a 54-inch-by-74-inch power sofa bed equipped with seatbelts. Opposite the sofa and adjacent to the entry door is an entertainment center with a 40-inch LED smart TV; it is mounted above a window and surrounded by plenty of cabinets. On the other side of the entry is a large pantry with pull-out drawers and a 5.3-cubic-foot three-way propane/electric refrigerator with elegant, curved charcoal-gray doors. The fridge and pantry are across from a double wardrobe closet and large drawer.
The 1781's L-shaped galley is at the rear of the motorhome, on the curb side. It includes a stainless-steel sink with a pull-out faucet and sprayer, as well as a Euro-style two-burner propane cooktop. A full-size convection-microwave oven resides in a cabinet above the cooktop and includes an exhaust fan. The galley is fitted with a solid-surface countertop and removable sink covers that can be stored in a pocket. Pop-up electrical outlets in this area also have USB ports to charge electronic devices.
The bath is also located in the rear of the coach. A foot-pedal-flush toilet comes standard, and the solid-surface vanity encases a flush-mounted sink. An attractive overhead medicine cabinet is fitted with a wide mirror. The
fiberglass shower stall is topped by a large skylight to bring in plenty of ambient light.
The cockpit is trimmed up a bit from the standard Ford Transit Van layout. The cab floor is upgraded with double heat and sound insulation for a quieter, more comfortable ride. Power door locks on the cab doors can be controlled by a key fob. A One Key system uses a single key for the coach entry door and the storage compartments, eliminating that big wad of keys in your pocket. Power windows, dash air conditioning, and the factory AM/FM radio are all standard. The aerodynamic cab-forward area overhead is fitted with an array of storage cabinets.
Utilities
A 30,000-Btu propane furnace heats the interior; a 15,000-Btu roof air conditioner cools things down on hot days and its heat pump can provide additional warmth when it's cool outside. The motorhome's 6-gallon propane water heater is equipped with direct-spark ignition. An outside shower is located in its own dedicated compartment. A 3-inch gravity dump is included as a backup.
In terms of electrical needs, 120-volt-AC is supplied via a 30-amp shore power cord or an optional Onan 4,000-watt generator. A pair of optional solar panels provide a bit of battery charging power for the two 6-volt deep-cycle batteries; a 2,000-watt inverter supplies AC power to key receptacles in the coach.
The TRX includes a 25-gallon fresh-water tank; holding tank capacities are 23 gallons and 25.5 gallons for gray and black water, respectively. A 42-pound propane tank is provided.
Final Impressions
The Phoenix TRX B+ motorhome boasts the same quality as its sibling, the full-fledged Phoenix Cruiser. The TRX is just a bit smaller, and built on a different chassis. It is designed for two people who want to travel in a well-equipped RV that can transport them most anywhere they want to go without the need to tow another vehicle. With a real bed and a fully equipped dry bath, plus a complete galley and other upscale features, the Phoenix TRX is bound to satisfy RVers who wish to stay small without having to give up the premium amenities found in many larger RVs. In addition, a variety of options are available for customers to personalize the coach to their liking. With one of the highest customer satisfaction ratings in the industry, Phoenix Cruiser and its TRX may be a desirable choice for many.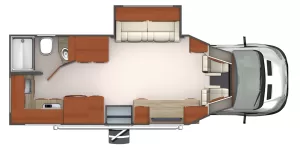 SPECIFICATIONS | PHOENIX TRX
MANUFACTURER
Phoenix USA RV, 3504 Cooper Drive, Elkhart, IN 46514; (574) 266-2020; www.phoenixusarv.com
MODEL
2023 TRX
FLOOR PLAN
1781
CHASSIS
Ford 350HD Transit
ENGINE
3.5-liter V-6 Ford Ecoboost; 310 horsepower at 5,000 rpm; 400 pound-feet torque
TRANSMISSION
10-speed automatic
AXLE RATIO
3.73 to 1
TIRES
LT205/75R16
WHEELS
solid aluminum
WHEELBASE
178 inches
BRAKES
4-wheel antilock disc
SUSPENSION
front ― independent MacPherson strut;
rear — leaf spring
ALTERNATOR
(2) 250 amps each
BATTERIES
chassis —  (2) AGM, 70 amp-hours each;
house —  (2) 6-volt deep-cycle
ELECTRICAL SERVICE
30 amps
AUXILIARY GENERATOR
Onan 4,000-watt
EXTERIOR LENGTH
25 feet 3 inches
EXTERIOR WIDTH
97 inches
EXTERIOR HEIGHT
9 feet 8 inches with A/C
INTERIOR HEIGHT
6 feet 4 inches
GROSS COMBINATION WEIGHT RATING (GCWR)
15,000 pounds
GROSS VEHICLE WEIGHT RATING (GVWR)
11,000 pounds
GROSS AXLE WEIGHT RATING (GAWR)
front — 4,630 pounds;
rear — 7,275 pounds;
OCCUPANT & CARGO CARRYING CAPACITY (OCCC)
approximately 1,000 pounds
FRESH WATER CAPACITY
25 gallons
HOLDING TANK CAPACITIES
gray water — 23 gallons;
black water — 25.5 gallons
PROPANE CAPACITY
42 pounds
FUEL CAPACITY
25 gallons
FUEL REQUIREMENTS
gasoline
WATER HEATER
6-gallon propane, electronic ignition
HEATING SYSTEM
30,000-Btu furnace
AIR-CONDITIONING
15,000-Btu unit with heat pump
REFRIGERATOR
5.3-cubic-foot 3-way (12-volt-DC, 120-volt-AC, propane)
TOILET
Sanimarin electric macerating toilet
WARRANTY
chassis — 3 years/36,000 miles;
powertrain — 3 years/36,000 miles;
coach — 1 year/12,000 miles, limited
BASE SUGGESTED RETAIL PRICE
$193,870
PRICE AS REVIEWED
$206,213