A new motorhome based on the Ram ProMaster chassis joins the stable of Type B models produced by this Ontario, Canada, manufacturer.
By Lazelle Jones
November 2015
Engineers at Roadtrek Motorhomes are among the first in the RV field to design and build on the new Ram ProMaster chassis. The result: the gasoline-powered Type B Zion motorhome.
Granted an opportunity to test a 2016 Zion along the Alaska Highway this past summer, I took delivery of my review unit at Trailblazer RV in Edmonton, Alberta. I quickly became up to speed on the utility and functionality the Zion offers.
The ProMaster chassis incorporates some innovative design features of its own. These include a non-ladder rail (unibody construction) and a high-efficiency, transversely mounted V-6 gasoline engine coupled with a six-speed electronic transmission. This combination delivers 280 horsepower and 360 pound-feet of torque to the front-wheel-drive power train. This departure from a conventional ladder/rail chassis design, which requires rear-wheel drive, permits Roadtrek engineers to do two things with the Zion.
First, as noted, the ProMaster chassis does not employ rear-wheel drive, which requires a transmission, driveshaft, and rear differential to deliver the power generated from the engine. Therefore, its unibody construction allows for an interior floor that is 6 inches lower than would be possible with a conventional ladder-rail chassis. The exterior roof line is also lower. This is achieved without sacrificing interior height.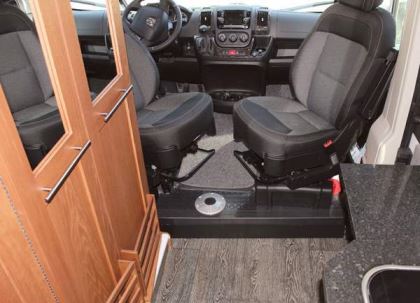 Lowering the overall exterior height and profile also reduces the drag coefficient. This plus the angled front exterior roofline (overall exterior height with the roof air-conditioner is 9 feet 5 inches) allows airflow to move across and around the front of the Zion with less resistance, enhancing road stability.
A second advantage of this chassis design is that the front-wheel-drive power train significantly improves fuel economy. This was borne out while driving the Zion almost 2,000 miles along the Alaska Highway.
The motorhome fuel tank was filled in Grand Prairie, Alberta, which served as the starting point to calculate fuel economy; additional fueling occurred several times on the way to Anchorage, Alaska. The average fuel economy for the entire odyssey came in at exactly 20 mpg. This included both highway driving and all the poking around that was done during the trip.
The ProMaster chassis' computer system calculated fuel economy, along with distance traveled and travel time. The system even incorporates a fuel savings calculator that permits the operator to enter actual fuel prices encountered at the pump.  It also can determine the remaining distance that can be traveled until the fuel tank is empty. The data can be programmed as kilometers/Celsius or miles/Fahrenheit. A dash instrumentation annunciator notifies the driver about icy road conditions.
Unfortunately, I did not weigh the motorhome at the beginning of the trip. Once I was on the road, only commercial weigh stations presented themselves along the Alaska Highway, so I was unable to grab weights for this coach. (Its gross vehicle weight rating (GVWR) is 9,350 pounds.
Roadtrek has maintained the integrity of the ProMaster's floor, walls, side sliding door, split rear cargo doors, and cockpit. Its exterior lines are clean and simple as well. Exterior paint colors offered include Sandstone Pearl, Silver Metallic, Granite Metallic, Bright White, and Cherry Red.
During the trip, I discovered an alarm that beeps when the cockpit seats are not turned forward and locked in the road-ready travel position. The chairs can be swiveled aft to face the salon area when the motorhome is parked. The cockpit seats also feature mechanical seat-back adjustments. Giant knobs on the sides of these chairs permit their occupants to fine-tune them to their level of comfort.  A short learning curve is all that's required to manipulate the captain's seats to meet individual preferences.
The power steering column telescopes in and out but does not tilt. The instrumentation cluster is user-friendly, with the gear selector mounted on the dash.  It offers four selections: reverse, neutral, park, and drive.  To downshift for engine braking, the driver moves the shifter from drive to the left and then up (the "minus" icon) for the next lower available gear, or down (the "plus" icon) to bring it to a higher gear. This system functions well, especially when additional engine braking is required while descending a long grade.
A cubby above the cockpit ceiling provides storage for miscellaneous items.
Company literature describes the Zion as versatile and luxurious. This Type B is a perfect fit for two adults, who can hit the highways and backroads, spend a weekend at a favorite local camping spot, and run errands around town. It is equally suitable for primitive RV camping and for RV resort stays.
Creature comforts are like those expected in many larger motorhomes. The exterior length of the Zion is 20 feet 11 inches; the interior height measures 6 feet 2 inches, with the interior aisle width at 29 inches; this facilitates bringing along bikes and like items while still having room to move around within. The interior has an airy feel with its pearl white and charcoal gray décor.
The floor plan features a rear dining area with opposing bench seats, which run parallel with the exterior walls. This rear salon area incorporates a removable table with a stainless-steel center post that is inserted in the floor. The tabletop has a dedicated location in one of the rear doors, where it slides in and out for easy retrieval and storage. Likewise, the table post has a storage clamp in the wardrobe. A second eating area for two can be used up front if the occupants prefer.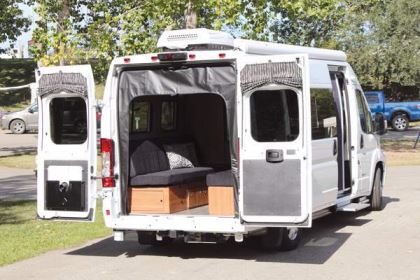 Hinged doors at the rear of the unit open from the center and swing out 180 degrees. This visually expands the interior and gives one the feeling of communing with nature. To keep out uninvited flying critters, a screen can be zipped into place to cover the opening. The windows in these rear doors are dressed with Roman shades, which lower for privacy and provide added insulation.
Below the opposing 6-foot-2-inch-long bench seats are pull-out storage drawers. Cabinets are mounted above the seats. All cabinets and drawers feature latches that lock shut for travel; when released, they provide knobs or handles for opening and closing.
The Zion's side windows are made of black-tinted glass, which provides both privacy and sun protection. Their window coverings are cleverly designed. Accordion-style and fashioned from composite material, they open and close laterally.
When nighttime arrives, the bench seats in the rear fold flat to create a spacious king-size sleeping quarter.  The street-side bench seat is 12-volt-DC-powered and can be moved from the upright to the flat position. High-density foam cushions cover the entire sleeping surface. When configured as a stateroom, this area, with its quality cushions, offers a comfortable sleeping spot. My test coach included an optional 24-inch flat-screen television, mounted on a swing-out arm that articulates into a wide range of positions, in this rear area. It was accompanied by an optional Blu-ray DVD player.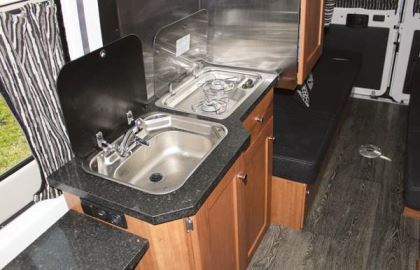 The midships galley contains a curbside cooktop and sink. The propane cooktop features two recessed burners, which are lit with a spark igniter, and a flush-mounted cover. A microwave oven and hood with power vent are located directly above the cooktop. A 36,000-Btu water heater with bypass, which eliminates the need for a hot-water holding tank, provides instant hot water to the single-basin sink. Across the aisle, the 5-cubic-foot refrigerator contains a small ice compartment inside.
Below the refrigerator is a sizable pot drawer. Immediately forward of it is a slide-out pantry that offers a surprising amount of storage.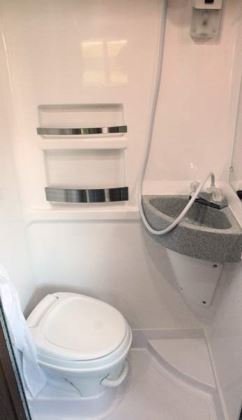 Immediately in front of the pantry is the latest revision to the state-of-the-art wet bath Roadtrek has designed and engineered over the years. It is a private enclosure that occupies minimal space. The bath hosts a marine-style toilet, a lavatory, a handheld showerhead, an interior light, and a vent. The interior side of the double finished-wood doors that cordon off the bath area are protected from shower spray by a draw-across shower curtain.
In addition to the wet bath, the motorhome is equipped with an outside handheld shower that provides both hot and cold water.
The Zion does not come with an auxiliary generator as standard equipment. This saves on the gross weight of the vehicle and preserves space, which is always at a premium in a motorhome of this size.  The coach is equipped with a single 400-amp DC house battery that is charged by the engine alternator, the optional solar panels, or when connected to shore power. The 110-volt equipment (the microwave oven, two 110-volt residential wall receptacles, the television, and the DVD) receive power via the 2,000-watt inverter.
The 11,000-Btu roof air-conditioner operates when the coach is running, when connected to 30-amp shore power, and for a short period when using solar panels. A 15-foot-long shore power cable makes that happen. When stand-alone camping puts the house battery in a discharged condition, the engine can be started and run until the alternator recharges it.
The Zion is equipped with a 16,000-Btu propane-powered forced-air furnace with a digital thermostat (located in the bedroom area). The furnace brought cabin temperatures up to the desired comfort level quickly on a couple of chilly mornings while I traversed the Yukon Territory. Although the motorhome was connected to 30-amp shore power each night, I had no need to operate the air conditioner; this was the Yukon, after all.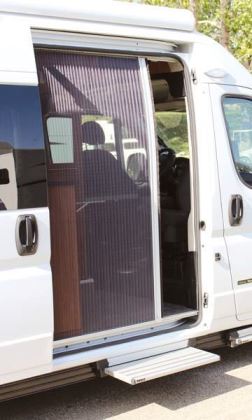 The interior is graced by LED ceiling lights, which provide maximum illumination with minimum use of DC power. The on-off switch for each ceiling light is not linked to a master switch; each is operated individually by touching and pushing the lens on the light itself. A monitor panel above the side cabin door includes a master kill switch, along with holding tank monitor indicator lights, the inverter switch, and the water pump switch.
The sliding side door that comes on the curbside of the ProMaster is nicely engineered and provides ease of entry and exit. Little effort is required to open or close the door and slide it along its rails.  For a mechanical device, this door works quietly, smoothly, and with precision.  The key fob offers three choices: it locks all doors on the coach simultaneously; it unlocks only the cockpit driver and passenger doors; or it unlocks the side sliding door and the two rear doors.
Using the same technology that is employed with the accordion privacy curtains in the bedroom area, an accordion-style screen on a track pulls across the cabin's side entry when occupants desire fresh air.
The 2016 Zion is available for a base manufacturer's suggested retail price (MSRP) of $87,906 (U.S.). My test unit included these options: 12-volt 280-amp under-hood generator, screen package, 24-inch HD TV with rotating bracket and Blu-ray DVD player, power steps for front cabin doors, and 200-watt solar panel. Its as-tested MSRP came to $96,044 (U.S.).
SPECS
MANUFACTURER
Roadtrek Motorhomes Inc., 100 Shirley Ave., Kitchener, ON N2B 2E1; (888) 762-3873, (519) 745-0711; www.roadtrek.com
MODEL
Zion
FLOOR PLAN
Standard Side Facing Power Sofa
CHASSIS
Dodge Ram ProMaster 3500
ENGINE
3.6 liters, V-6; 280 horsepower at 360 pound-feet torque
TRANSMISSION
automatic 6-speed
AXLE RATIO
3.86 to 1
TIRES
LT225/75R 16E
WHEELS
16-inch aluminum, polished
WHEELBASE
159 inches
BRAKES
antilock 4-wheel disc
SUSPENSION
front — MacPherson strut
rear — torsion beam, leaf
SHOCK ABSORBERS
OEM stock
STEERING
power with telescopic wheel
ALTERNATOR
220 amps
BATTERIES
chassis — (1) 800 amps;
house — (1) 400 amps
ELECTRICAL SERVICE
30 amps
AUXILIARY GENERATOR
2.8-kw Onan gas or 3,500-watt under-hood, engine-mounted; both optional
EXTERIOR LENGTH
20 feet 11 inches
EXTERIOR WIDTH
6 feet 11 inches (without mirrors)
EXTERIOR HEIGHT
9 feet 5 inches (with roof A/C)
INTERIOR HEIGHT
6 feet 2 inches
GROSS COMBINATION WEIGHT RATING (GCWR)
11,500 pounds
GROSS VEHICLE WEIGHT RATING (GVWR)
9,350 pounds
GROSS AXLE WEIGHT RATING (GAWR)
front — 4,630 pounds;
rear — 5,291 pounds
OCCUPANT & CARGO CARRYING CAPACITY (OCCC)
1,250 pounds
INSULATION
multi-level
FRESH WATER CAPACITY
36.3 gallons
HOLDING TANK CAPACITIES
gray water — 22.8 gallons
black water — 9.6 gallons
FUEL CAPACITY
24 gallons
FUEL REQUIREMENTS
gasoline
PROPANE CAPACITY
7 gallons
WATER HEATER
on demand, Girard 3.6 Insta-Hot, 36,000 Btu with bypass
WATER SYSTEM
demand
HEATING SYSTEM
16,000 Btu
AIR CONDITIONING
(1) 11,000 Btu, roof mounted
REFRIGERATOR
5 cubic feet, 12-volt
TOILET
marine
WARRANTY
coach — 6 years/unlimited miles; Peace of Mind motorhome warranty covering manufacture, appliances, electronics, plumbing, EcoTrek batteries (see website for additional info);
chassis — 5 years/100,000 miles powertrain, limited; 3 years/36,000 mile bumper-to-bumper, limited
BASE SUGGESTED RETAIL PRICE
$87,906 U.S.
PRICE AS TESTED
$96,044 U.S.