A look at the ultimate home on wheels as crafted by this Sanford, Florida, custom converter.
By Chris Dougherty
June 2014
When you are into RVing the way this author is, you can't help but dream. I have often dreamed of conversion coaches … RV art built into the ultimate platform for camping nirvana. Not long ago, I couldn't even imagine driving one. Then I met Evelyn and Nelson Figueroa and their team at Millennium Luxury Coaches, along with the Prevost design and sales team, at the Florida RV SuperShow in Tampa this past January. I came away knowing much more about the conversion coach side of the RV industry, and also learned what happens when two people bring their own dream to fruition. The result is a company that is arguably building some of the nicest conversion coaches on the planet.
Millennium was founded in a storage unit back in 2001. Nelson, an avionics and marine electronics expert, and Evelyn, a trauma nurse, set out to build and renovate conversion coaches, enlisting a handful of people to work with them. "I initially signed up to run a service shop," Evelyn said as we sat among two completed — and sold — coaches and an empty Prevost shell at the Tampa RV show. "The rest is history," she added.
Nelson, always a hands-on guy "who likes to break things, then make them work better," noted that he is fortunate to have Evelyn as his partner. "She is the strength and the brains behind everything," he said, as we approached a 2015 H3-45 quad-slideout conversion.
I was amazed by the coach's exterior paint, the result of 1,200 man-hours of work. The finish seems smoother than glass, resembling a three-dimensional pool that one could sink one's hand into.
Stepping Inside
If the exterior doesn't get you, the interior will. This coach is handsomely appointed throughout. Driving comfort also is well looked after, and the well-equipped driver's compartment is replete with technology, a Millennium hallmark.
The driver and passenger seats are covered in cream leather, with genuine stingray hide in the center. The driver's seat is mounted on an ISRI air-ride, eight-way-adjustable base, with air controls, massage, and heating and cooling capabilities.
The custom-molded fiberglass dashboard is clad in leather, with double baseball stitching. Custom burl-wood dash panels match up with the "Smart Wheel" steering wheel, which also features inlaid burl wood.
The instrument panel could be straight out of a Citation jet. Gauges and controls are smartly placed. The parking brake control is out of the way and well-protected. A permanently mounted iPad interface on the dash gives the client full control over all coach systems, weather information, and navigation; the combination GPS and stereo unit is mounted just above and has a retractable screen. In addition, a 40-channel CB radio is installed in the dash above the heating and air-conditioning controls. Electric sunscreens and privacy shades can be controlled at each seat position and via the Savant system (more about that later).
The Smart Wheel interface controls many of the coach's important driving features. An LCD screen, mounted on the left-side A-post, is connected to a series of external cameras. It activates along with the coach's turn signal and also operates a pan-and-tilt camera on the rear.
In the coach I toured, browns and tans are the primary colors, accented with cream ceilings. Granite and exotic tile are commonplace. A central free-form ceiling fixture is adorned with brass and concealed LED lighting. The furniture is covered in brown leather and includes a breakfast bar, a sofa, and a Euro-lounger with ottoman. Technology surrounds occupants, including a 55-inch LED high-definition television in the salon area, which lowers from the ceiling via a mechanism designed for use in a marine environment, so no squeaks or rattles are detectable.
The galley and salon have plenty of space, thanks to opposing slideouts. The galley is well-equipped, but appliances are hidden behind handmade cabinetry adorned with Exotic Rift Oak veneer and Swarovski crystal drawer pulls.
All coach countertops are lightweight granite, created by milling the granite and laminating it to a composite backer for strength. Above the cooktop is a concealed microwave-convection oven with a vent hood.
Lighting in the Millennium is well thought out, including indirect task lighting in the galley. The sink is an exclusive touch: a Franke stainless-steel BBX160 with an attached stainless-steel bowl and strainer; a salad spinner is available as an accessory. A custom tile backsplash with a built-in pre-plumbed coffee maker and a concealed paper towel holder finish off the countertop area nicely.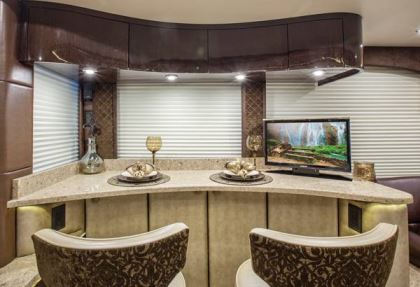 Next to the counter is a full-size residential refrigerator-freezer with ice and water dispenser. The front of the appliance is sheathed in custom matching Rift Oak, with an arched, mirrored glassware cabinet on the forward side. The cabinet below the sink provides ample storage and includes a built-in Fisher & Paykel drawer-style dishwasher.
Across from the galley, the coach contains a two-stool breakfast-bar-style dining area that faces the large picture-sized windows in front of and to the left of the bar. Press a button and a monitor pops up through the granite to reveal a Mac Mini computer system, which is tied in to the entire coach. Without question, this is a coach built for two, as there is no option for additional diners; however, other floor plan options can fit clients' diverse needs, of course.
The lavatory is designed to make this most personal of tasks, well, pleasant. A Headhunter water-jet macerating, anti-fume toilet with three flush cycles for water conservation is equipped with a built-in bidet, cleaner, and dryer with both pressure and temperature control. A custom heated toilet seat provides comfort on chilly mornings. The toilet, like everything else in this coach, is tied in to the electronics system, so it can be flushed from 2,000 miles away should the client desire to do so. Speaking of chilly mornings, the heated porcelain tile floor in the lavatory and hall keeps the comfort level at its peak.
The shower is striking. Lightweight granite walls with inlaid tile and a glass mosaic are accompanied by a single-handle antiqued faucet and a movable shower head. The granite counters, with concealed LED lighting and a recessed sink, provide plenty of room to spread out beneath mirrored vanities. A full-size stackable washer and dryer complete the lavatory.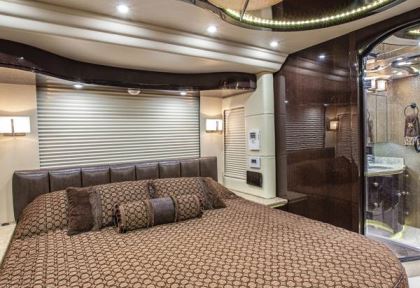 The rear stateroom is fit for a king … and a king-sized memory-foam bed with granite bedside tables. The ceiling has a mirrored fixture, as do the salon area and the lavatory, replete with recessed LED lighting and a central pendant light. Full control of the coach is possible from the wall next to the bed, with an iPad, HVAC control, and a doorbell and intercom system. This space also features the Rift Oak-veneered cabinetry, with its rich, mirror-like finish. The stateroom can be separated from the rest of the coach via doors that operate mechanically with the push of a button, straight off the starship Enterprise. Movies or programs are easily viewed in this room, thanks to the 40-inch Samsung Smart LED TV, which is controlled by the iPad next to the bed. The closet finishes off the rear of the coach with ample storage drawers and a digital safe.
Speaking of entertainment, there is no lack of it in this Millennium coach. The three LED TVs are controlled through the Savant HDMI switching system. The salon area includes a Bose Lifestyle 35 surround-sound system with an iPod and iPhone docking station, and a Bose 321 system is positioned in the stateroom. All TVs have Blu-ray players and are tied in to the standard King-Dome in-motion and Winegard stationary satellite TV antenna systems. A stationary marine-grade full-digital off-air antenna picks up local channels.
Systems
The coach is equipped with a Lutron Home Works coach automation control system with Savant interface and remote diagnostic capabilities. "Lutron is the heart of our coach," Nelson said, citing the system's 8-year warranty, customer service network, commitment to innovation, and reliability.
The Savant interface is an Apple-based system that enables detailed and precise control of many of the coach's systems via iPads located throughout the vehicle; by accessing the integrated Mac Mini computer on any of the TVs; or via an iPhone or other compatible device. The Savant system is Internet-accessible from anywhere in the world, allowing the client to do everything from checking the coach's integrated security cameras and digital video recorder system to controlling the temperature and, as noted earlier, even flushing the toilet. All audiovisual components are tied in to the Savant system and can be controlled by the iPads. The system is again integrated with the Mac Mini and Apple TV, allowing that content, and any iTunes content the owner may have, to be enjoyed on any component in the coach's A/V system. The user interface is designed to be thorough but simple and easy to use. "We want an owner who hasn't been in the coach for a while to be able to step inside and operate everything," Evelyn explained.
Why incorporate both the Lutron and Savant systems? "The reason for both is that we are using each system in the area each is best at: Lutron for lighting and coach operations and Savant for audio-video, iPad interface, energy and power monitoring, and signal switching controls," Nelson explained.
The Millennium has a Wi-Fi hot spot cellular Internet access system with a built-in 4G hot spot cellular amplifier for around-the-clock Internet access, plus access to all coach systems from anywhere an Internet connection is available. This also allows factory technicians to connect to the coach systems remotely to perform diagnostics should a problem develop.
Electrical and plumbing systems are assembled with high-quality components, with a number of redundancies built in to minimize inconvenience and downtime should a malfunction occur. The company incorporates many marine-grade components, such as tin-plated stranded wiring, to insure that problems won't occur from vibration or corrosion.
Besides being equipped with a nearly silent 20-kw Powertech generator, the Millennium has four 24-volt-DC inverters, totaling an astounding 14,000 watts of inverted AC capacity. To supply the system, the coach is equipped with eight 4D AGM deep-cycle batteries; the chassis has four Group 31 batteries, charged by four 120-amp alternators. The generator is equipped with a Millennium-engineered auto-start system that can power up the unit from either the house or chassis batteries; it will automatically start the unit in the event of power loss, then e-mail the client that it has done so.
A 100-amp transfer switch ensures that switching between various power sources is completed smoothly; it is connected to an 85-foot shore-power cord wound on a Glendinning reel with remote control.
Illumination throughout the coach is provided by a thoughtfully designed array of dimmable LEDs. The lighting is controlled through the Lutron system of wall switches and the Savant system iPads. The LED lighting is installed within the coach's window frames, under countertop edges, and on all cabinet toe kicks.
As can be expected, Millennium designers have not skimped on interior comfort. Four 15,000-Btu roof-mounted heat pumps can be controlled through the Savant system's iPad controls as well as the wall-mounted thermostats. The heat pumps also are equipped with heat strips to widen their cool-weather capabilities. When the outside temperature dips, a 65,600-Btu Aqua-Hot 600D heater takes over; it can provide 4,000 watts of electric heating elements should the client wish to avoid using diesel. Toe-board and compartment heat exchangers are located throughout the coach, as are strategically placed 120-volt-AC thermostatically controlled ceramic heaters. Again, temperature settings are Web-accessible, and the coach will send an e-mail to the client should the interior temperature reach 100 degrees. The system can be programmed to a set high or set low alert.
Keeping the coach level is effortless with Millennium's one-touch avionics leveling system, which measures the pitch, roll, and yaw of the coach with the Prevost independent front, left-rear, and right-rear suspension system.
Exterior bays are cavernous, providing 271 cubic feet of carpeted, LED-lit storage space. The enclosed holding tanks consist of a 165-gallon stainless-steel food-grade fresh water tank, and polyurethane black and gray water holding tanks, at 80 and 90 gallons, respectively. The holding tanks are also connected to the Savant system; the coach will send the client an e-mail alert if fresh water is low or holding tank levels are high.
Water is provided through a 110-volt-AC jet-pack water pump, with a 12-volt-DC backup water pump, and is connected through a pressure tank for more efficient operation. The service bay, lined with stainless-steel panels, is equipped with a 1,450-psi 110-volt pressure washer with a 75-foot, 3,000-psi hose mounted on a reel. The pressure washer has a built-in water deionizer to ensure a spot-free rinse when cleaning is completed.
On The Road
The Millennium handles remarkably well, as one would expect of a commercial-grade Prevost coach designed to give a professional driver a good ride for 40 hours per week. This unit is powerful, with almost no audible noise; conversations happen easily among passengers. The steering and acceleration response are excellent, and the wheel cut allows for an amazingly tight turning radius. Very tight turning of the coach can do a job on the tag axle's tires, so a switch on the dash makes it possible to lift the tag to keep it from dragging.
Open highway driving is as easy as it gets. Once this coach hits its stride, the drive is relaxing. Off the highway, it's a little more obvious that you're driving a vehicle more than 13 feet high and 45 feet long. Since the Millennium is equipped to tow up to 20,000 pounds, you could have a sizable trailer along for the ride, too.
Millennium Luxury Coaches is a company built on dreams and hard work, crafting custom coach conversions that are the dreams of those who have worked hard. It shows in every detail.
SPECS
MANUFACTURER
Millennium Luxury Coaches, 1601 Dolgner Place, Sanford, FL 32771; (877) 322-0190; www.millenniumluxurycoaches.com
MODEL
2015 H3-45, S4
CHASSIS
Prevost H3-45
ENGINE
EPA US10-compliant Volvo D13, 500 horsepower, diesel-particulate filter (DPF) and selective catalytic converter (SCR), 1,750 pound-feet torque
TRANSMISSION
Allison World 4000 MH 6-speed automatic
TIRES
drive axle — Michelin 315/80R22.5;
front and tag axle — Michelin 365/70R22.5
WHEELBASE
316.12 inches
BRAKES
all disc with ABS
SUSPENSION
independent suspension system; front and drive axle sway bars; integrated pneumatic level-low leveling system; liftable tag axle
STEERING
tilt and telescopic steering wheel; ZF variable-assistance power steering; electronic stability control
ALTERNATOR
(4) 24 volts/120 amps each
BATTERIES
house — (8) AGM maintenance-free;
chassis — (4) deep-cycle Group 31
INVERTERS
(4) 3,500-watt Outback 24-volt pure sine wave; 4 inverter disconnects with marine-grade switches, 2 manual inverter bypass switches
ELECTRICAL SERVICE
50 amps
AUXILIARY GENERATOR
20-kw Powertech ultimate turbo generator with gauged air bag suspension
EXTERIOR LENGTH
45 feet
EXTERIOR WIDTH
102 inches
EXTERIOR HEIGHT
13 feet 4 inches
INTERIOR HEIGHT
6 feet 6 inches
GROSS VEHICLE WEIGHT RATING (GVWR)
55,500 pounds
GROSS AXLE WEIGHT RATING (GAWR)
front — 19,000 pounds;
rear — 22,500 pounds;
tag — 14,000 pounds
AS-TESTED WEIGHT
(company-provided; weighed with 5/8 fuel, 1/4 water)
front — 17,900 pounds;
rear and tag — 34,400 pounds;
total — 52,300 pounds
OCCUPANT AND CARGO CARRYING CAPACITY (OCCC)
3,200 pounds
FRAME CONSTRUCTION
integral stainless steel
INSULATION
high-density bead foam
FRESH WATER CAPACITY
165 gallons
HOLDING TANK CAPACITIES
gray water — 90 gallons;
black water — 80 gallons
FUEL CAPACITY
230 gallons
FUEL REQUIREMENTS
ultra-low-sulfur diesel
PROPANE TANK
N/A
WATER HEATER
65,600-Btu Aqua-Hot, (2) 120-volt 2,000-watt electric heating elements
WATER SYSTEM
110-volt jet-pack water pump, 12-volt auxiliary water pump system
HEATING SYSTEM
65,600-Btu Aqua-Hot heater with (2) 120-v0lt 2,000-watt electric heating elements, heat pump, heat strips, radiant floor heat
AIR-CONDITIONING
(4) 15,000-Btu reverse-cycle, roof-mounted heat pump units with Savant controls, iPad controls, and hardwired thermostats; ceiling-ducted; auxiliary electric heat strips
REFRIGERATOR
22-cubic-foot residential side-by-side refrigerator-freezer with ice and water dispenser
TOILET
Headhunter water-jet, macerating, anti-fume, electric flush, water conservation system
WARRANTY
coach — 1 year/24,000 miles;
structural — 5 years/50,000 miles;
chassis — 3 years/50,000 miles
PRICE AS TESTED
$1.9 million