Introduced 30 years ago by Fleetwood founder John Crean, this Type A gasoline motorhome changed the RV landscape and continues to be popular among RV owners.
By Gary Bunzer
May 2016
Adjectives such as innovative, groundbreaking, revolutionary, and industry-changing are often bandied about in RV reviews. But true industry innovation happens less frequently. The Fleetwood Bounder can safely claim that it altered the motorized RV industry as the first raised-floor, basement-model motorhome. The Bounder grabbed immediate consumer attention as it rectified a common RV complaint: lack of storage space. Today Fleetwood motorhome brands are part of REV Recreation Group.
The Bounder model was the brainchild of Fleetwood founder John C. Crean. After becoming frustrated by frozen fresh-water plumbing during a winter RV excursion, Mr. Crean decided to create a better-functioning motorhome. He designed and built the first few prototypes of the basement-model Bounder. It was introduced in the fall of 1985.
Mr. Crean decided that function should always trump aesthetics. The raised-floor design allowed room for production workers to install the plumbing pipes and fresh-water tank in heated areas below the floor. This created the vast storage space coach owners often requested.
Initially maligned by RV dealers because of its radical look, the Bounder quickly became a customer favorite. Within a couple years of the Bounder's emergence, you'd be hard-pressed to find a coach maker not producing a basement-model floor plan. Today, the Bounder remains Fleetwood's best-selling motorhome of all time.

A few things have changed over the years. The 2016 model I recently examined was absolutely stunning — far different from the first Bounder I worked on as a service technician in 1986. This modern motorhome contains all the functionality of home wrapped in an updated design. Gone is the kangaroo logo (though a bounding 'Roo decal is still shipped with each unit). Seemingly any owner will find this coach appropriate for their RVing experience, from tailgating to extended vacationing to full-time travel.
Let's take a look at the 2016 Bounder, which was completely revamped and updated for this model year.
 Exterior Features
The review coach, a 35K, is powered by a 6.8-liter Triton V-10 Ford gasoline engine. Its 362 horses provide 457 pound-feet of torque to the drive wheels. The built-up Generation 3 Power Platform, a Fleetwood design on the Ford chassis, creates 40 percent to 50 percent more under-floor storage area than its predecessor. The 35K, in fact, features three separate pass-through storage bays.
Also new for 2016: a fresh design for the front and rear caps. Featuring LED accent lighting at the high-intensity headlamps, the front cap is in tune with traditional looks for a more universal appeal. The rear cap sleekly surrounds the tow hitch receiver and electrical connection, rather than them simply being installed below a bumper. Trim and marker lamps are LED. A rear-mounted fuel fill door facilitates refueling from either side of the coach. Previous iterations located the fuel fill behind the license plate.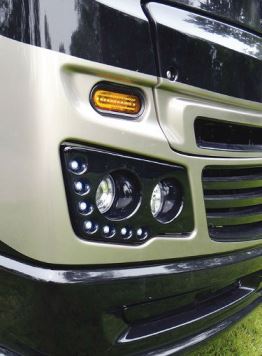 Redesigned compartment bays have insulated side-swing doors that are twice as thick for extra sturdiness; the bays are lined with a fiberglass panel for cleaning ease. New hardware adorns the compartment doors. Our review coach featured no fewer than 15 separate storage and equipment bay doors. Talk about cargo space!
The 2016 Bounder includes new graphics and paint motifs, and fresh color schemes. Buyers can choose between full-body paint designs designated Autumn Breeze, Caramel Kiss, Chocolate Malt, Glistening Slate, and Winter Haven (my review coach featured the latter). An armless electric patio awning with LED lighting adds to evening ambience.
The 2016 Bounder is equipped with 50-amp AC electrical service; a blind-spot doggy window (in later 2016 coaches); frameless dual-pane, flush-fitting windows; and heated fresh-water and waste-water holding tank compartments. The entry door features a deadbolt lock and a power step. Daytime running lamps and four-wheel hydraulic disc brakes (with ABS), 22.5-inch wheels, and four-point levelers come standard.
The expansive one-piece windshield is bonded into the front cap. Wide-sweeping wipers keep it clean. Auxiliary lighting is found in the storage bays and under the front access hood. The sidewalls are vacuum-bonded, as are the floor structure and roof. Coupled with a Fleetwood-exclusive — interlocking floor, wall, and ceiling framework — the result is a solid structure able to withstand racking and twisting as the coach moves down the highway. Buyers can choose an optional outside entertainment center that features a 32-inch LED television; a rear-mounted ladder; and a clear front protective mask.
Standard on the Bounder is an Onan 5.5-kw Micro Quiet generator. As found on our test coach, a 7.0-kw gen set is available with the optional LX Package. Also included in the LX Package: a 15,000-Btu front air conditioner with heat pump, an electric shore power cord reel, a chrome package that includes compartment door hardware and side mirrors with side-view cameras, and solid-surface countertops. A Surge Guard surge protector comes standard. A neutral loss protection feature is available as an option on the Surge Guard, which I highly recommend.
Interior Tour
As much as I was enamored by the Bounder 35K's exterior, the interior sparkled as well. The first thing I noticed was the completely redesigned, ergonomic, soft-touch dash. It incorporates large dual monitors on either side of the steering wheel. The right-hand monitor displays all stereo and entertainment functions, while the left-side monitor displays all the camera angles. All necessary control functions are within easy reach of the driver. Large, heated rearview mirrors are equipped with turn signals and cameras. I found this cockpit extremely comfortable during the test drive.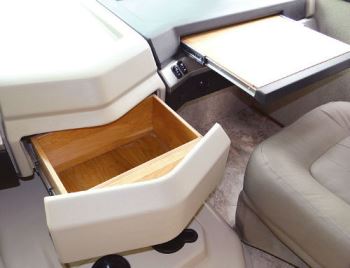 The copilot side of the dash features a nifty slideout workstation. The center section includes a sizable pull-out drawer to keep charging modules and other small devices handy yet safely tucked away. The center and right-hand sections of the dash feature a molded depression for road maps and other items.
Other cockpit conveniences include three-point seatbelts for both powered captain's chairs, which come with reclining back and slide controls; dash fans; individual roller shades; map lamps; and a powered windshield shade. The copilot's seat includes a comfy footrest. A new, low-profile fiberglass engine cover sits between the seats.

Directly above this area, an optional Hide-A-Loft P2K queen-size powered bed lowers into position. The bed has a 500-pound capacity — perfect for visiting grandkids. The bed is supported by lightweight wooden slats instead of heavy plywood. A center-mounted 32-inch LED HD television can be substituted for the Hide-A-Loft bed as yet another option.
Also new for 2016, the Fleetwood Bounder is equipped with the IllumaPlex Electronic Control System, a multizone, multitasking network that seamlessly monitors and manages operation of the slideouts, the awning, lighting functions, and other devices. Ensconced behind the hinged bedroom television, along with the control panel for the energy management system (EMS), the automatic transfer switch, etc., the IllumaPlex houses all of the 12-volt-DC fuses in one easy-to-access location. This hidden space has an adjustable shelf, providing room to mount all TV-related accessories or other stored goods. A 120-volt-AC duplex receptacle and the coax connection for the campground/antenna television signal also reside in this space.
Other electrical niceties include two 6-volt, true deep-cycle house batteries, LED lighting throughout, an AC-to-DC converter, and multiple water pump switches. Our subject coach was further equipped with the optional residential refrigerator that comes with a dedicated 2,000-watt inverter system and two additional deep-cycle batteries.
The Bounder is factory-equipped with appliances coach owners expect: a 10-gallon direct-spark water heater, twin 13,500-Btu roof air conditioners with solar panels, a 20,000-Btu forced-air furnace, and a three-burner cooktop with a convection-microwave oven mounted above. A four-door Dometic absorption refrigerator is standard if owners do not choose the residential refrigerator option.
The well-equipped curbside galley is on the immediate left as one enters the 35K. The fit and finish is immaculate. A tiled backsplash adds to the Bounder's modern décor. With an angled, stainless-steel double sink, including covers, the solid-surface countertop workspace seems just adequate. Storage space is abundant, however. Two deep drawers are mounted just below the cooktop, with another three alongside. Additional cabinet space lies under the counter. A full-height cabinet with an adjustable shelf sits at the far left of the galley. Yet another pantry, floor to ceiling, with additional drawers, is installed on the opposite side of the coach.
The refrigerator sits farther back on the passenger side. And next to the fridge, a 40-inch HDTV LED television is mounted above the optional electric fireplace. Both are set at an angle for easy viewing from the street-side sofa and dining area. A new feature for 2016 is that, like the master bedroom TV, the main television is mounted on hinges and swings out, revealing additional storage space.
Yet another shallow storage cabinet is mounted above the television. The counter below the living room TV is conveniently equipped with audiovisual plugs for displaying videos from video cameras, DVD players, and other devices. A Blu-ray home theater and sound system enhances the entertainment choices. The popular fireplace option sets the living room mood for a cozy evening watching a favorite show or movie. A satellite antenna option provides additional channels.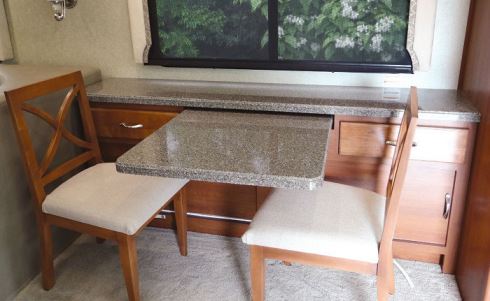 Opposite the galley, our subject coach is equipped with the freestanding dining table-and-chairs option in the forwardmost end of the street-side slideout. A workspace credenza provides storage for a home office area. A facing dinette, which makes into an additional sleeping berth, is also an option.
A residential-style, L-shaped, European-influenced sofa from Lexington Seating Corporation (also new for 2016) sits right behind the dining room space; a section expands to create another seat in the living area.
Ceiling-mounted cabinets abound. The ceiling lighting fixtures are wired to two master switches, one in the bedroom and one in the living space, to turn off all lamps by touching one button.
The first lavatory (yes, all 35-foot and 36-foot Bounder floor plans have two) is along the passenger side just ahead of the master bedroom. It offers a guest bathroom while keeping the rear master bath area private.
The queen-size bed in the master bedroom is centered within a dedicated curbside slideout, providing ample room between the bed and the dresser and wardrobe spaces opposite it. Though a large window is positioned above the headboard, I would have preferred additional windows on both sides of the slide room so residents would have an outside view while lying in bed. This is a small compromise when all the storage space inside this coach is factored in. Ample cabinets are mounted above the head of the bed.
The center dresser section features six full drawers and an emergency exit window. Flanking the dresser are two large wardrobe closets with a cabinet below each. This coach was outfitted with the optional washer/dryer combo in one of the wardrobe spaces. The aforementioned 32-inch HDTV is mounted directly above the dresser area with yet more cabinet space above the rearmost wardrobe. A large mirror graces the door of the right-hand wardrobe. If you can't find a place to hang your hat and coat in this coach, you just aren't trying!
The bed features a Dream Easy mattress and is covered with a decorative spread and complementary pillows. While the flooring in all other living areas consists of composite tile, a softer, more welcoming carpet is used in the bedroom. A padded headboard, pleated shades, and rear speakers round out the master bedroom options. A solid divider door closes off the bedroom.
All cabinets throughout the coach feature raised-wood accents, while the entire interior ceiling consists of soft-touch vinyl.
Across the very rear of the 35K is the master bath, with the shower positioned in the rear street-side corner. A shower seat is molded into the low-step fiberglass enclosure, and a skylight adds vertical inches for taller owners. Outfitted with plenty of linen/storage cabinets and drawers, the bathroom appears much larger than it actually is. A Fan-Tastic powered vent tops the ceiling.
Both toilets in this unit are Dometic low-maintenance vacuum-flush models with porcelain bowls. Each has a water-saver attachment.
The Bounder contains a 100-gallon fresh-water tank and a whole-coach water purifier. The water pump can be turned on and off from various locations — inside each lavatory as well as in the exterior water bay.
Drivabilty
On the road, the Bounder handled wonderfully despite its relatively long overhang behind the rear drive axle. The Generation 3 Power Platform allowed no fore-and-aft bucking or sway, even during tight turns. I did experience a little engine noise because of the front engine location. However, it was not unpleasant or distracting. I detected no annoying squeaks or creaking, whether driving along a two-lane country road, in town, or on a larger road.
Thanks to Fleetwood's interlocking framework at the roof, floor, and sidewall connections, the new Bounder felt sturdy, sure, and solid. I deduced that even long travel days would not be tiresome; the driver's chair adjusts to each body type, and the controls are arranged ergonomically.
2016 marks the 30th anniversary of the Fleetwood Bounder. Staying true to what the company calls the three Fs — fresh, functional, and flexible — this redesigned model is chock-full of user-appreciated enhancements. No doubt Mr. Crean would be proud of this anniversary model. Remember, RVing is more than a hobby; it's a lifestyle!
SPECS
MANUFACTURER
Fleetwood RV, a member of REV Group Inc., 1031 U.S. 224 E., Decatur, IN 46733; (800) 322-8216; www.fleetwoodrv.com
MODEL
2016 Bounder 35K
CHASSIS
Ford with Fleetwood Generation 3 Power Platform
ENGINE
Ford 6.8-liter Triton V-10; 362 horsepower, max; 457 pound-feet torque @ 3,250 rpm
TRANSMISSION
Ford 5-speed automatic with overdrive
TIRES
Michelin 235/80R 22.5
WHEELBASE
228 inches
BRAKES
four-wheel hydraulic disc with ABS
SUSPENSION
tapered multi-leaf spring
SHOCK ABSORBERS
gas-pressurized Bilstein Shocks
STEERING
TRW TAS 40 Gear
ALTERNATOR
175 amps
BATTERIES
chassis — 12-volt, 78 AH, 750-cca, maintenance-free;
house — (2) 6-volt deep-cycle, standard; (2) additional with residential refrigerator option
INVERTER
2,000-watt with residential refrigerator option
ELECTRICAL SERVICE
50 amps
AUXILIARY GENERATOR
Onan 5.5-kw Micro Quiet, standard; Onan 7-kw, optional
EXTERIOR LENGTH
36 feet 3 inches
EXTERIOR WIDTH
102 inches
EXTERIOR HEIGHT
12 feet 10 inches with roof A/C
INTERIOR HEIGHT
7 feet
GROSS COMBINATION WEIGHT RATING (GCWR)
26,000 pounds
GROSS VEHICLE WEIGHT RATING (GVWR)
22,000 pounds
GROSS AXLE WEIGHT RATING (GAWR)
front — 8,000 pounds;
rear — 15,000 pounds
OCCUPANT & CARGO CARRYING CAPACITY (OCCC)
approximately 2,300 pounds
INSULATION
solid bead foam
FRESH WATER CAPACITY
100 gallons
HOLDING TANK CAPACITIES
gray water — 58 gallons;
black water — 42 gallons
FUEL CAPACITY
80 gallons
FUEL REQUIREMENTS
gasoline
PROPANE CAPACITY
25 gallons
WATER HEATER
10 gallons, quick-recovery with direct-spark ignition
WATER SYSTEM
demand
HEATING SYSTEM
(1) 34,000-Btu, forced-air
AIR-CONDITIONING
(2) 13,500-Btu roof air conditioners with solar panels, standard; 15,000-Btu front unit with heat pump, optional LX Package
REFRIGERATOR
12-cubic-foot Dometic with ice maker, standard; residential refrigerator, optional
TOILET
(2) Dometic porcelain with vacuum-flush
WARRANTY
coach — 12 months/15,000 miles, limited;
structural — 36 months/45,000 miles;
BASE SUGGESTED RETAIL PRICE
$137,025
PRICE AS TESTED
$154,497
2017 Bounder
This article was in the final stages of preparation as FMCA's 93rd Family Reunion took place in Perry, Georgia. While there, I had an opportunity to tour the brand-new 2017 Fleetwood Bounder 36Y, which was being shown to consumers for the first time. The 36Y floor plan, itself new, reflects several updates and upgrades for the 2017 model year that are being incorporated throughout the entire Bounder line.
Perhaps most notable are the number of options on the 2016 Bounders that are now standard features for 2017: exterior entertainment center; electric fireplace; residential refrigerator; dual flat-panel monitors for bunk-bed floor plans; driver-passenger center pedestal table; clear front mask; satellite radio; manual roller shades; facing booth dinette; and neutral loss protection (Surge Guard).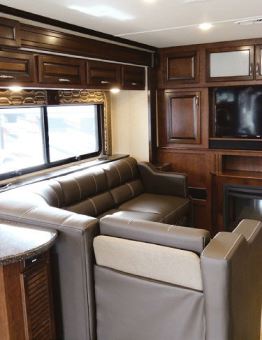 Several interior decors are also new, titled Eclectic Bronze; Mesa Granite; and, in the display unit, Redwood. Two wood choices have been added as well: Autumn Wheat and a rich, dark Nottingham Cherry, the latter featured in the 2017 Bounder on display in Perry. In addition, small tweaks have been made to the exterior graphics.
Inside the 36Y, I was struck by the spaciousness created by opposing slideouts. An L-shaped lounge in the living area gives a cozy feel; one end tucks in for travel when the slideouts are retracted. An angled, freestanding lounge chair on the street side makes another inviting relaxation spot. In the rear bedroom, a third slideout nestles the queen-size bed; across from it is a wardrobe with large drawers, plus a louvered-door cabinet that conceals an optional washer-dryer combo.
The 2017 Bounders are expected to arrive on dealer lots by early May.