The new 29VE floor plan makes family travel easy in this Type A motorhome, with a full-wall slideout, seatbelts for seven, and an available extra sleeping berth.
By Mark Quasius, F333630
The name Winnebago has long been synonymous with motorhomes. In fact, the company's reputation is so established that many non-RV owners refer to any motorhome as a Winnebago. The company excels at putting innovative features into its products, and the 2017 Vista is no exception.
The family-friendly Vista 29VE comes with seven seatbelts and up to four sleeping areas. Measuring 30 feet 3 inches long, the 29VE provides maneuverability for getting into tight spaces, yet offers quite a bit of living space.
Now, the 29VE is one of the newest floor plans in Winnebago's gasoline-powered Type A lineup. Six Vista floor plans currently are available. Customers can select from 27-foot to 32-foot lengths and, depending on floor plan, can choose bunk beds, a U-shaped dinette, and queen- or king-size beds, among other features.
The Vista 29VE that I reviewed was equipped with a full-wall slideout, a powered overhead cockpit bed, and a Tailgate Package with an outside kitchen.
Chassis And Construction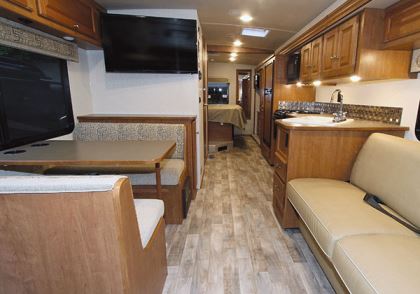 First, the Vista is built on the Ford F-53 chassis, with a 190-inch wheelbase. A 320-horsepower 6.8-liter V-10 engine sends power through a six-speed TorqShift automatic transmission and is supplied by an 80-gallon fuel tank. Its 245/70R19.5 load range G tires are mounted on steel wheel rims fitted with a stainless-steel trim package. Automatic hydraulic leveling jacks provide stability and leveling when parked.
As is the case with all Winnebago motorhomes, the Vista incorporates the company's own SuperStructure construction technology. Among its features: a crowned, one-piece fiberglass roof; a structural extruded aluminum framework; Thermo-Panel sidewalls composed of layered fiberglass and high-density block foam insulation; interlocking joints connecting the floor, sidewalls, and roof; steel sidewall substructures on which to anchor cabinets and appliances.
The Vista 29VE's gross vehicle weight rating (GVWR) is 18,000 pounds; the occupant and cargo carrying capacity (OCCC) of this motorhome was stated at 2,069 pounds on its information placard. Loaded with full fuel, water, propane, and the driver, it crossed the scales at 16,560 pounds. This still leaves a respectable cargo carrying capacity. The 7,000-pound-rated front axle and a 12,000-pound-rated rear axle had actual weights of 5,620 pounds and 10,940 pounds, respectively.
Exterior
Outside, the Vista is finished in a high-gloss fiberglass, with a choice of two graphics packages: Solar Flare, which my test unit featured, and Indigo. Large exterior compartments provide plentiful storage for travel gear and are secured by paddle-style latches with dual latching points. The patio area is sheltered by a 17-foot power patio awning that is equipped with LED lights and an optional 40-inch HDTV and exterior speakers. Power entry steps, slideout toppers, and LED taillights are all standard.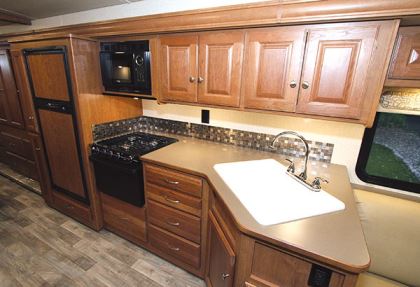 The test unit also came with the optional Tailgate Package. It provides a handy outdoor kitchen on the patio side of the coach, near the rear. A large, top-hinged door is supported by two-stage gas struts, which allows the cover to halt at the halfway point to prevent it from striking the person while it is being raised. Once fully raised, the cover provides overhead protection and exposes a well-designed kitchen area that features a small galley counter with a stainless-steel sink, plus storage below. A refrigerator and an ice chest (with drain plug) accommodate cold or frozen food and beverages, and additional storage space handles everything else you'll need for outdoor food preparation. There's even a silverware tray, trash bag and paper-towel holders, and a wall-mounted bottle opener.
The Tailgate Package also includes a portable stainless-steel gas grill with a folding stand. The grill stows away in the basement storage area. When it's time to cook, the grill is placed on the stand near the rear of the coach, where a quick-disconnect valve, located behind a small hatch cover, supplies propane to the grill from the coach's 18-gallon tank.
Interior
The Vista's cockpit area is comfortably designed for long drives. The six-way driver seat with a Versa seat pedestal easily swivels past the steering wheel to face the rear, joining the living area when the coach is parked at a campsite. The copilot seat swivels rearward as well. Heated power mirrors and a tilt steering wheel are standard. The center dash holds a Pioneer entertainment system, which includes a radio, a DVD/CD player, and connection points for an iPod or MP3 player. A 6.2-inch LCD touch screen handles user interaction and doubles as a monitor to display the rear backup camera. Cup holders and snack holders are found atop the engine cover as well as in the dash and to the driver's left side.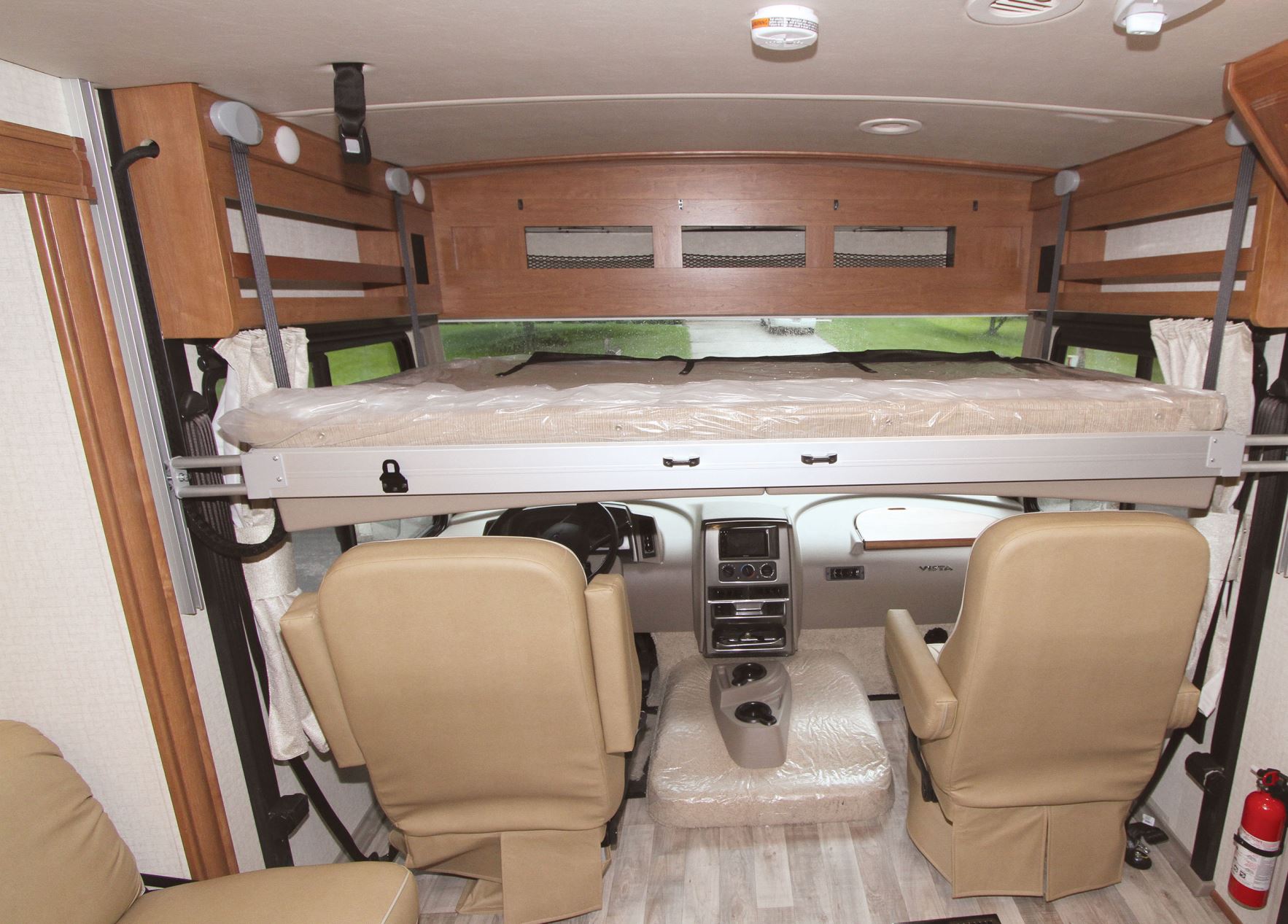 The copilot's position includes a flip-over table in the dash that makes a handy surface for a laptop or reading material. A storage area beneath the table, which is exposed once the table is open, is fitted with a 12-volt power receptacle and a USB port to interface with the entertainment system.
The Vista is available in four décor options; this particular coach featured the Rockslide package. Honey Cherry veneer cabinets and vinyl flooring are standard. The entire interior is fitted with MCD blackout roller shades. The powered cockpit windshield privacy shade also can be used as a sun shade during travel. LED interior lights minimize power draw and give off less heat than incandescent or fluorescent lights.
The 29VE floor plan incorporates a large, full-wall slideout on the driver's side. This slide contains a sofa bed, the galley, the refrigerator, and the wardrobe portion of the bedroom. Extending the slideout creates plenty of floor space.
To provide an additional sleeping area, the test coach contained Winnebago's optional StudioLoft bed over the cockpit seating. So, a power lift raises this bed to the ceiling, creating plenty of headroom for the pilot and copilot when on the road or when the bed otherwise is not being used. When coach occupants are ready to retire, a press of the button lowers the StudioLoft bed to a height just above the cockpit seats. The roomy 48-inch-by-80-inch bed is equipped with a short ladder for ease of access. The bed can accommodate a person up to 6 feet 6 inches tall and is rated at 600 pounds.
The galley contains a stainless-steel double sink set at an angle, a three-burner range with oven, a two-door propane-electric refrigerator-freezer, a pantry to the rear of the refrigerator, an overhead microwave oven, and a nonpowered roof vent. Countertops here, as in the bathroom, are laminate and accompanied by a decorative backsplash.
The curbside booth dinette, with under-seat storage, makes into a 42-inch-by-66-inch bed. Just aft of the dinette is a pantry.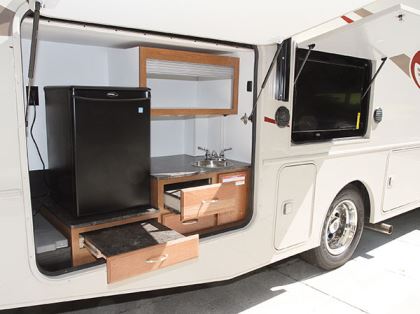 Opposite these structures is the galley work area and a sofa that converts to a 40-inch-by-66-inch bed. A 40-inch HDTV is mounted above the dinette for easy viewing from other positions in the living area.
The bath, on the curb side, contains a power roof vent, a vanity sink, a pedal-flush toilet, and an oversized shower with a textured glass door and a skylight.
The 29VE's rear bedroom features a 60-inch-by-75-inch queen-size bed with storage below and plenty of space on both sides for ease in making it or for climbing in and out. Additional storage is offered in various cabinets, drawers, nightstands, and a large wardrobe. An optional 24-inch HDTV was placed opposite the foot of the bed. Also, another power vent fan is located overhead. The rear wall incorporates a large emergency egress window.
Utilities
Electrical power to the Vista comes from two Group 24 deep-cycle batteries, a 30-amp shore power connection, and a Cummins Onan 4.0-kw MicroQuiet gas generator. An optional 1,000-watt inverter (a mandatory option with the Tailgate Package) provides power to the exterior refrigerator and entertainment system as well as a number of receptacles located in convenient spots throughout the motorhome.
Heating and cooling needs are met by a 30,000-Btu low-profile propane furnace and a 14,800-Btu rooftop air conditioner equipped with a ChillGrille louver system to provide fast cooldowns.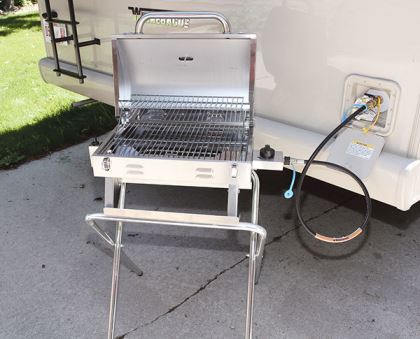 Domestic hot water is supplied by a six-gallon DSI propane-electric water heater. The fresh-water tank holds 70 gallons. The gray-water and black-water tanks hold 61 gallons and 40 gallons, respectively.
The base price of the Vista 29VE is $108,360. The suggested retail price of my test coach was tagged at $113,829, with the following options: exterior TV entertainment center; 1,000-watt AC-DC inverter; StudioLoft bed; bedroom TV; Tailgate Package.
Overall Impressions
The Vista 29VE hits the target for an affordable, value-packed coach that can handle large families. The overhead cockpit bed is large enough for two adults; this gives RVing families who need extra sleeping spots a Type A motorhome option, in addition to Type C motorhomes that typically accommodate more passengers.
The Vista's 30-foot length made the coach quite maneuverable and able to navigate at fuel stops and campsites with ease. The exterior Tailgate Package is perfectly suited for entertaining at the big game or just for hanging out in the campground and enjoying the great outdoors.
I believe this Type A coach will be a great choice for families who want to step into motorhome travel in a reasonably priced, featured-packed RV.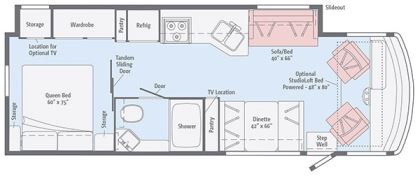 SPECS
MANUFACTURER
Winnebago Industries Inc., P.O. Box 152,
Forest City, IA 50436;
(641) 585-3535;
www.winnebagoind.com
MODEL
2017 Vista
FLOOR PLAN
29VE
CHASSIS
Ford F-53
ENGINE
Ford 6.8-liter V-10; 320 horsepower at 3,900 rpm; 460 pound-feet torque at 3,000 rpm
TRANSMISSION
TorqShift 6-speed automatic with tow-haul
AXLE RATIO
4:3 to 1
TIRES
245/70R19.5 load range G
WHEELS
Steel rims with stainless-steel trim
WHEELBASE
190 inches
BRAKES
Front — antilock disc;
Rear — disc;
hydraulic-hydroboost with four-wheel ABS
SUSPENSION
Multileaf tapered springs
ALTERNATOR
175 amps
BATTERIES
Chassis — 750 cca;
House — (2) Group 24 deep-cycle
INVERTER
1,000 watts (mandatory option with Tailgate Package)
ELECTRICAL SERVICE
30 amps
AUXILIARY GENERATOR
Cummins Onan MicroQuiet 4.0-kw, gas
EXTERIOR LENGTH
30 feet 3 inches
EXTERIOR WIDTH
101.5 inches
EXTERIOR HEIGHT
12 feet 2 inches
INTERIOR HEIGHT
6 feet 8 inches
GROSS COMBINATION WEIGHT RATING (GCWR)
23,000 pounds
GROSS VEHICLE WEIGHT RATING (GVWR)
18,000 pounds
GROSS AXLE WEIGHT RATING (GAWR)
Front — 7,000 pounds;
Rear — 12,000 pounds
AS-TESTED WEIGHT
(full fuel, water, and propane; one passenger)
Front axle — 5,620 pounds;
Rear axle — 10,940 pounds;
Total — 16,560 pounds
OCCUPANT & CARGO CARRYING CAPACITY (OCCC)
2,069 pounds
FRESH WATER CAPACITY
70 gallons
HOLDING TANK CAPACITIES
Gray water — 61 gallons;
Black water — 40 gallons
FUEL CAPACITY
80 gallons
FUEL REQUIREMENTS
Gasoline
PROPANE CAPACITY
18 gallons
WATER HEATER
6-gallon DSI propane-electric
HEATING SYSTEM
30,000-Btu low-profile, propane
AIR-CONDITIONING
14,800-Btu rooftop air conditioner with ChillGrille
REFRIGERATOR
Two-door propane-electric refrigerator-freezer
TOILET
Pedal flush
WARRANTY
Coach — 12 months/15,000 miles;
Structure — 36 months/36,000 miles;
Roof — 10 years limited;
Chassis — 36 months/36,000 miles
BASE SUGGESTED RETAIL PRICE
$108,360
PRICE AS TESTED
$113,829