Sunny weather and ample amounts of history make this little town a good stop especially during the winter.
By Gerald C. and Sharon L. Hammon, A275831
February 2013
The Southwestern United States boasts plenty of places where RVers can spend the winter without getting near a snow shovel. But if you are looking for more than a generic location, we suggest Mesilla, New Mexico. This small town next to Las Cruces has every amenity you could want. Its location near the junction of interstates 10 and 25 makes it very accessible. And you have the benefit of spending your time in a quaint town steeped in history where you can actually walk to restaurants and shops.
The Old Story
Mesilla had its beginnings in the 19th century conflicts that occurred between the United States and Mexico. Within a period of approximately 40 years in the 1800s, the lower Rio Grande Valley saw the flags of Spain, Mexico, Texas, the Confederacy, and the United States fly over it.
The town itself came into being as a result of the 1848 peace treaty between Mexico and the United States, but not as you might think. The treaty established the border north of where Mesilla stands today, and the town was built to accommodate Mexican citizens who did not wish to be in the United States. Natives packed up and moved to the new town, and with cause, for they feared what would happen to them under the rule of a country dominated by Protestant Europeans, since they were predominantly Hispanic and Roman Catholic. They wanted to protect their religion and way of life.
Unfortunately, history had yet another trick to play. When the actual border was designated, Mexico assigned skilled cartographers to make maps, while the U.S. assigned political neophytes. The result virtually eliminated a usable corridor for a southern transcontinental railroad because of impassable mountains. Southern politicians, including the Secretary of War, Jefferson Davis (soon to become president of the Confederacy), were aghast. The lack of a rail route from the South to the West would be financially devastating.
Fortunately for the United States, Mexico was nearly bankrupt. In 1854, a mere six years after the peace treaty, James Gadsden, the U.S. ambassador to Mexico, negotiated what today is known as the Gadsden Purchase, a substantial territorial increase for the United States that included the "boot heel" of New Mexico and most of Arizona south of Phoenix. Mesilla was now on the American side of the new border. Residents who only six years before thought they were safe from the rambunctious Americans suddenly found themselves citizens of the United States.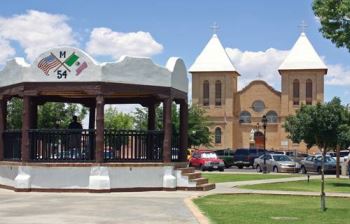 A young gunslinger named William Bonney, nicknamed Billy the Kid, reputedly had left a string of bodies across New Mexico, including at least one sheriff. In 1881, Billy the Kid was captured and taken to Mesilla, then the largest city between San Antonio and San Diego, to stand trial. He was convicted of ambushing Sheriff Brady in the Lincoln County War, and was sentenced to hang. The building in Mesilla where the trial was held is a now a retail outlet located on the Plaza. After the trial, Billy was taken to Lincoln, New Mexico, where he escaped a few days before his scheduled execution.
Given the promise Mesilla had in the 1870s and '80s, it may seem strange that it never grew as large as Las Cruces. The reason stems from a bad decision made by the folks who lived there in the 1880s. The Atchison, Topeka, and Santa Fe Railroad was pushing its tracks south from Albuquerque to El Paso at the time, and Mesilla residents assumed the line had no recourse but to serve the biggest town in the area. So, they demanded big bucks from the railroad for a station and right-of-way through town. Neighboring Las Cruces, much smaller but much less greedy, put a reasonable price on its property, and the rest of the story is easy to guess.
All of this is to your benefit should you decide to pull your motorhome into Siesta RV Park on Avenida de Mesilla and enjoy the ambience of a town that still embraces much of its Hispanic heritage. Consider the sights and sounds of Old Mesilla today.
Touring Today
Visitor center. Located in the town hall, the J. Paul Taylor Visitor Center has brochures, videos, and menus from local restaurants, plus fascinating historic photos of Mesilla.
The town Plaza. The Plaza, a National Historic District, is full of stories and significance. The Plaza area boasts an eclectic collection of Hispanic and frontier American architecture, with retail establishments such as an old-fashioned bookstore, and an assortment of shops reminiscent of popular tourist towns of old Mexico. Some retailers sell local art, while others focus on chocolate, crafts, and much more.
The Basilica of San Albino. The north side of the Plaza is the site of an adobe church built in 1855. It no longer has adobe walls (it was rebuilt in 1906), but it still has its original church bells. Mass is celebrated there daily; or, if you like, visit from 1:00 p.m. to 3:00 p.m. (daily except Sundays).
The Old Courthouse. The Billy the Kid Gift Shop is now located in the courthouse building where he stood trial and was sentenced to die. Step inside and have a look-see.
The Gadsden Museum is home of the famed Gadsden Purchase painting and other items related to local history. It is open by appointment.
Walking tours and horse-drawn tours. You can buy a copy of a small publication filled with information for a self-paced tour through Old Mesilla. It is available at the Mesilla Book Center on the Plaza. Other walking and historical tours are available at the Gallery in the former Butterfield Stage Stop one block south of the Plaza. In addition, a company called Frontier Adventures offers riding tours in a horse-drawn vehicle.
Dining
La Posta de Mesilla restaurant complex should not be missed. This once was a stage stop on the old Butterfield Stagecoach line. The Butterfield line began in the 1850s, carrying mail from St. Louis to San Francisco via an arcing route that led through "Indian Country" as well as the New Mexico/Arizona Territory. The Civil War caused the line to shut down, but the current La Posta de Mesilla, founded in 1939, plays up the building's history. It's worth a visit even if you don't eat there. It offers dining rooms, a bar, a couple of upscale retail shops, and a central sitting area with an enormous aviary and fascinating fish tanks.
La Posta is just one of the options you have in Mesilla for Mexican food prepared in the unique New Mexican way. More than any other Southwestern state, New Mexico incorporates American Indian and Mexican cuisine into its signature food. Chilies are essential, and the standard question you must answer when you order food is, "Red or green?" You can't automatically assume one is hotter than the other, so it is always best to ask your server. And take care; New Mexico food can cause more than a slight burning sensation.
Other options for dining run from basic food joints to upscale restaurants such as the Double Eagle, specializing in steaks on the Plaza and a fancy Sunday brunch. Along Avenida de Mesilla, the main route into town, are several newer restaurants that are well-regarded, along with wine-tasting and retail stores. And if you choose, you can drive a short distance into Las Cruces for an even wider selection of eateries.
Just Outside Of Town
Away from the Plaza and off Avenida de Mesilla (State Route 28), Mesilla turns into a quiet village of unimposing dwellings, many built from adobe. Old doors and gateways offer intriguing glimpses into the Southwestern lifestyle. A few blocks west of Mesilla, you can amble along the banks of the Rio Grande. Comfortable walking paths attract joggers, cyclists, animal lovers, and amblers.
Destinations farther afield include the New Mexico Farm and Ranch Heritage Museum, Dripping Springs Natural Area (good for hiking), and White Sands National Monument near Alamogordo.
And don't forget, Las Cruces is right next door. We have always enjoyed the Farmers and Crafters Market there; it's held Wednesday and Saturday mornings on Main Street downtown. In our final analysis, however, Las Cruces is a busy, bustling city, whereas Mesilla is a small town with an abundance of Old Mexico charm. Mesilla remains our choice in southern New Mexico.
Further Info
Mesilla Town Hall and J. Paul Taylor Visitors Center
2231 Avenida de Mesilla
Mesilla, NM 88046
(575) 524-3262
www.oldmesilla.org
Las Cruces Convention & Visitors Bureau
211 N. Water St.
Las Cruces, NM 88001
(575) 541-2244
www.staysunny.org
Primary access to Mesilla from Interstate 10 is via exit 140/Avenida de Mesilla (State Route 28). From the junction of Interstate 25, go west on I-10 to exit 140. Signs on Avenida de Mesilla indicate access to the Plaza. Streets are narrow and parking is limited. It is not recommended to take your motorhome into the Plaza area.
Siesta RV Park (1551 Avenida de Mesilla, 800-414-6816, 575-523-6816; www.siestarvpark.com) is closest to the heart of Mesilla. It is an easy half-mile walk from the RV park to the Plaza. Other campgrounds are available slightly farther from town; check your campground directory or the RV Marketplace published at FMCA.com and in the January and June issues of FMC.