This North Carolina collection celebrates the early days of trucking and salutes a major contributor to the U.S. trucking industry.
By Knolan Benfield
December 2011
You could say, "Nothing could be finer than to ship by Carolina in the morning." That's because, for more than 60 years, Carolina Freight Carriers Corporation was one of the largest trucking firms in the United States. Today its heritage is preserved at the C. Grier Beam Truck Museum in Cherryville, North Carolina.
In 1932 few jobs could be found in the small town of Cherryville, located about 35 miles northwest of Charlotte. Most folks were just trying to survive the Great Depression. C. Grier Beam had just graduated from North Carolina State University with a degree in animal husbandry and poultry. Finally, he found a job in Florida, but thanks to the economic climate, it didn't last long. He found himself back in Cherryville looking for work.
Losing that job was a true blessing. With a $500 loan from his father (a farmer and small agricultural businessman), Grier bought a 1 1/2-ton 1931 Chevrolet truck and turned his unemployment into an opportunity. He drove that used truck down to Florida to buy fresh fruit and haul it back to Cherryville, where he'd sell it on the street corner if he had to. There wasn't much money in that, so he talked the local county schools into a job hauling coal for them.
Grier continually searched for people who needed something hauled someplace and could pay for it. Not only were there no jobs during the Great Depression, there was very little money to pay for his service. He kept the wheels turning on his fledgling trucking business, nonetheless.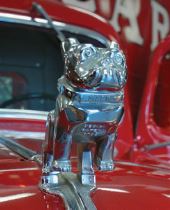 Ralph T. Self was one of the first drivers for the company. I talked to his wife, Blanche, before she passed away at age 97 in 2010. She was the truck museum's first manager and had some good stories to tell about the early days. "As soon as a job came up, a driver would leave," she said. "He'd take off for New York City or some such place. The wives didn't work back then. We stayed home and raised the kids. I'd fix some sardine sandwiches and beans for my husband for the trip.
"The drivers got paid $12 to $15 for the whole trip," she continued. "Might be gone for up to a week, and they had to pay their own expenses. They just slept in the truck."
Grier Beam's trucks would haul potatoes, beer, roofing materials, candy "" anything that paid. The haul could be long or short; it didn't matter.
The company grew to the point where, in 1937, the Beam Trucking Company was reorganized into the Carolina Freight Carriers Corporation, a merger of Beam with another trucking company in Cherryville. Grier's "We can do it" attitude eventually built Carolina Freight Carriers into one of the 10 largest trucking companies in the United States, with more than 11,000 employees.
When Grier Beam retired from his job as the company president in 1970, annual revenues were more than $60 million. In 1994, two years after his death, Carolina Freight Carriers was acquired by Arkansas Best Corporation and the operation was moved from Cherryville.
The C. Grier Beam Truck Museum is an offshoot of Carolina Freight's 1982 celebration of 50 years in business. To commemorate the accomplishment, the company started showing a collection of trucks restored in the company shops. Today the museum is committed to the preservation of the history of the trucking industry. Fourteen of those big trucks are on permanent exhibit.
The museum entrance is through a vintage Shell gasoline station that was run by Grier's brother, Guy, and is listed on the National Register of Historic Places. Guy let Grier set up the trucking company's first headquarters inside the service station office. Since an early gas station is a little small for displaying a bunch of big trucks, 7,500 square feet of museum was added next door. Just walk in the front door of the old Shell station and back through 70 years of trucking history.
The current museum curators, Joe and Sandra Dismukes, can tell you all about trucking. Sandra worked for Carolina Freight in the legal department for 27 years, and Joe spent the same number of years in the sales department.
Not only do they have insider knowledge of trucking, but they will make you feel as welcome as an old friend. The tour is self-guided and will take 45 minutes to an hour, unless you or someone you're with is a trucking enthusiast. Then only time will tell how long you might be at the museum. It does eventually close.
This is a museum about trucks and trucking, so it is only fitting that the tour begins inside a truck. It's a 30-foot 1946 Fruehauf trailer coupled to a 1947 Mack. Inside the trailer, you'll see a five-minute video about the museum. This trailer is one of the first modified for use as a sleeper. This was a big help in team driving. The oldest truck on display dates back to 1928.
Sleeping in the trailer in a coffin-size compartment with no communication with the driver was a bit challenging. If you needed to stop, it was just too bad. If you needed to breathe, well, that could be a bit of a problem, too. Finally, the trailer/sleeper idea gave way to a sleeping compartment in the cab. Overall length has always been a consideration in the trucking business.
If you show up driving your own "rig" with a "sleeper," you can park it (not overnight) in the lot behind the museum. If you are hauling a whole truckload of visitors, you'll want to contact the curators first: Sandra and Joe, e-mail jdismukes@carolina.rr.com.
The museum is open Thursday and Saturday from 10:00 a.m. to 3:00 p.m. and on Friday from 10:00 a.m. to 5:00 p.m. Admission is free, and contributions are accepted. For more information, contact the C. Grier Beam Truck Museum, 111 N. Mountain St., Cherryville, NC 28021; (704) 435-3072, www.beamtruckmuseum.com.
Enjoy the museum and have a good trip, ol' buddy!