FMCA's next Family Reunion and Motorhome Showcase will be held along the lakes of Wisconsin's capital city.
By Anna Lee Braunstein, F351629
May 2011
Good news! This August, the Family Motor Coach Association will hold its 86th Family Reunion and Motorhome Showcase in Madison, Wisconsin. And "Mad Town," as the city is affectionately called, is a place where you do not need "mad money" to see most attractions. Many are free!
Madison was started by choice and necessity. In 1836 a location for the capital of the Wisconsin Territory had to be found, and a favorable spot was an area called Four Lakes. The city was plotted on a narrow strip of land in between two of the four lakes "" Lake Mendota and Lake Monona. And, as you may already have guessed, it was named after America's fourth president, James Madison.
Madison is in a great area for boating, fishing, kayaking, or just enjoying the view. Teeming with walleye, northern pike, muskie, bluegill, crappie, and largemouth and smallmouth bass, the lakes are magnets for fishing and boating enthusiasts. On Tuesdays, Thursdays, and Sundays, families can enjoy pontoon boat rides on Lake Mendota for as little as $5 per person.
Around the lakes and throughout the town are hundreds of miles of paths for walkers, runners, and cyclists to enjoy. The rolling, green hills and flat grasslands surrounding Madison offer golfers more than two dozen public and private courses, including University Ridge Golf Course, ranked in the top 100 courses nationally.
FMCA members will convene in Madison for "A Family A'Fair" from August 10 through 13 at the Alliant Energy Center, south of the Wisconsin Capitol along Lake Monona. The land upon which the Energy Center now stands was first dedicated for use as a fairgrounds in 1896. It was renamed the Dane County Exposition Center in 1965 and was dubbed the Alliant Energy Center in 2000. Over the years its role as a fairgrounds expanded to hosting numerous shows. Today hundreds of events take place there each year.
FMCA members will be impressed with the setting of their "reunion." For quiet immersion in nature, walkers and runners can head to the University of Wisconsin-Madison Arboretum, located near the Alliant grounds. The only sounds breaking the silence are the chirps, tweets, whistles, and warbles of nesting birds. Eight centuries ago, the area where the arboretum is located was home to native effigy mound builders. Two of their sacred mounds can be seen nearby. Every Sunday docents lead free guided walks, during which they provide information about the early inhabitants, plants, and animals of the 1,200-acre park.
More free encounters with nature can be experienced at the Olbrich Botanical Gardens, where flowers of all hues blossom in a dozen different groves and gardens. Wandering along the many paths is a sensory delight. A walk on the Lussier Bridge across Starkweather Creek leads to the gleaming Thai Pavilion and garden. Covered with gold leaf and lacquer, the pavilion is a gift from the Thai government and the only one located on the North American continent. Climb up the Rose Garden Tower to get a bird's-eye view of the blossoms. A small admission fee is charged to the Bolz Conservatory, also on the grounds, where butterflies as colorful as the flowers in the garden flutter during the summer.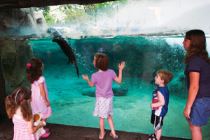 Animals strut their stuff at the Henry Vilas Zoo. Giraffes gaze down upon white rhinoceroses, penguins waddle, blue tree frogs dart their tongues, and endangered primates swing in the trees or crouch in the grass. Admission here is free as well (donations are accepted). A special children's zoo area has a train and a carousel, and play areas are available for energetic youngsters.
Museums catering to the varied interests of children and adults are open downtown and on the University of Wisconsin (UW) campus. Entrance to the following spots is free (or by donation), except where noted.
Begin at the Wisconsin Historical Museum, where two floors chronicle the history of the state, starting with the carving of the landscape by glaciers during the ice ages. The lifestyles of native peoples and the European settlers also are examined.
People in Wisconsin made a living by fishing and weaving, and, later, tourism and Harley-Davidsons. (Yes, Wisconsin is the birthplace of the famous motorcycle.) An exhibit titled "On Common Ground: Two Hundred Years Of Wisconsin History" presents social and political events in the state. A new temporary exhibit showcases Wisconsin "firsts," including the "qwerty" keyboard, Barbie dolls, and ice cream sundaes.
Across the street is the Wisconsin Veterans Museum, which honors the courageous military men and women of the state who have served in defense of America. Starting with the bloodiest day in American military history, the Civil War Battle of Antietam, through Iraq and Afghanistan, this museum details the many battles fought. A 1916 Harley-Davidson motorcycle represents the important role that this Wisconsin-built product played as military transportation. One display pays tribute to "On Wisconsin!" "" the famous fight song of the University of Wisconsin Badgers, whose title words were famously spoken by Lieutenant General Arthur MacArthur Jr. (father of General Douglas MacArthur) while leading a Union assault at Chattanooga.
Nearby (two blocks away) is the newly redesigned Madison Children's Museum, filled with hands-on activities. Admission is free on "Twilight Thursdays," the first Thursday of the month, after 5:00 p.m. Otherwise, admission is $6.95 for adults and children over age 1, and $5.95 for seniors. From projects for small hands to a playground for active bodies, the museum engages the imagination of all children. When it's time for lunch, enjoy your own picnic or try Bean Sprouts, a café featuring a tasty and healthy menu that tempts both younger and older palates.
Madison's two art museums also feature free admission. At the Madison Museum of Contemporary Art, an acrylic staircase provides a unique perspective to changing exhibits. On the rooftop, the cityscape is a backdrop for the artwork on the lovely terrace.
The other art museum is on the campus of the University of Wisconsin. There, the Chazen Museum of Art is currently undergoing a growth spurt. Once a new building opens in October 2011, it will have double the exhibit space. The current facility will still be open this summer, so you can view eight centuries of works, including painting, sculpture, photography, and decorative arts. Daily free guided tours of the collection are offered.
Also on the UW campus is a great geology museum "" proof that small collections can provide a quality experience. Dinosaurs loom overhead, and fossils stare in your face. A glass-walled lab lets visitors watch as specimens are cleaned and restored. Display cases are filled with meteorites from outer space and rocks from deep within the earth. Dull rocks glow with fluorescent color in the black light display.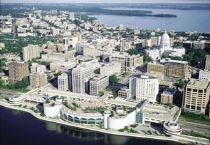 In the midst of all these museums stands the Roman Renaissance-style Wisconsin Capitol. Docents lead free tours, during which they recount the history, art, and architecture of the building. Prominent are statues of the state mascot, the badger, perched over chamber entrances. Another badger, made from cannons captured by sailors on the USS Wisconsin during the Spanish-American War, stands in the governor's office. The tour culminates, if you want, with a climb to the observation deck for a great view of the interior of the building and of the surrounding area. The governor's mansion, located along Lake Mendota, is open for tours as well.
In the warm-weather months right outside the capitol on the square is a farmer's market where products are sold by the people who grow or make them. Re-selling is not permitted at the Dane County Farmer's Market, which operates Wednesday and Saturday, rain or shine. It is a wonderful place to buy local produce as well as craft items. Don't forget to sample that wonderful Wisconsin cheese.
Only three blocks from the capitol, facing Lake Monona, is a large and beautiful white concrete building that is a Frank Lloyd Wright standout. Called Monona Terrace, the community convention center functions as an event facility today. The top terrace affords a beautiful panoramic view and a spot to enjoy a cocktail. This is one of many buildings in Wisconsin attributed to the internationally acclaimed architect.
Mad City claims more restaurants per capita than many other U.S. cities. Especially if you have children or grandchildren along with you, you may want to stop at Ella's Deli and Ice Cream Parlor, northeast of downtown, where play is featured on the menu. Outside, carousel ponies go round and round; inside, wooden trapeze artists, model trains, and old-fashioned toy bicycles roll overhead. Peering into recesses beneath their glass tabletops, diners can examine antique toy soldiers, dollhouses, and games. All this entertainment accompanies good New York-style deli food and plenty of ice cream desserts.
For many more dining choices, you'll want to find State Street, which is lined with restaurants for all tastes, intermingled with shops and boutiques. This "walking" street stretches from the capitol westward into the UW campus and is closed to vehicle traffic except for bicycles and public buses. American, Mexican, Mediterranean, Greek, Italian, Japanese, and more cuisine choices await your visit. Check out www.madisondining.com for more details.
Mad Town welcomes those who enjoy seeing and doing as well as those who prefer relaxing and treasuring the lovely surroundings "" and going to free attractions. Combine all this with the good times and memories you're sure to make at the FMCA Family Reunion in August, and you're sure to find your trip to Madison much to your liking.
Further Info
Greater Madison Convention & Visitors Bureau
615 E. Washington Ave.
Madison, WI 53703
(800) 373-6376
(608) 255-2537
www.visitmadison.com
Wisconsin Department of Tourism
201 W. Washington Ave.
Madison, WI 53708
(800) 432-8747
(608) 266-2161
www.travelwisconsin.com
Getting around. Alliant Energy Center is approximately two miles from the capitol and downtown Madison. Metro Transit is convenient to the city center and has bus stops adjacent to the Alliant Energy Center. It is best to travel by towed vehicle if you drive in town. Parking is available in garages downtown; street and lot parking is available on the UW campus; and visitor parking is available at the zoo, arboretum, and botanical gardens.
Bicyclists will want to note that all bright-red bikes they find around Madison are part of a free loaner bicycle program and may be borrowed without cost. Simply use the bike to get to your next stop in town, and leave it for the next rider when you're finished.
Area Campgrounds
The following may not be a complete list, so please check your campground directory or the Business Directory, published online at FMCA.com and in the January and June issues of FMC magazine. State park campsites may have size restrictions, so please call ahead.
Blue Mound State Park
4350 Mounds Park Road
Blue Mounds, WI 53517
(608) 437-5711
www.dnr.state.wi.us/org/land/parks/specific/bluemound/
Kamp Kegonsa
2671 Circle Drive
Stoughton, WI 53589
(608) 873-5800
www.mykampkegonsa.com
E-mail: [email protected]
Madison KOA, C12022
(An FMCA commercial member)
4859 County Road V
DeForest, WI 53532
(800) 562-5784 (reservations)
(608) 846-4528
www.madisonwikoa.com
E-mail: [email protected]
Viking Village Campground
1648 County Road N
Stoughton, WI 53589
(608) 873-6601
www.vikingvillagecampground.com
E-mail: [email protected]