Country Coach Inc.'s founder has devoted decades to the motorhome lifestyle, gathering admiration from RV owners along the way.
By Sherry Fanning
October 2011
As motorhomers well know, the RV industry has had its ups and downs during the past several decades. The same can be said of RV pioneer Bob Lee, F65422, of Junction City, Oregon, who is best known for his years at the helm of Country Coach Inc. He has shown remarkable tenacity and perseverance through four decades of the RV industry's cyclical highs and lows, and in his own recent adjustment to health issues, which demanded he downshift a bit. (And if you know Bob personally, you realize that slowing down does not come easily.)
A proud FMCA member since 1984 with his wife, Terry, Bob's passion for the recreation vehicle industry and his enjoyment of the Country Coach lifestyle are unstoppable. His is an inspiring story of the pursuit and achievement of the American dream.
Beginnings
Bob was born in the Klamath Falls, Oregon, area in 1939 into a farming and logging family. After high school he joined the U.S. Navy and trained as a jet mechanic. He left the service in 1962 and went to the Los Angeles area to work for North American Rockwell, where he served as an equipment buyer with the Apollo space program.
In 1968 Bob ended his aerospace career when he and two friends decided to start a camper manufacturing business in Oregon called Caribou Manufacturing. "We left our families and took off up I-5, having no idea where we were going to get off," he reminisced. The trio ended up in Junction City and began their enterprise, which eventually would become known as Monaco Motorhome Inc.
In 1972 Bob left Monaco to start his own company. During the day he worked for Kendall Ford as an RV service manager, and in the evenings he built camper canopies in a rented garage with Lowell Swartz, his partner. Eventually Bob built his first small motorhome, which sold for $10,500. He was on his way!
"Being a guy with a little ingenuity, it wasn't too hard," Bob said about those formative years. "It's like building a house — once you learn how, it's easy." The business was known as Country Camper back then, named after his daughter's little Barbie doll camper. The company incorporated in 1974.
When the demand for slide-in campers waned in the late 1970s, Bob decided he wanted "to be in the high end of the RV market, as that wasn't as volatile."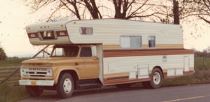 In the mid-1980s the company name evolved from Country Camper to Country Coach Inc. The business grew to span 42 acres of industrial land, turning out hundreds of motor coaches per year. "Building hundreds, not thousands, per year allowed Country Coach to focus on the quality upon which the business had been founded," Bob noted. "I always told my employees, 'Build it as if your own mother will be driving it.' And they did."
Despite its humble beginnings, with two employees building slide-in campers, Country Coach grew to a corporation encompassing more than eight city blocks in Junction City and employing 1,800-plus people during the company's peak manufacturing years. Product lines encompassed both front-entry and side-door-entry diesel pusher motorhomes from 32 feet to 45 feet in length, with up to four slideout rooms. Country Coach built more than 12 different Type A models (and even briefly a Type C motorhome, the Max), along with the custom-tuned DynoMax chassis. During his 40-year career, Bob developed a motorhome company that became one of the industry's premier manufacturers of luxury diesel pushers.
"There were definitely some challenges to overcome," Terry Lee recalled. "When we had the gas crunch in the late 70s, early 80s, we also built trailers and park models; we even put our employees to work fabricating stove inserts . . . anything to survive the industry downturn." Terry worked at the company and served as corporate secretary and treasurer for the first 20 years. The Lees, along with brothers Ron and Lenard in the early years, and later with Bob and Terry's daughters Kenda and Brenda, ran a family operation.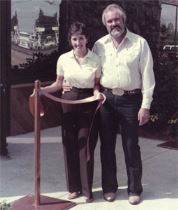 For many years, Bob and Terry logged 10,000 to 15,000 miles per year in their personal motorhome, traveling to industry shows and rallies, where they'd park beside Country Coach owners. "Motor coachers are the best source of information as to what is most important to have designed into their home on wheels," Bob always said. So he and Terry would listen, gather ideas, and then take that input back to the Country Coach team. When the next model year debuted, it wasn't unusual for many owners' suggestions to be incorporated.
Accolades
Bob served the RV industry with gusto, holding positions of leadership for nearly 30 years. He served as a member and president of FMCA's Commercial Council and held positions with the Recreation Vehicle Industry Association (RVIA) and the Oregon Reinforced Plastics Association. For many years he also chaired the annual RVIA manufacturers shows, held each year in Los Angeles and Louisville, Kentucky.
Recognition of Bob's accomplishments came from many avenues. Country Coach was presented the Oregon Governor's Award for Corporate Excellence in 1984, the Private Industry Council's Outstanding Employer Award in 1987, the U.S. Senate Productivity Award in 1988, Oregon's Private 150 Award in 1994, and RVIA's Distinguished Service to the RV Industry award in 1995. Bob was inducted into the RV/MH Hall of Fame in 2000.
Bob is quick to share the credit with brother Ron (vice president of engineering and manufacturing for many years), Ed Read (then vice president of production), as well as the entire engineering, design, and manufacturing team for the old-world craftsmanship and significant product innovations Country Coach brought to the industry. Those innovations included a coach systems monitor with speech processor; motor coach air leveling; HVAC control technology; and hydronic heating coach systems. The company also introduced code-compliant custom bus conversions built on a production line.
Bob noted that although he is extremely proud to have had the opportunity to be a part of this great industry's evolution, he and Terry especially appreciate the many friends they have made over the years.
Friendships
Longtime Country Coach motorhome owner Ted Wright, F97624, of Kerrville, Texas, enjoys a close friendship with Bob and Terry Lee. In 1989 Ted retired; moved to Scottsdale, Arizona; and bought his first Country Coach motorhome. That began his lifetime affinity for Country Coach.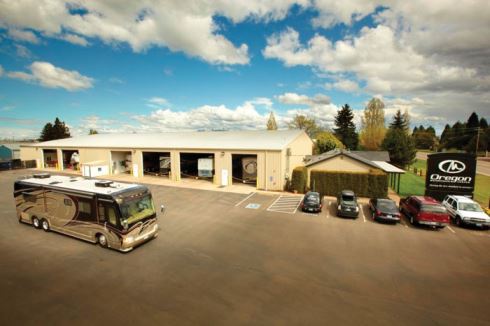 "Back then, Bob Lee was known for his barbecue, and he pulled a cooking trailer and hosted parties for Country Coach owners," Ted recalled. "We traveled with Bob and Terry to several coach rallies over the years and visited often in Junction City, Oregon. I've seen the interaction between Bob and hundreds of his employees. On several occasions, when I walked through the Country Coach plant, I was amazed that every employee greeted him with so much respect and obvious admiration. I know it broke his heart when the original Country Coach closed its doors in late 2009. His success as a leader in the motor coach industry is undisputed."
Past Country Coach motorhome owners Jack and Jan Gossett share a story similar to Ted's. "We have been friends of Bob and Terry Lee for 30 years since we went to the factory in Junction City in the early 80s to see how a Country Camper was built," they wrote. "We were sold and ordered one when we got home. A few months later, we went to Oregon to pick up our new coach and lo and behold, Bob was there to meet us with our new coach in front of the airport door. We stepped into it and a wonderful life of RVing." When the couple retired in 1985, they went to work for Country Camper, visiting dealers and showing new product at RV shows across the United States and Canada.
Author's note: Bob sold Country Coach to National RV Holdings Inc. in November 1996. He continued to serve as chairman emeritus in an advisory capacity at Country Coach for several years. In November 2009, due to unfortunate economic factors, the company was forced into Chapter 7 bankruptcy and closed its doors. In January 2011, Country Coach Corporation (CCC), a service and parts facility, opened on a portion of the original Country Coach campus in Junction City. Bob's brother Ron, CCC's owner, has stated that he plans to build motor coaches in the future. Bob and Terry Lee are not involved in Country Coach Corporation.
Additional Interests
Another hat the Lees have worn is event planning. Bob and Terry enjoyed planning and presenting several special adventure rally events, such as those centered around the Indianapolis 500 and the Albuquerque Balloon Fiesta. "Bob and I would put together a high-end adventure rally agenda for a smaller group of Country Coachers, and we always had as much fun as they did," Terry said. It was a great way to deepen friendships while enjoying our Country Coach motor coaches."
Bob also built a high-end luxury RV resort in Indio, California: Desert Shores Motorcoach Resort. He later launched Oregon Motorcoach Center, a service and coach renovation facility in Eugene, Oregon, with his daughter Brenda and co-owner Pat Mason, his son-in-law. This past year, Bob and Terry became founding members of a new FMCA chapter, Country Coach Friends International, which formed at the Country Coach Friendship Rally in Harrisburg, Oregon.
"Country Coach was and is a family — the vendors with whom we did business, the community where we live and built motor coaches, the employees, and the people who bought our coaches," Bob noted.
As co-owner of Oregon Motorcoach Center, Bob remains involved in the industry he's loved for decades. However, these days Bob and Terry are enjoying a slower pace and some well-deserved quieter times with their children and grandchildren. As industry pioneers, successful entrepreneurs, and close friends to many Country Coach owners, the Lees have earned their place in the hearts of Country Coachers nationwide. Motorhomers still look forward to seeing Bob and Terry at upcoming Country Coach Friends International Club rallies or other FMCA rallies across the country.