Between Houston and Austin lies the "birthplace of Texas," a little region packed with examples of how the Lone Star state began "" intermingled with "tastes" of today.
By Diane Sitton
January 2011
Washington County, Texas, is renowned for its exciting heritage. But its prominent historical legacy is only part of the appeal that attracts families to "the birthplace of Texas." Besides exploring Texas legend and lore at an award-winning museum, experiencing 1850s life at a living history farm, and visiting the oldest operating cotton gin in America, folks can tour an ice cream factory operated by a 104-year-old company.
For shoppers and strollers, the town of Brenham offers a historic district filled with antiques stores, boutiques, and a corner sandwich shop known for its outrageously delicious homemade pies. Brenham anchors this county, which sits some 70 miles northwest of Houston. In addition to the array of family attractions, the region is known for its pastoral countryside and springtime show of bluebonnets and other wildflowers.
History buffs should begin their Washington County explorations at Washington-on-the-Brazos State Historic Site, a 300-plus-acre Brazos River valley setting north of Brenham. Here, three attractions depict the lives and times of the men who fought and won Texas' independence from Mexico.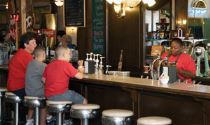 The visitors center at this historic site contains information about the various attractions there, and the chance to buy admission tickets. A discount combination package that includes admission to all three sites is available, or you can purchase admission to each site separately.
A replica of Independence Hall, the sparse wood structure where 59 Texas delegates signed the Texas Declaration of Independence from Mexico on a blustery March 2, 1836, is a quick stroll from the visitors center. Along the oak-lined trek to this site is a Texas Historical Commission marker commemorating the original town site of Washington, Texas.
"Visitors are surprised to learn that in the 1850s, Washington was a thriving river port town with mercantiles, schools, churches, and taverns," said site interpreter Janice Campbell. "There was a piano tuner and a hairdresser. In its heyday, Washington was a regular stop for traveling circuses and acting troupes."
A short distance away is the Star of the Republic Museum, where you learn the colorful saga of the time from 1836 to 1846, when Texas was a republic and not yet a state. A 20-minute video titled Once A Nation provides a vividly depicted overview.
In all, the two-story, award-winning museum boasts 46 exhibits and some 20,000 artifacts. Items range from a wooden 1850s wagon jack with hand-forged metal parts to a delicate silk brocade dress (circa 1840) skillfully lined with cotton.
The green-glazed ceramic bowl-within-a-bowl "" an ant trap "" is a curious attention-getter. Pioneers placed a table leg into the center of the trap, and then poured poison or water into the outer circle to prevent ants from climbing up the table leg.
After you've toured the Star of the Republic Museum, head to the Barrington Living History Farm. It's also part of the Washington-on-the-Brazos park and is open year-round. During your self-guided tour, you may see costumed interpreters cook over an open hearth, spin cotton thread, and split cedar shakes using hand tools, among other demonstrations of daily activities common to life on an 1850s cotton farm.
A wooden dogtrot-style house (circa 1844) is the farm's centerpiece. It was the home of Anson Jones, the last president of the Republic of Texas. Re-created outbuildings include two cabins, a kitchen building, a smokehouse, a cotton house, and a barn.
Visitors are encouraged to join in the activities on the farm. In spring, costumed interpreters plant corn, cotton, squash, and beans, among other crops. Harvesting begins in late spring and continues through early fall. Depending on when you visit, you may have an opportunity to take a turn operating a cultivator pulled by oxen to help prepare the fields for planting.
Visitors of all ages enjoy observing Tippy and Tex, the farm's working oxen. And a trek to the livestock pens reveals Ossabaw Island hogs. The historic hog breed has occupied Ossabaw Island off the Georgia coast since the late 1500s. Spanish conquistadors dropped hogs off on islands such as Ossabaw in order to supply their later voyages with meat.
A few miles away (on State Route 105, 9 miles north of Brenham), miniature horses frolic on the grounds of Monastery of St. Clare Miniature Horse Farm. The Franciscan Poor Clare nuns began raising the tiny horses nearly 30 years ago as a means to support their life of prayer and contemplation.
At the time this was written in November 2010, the three remaining nuns had sold the farm and planned to move off the property. However, visitors are invited to observe the tiny horses, walk the grounds, and visit the chapel. (A small admission fee is charged.) In January and February 2011, gates are open from 1:30 p.m. to 4:00 p.m. on Friday and Saturdays only. Call (979) 836-9652 to confirm hours.
Before heading toward the town of Brenham, hear more stories from the past at the Burton Cotton Gin and Museum in historic Burton (population 350). Located approximately 12 miles west of Brenham vis U.S. 290, this place lets visitors step back to the time when "king cotton" ruled Washington County commerce. On tours of the "Official Cotton Gin Museum of Texas," visitors "pick cotton," discover its impact on Texas and American history, and learn how the heavy seeds are separated from the soft white fibers. A short video called Cotton: From Wagon to Finished Bale explains the extraction process that condenses 1,500 pounds of cotton bolls into single 500-pound bales.
If you find engines fascinating, you will relish inspecting the 1925 Bessemer Type IV diesel oil unit that powers the gin. The restored 16-ton "Lady B" is the largest internal combustion engine of its vintage still operating in America. The gin was built in 1914 and is listed on the National Register of Historic Places and was designated a Texas Historic Landmark by the Texas Historical Commission.
A vintage cobbler shop occupies the yellow house next door. "If the cotton gin is the diamond of Burton's historic treasures, then the 1916 Wehring Shoe Shop must be considered the ruby," according to cotton gin museum director Linda Russell. William Wehring, the original shop proprietor and early manager of the cotton gin, emigrated from Germany in 1882 at age 15. Eventually his son, Otto, took over the shop where he continued to work on harnesses, bridles, bags, and shoes, among other leather goods. Antique cobbling tools and shoes that somehow missed getting picked up by Otto's customers number among the artifacts on display.
Ice cream aficionados should travel east for a tour of Blue Bell Creameries before sampling a scoop of the scrumptious ice cream. With some 250 different frozen delights including yogurt, Mooo Bars, and 45 or more ice cream flavors, the little creamery in Brenham ranks third nationally in ice-cream product sales. The New York Times once deemed Blue Bell "the best ice cream in the world."
Blue Bell's story began in 1907 when local businessmen started making butter from area farmers' excess cream. Four years later, using a wooden tub filled with ice and salt, the then-named Brenham Creamery Corporation began cranking out ice cream. The hand-cranked process yielded two gallons per day. Horse-drawn wagons delivered the early confections.
The current 580,000-square-foot state-of-the-art facility churns out such memorable ice cream flavors as Homemade Vanilla (Blue Bell's top seller), Strawberries 'n Cream, Moo-lennium Crunch, Homemade Blackberry Cobbler, Key Lime Pie, and other seasonal sensations. Approximately 170,000 people check out the manufacturing process every year from elevated viewing areas "" a far cry from the hand-cranked tubs of yesteryear.
Forty-five-minute tours are offered on weekdays only (Monday through Friday; closed most holidays) and include a serving of ice cream. From October through February, visitors need to call first if arriving on a Wednesday or Friday. Regular tour hours the rest of the year are Monday through Friday at 10:00 a.m. and 11:00 a.m., and every half-hour from 1:00 p.m. to 2:30 p.m. Parking is limited; call first for parking information. A small fee is charged for the tour.
Sight-seers and shoppers relish the historic downtown Brenham walking tour, a 25-site stroll that encompasses historic structures dating to the 1800s. Antiques shops, boutiques, jewelry stores, and other retailers now occupy many of the picturesque buildings. To obtain a tour map, pick up a copy of the Washington County Visitors Guide, available at downtown businesses and at the Washington County Convention and Visitors Bureau at 314 S. Austin St.
A popular local stop for healthy appetites is Must Be Heaven Sandwich Shoppe (at the corner of Alamo and Douglas). Take a break if you have a hankering for soup, salad, or a slice of "sawdust" pie "" a 3 1/2-inch-thick, tantalizing, layered concoction with a flavor that defies description. Sawdust pie earned its name because when mixed together, its base ingredients (coconut, pecans, graham cracker crumbs, and sugar) resemble sawdust. Shop owner Charlie Pyle, also called "the Pie Guy," admits that once you add egg whites and vanilla extract to the mix, it looks like, well, wet sawdust. After baking those ingredients in a pie shell, Pyle piles on fresh bananas, whipped cream, and a sprinkling of finely chopped pecans.
There are many more sites to see in this area, such as the Brenham Heritage Museum, lavender farms, greenhouses, wineries, and more. A noteworthy spot outside the county, but still within touring range, is College Station, home to the George H. Bush Presidential Library and Museum.
Whatever you choose to see, you will likely want to return after your visit so you can "sample" some more of Washington County.
Further Info
Washington County Convention & Visitors Bureau
314 S. Austin St.
Brenham, TX 77833
(888) Brenham (273-6426)
(979) 836-3695
www.brenhamtexas.com
Area Campgrounds
The following is not a complete list. Please check your campground directory or FMCA's RV Marketplace, published in the January and June issues of FMC and online at FMCA.com, for more listings.
Artesian Park RV Campground
8601 U.S. 290 W.
Brenham, TX 77833
(979) 836-0680
www.artesianrvpark.com
Lake Somerville State Park and Trailway Complex
Birch Creek Unit
14222 Park Road 57
Somerville, TX 77879-9713
(979) 535-7763
E-mail: [email protected]
www.tpwd.state.tx.us