Small towns along the Mississippi River offer big tastes by way of restaurants, bakeries, and locally crafted beverages.
By Lazelle Jones
June 2011
In Nancy Drew and Hardy Boys children's mystery novels, an "old river road" always seemed to play some part in the mystery at hand. Wisconsin has its own river road, the Great River Road, and it, too, is surrounded with mystery. But in this case it's the kind that goes hand in hand with the magic of travel and discovering new places. The road "" State Route 35 "" parallels the banks of the Mississippi River, and around every turn you'll find interesting sights, as well as new tastes and treats.
The river towns have names such as Maiden Rock, Pepin, Stockholm, Alma, La Crosse, and Prairie du Chien, and a few miles east from the river is an Amish community called Cashton.
For 250 miles, Wisconsin's Great River Road winds along and above the banks and bluffs of the Mississippi River. I spent four wonderful days wandering the two-lane road and enjoying the sliver of real estate found on the Badger State's Mississippi River border.
The route, from north to south, starts at the old river town of Prescott. It would not have surprised me if none other than Mark Twain himself would have appeared there. Approximately 45 minutes down the road is Maiden Rock, a town whose name goes back to the folklore of its original inhabitants, the American Indians. The story behind the town's name is based on an iconic scene. With political deals to be made, the local Dakota Indian tribe's chief told his daughter that she had to marry a man he had chosen for her, a marriage that would help consolidate his power. She refused; jumped from a bluff high above the river instead; and thus landed in the arms of legend.
Maiden Rock is a delightful place to stop and spend a morning, afternoon, or overnight. The folks here, as well as all up and down the banks of the Mississippi where we visited, make it easy for the RV enthusiast to take advantage of what they offer. In almost every case, between the center of each of these small towns and the river's edge are beautiful RV parks where for $15 a night or so (they use the honor system when paying), you can hook up to shore power and spend some serious time relaxing. For example, a beautiful marina is also available in the town of Pepin.
Regardless of whether you're in a motorhome or a watercraft, towns such as Maiden Rock, Stockholm, Pepin, and Alma are excellent places to dally, enjoy art galleries and shops, and conduct some serious culinary research by testing their excellent eateries, bakeries, and brew pubs. The food and drink found here even today are influenced by the German and Scandinavian cultures of those who came from the Old Country to settle.
While strolling through Maiden Rock, check out the Old Maiden Rock Creamery, which features shops and a gourmet coffeehouse. After enjoying the art galleries and studios of Secret Heart Gallery, Swan Song Contemporary Arts, and Basil's, simply open the door of the Smiling Pelican Bake Shop. The aroma of freshly baked goodies will likely make your head spin, pulling you all the way inside. The pastries and breads, right from the oven, are delicious and reasonably priced. Take some for the road.
From Maiden Rock, it's approximately 20 minutes to Pepin, where I recommend dinner at the Harbor View Café. It features a warm, wood-tone interior decor and a welcoming atmosphere, all of which looks out on the mighty Mississippi. The dinner specials are superb, and they serve wines from around the world, including those that are grown, pressed, and aged right in Wisconsin.
Pepin is the birthplace of "Little House" author Laura Ingalls Wilder. The reconstruction of the Little House in the Big Woods, on land once owned by Charles and Caroline Ingalls, is open year-round for self-guided tours. Also, on Route 35 (you can't miss it) is the Laura Ingalls Wilder Historical Museum, open daily from mid-May through mid-October. Each September (September 10 and 11 in 2011), Pepin celebrates Laura Ingalls Wilder Days with arts and entertainment.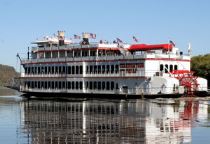 The next day we doubled back north into Stockholm, where we made a lunch stop at Bogus Creek Café & Bakery. Their freshly prepared, direct-from-the-kettle soups are ladled in hearty portions and served with handcrafted gourmet sandwiches on home-baked bread. This is a great base camp from which to walk around and explore the town. Not quite two hours
from there down the Great River Road is La Crosse, located where the Black River and the La Crosse River enter the Mississippi. Along the way is Alma, which is so full of historic homes and commercial buildings that the entire town is listed in the National Register of Historic Places. Merrick State Park in Fountain City may not only be a nice stop for you, but also your choice for camping (electric hookups are available; visit www.reserveamerica.com or call 608-687-4936).
We stayed in La Crosse for two nights. The first night, I learned that the beef is excellent at Hackberry's Bistro. The second night, we went to Piggy's Restaurant. Don't be fooled by the name. As soon as you see the marquis on the elegant restored building it occupies, you will know you are in for a treat. This is dining at its best.
Meritorious mention has to be made about La Crosse and the fact that La Crosse County has purchased bluff area wilderness and turned it into public land. Great camping is available at two county parks "" Goose Island and Veterans Memorial "" and many miles of hiking trails have been created. The park trails are ranked as easy, moderate, and challenging, which means you can choose the level you feel confident with and then go out and enjoy the pristine, forested river bluffs. The view from up there seems to go on forever.
A 45-minute drive east of La Crosse on State Route 33 to the town of Cashton will bring you in contact with Wisconsin's largest Amish settlement. (Be careful your contact is not with an Amish buggy, however, as they have the right-of-way.) Stop to shop at Down A Country Road Amish Gifts and Tours, where five little stores are stocked with Amish-made foods and other items crafted by approximately 45 families in the region. Private, guided tours of Amish country depart from this place, too. At the Old Country Cheese store in Cashton, you can watch the cheese-making process and sample some excellent product. The famous Wisconsin cheese curds that everyone talks about are delicious.
Keep heading south and you'll likely be ready for a break in Prairie du Chien. A wonderful time can be spent in the company of Captain Jack Libbey of Mississippi Explorer Cruises. His Coast Guard-certified watercraft take passengers on two-hour cruises through estuaries and wildlife refuges that lace the banks of the Mississippi River. (Ask Captain Jack why some of his personal gear is on exhibit in a Smithsonian museum in Washington, D.C.) As a modern-day riverboat captain, Jack's life on the river is a great slice of the American scene.
In Potosi, near the southern terminus of the Great River Road, the Potosi Brewing Company restaurant has much more than just good eats and beer (and ample RV parking space). Before sitting down to sample some of the handcrafted local beverages they serve on tap and in the bottle, and their superior fare, tour the National Brewery Museum located in the same building. The one-of-a-kind museum has thousands of "breweriana" artifacts. It includes original bottles and labels for every type of beer bottled in the United States, plus the paraphernalia that historically is associated with brewing America's beer. Additional displays illustrate the role transportation has played in the brewing process throughout the past 120 years.
Suffice it to say that if you have a tough time deciding where to eat and then what to order once you get inside a bistro, you will not find the Great River Road a respite "" and that's good. Culinary delights and good spirits lurk around every turn. And whether it's fishing, apple picking, canoeing or kayaking, golf, boating, museums, bird-watching, wine tasting, sticking your head inside a store or shop, or just snooping around at your own leisure, the river towns that line the Mississippi in southwest Wisconsin are like none other. You'll be glad you came.
Further Info
Many more attractions and eateries along the road can be discovered by using a guide from:
Wisconsin Great River Road
410 Veterans Memorial Drive
La Crosse, WI 54601
(800) 658-9424
Email: info@wigreatriverroad.org
www.wigreatriverroad.org
Other helpful Web sites include:
www.byways.org/explore/byways/2249/
www.discoverwisconsin.com
Area Campgrounds
The following are in addition to the riverside campgrounds mentioned in the text. For more listings, please check your campground directory or the RV Marketplace, published in the January and June issues of FMC and online at FMCA.com.
La Crosse
Goose Island Campground
W6488 County Road GI
Stoddard, WI 54658
(608) 788-7018
www.co.la-crosse.wi.us
Veterans Memorial Campground
N4668 County Road VP
West Salem, WI 54669
(608) 786-4011
www.co.la-crosse.wi.us
Neshonoc Lakeside Camp-Resort
N5334 Neshonoc Road
West Salem, WI 54669
(888) 783-0035
(608) 786-1792
www.neshonoclakeside.com
Pettibone Resort
333 Park Plaza Drive
La Crosse, WI 54601
(800) 738-8426
(608) 782-5858
www.pettiboneresort.com
Pepin
Lake Pepin Campground
1010 Locust St.
Pepin, WI 54759
(715) 442-2012
www.lakepepincampground.com
Prairie du Chien
Big River Campground
106 W. Paquette St.
Prairie Du Chien, WI 53821
(608) 326-2712
Sports Unlimited Campground
32750 County Road K
Prairie du Chien, WI 53821
(608) 326-2141
Potosi
Grant River Recreation Area
3990 Park Lane
Potosi, WI 53820
(800) 645-0248
(563) 582-0881
www.recreation.gov