Sgt. Eddie Ryan's personal victory in the 2010 Marine Corps Marathon inspired individuals, chapters, and commercial members in the FMCA community to reach out to wounded veterans.
By Robbin Gould, Editor
February 2011
On October 31, 2010, former United States Marine Corps Sgt. Eddie Ryan lived out a dream in Washington, D.C., as he competed in the 35th annual Marine Corps Marathon. Four hours and 57 minutes later, the 26-year-old crossed the finish line with his team of runners, officially completing his first-ever marathon.
Running a 26.2-mile marathon is not an unusual activity for a Marine, of course, but in Sgt. Ryan's case, the circumstances were extraordinary. In 2005 he was shot in the head during combat operations in Iraq, sustaining a severe brain injury that interrupted the normal communication from his brain to his legs, right arm, and other muscles and confined him to a wheelchair.
Despite these challenges, Eddie navigated the marathon route aboard a specially outfitted three-wheel hand cycle as he was pushed from behind by his "legs" "" former Marine Staff Sgt. Bryan Purcell.
Sgt. Ryan's round-trip journey from his Ellenville, New York, home to Washington, D.C., was made possible by the generous spirit of countless individuals, companies, and groups "" many of them affiliated with FMCA.
Home From Iraq
The story actually began several years earlier when Bryan Purcell, a Chicago area resident and SkyWest Airlines pilot, watched an HBO documentary titled "Alive Day Memories: Home From Iraq." The show included an interview with Sgt. Ryan and his mother, Angie. At one point in the Ryans' segment, Angie asked, "What's next, Eddie? You're gonna walk, aren't you?"
He chuckled and said, "No . . . I'm gonna run."
Touched by those words, Bryan resolved to make this fellow Marine's dream come true somehow, sometime.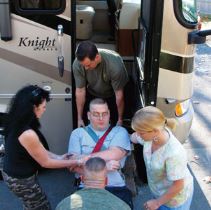 In April 2010, the time had come. After having run several marathons to test his own stamina, Bryan was ready to move forward with his plan. He flew to New York, drove approximately 100 miles in the Catskill Mountains, and literally showed up on the Ryans' doorstep "" on April Fool's Day, no less. But it was no joke. After introducing himself to the surprised family, Bryan shocked them further by proposing his plan: he and Eddie would run the Marine Corps Marathon together in October. Bryan would handle Eddie's training and coordinate all logistics.
As one of 30,000 participants in the 2010 Marine Corps Marathon, Eddie would compete in the wheelchair class, accompanied by his group of supporters known as Team 413 (the number 413 designates his "alive day," April 13, 2005, when he sustained the life-threatening injuries in Iraq).
Inch By Inch
One of the first hurdles Bryan faced was to find Eddie a suitable race vehicle for the marathon. Calling upon his extensive network of contacts, Bryan spoke with a representative of AdvaCare Systems, a specialty medical equipment supplier. Upon hearing Eddie's story, the company donated a hand-operated cycle for the Marine's use "" price tag, $8,000. To make it race-worthy, the cycle was customized by Orange County Choppers of Newburgh, a company featured in the "American Chopper" television series on TLC.
Bryan regularly flew to New York to train with Eddie aboard his new cycle. The wounded Marine used a training mantra he had adopted: "Inch by inch, it's a cinch. Yard by yard, it's hard."
Other issues loomed as well. Perhaps the biggest question was how to get Eddie to the race. Because of his physical constraints, special travel arrangements were necessary to transport him from Ellenville to Washington. He could not fly in a plane or ride in a car or unmodified vehicle, and two medical assistants would need to travel with him. Numerous large items had to be brought along, including a traveling wheelchair, a conventional wheelchair, and the racing cycle. He would need to be lifted into and out of any vehicle he would travel in, plus have a place to rest during the trip.
Early one morning, Bryan was outside his home in Itasca, Illinois, and spotted a neighbor outside as well, with his motorhome "" FMCA member Jim Sadilek, F417910. Suddenly, Bryan had an idea. He walked over to Jim's driveway, struck up a conversation, explained Eddie's story, and asked Jim whether he might possibly be able to transport the Marine to the race. Although Jim was happy to do it, Bryan said, he suggested that FMCA might be a better source of assistance.
Jim contacted FMCA's office in Cincinnati and explained Eddie's situation. The response came swiftly. FMCA employees, members, and chapters immediately sprang to help. Paul DuBois, F296221, FMCA national vice president, Northeast Area, stepped in to assist Eddie on behalf of the association. Paul worked closely with Bryan to iron out countless travel-related details. A professional driver and former transportation manager, among other trades, Paul has driven busloads of Marine, Army, and National Guard troops throughout the eastern United States.
Alpin Haus RV of Amsterdam, New York, C3646, an FMCA commercial member, was quick to donate the use of a 40-foot, three-slideout Monaco Knight motorhome for Eddie's trip to Washington. After extensive measuring it was determined that Eddie's traveling wheelchair (an aisle chair narrower than a conventional wheelchair that was used to maneuver him through tight spaces) would fit through the coach entry door. He would need to be lifted in and out, however.
Adirondack Trailways, based in New York state, donated the use of a 45-foot, wheelchair-accessible passenger bus that would be used to carry Sgt. Ryan's family and supporters. The bus also served as in-town transportation for the group during the race weekend.
Paul also reached out to FMCA's new Friends of Angel Bus chapter. Its members work with Angel Bus, a nonprofit national charity that arranges non-emergency ground transportation for individuals who must get to a distant facility for specialized medical treatment.
Countless other FMCA family members and chapters endeavored to assist. A number of FMCA chapters contributed financially to the effort as well.
On The Road
The result? An exhausting but exciting trip to Washington, D.C., for Eddie, his friends, and family. Leaving Ellenville on Thursday afternoon, October 28, the caravan arrived in Washington around 1:00 a.m. Friday. The trip included a stop at Orange County Choppers in Newburgh, New York, where Eddie visited with folks from the OCC team. For a while Eddie enjoyed riding "shotgun" in the copilot seat, pointing out various landmarks to Paul DuBois, who was driving the motorhome. When Eddie grew tired, he retired to the rear bedroom.
Once the group arrived in Washington, the flurry of activity continued. Eddie and his entourage attended a Marine Corps Marathon press conference and a dinner, and took a tour of the area. They also visited Bethesda Naval Hospital, where Eddie spent a year during his initial recovery, and they spoke with staff members and current patients. Eddie and his team also met General James Amos, Commandant of the Marine Corps, as well as Carlton W. Kent, Sergeant Major of the Marine Corps, who were at the hospital awarding Purple Heart medals to Marines. They each presented Eddie with their personal challenge coin, a form of recognition for going above and beyond the call of duty.
Race Day
The morning of the marathon, Team 413's race began a bit earlier than that of other participants. After being delayed by technical difficulties with the wheelchair lift on the bus, Eddie, Bryan, and Team 413 sprinted to the starting line 100 yards away. Traffic was almost impassable as they pushed Eddie through the throngs, while a loudspeaker announcement warned that the wheelchair class would begin the race momentarily. The group arrived and got Eddie into position just before the starting cannon fired. They were off!
The marathon route began in Arlington, Virginia; wound through Washington, D.C.; and crossed the finish line at the U.S. Marine Corps War Memorial back in Arlington. The course was relatively smooth, except for some steep hills at the beginning and end. Bryan noted the significance of being able to view the Marine Corps Memorial while approaching the finish line "" a particularly grueling, uphill jaunt.
Crossing the finish line, Eddie was reunited with joyous family and friends. The beaming Marine was presented with his 2010 Marine Corps Marathon medal.
The Aftermath
Eddie and Bryan ran the Marine Corps Marathon not only to bring attention to Sgt. Ryan's situation but also to honor the many service members who have suffered traumatic brain injuries in combat. Despite the many inches they traveled to reach the finish line, they accomplished what few would have thought possible five years ago.
"To say that being involved in Sgt. Ryan's trip changed my life would be an understatement," Paul DuBois commented. "I was fortunate to see so many people from all walks of life come together with the sole purpose of helping Sgt. Ryan live a dream: from Bryan Purcell, who spearheaded the operation; to the retired 9/11 NYC firemen who work doing daily therapy for Sgt. Ryan and traveled with us to assist Eddie on the trip; to John Ponte, a Navy veteran and friend of the Ryans, who is now a contractor; to Alpin Haus and Adironidack Trailways. I think Sgt. Ryan expressed all of our feelings. When asked how he felt, he replied, "˜It is just awesome.' We all met people who will be our friends for the rest of our lives."
What did the experience mean to Bryan? He recalled a story Eddie's mother had told him. When Eddie would come home from the Marines on leave, he would fill up a backpack with rocks and go running. One day, Angie asked him why he did this. Eddie said that he needed to keep himself in good physical condition should he ever have to carry a wounded comrade off the battlefield.
Bryan added, "One day, I looked at him and said, "˜Eddie, it's my turn to carry that pack for you.'"
Registration for the 2011 Marine Corps Marathon opens on February 23, and Bryan said that he and Eddie plan to sign up.
The FMCA Connection
Eddie's marathon run has touched many FMCA members, increasing their awareness of the issues faced by disabled veterans. Members are donating funds, time, and transportation, expanding the circle of care for veterans who battle physical challenges, monetary issues, etc.
For example, in FMCA's Northeast Area, the recently established Northeast Veterans Outreach Fund has provided financial assistance to Eddie and other military vets. This past December the group sponsored a bus trip to New York City for Tech. Sgt. Joe Wilkinson, who began suffering from possible chemical poisoning following his tours of duty in Iraq. Bus transportation for Sgt. Wilkinson, his family, and friends was donated by Hunter Motor Coach Inc., of Coxsackie, New York. En route they picked up Army Specialist Brendan Marrocco, who lost his arms and legs to a roadside bomb in Iraq in 2009. Rolling Thunder Chapter 2, a veterans motorcycle organization, and the Stephen Siller Children's Foundation sponsored a concert fund-raiser for the two veterans in St Patrick's Old Cathedral.
Paul explained: "Together with these two organizations and Blue Water Navy Veterans Association and John Ponte, we are working to build Specialist Marrocco a handicapped-accessible home and to pay the mortgage on Sgt. Wilkinson's home, which he was in danger of losing until Rolling Thunder caught him up-to-date. He just received his disability rating from the Air Force, and despite the fact that he has had several back surgeries and has no use of his legs and other issues, he will only receive $1,000 a month. With three children ages 1, 9, and 12, that is a drop in the bucket.
"It is so rewarding to see how the Northeast Area has rallied behind this cause," Paul continued. "It has certainly revitalized our area. I hope in the future that FMCA on a national level will choose to become involved."
Sgt. Eddie Ryan and these other wounded military veterans are perhaps the first of many who will be touched by the generosity of FMCA members and friends.
Those who wish to assist Sgt. Ryan with his rehabilitation and continued recovery may make a donation at www.helpeddieryan.com. Donations for the Northeast Veterans Outreach Fund may be sent to the Northeast Motorhome Association, P.O. Box 136, Tribes Hill, NY 12177.