A new aviary for winged jewels has landed in a small Florida town.
By Bert Hendereson, F385218
December 2009
A bright butterfly flashes by you, and then another of dazzling brilliance comes along. You realize you are in a most uncommon place. Such are the sights along a side street in Homosassa, Florida. The Homosassa Butterfly attraction is a quiet, peaceful, and beautiful place.
This new facility, which opened January 17, 2009, is billed as the largest butterfly attraction and educational facility on the Nature Coast (west coast) of Florida, approximately 75 miles north of Tampa.
All the exhibits in the visitors center are alive and contain butterfly eggs, caterpillars, and chrysalises. Visitors can see the butterfly in all stages of its life. The only nonliving parts of the attraction are the photographs, wall displays, and posters depicting butterfly food sources and life cycles.
In addition to the 2,500-square-foot exhibit/visitors center, the facility has a 2,500-square-foot butterfly aviary dedicated to adult butterflies. Inside the aviary, butterflies are everywhere, and you're invited to reach out and touch them. Consider yourself lucky if, like my four-year-old granddaughter Kendall Singer, a cecropia moth finds a resting spot on your finger or another kind of butterfly lands on you. Kendall said she liked the attraction because the butterflies were "pretty and flittery and free to fly."
The original stock of butterflies came from Dan's Butterflies in Kissimmee, Florida. Because the operation of the Homosassa Butterfly is carefully controlled, the original butterflies are now reproducing. Approximately 200 butterflies supply the collection with more than 20 beautiful species, depending on the time of the year. All of the butterflies are native to North America.
A new 1,800-square-foot outdoor butterfly garden contains plants that you can use at your home to attract these beautiful creatures. Bob Vigliotti, designer, builder, owner, and operator of Homosassa Butterfly, had a dream to build a place that would provide a positive, educational, hands-on experience for families. "I want our visitors to be motivated when they get home to successfully plant the proper host plants for a backyard butterfly garden," he said. "That increases the dwindling natural habitat for these beautiful short-lived creatures. When people walk through our butterfly garden, I want them to learn how easy a garden is to create." Butterflies don't have too many predators, but they are losing their habitats quickly, he added.
Everyone who comes into the facility is treated to a movie about the life cycle of the butterfly in a 34-seat state-of-the-art theater. Bob has movies available from 20 to 45 minutes in length. They show butterfly life cycles and survival strategies, and include information about the migration of the beautiful and fascinating monarch butterfly.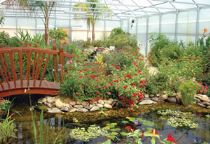 Once you're finished exploring the museum and aviary, stop at the gift shop, which carries all sorts of butterfly-themed items. Also available for purchase are caterpillars that you can take home and watch as they mature into butterflies. My granddaughter planned to bring her butterfly back to the aviary once it hatched.
After Homosassa Butterfly opened in mid-January, 3,500 visitors came through its doors in the first three months. The off-the-beaten-path complex took one year to build.
While you are in the area, be sure to visit Ellie Schiller Homosassa Springs Wildlife State Park. It is a five-minute drive north of the Homosassa Butterfly attraction, on U.S. 19/98. On most days there, you can see the endangered West Indian manatee, American alligators, Florida black bears, the endangered Florida panther, red wolves, pelicans, bald eagles, and other birds of prey "" and that's just the beginning.
This zoo park includes nature trails, animal exhibits, and specially timed educational programs about manatees and local wildlife. It's also a wonderful place to see native Florida plants. You can park at the main entrance and visitors center, and from there take a 20-minute pontoon boat ride along Pepper Creek to the west entrance and see what native Florida might have looked like 200 to 300 years ago.
Other things to see and do in the area include the Crystal River Archaeological State Park, the Old Courthouse Museum, and the Withlacoochee State Trail, the latter of which offers bicycling, hiking paths, birding trails, and much more. Many area restaurants serve local seafood dishes and other cuisine, in case you didn't bring enough supplies.
Further Info
Homosassa Butterfly
6991 W. Cardinal St.
Homosassa, FL 34446
(352) 628-6362
www.homosassabutterfly.com
The facility is open daily from 10:00 a.m. to 5:00 p.m.; closed on Easter, Thanksgiving, and Christmas. Admission is $8 for adults, $7 for seniors, $6 for children 3 to 12, and free for children 2 and under. The attraction has free parking for cars and RVs.
Homosassa Springs Wildlife State Park
4150 S. Suncoast Blvd.
Homosassa, FL 34446
(352) 628-5343
(352) 628-2311 (recorded information only)
www.homosassasprings.org
Regular admission is $13 for adults, $5 for children ages 6 through 12, and free for children 5 and under. The park is open daily from 9:00 a.m. to 5:30 p.m.