Outdoor outfitters Cabela's and Bass Pro Shops offer entertaining shopping experiences, plus parking perks for RVers.
By Bill Hendrix, F761S
April 2009
Walmart has received accolades over the years for its generous policy that allows RVers to overnight in many of its store parking lots. As a result, the company has cemented the patronage of the RV community. My wife and I have often used Walmart parking, but I can't remember such a visit where we didn't make some sort of purchase, sometimes just a few grocery items, but once it was a TV and a set of tires for the car.
It appears that other merchants are following the lead of Walmart, among them Cabela's and Bass Pro Shops. These particular RV-friendly stores are unusual enough that they make interesting destinations for travelers, especially those who enjoy outdoor pursuits.
Cabela's has made a very positive commitment to the traveling league. Our first visit to a Cabela's store came about quite by accident. We pulled off Interstate 90 at Mitchell, South Dakota, for a fuel stop and noticed a Cabela's across the way. In my earlier life, I was an avid hunter and occasional fisherman, so we drove over to the parking lot, following the signs for RVs and SUVs. We were amazed to find a huge paved area with about 30 very wide, very long, well-marked parking spaces. This area included a convenient pull-through dump station, plus another island with potable water. Just off the huge parking area was a cluster of wire kennel cages for small animals, with a water hose to clean the kennels after use. Across the way was another large parking area for big trucks.
Entering the store, we complimented the greeter on the excellent facility and asked whether overnight parking is permitted. "Absolutely!" was her cheerful reply. She gave us a map of the approximately 30 Cabela's locations scattered from Connecticut to Texas to Washington, most of which are not associated with a shopping mall. There is also one store in Winnipeg, Manitoba, Canada. About 12 locations have specific RV parking and dump stations somewhat akin to the amenities of the Mitchell, South Dakota, store. Because of local restrictions, the Fort Worth, Texas, store cannot allow overnight parking, and three others (Richfield, Wisconsin; Rogers, Minnesota; and Sidney, Nebraska) request that you ask permission.
Even if you have no need for sporting equipment, you might enjoy touring Cabela's. The store has wildlife exhibits with mounts of virtually all sporting animals and fish. There must be in excess of a million dollars invested in the displays, mounts, bronze statues, and huge aquarium. We spent more than two hours that evening just looking, and went back the following morning to find we had not seen everything. The store was well-staffed, and a very knowledgeable guy at the gun library helped me research an old shotgun whose manufacturer I erroneously believed was out of business.
Cabela's has a huge assortment of casual and sporting clothing, camping equipment, novelties, and gift items. Yes, we did leave a few dollars behind but were grateful for such a great overnight parking spot.
I later checked Cabela's Web site and found that, for a nominal fee, the Sidney, Nebraska, store also has a full-hookup RV park for those travelers needing facilities. Call (800) 237-4444 or visit www.cabelas.com for store locations (including GPS coordinates), telephone numbers, store news, and general information. It appears to be a company that deserves our patronage "" and catalog sales are available.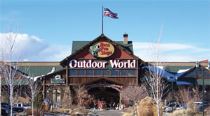 Bass Pro Shops also has a generous attitude toward overnight RV parking. The company has approximately 54 stores in 26 states and Canada, but 19 are either in a mall where overnight parking is prohibited, or the parking area is small and difficult to access by motorhome. Overnight parking is permitted in non-mall locations where there are no local restrictions.
Bass Pro stores are huge and well-staffed with knowledgeable associates, featuring most anything for hunting, fishing, and camping. The wildlife displays are complete and tastefully presented with identifying markers, and about half of the stores have very nice restaurants. Each of the stores boasts a unique theme in keeping with its location.
Call (800) 227-7776 or visit www.basspro.com for more information. Comprehensive online information includes store addresses and phone numbers, GPS coordinates, store amenities, and special events. Bass Pro also offers catalog and online shopping.
Other retailers
Two unrelated retail establishments that tend to have large parking areas are The Home Depot and Lowe's. Although many of their store locations are in very high-traffic areas, presenting larger vehicles a real challenge, others are on spacious properties that are easily accessed and highly visible from the highway. Efforts to obtain an official policy toward overnight parking were not successful for either The Home Depot or Lowe's. This evidently is left to the discretion of the store manager and influenced by local legislation.
We have, on several occasions, stayed at both The Home Depot and Lowe's, but only after asking permission. If overnight parking is not permitted, signs will usually be posted, either in the parking lot or at the entrances, and we RVers should obey the signs.
The Home Depot is a huge company with more than 3,000 stores worldwide, the majority of them in the United States and Canada. For more information, phone (800) 668-2266 or visit www.homedepot.com.
Lowe's is another huge company with more than 1,500 locations in the United States and Canada. For more information, phone (800) 445-6937 or visit www.lowes.com.
Although we probably don't need to mention it, permission for overnight parking is not an invitation to put out the awnings, pull out the grill, and get set for several days of free camping. If we abuse this privilege, we will surely lose it! Keep a low profile, be discreet, and patronize the host store for your needs. You are encouraged to review the eight rules of "Industry-Sanctioned Code of Conduct" on page 266 of the January 2009 issue of FMC magazine or online at FMCA.com.