Since 1968, this family-owned-and-operated private coach converter has fulfilled dreams with its carefully handcrafted creations.
By Lazelle Jones
August 2009
Several years back, I visited the Liberty Coach Inc. coach conversion facility in North Chicago, Illinois, where I had an opportunity to see how the company creates its luxury homes on wheels. This past spring I happened to be in Florida, where Liberty maintains a factory showroom location in the city of Stuart. It seemed an opportune time to retake the temperature of this major coach conversion company owned by the Konigseder family, which currently is overseen by Frank Konigseder Jr. and his brother Kurt.
Upon my arrival at the Stuart facility, I was greeted by Frank Jr., who led me on a tour and generously shared more about Liberty Coach history. He also provided insight into how the company continues to evolve in a niche market that has changed a good deal over the past two years.
How it began
The story begins with Frank Jr.'s grandfather, who emigrated from Germany in the 1920s. Drawing upon his skills as a pattern maker in the foundry industry, the eldest Konigseder established an aluminum foundry in Chicago in 1937. (The foundry is located across the street from Liberty's North Chicago offices and remains in operation today.) He educated his own son, Frank Sr., about the foundry business.
In the mid-1950s F.K. Foundries was awarded a contract to create several cast-aluminum parts being used by Greyhound on its buses, and this formed the genesis of the Konigseders' coach conversion business.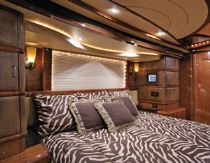 The Konigseders enjoyed camping as a family, having graduated from tents to a slide-in truck camper. During the week, Frank Sr.'s wife, Jeanne, would use the truck to make deliveries for the foundry. On the weekend, the family would load the camper and head off to enjoy RVing in the northern woods. The family's next RV was a Krager motorhome. The Konigseders' love for the RV lifestyle then led them to acquire an old 1954 Greyhound GM 4104 bus chassis (with 2 million miles on it) from Greyhound and convert it into a family motor coach in 1968.
The conversion took a year to complete, and Frank Jr. candidly admits that it proved to be an adventure. However, it was the process that was important. His dad did all the interior cabinet work, and his mom created the upholstery and drapes. From that coach conversion, the family transitioned into a double-decker 4501 (Scenicruiser) GM bus chassis.
Frank Sr. established Liberty Coach in 1968 and incorporated it in 1970. The company name came from Libertyville, Illinois, his hometown.
In the early 1970s Frank Sr. began exhibiting at FMCA conventions, representing Greyhound and the company's used bus chassis, and showing what could be done with a coach conversion. His first bus conversion appeared at the 1972 FMCA convention in Essex Junction, Vermont, where it sold quickly. At conventions he would display a completed conversion alongside a used seated bus chassis supplied by Greyhound. He began to convert MCI bus chassis as well, which he also exhibited.
At FMCA's July 1978 international convention in Sioux Falls, South Dakota, Frank Sr. made a connection with Prevost that has lasted for decades. The Konigseders subsequently completed their first conversion on a new Prevost bus shell, which they displayed at FMCA's Del Mar, California, convention in March 1979. At that show Frank Sr. took 12 orders for new Prevost coach conversions, promising delivery to all 12 customers within a year. He made good on his promise. At the time Frank Jr. and Kurt were youngsters; little did they realize that this initial foray into coach conversions with Prevost was the first of many wonderful things to come.
Liberty today

All of the design and construction of Liberty coaches takes place in North Chicago in a modern production and design facility. There is no showroom there, but the 32,000-square-foot facility does feature five fully equipped bays for coach service. Thanks to computer-aided design and state-of-the-art routing equipment, Liberty's craftspeople are able to create the intricate cabinets and countertop designs for which the company is known. The company prides itself on maintaining an extremely high level of quality at every stage of the conversion process.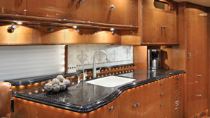 During a normal year, Liberty Coach will complete 28 lifestyle coach conversions (they only occasionally build an executive coach) on both the Prevost XLII and the Prevost H3-45 VIP bus shells/chassis. Each bus shell supplied by Prevost has the slideouts installed and a finished exterior paint and graphics scheme that Liberty Coach has designed and requested. The coach bays are empty, and the interior contains nothing but a single disposable seat that is used to deliver the shell to the Chicago plant. At this point Liberty Coach takes possession and begins to work the company magic, which ultimately produces (four months later) a Liberty lifestyle coach conversion.
Kurt runs the Chicago facility, designs floor plans, and oversees many of the day-to-day manufacturing operations. Kurt's wife, Kim, works closely with him on the floor plan designs and is the head interior designer. Frank is responsible for sales and service and does the engineering. His wife, Carolyn, designs the exterior paint schemes, plans the rallies, and coordinates the company's marketing. This truly is a family operation.
Liberty's Florida sales and service facility encompasses eight acres and is but minutes from the seashore. In fact, this location (right on the coast, minutes from West Palm Beach, two hours north of Miami, two hours south of Orlando, and two hours from Naples) puts Liberty directly in the path of many who enjoy the custom coach conversion lifestyle.
Because of the juxtaposition of Liberty's Stuart facility and Florida's high-tech marine industry, Liberty enjoys some sharing and technology transfer with that industry. Such cross-pollination can be beneficial, as the needs and interests of RV and boating enthusiasts are often markedly similar.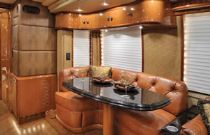 Liberty's air-conditioned Stuart showroom is as large as some factories, with a 16,000-square-foot area set aside to display up to six new conversions. Here also are the sales offices and a boutique that features Liberty Coach apparel. Frank Sr. is an aficionado and collector of antique automobiles and motorcycles, and he displays several of his fully restored vehicles on the premises. The collection is augmented by motorcycles that belong to Frank Jr., sales personnel, even to customers.
Adjacent to the showroom is the service department. Its six bays are equipped with lifts that can raise a Prevost conversion five feet into the air for servicing. Several preowned conversions are kept on the lot and are offered to clients only after a 250-point inspection has been completed. At the back of the property, a private, full-service campground features 20 spaces for Liberty clients who are having service completed or who are taking delivery of a new or preowned coach. This is also where the company's annual homecoming rally is held. During the rally, the campground is creatively reconfigured to accommodate upwards of 60 Prevosts.
I asked Frank how Liberty has been weathering the current economic downturn. He explained that they began to wind down the number of coach conversions produced in the spring of 2008 and further decreased the number in January 2009; this resulted in a workforce reduction at the North Chicago facility. The number of personnel has remained the same at the Stuart location, however, for service and preowned coach sales. Frank projected that Liberty will complete a dozen coach conversions this year, which includes both custom and on-speculation coach conversions. The Konigseders are positioned to ramp back up as the economy and new-coach conversion market re-emerges.
I also asked what the price range of a new Liberty coach might be. Frank's explanation was interesting and somewhat unexpected. He said that all new Liberty coaches retail for right around $2 million "" both spec and custom-built units. The reason there is no price difference between a custom-ordered conversion and a new spec coach that one might find in the company's Stuart showroom lies in the Konigseders' philosophy of coach building. They maintain that each and every coach they convert must meet the same exacting standards and yield the same level of equipment; high-tech, state-of-the-art systems; luxury; and accoutrements, regardless of whether it is a spec coach or a custom coach.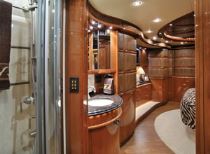 Frank noted that the cost of a Liberty coach is indicative of the fact that the finest components are used, and each conversion takes more than 10,000 man-hours to complete, including meticulous attention paid to the fit and finish, as well as numerous other details.
During my tour of Liberty's impressive Florida sales and service facility, I asked Frank whether he would like to summarize what he feels is most important for Family Motor Coaching readers to know. His response was as follows: "If we can get the luxury lifestyle coach client to this facility and they can see what we do for them and understand the philosophy under which we operate Liberty Coach, they will recognize the difference we offer. I can boldly say that we do more for our clients on both new and used coaches prior to and after they take delivery than anyone else in the industry. Our service facility can accommodate the needs of any coach owner, whether they own a Prevost conversion or a production Type A motorhome. Our dedication to doing things the right way the first time around is what follows our coach customers thousands of miles down the road."
Liberty Coach Inc., 1400 Morrow Ave., North Chicago, IL 60064, (800) 332-9877; Liberty Coach of Florida Inc. (Prevost factory-authorized service center), 635 S.E. Monterey Road, Stuart, FL 34994; (800) 554-9877; www.libertycoach.com