Newell Coach Models Styled By Designer Jason Hill
Newell Coach Corporation, based in Miami, Oklahoma, announced that it has begun production of its 2011 models, with retail deliveries scheduled for the beginning of 2010. The new models feature updated styling by top automotive designer Jason Hill, founder of the cutting-edge design firm Eleven LLC.
According to product literature from Newell, the 2011 models include enhanced styling and increased power, as well as the state-of-the-art look, ride, and handling for which Newell is known.
Among the new features introduced by Mr. Hill are high-performance, xenon gas-discharge headlights behind clear acrylic lenses that are bordered by distinctive string-of-pearls LED daytime running lights. Also new is front fascia trim that runs the full width of the coach, integrating with the outboard headlight assemblies. The finish of the fascia has been upgraded to an attractive, automotive-quality, hard chrome.
For more information about Newell Coach Corporation and its products, call (888) 363-9355, or visit www.newellcoach.com. For more information about Eleven LLC, visit www.designby11.com.
---
Great Food At California Campgrounds
Most RVers know they can keep their vacation costs to a minimum by staying in campgrounds and cooking their own food. But travelers "" and even area residents "" are discovering that some campgrounds and RV parks in California have on-site restaurants whose food is so good, it's worth the drive just to eat there.
"The campground industry is clearly evolving when it comes to food service," said Linda Profazier, president and CEO of the National Association of RV Parks and Campgrounds.
One example is Kamp Klamath RV Park and Campground in Klamath (707-482-0227; www.kampklamath.com). The 33-acre park already has plenty going for it as a vacation destination, being bordered on three sides by the Redwood National Park and fronting the Klamath River. But Kamp Klamath also is gaining notoriety for its smoked salmon, which has won seven regional cooking competitions in the past five years. Its Big Foot Grill restaurant offers everything from homemade blackberry pancakes with blackberry syrup to barbecued chicken and several Tex-Mex dishes. Guests also can grill their own meats.
At Campland by the Bay in San Diego (858-581-4200; www.campland.com), the Hungry Wolf Café specializes in "awesome Southern barbecue," according to Kimberley McAnally, a park spokeswoman. The restaurant also offers catering services.
The restaurant at Coyote Valley RV Resort (408-463-8400; www.coyotevalleyresort.com) in Morgan Hill serves breakfast Friday through Sunday, and lunch on Saturday. Homemade breads and other bakery goods are featured items, and specials include cheese and sausage strata, all prepared from scratch.
Hope Valley Resort and Campground (530-694-2203; www.hopevalleyresort.com), located along the banks of the west fork of the Carson River, near Lake Tahoe, offers a hearty breakfast and lunch, including vegetarian dishes, as well as espresso coffee drinks and "wonderful" homemade scones and desserts, according to innkeeper Patty Brissenden.
Lake Siskiyou Camp Resort (530-926-2618; www.reynoldsresorts.com), a Mount Shasta city park located on Lake Siskiyou, features its own on-site restaurant, the Lake Sis Grille and Brew, which specializes in pizza and ribs. The park also has a beach snack shack, which serves hamburgers, corn dogs, and pizza.
Santa Cruz KOA (831-722-0551; www.santacruzkoa.com) operates an on-site pizza parlor, which delivers to campsites. The park also features a Saturday barbecue lunch and a Sunday pancake breakfast. A hot dog cart also makes regular rounds through the park.
---
Spartan To Supply Diesel Chassis To Fleetwood RV
Spartan Chassis Inc., based in Charlotte, Michigan, announced that it will supply diesel chassis to Fleetwood RV for use on its 2010 Type A motorhomes.
Spartan will design, engineer, and assemble chassis for integration with Fleetwood RV's motorhomes. Delivery of the first chassis was scheduled to begin in October 2009. Spartan also supplies diesel chassis for Fleetwood RV's American Coach brand.
For more information about Spartan Chassis, visit www.spartanchassis.com. or call (517) 543-6400.
---
RVIA Official Sees Improving Outlook For RV Market
Mac Bryan, vice president of administration with Recreation Vehicle Industry Association (RVIA), provided a cautiously upbeat outlook for the RV market in a presentation to the RVIA Board of Directors during its meeting in Hershey, Pennsylvania, on September 14, 2009.
While briefing the board, Mr. Bryan detailed Dr. Richard Curtin's latest projections for RV wholesale shipments through 2010. In the fall 2009 issue of RV Roadsigns, Dr. Curtin forecasted a total of 146,200 units to be shipped by the end of 2009, with that number rising to 185,800 units in 2010, a 27 percent increase.
Mr. Bryan pointed to a number of factors that should aid the RV market as it looks to recover, including a strengthening stock market, attractive interest rates, low inflation rates, and improved business and buying conditions.
Another crucial component working in the industry's favor is the continued popularity of RV ownership and travel among consumers. "The appeal of the RV lifestyle will help overcome economic barriers," Mr. Bryan said. "The basic demand for RVs is rooted in the appreciation that consumers have for the freedom, flexibility, and comfort that RVs provide as they enjoy the nation's great outdoors."
Mr. Bryan cautioned that the recovery in RV sales will likely be slower than in the past, because of weak consumer confidence, continued job losses, smaller income gains, and declines in household wealth, as well as the need for consumers to restore savings.
"It is simply going to take longer for consumers to re-establish their economic footing as we emerge from this recession," he said. "However, given the positive signs we are now beginning to see in the RV market and the strong commitment of consumers to the RV lifestyle, the prospects for the RV industry are becoming more favorable."
---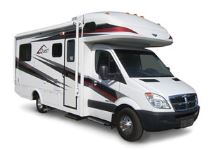 Fleetwood RV Offers Limited-Edition Quest
Fleetwood RV Inc. announced the launch of its limited-edition 2010 Quest, a value-priced Type C diesel motorhome built on the fuel-efficient Sprinter chassis. This limited production run of 150 units will be available at select Fleetwood RV dealers nationwide.
The 2010 Quest is offered in two 24-foot, single-slideout floor plans. The 24E floor plan includes a rear bath and opposing sofa beds, while the 24L floor plan features a rear gaucho dinette with a sofa sleeper and an optional queen-size air mattress sofa bed. A low-profile cap and an overhead 26-inch LCD TV are standard on both models. Customers also can select the optional cab-over bed with a 19-inch LCD TV and a DVD player.
The manufacturer's suggested retail price for the 2010 Quest starts at $84,000. For more information about this motorhome or other Fleetwood RV Inc. products, call (800) 322-8216 or visit www.fleetwoodrv.com.
---
Parliament Purchases Blue Bird Wanderlodge Technical Data
Parliament Coach Corporation, a manufacturer of high-line coach conversions, announced in October 2009 that it acquired the intellectual property of Coachworks Holdings Inc., the manufacturer of Blue Bird Wanderlodge coaches, at bankruptcy auction.
The intellectual property includes technical data pertaining to all coaches produced by Blue Bird from the present back to the 1960s. The items include, but are not limited to, all parts information, wiring schematics, diagrams, blueprints, suppliers, vendors, and service records.
Steve Mitchell, president of Parliament Coach, said that he believed it was important that the material be retained, since there are approximately 3,500 Blue Bird coaches operating in North America, and the owners of these motorhomes need this technical information.
Besides building coach conversions, Parliament Coach specializes in sales, marketing, paint, body shop, and service of high-line motorhomes. The family-owned company had been a franchised dealer of Blue Bird coaches since 1978.
For more information about Parliament Coach, call (888) 571-5755 or visit www.parliamentcoach.com.
---
Sprinter Now Under Mercedes-Benz Umbrella
Mercedes-Benz USA LLC announced that it will assume responsibility for the sales, marketing, distribution, and service of Mercedes-Benz and Freightliner Sprinter commercial vehicles in the United States. Central to the announcement is the creation of a new division, Daimler Vans USA LLC. With this announcement, production of the Dodge Sprinter will be discontinued.
Daimler Vans USA LLC combines the brand awareness and technology leadership of Mercedes-Benz with the commercial vehicle expertise of Freightliner. The Mercedes-Benz Sprinter also marks the official return of the three-pointed star to the U.S. and Canadian light-duty commercial vehicle market.
Introduced in North America in 2001, the Mercedes-Benz Sprinter has developed a successful following, with more than 130,000 Sprinter vehicles sold in the United States and Canada. The Sprinter in these countries is offered in three vehicle lengths on two wheelbases with three gross vehicle weight ratings. With a lineup of cargo vans, passenger vans, and chassis cab models, it also offers two roof heights. Powered by a 3.0-liter V-6 turbo-diesel engine, standard equipment includes ADAPTIVE ESP, an electronic stability control feature.
Delivery of the Mercedes-Benz Sprinter to dealers and customers is expected to begin in January 2010.
---
Lazydays Finalizes Chapter 11 Plans
Lazydays RV Center Inc., the nation's largest RV dealership, announced that it has formalized plans to enter into and emerge from Chapter 11 bankruptcy.
In a letter posted on the company's Web site, Lazydays CEO John Horton announced on September 4, 2009, that the company had agreed in principle with floor plan lenders and the majority of its bondholders on a debt restructuring plan that would put the company on a solid financial foundation both in the present and for years to come. Upon receiving approval from the requisite 50 percent of its bondholders, the company expects to voluntarily file to reorganize under Chapter 11 bankruptcy. According to Mr. Horton, the filing will be "prepackaged," meaning the financial arrangements will have been negotiated and concluded prior to the filing.
According to Mr. Horton, the bankruptcy filing should have little effect on customers. "The debt restructuring is a financial transaction that will not impact the operations of our dealership," he noted. In the letter he goes on to say, "We will continue to offer the very best product selection in the industry, supported by our professional sales force and serviced by our skilled technicians. Our customer benefits remain unchanged, including all the services we offer and the warranties we provide."
To read Mr. Horton's letter in its entirety, or to find out more about Lazydays RV Center Inc., visit www.lazydays.com.
---
Freightliner Achieves Zero Waste To Landfill Status
Freightliner Custom Chassis Corporation (FCCC), a subsidiary of Daimler Trucks North America LLC, has become the first chassis manufacturer and the first company within the trucking industry to achieve Zero Waste to Landfill Status in the United States.
Joining an elite group of solid waste-free manufacturing facilities in the United States, FCCC went from disposing 250,000 pounds of solid waste per month in January 2007 to disposing zero pounds today as a result of numerous environmental efforts implemented at the FCCC facility.
The Zero Waste to Landfill directive was initiated by Daimler AG to reduce the carbon footprint of manufacturing facilities under the Daimler umbrella. FCCC's manufacturing facility was chosen as the pilot site for the company's Zero Waste to Landfill program in September 2007. The goal of the program was for the FCCC facility to become 100 percent landfill waste-free by 2010. The efforts undertaken by FCCC will be used as an environmental blueprint to be implemented in other Daimler Truck North America facilities.
Recognized by numerous governmental agencies, including the Environmental Protection Agency (EPA), the FCCC facility recycles materials such as plastic, paper, aluminum, cardboard, metals, wood, and nylon.
FCCC also is committed to developing products that are green. For example, in 2008 it created ecoFRED, the motorhome industry's first hybrid-electric chassis. This alternative-fuel chassis was created in response to a growing customer demand for alternative-fuel power that provides the same performance and durability as FCCC's premium diesel-powered chassis.
In addition, FCCC's clean air technologies effort is aligned with Daimler's global initiative called "Shaping Future Transportation." Launched in November 2007 in Stuttgart, Germany, the initiative focuses on reducing category emissions pollutants, carbon dioxide, and fuel consumption.
For more information about FCCC products and its environmental efforts, visit www.freightlinerchassis.com.
---
National Park Service Launches Off-Season Trip-Planning Web Site
Following the PBS presentation of "America's Best Idea," a documentary about the national parks by Ken Burns, the National Park Service (NPS) has developed the Web site "Plan Your Visit to America's Best Idea (Your National Parks): Fall, Winter, Spring 2009-2010."
The new Web site "" www.nps.gov/pub_aff/plan_your_visit/index.htm "" was developed to help visitors find activities, events, and commercial services at National Park Service areas during the fall, winter, and spring, and also includes travel tips and links to other resources. The names of parks are hyperlinked to travel information specific to those parks.
The National Park Service invites Americans to enjoy the national parks, in person. These protected places boast spectacular landscapes year-round, as Mr. Burns demonstrated in his film. While the fall, winter, and spring make up the so-called "off season" in the national park system, there is plenty to do in the parks during this time.
The National Park Service recommends stopping by a park's visitors center to obtain up-to-date information and reminds visitors that safety is critical. Hikers should stay on marked trails and let close acquaintances know their whereabouts and plans. Dress appropriately for the elements and for activities, and bring any necessary supplies. It's always best to have plenty of water on hand. If you have questions, find a park ranger, who can be identified by their distinctive green and gray uniforms and brimmed hats.
---
Winnebago Via Highlights Eco-Friendly Changes In RVs
On September 15, Winnebago Industries Inc. showcased the all-new, high-mileage Type A Winnebago Via motorhome to participants at the Forum for Stimulating Economic Vitality and Resource Conservation, a gathering of top national and state tourism and park leaders hosted by the U.S. Department of the Interior in Washington, D.C. The forum allowed RV industry leaders to discuss with forum participants how to increase visits by Americans to national parks in an eco-friendly manner, and to demonstrate how changes in RVs will help the RV lifestyle remain popular in an era of "green" living.