FMCA members gathered in Shawnee for good times at the South Central Area Rally.
Family & Friends
By Darrell Gilliland, F153488
December 2009
The "Oklahoma Pow-Wow," the 36th edition of the Six-State Rally (also known as the South Central Area Rally), was a great success. Just as the American Indians powwow each year to celebrate their heritage, FMCA members gathered at the Heart of Oklahoma Exposition Center in Shawnee, Oklahoma, September 23 through 26, 2009, to socialize, learn more about the motorhome lifestyle, eat good food, and enjoy laughter and music during the day and evening programs.
The weather for the four-day rally was nearly perfect, with moderate temperatures and mostly dry conditions. The officers of the Six-State Rally Association, who are also the rally committee, initially planned for 500 member coaches. However, when the count reached 625, registration was closed. Those who registered late were placed on a waiting list and were contacted as cancellations came in. The large number of registrants also generated excitement among the exhibitors, which contributed to the record number of vendors and seminars available to those in attendance. Rally attendees were provided electrical service. The tram service was great, quickly getting passengers to their desired locations.
The final coach count for the rally included 649 family member and live-in exhibitor coaches and 10 show coaches, for a total of 659 coaches on grounds. We were especially happy to welcome 187 first-time attendees. The rally attracted attendees from 33 states.
Attendees began arriving on Tuesday and Wednesday. The first planned activity on Wednesday was the golf scramble, in which more than 35 golfers participated. For others, it was the annual "Pet Parade," which included more than 60 pets. All pets entered in the contest were winners within some category created by the judges.
The rally officially opened on Wednesday evening with a welcome from state and local leaders. Cadets from the University of Oklahoma Navy ROTC presented the colors, and vocalist Daphne Anderson sang the National Anthem. The evening entertainment began with Oklahoma's own world-class Fancy Dancers. Two American Indian dancers, Zack Morris and Kevin Connywerdy, were attired in elaborate ceremonial dress and performed to the singing and drum-beating of Steve Littleman. Mr. Littleman, also of American Indian descent, told stories that provided insight into the history of the dance and the beautiful handmade attire worn by the dancers. Following their performance, The Homesteaders quartet harmonized on country, Western, and gospel songs.
Beginning on Thursday, each day started with a morning devotional, a full breakfast, and a morning exercise program called "Walk and Talk." Both the devotional and the exercise program were well attended, as were the seminars.
Many special programs were offered by state and local agencies. Speakers included Francine Roark Robison, Oklahoma's cowboy poet laureate, and representatives from the Oklahoma History Museum, the National Cowboy & Western Heritage Museum, and the Tourist Bureau of Oklahoma. A vehicle crime awareness and prevention program was presented by the Dallas, Texas, police department. The FireLake Grand Casino provided a shuttle to the Expo Center twice a day. Many took advantage of the shuttle transportation, while others drove the four miles to the casino.
Thursday was the day for the Red Hat Luncheon and the Ice Cream Social. More than 220 ladies, most with red hats, enjoyed the luncheon and the motivational talk presented by Barbara Holmberg titled "Many Hats Women Wear." Later that day, South Central Area vice president Fred Kennedy made sure all attendees, exhibitors, and the Expo Center staff were treated to their own pint of ice cream.
Patriotic Day, also on Thursday, featured a return of the University of Oklahoma Naval ROTC presenting the colors and Lisa Williamson singing the National Anthem. Our Patriotic Day speaker was Colonel Kendall W. Penn, who led Army troops during two tours of duty in Iraq. He recently was selected for promotion to brigadier general with an assignment as the Assistant Adjutant General for Arkansas. Col. Penn shared stories about individuals he judged as patriotic "" not all in the military "" and who had touched his life. Those attending were given small American flags to wave and The Homesteaders sang three patriotic numbers to complete that portion of the evening's program. The final treat that night was The Dave and Daphne Show, featuring Dave Salyer on guitar and banjo and vocalist Daphne Anderson. Altogether, it was a great evening.
Friday evening's entertainment featured a highly energetic group from Denton, Texas, called Tin Roof Tango. On Saturday many rally-goers attended the farm tractor pull in the arena west of the Conference Center. The rally wrapped up that night with a performance by Sarah Getto, who plays keyboard, guitar, violin, and drums to accompany her singing.
One of the highlights of recent Six-State rallies has been the annual Quilt Show. This year chapters and individuals donated a total of 337 quilts. The Quilt Guild in Shawnee was given 320 quilts, and 17 very special quilts were set aside for the Brooke Army Medical Center in San Antonio, Texas, to be given as "Quilts of Valor."
The Six-State Rally Association is proud of its benevolent contributions to the community. In addition to the donated quilts, other agencies benefitted with cash donations. On Thursday evening, following the Patriotic Program and the evening entertainment, members donated up to 1,000 small flags to the local VFW to be used to decorate the graves of veterans in local cemeteries. In addition, members donated $191 to the organization. Also, on Thursday and Friday, 50/50 tickets were sold before evening entertainment. Proceeds from these raffles, totaling more than $1,000, were given to the Salvation Army, the designated charity for this year's event. A collection booth was set up in the lobby of the Conference Center for the local food bank, and many members donated cans and boxes of food to be left in the area.
Two Six-State Rally Association officers "" senior vice president Ben Loganbill and treasurer Tom Drennon "" did not seek re-election for their respective positions. During the annual meeting, Charlie Adcock was elected senior vice president and Dan Couch was elected treasurer. Irene Renfro was re-elected secretary. Thanks to Ben and Tom, who each served the association for more than seven years and will truly be missed.
Among the attendees were several FMCA national officers, including national president Charlie Schrenkel and his wife, Jean; national senior vice president Judy Czarsty and her husband, Steve; national treasurer Wil Young and his wife, Claudine; Eastern Area vice president Otho Tew and his wife, Alice; and our own South Central Area vice president Fred Kennedy and his wife, Lou.
Others in attendance included immediate past national president Connie Pool and her husband, Corbett; past national president R.G. Wilson and his wife, Jeri; and former South Central Area vice presidents Tony Innocenti and his wife, Geri, and Darrell Gilliland and his wife, Grace.
Mark your calendar now to join old friends and make new ones at next year's Six-State Rally, which will be held in Shreveport, Louisiana, September 29 to October 3, 2010.
---
Celebration Of The Quilts
A spirited chapter competition culminated in a generous donation.
By Peggy Francis, F259329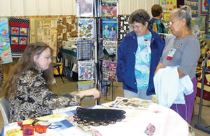 The Ozarks Prairie Sooners chapter takes it name from our geographical region: specifically, the four corners of Missouri and Arkansas (Ozarks), Kansas (Prairie), and Oklahoma (Sooners). The chapter currently has 45 member families.
For many years we have supported the South Central Area quilt project, in which the area's chapters are encouraged to make donations of baby or lap quilts at the annual Six-State Rally. The quilts are then given to a charitable organization in the city where the rally is held.
Martha Bultemeier has led our chapter's quilt-making effort, encouraging members to either make or buy quilts to be donated. Early on, the chapter donated several quilts, but in recent years interest had waned. In April 2009 Martha made another plea for more quilts. During our April 2009 rally at Osage Prairie RV Park in Nevada, Missouri, Darrell Crainshaw, Jim Hutsell, and Leonard Francis went shopping at a consignment store and brought back seven quilts to show that men could also participate in this project.
Chapter president Ernie McCutchen recognized that if the project was going to be successful, an element of competition was required. So at our May meeting he proposed that the chapter have a contest between the men and the women to see who would contribute the most quilts. After much discussion, the idea was agreed upon. Naturally, the women thought they would win with ease.
Since this was a competition, there had to be a prize, so Ernie proposed a steak dinner for the winners and beans and wieners for the losers. This began to generate interest. The men began bringing in quilts, but the women were a little slow to get started.
The men led all summer, at times by a large margin, and lots of camaraderie developed between the groups. There was plenty of good-natured arguing about who owned the quilts that the men were buying (common law says everything should be divided evenly) and who was paying for the materials that the women were using to make their quilts.
All of this led to our chapter's "Celebration of the Quilts" rally in September at the Big Red Barn RV Park, in Carthage, Missouri. Although the men led the count through our August rally, the women rallied to win by 11 quilts at the Friday night cutoff date. A total of 180 quilts were made or purchased by chapter members.
Our "Celebration of the Quilts" dinner was planned by our rally hosts, John and Carolyn Young and Bob and Linda Ames. The men wore dunce hats and the women had crowns. As agreed upon, the women enjoyed steak with all of the trimmings, and the men had beans and wieners. The decorations were fantastic and everyone had a great time. Even the night before was fun, with an Italian dinner followed by a "fancy hat" party and a bonfire.
The celebration did not end that weekend. Most of us went to the Six-State "Oklahoma Pow-Wow" rally in Shawnee, Oklahoma. Upon arriving, we made arrangements to present the quilts to South Central Area quilt project chairwoman, Ann Bailey. The presentation was made after national director Ed Umek unloaded the quilts from the outside storage compartments of his coach. We learned that a total of 337 quilts were collected at the rally, 180 of which came from our chapter.
Some chapter members are already thinking about what we can do next year as an encore. We know that it will be a challenge to top the number of quilts collected this year, but challenge made it fun and exciting, and donating to a worthwhile cause helped a lot of people to stay warm. Needless to say, we made Martha proud.
We encourage all chapters to develop projects that will benefit their neighbors, and to have fun doing it!
---
Santa Claus Is Coming to Town
By Jackie Carter, F184858
As the calendar turns to November and December, Ray Marcinkoski, F116006, parks his Newmar Mountain Aire motorhome and fires up his sleigh "" yes, his sleigh "" which is powered not by reindeer, but by a Jeep drivetrain.
Ray's long, white beard makes him a natural fit as jolly old St. Nick. Although he does need some assistance in the padding department, his huge heart more than makes up the difference. After retiring from his excavating company, Ray found that hauling toys was more rewarding than carrying dirt. He now spends the year collecting toys, clothes, and gifts to be distributed to the underprivileged during the holiday season. Santa, along with Mrs. Claus (his wife, Lois) and their family of "elves," spreads holiday cheer throughout Palm Beach County, Florida, visiting schools, nursing homes, and special-needs facilities. Ray is also a member of the Palm Beach Gold Coasters chapter, so Kris Kringle makes a special appearance at the chapter's annual December rally as well.
Ray's kindness and generosity are evident to all who meet him. He never turns down a request to be Santa and is always ready to lend a hand. In fact, in 1996, he was pressed into service as an emergency backup. A helicopter transporting another Santa to visit children in nearby Lantana, Florida, landed, bounced, flipped over, and burst into flames. Fortunately, both Santa and the pilot escaped without serious injury. Ray quickly arrived on the scene as Santa to calm the children and distribute the gifts.
Clearly, Ray Marcinkoski knows all about the true meaning of Christmas.
Badger Chapter Ends 2009 Rally Season On High Note
This Wisconsin-based group enjoyed another fun and rewarding year.
---
Badger Chapter Ends 2009 Rally Season On High Note
By Leeann Leroy, F269999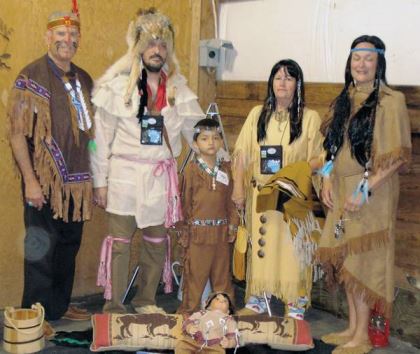 The Badger chapter held its final rally of 2009 from October 8 through 11 at the Langlade County Fairgrounds in Antigo, Wisconsin.
It was the culmination of another fantastic rally year for the chapter, which included volunteering to operate the courtesy carts at the Midwest Area Rally in Albert Lea, Minnesota, this past June. Weather was an issue the first day of the June rally, as rain, a tornado warning, and a temporary power outage at the facility kept activities to a minimum. Luckily, the storms passed, and we enjoyed nice weather during the rest of the event.
When time came for our end-of-the-year rally, the leaves were beginning to turn orange, red, and yellow, which made for a beautiful drive north to the fairgrounds. While there, we toured the facilities at the Raptor Education Group and also made a trip to one of the oldest apple orchards in the state. Many members toured Sheldons' Inc., headquarters for Mepps hand-tied fishing lures, and found this visit interesting as well. On Thursday evening Innovative Industries Inc., a long-time supporter of FMCA, held a brat fry for the 96 members present.
Our treasurer suggested that we give back to the community, so we invited each family member to bring in cans of food for the Antigo food pantry. Many members who were unable to attend the rally sent monetary donations that totaled $100, plus we collected four large boxes of canned goods.
In spite of the cold weather, everyone enjoyed the event, including three new family members who were present for their first rally. It also was noted that our chapter handed out five free applications for FMCA membership, and we had a 100 percent return.
For more information about joining the Badger chapter, e-mail chapter treasurer Sharri Loveless at wloveless@elknet.net.